Abstract
Sweet corn has emerged as one of the popular choices as fresh and processed vegetables, worldwide. Two genes namely, sugary1 (su1) and shrunken2 (sh2) that cause significant increase in sugar levels of endosperm, have been extensively used in sweet corn cultivar development. In order to identify and validate microsatellite/SSR markers linked to su1 and sh2, F2 mapping populations were generated between wild type and mutant (sugary or shrunken) genotypes. Bulk segregant analysis (BSA) in three mapping populations mapped su1 on short arm of chromosome 4 (bin. 4.05), while sh2 could be located on long arm of chromosome 3 (bin 3.08) using two mapping populations. The analysis identified seven linked SSR markers for su1 and four SSR markers linked to sh2. Across populations, umc2061 was identified as the nearest marker from su1 with genetic distance of 0.3, 0.6 and 1.6 cM, while umc2276 could be located at 1.2 and 1.5 cM from sh2. These two markers can be effectively utilized in marker-assisted selection of sweet corn trait.
Access options
Buy single article
Instant access to the full article PDF.
US$ 39.95
Tax calculation will be finalised during checkout.
Subscribe to journal
Immediate online access to all issues from 2019. Subscription will auto renew annually.
US$ 79
Tax calculation will be finalised during checkout.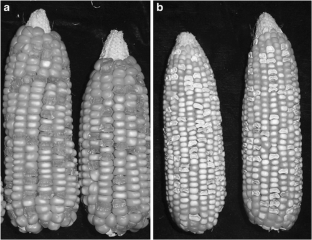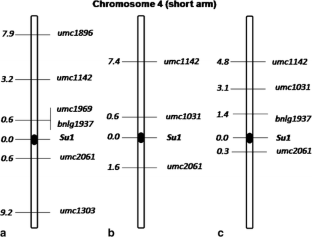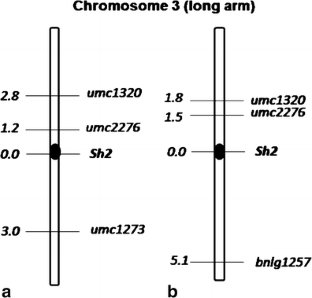 Abbreviations
BSA:

Bulk segregant analysis

cM:

centiMorgan

sh2 :

shrunken2

SNP:

Single nucleotide polymorphism

SSR:

Simple sequence repeat

su1 :

sugary1

WSP:

Water soluble phytoglycan
References
Babu R, Nair SK, Prasanna BM, Gupta HS (2004) Integrating marker-assisted selection in crop breeding–prospects and challenges. Curr Sci 87:607–619

Creech RG (1965) Genetic control of carbohydrate synthesis in maize endosperm. Genetics 52:1175–1186

Dinges JR, Colleoni C, Myers AM, James MG (2001) Molecular structure of three mutations at the maize sugary1 locus and their allele-specific phenotypic effects. Plant Physiol 125:1406–1418

FAOSTAT (2013) www.faostat.fao.org. (accessed on 9th February, 2013)

Farkhari M, Lu Y, Shah T, Zhang S, Naghavi MR, Rong T, Xu Y (2011) Recombination frequency variation in maize as revealed by genome-wide single nucleotide polymorphism. Plant Breed 130:533–539

Feng ZL, Liu J, Fu FL, Li WC (2008) Molecular mechanism of sweet and waxy in maize. Intl J Plant Breed Genet 2:93–100

Fisher MB, Boyer C (1983) Immunological characterization of maize starch branching enzymes. Plant Physiol 72:813–816

Garwood DL, McArdle FJ, Vanderslice SF, Shannon JC (1976) Postharvest carbohydrate transformations and processed quality of high sugar maize genotypes. J Am Soc Hort Sci 101:400–404

Gore MA, Chia JM, Elshire RJ, Sun Q, Ersoz ES, Hurwitz JA, Peiffer JA, McMullen MD, Grills GS, Ibarra JR (2009) A first-generation haplotype map of maize. Science 326:1115–1117

Gupta HS, Raman B, Agrawal PK, Mahajan V, Hossain F, Nepolean T (2013) Accelerated development of quality protein maize hybrid through marker-assisted introgression of opaque-2 allele. Plant Breed 132:77–82

Hospital F, Chevalet C, Mulsant P (1992) Using markers in gene introgression programs. Genetics 132:1199–1210

James MG, Robertson DS, Myers AM (1995) Characterization of the maize gene sugary1, a determinant of starch composition in kernels. Plant Cell 7:417–429

Khanduri A, Hossain F, Lakhera PC, Prasanna BM (2011) Effect of harvest time on kernel sugar concentration in sweet corn. Indian J Genet 71:231–234

Kosambi D (1944) The estimation of map distances from recombination values. Ann Eugen 12:172–175

Kwok PY, Chen X (2003) Detection of single nucleotide polymorphisms. Curr Issues Mol Biol 5:43–60

Lee JK, Park JY, Kim JH, Kwon SJ, Shin JH, Hong SK, Min HK, Kim NS (2006) Genetic mapping of the Isaac-CACTA transposon in maize. Theor Appl Genet 113:16–22

Lertrat K, Pulam T (2007) Breeding for increased sweetness in sweet corn. Intl J Plant Breed 1:27–30

Lincoln S, Daly M, Lander ES (1992) Constructing genetic maps with MAPMAKER/EXP 3.0. Whitehead Institute Technical Report, 3rd edn, Cambridge

McMullen MD, Kresovich S, Villeda HS, Bradbury P, Li H, Sun Q, Garcia FS, Thornsberry J, Acharya C, Bottoms C (2009) Genetic properties of maize nested association mapping population. Science 325:737–740

Martin C, Smith AM (1995) Starch biosynthesis. Plant Cell 7:971–985

Michelmore RW, Paran I, Kesseli V (1991) Identification of markers linked to a disease resistance gene by bulked segregant analysis: a rapid method to detect markers in a specific genomic region by using segregating populations. Proc Natl Acad Sci USA 88:9828–9832

Myers AM, Morell MK, James MG, Ball SG (2000) Recent progress toward understanding the amylopectin crystal. Plant Physiol 122:989–997

Nelson O, Pan D (1995) Starch synthesis in maize endosperm. Annu Rev Plant Physiol Plant Mol Biol 46:475–496

Nepolean T, Singh I, Hossain F, Pandey N, Gupta HS (2013) Molecular characterization and assessment of genetic diversity of inbred lines showing variability for drought tolerance in maize. J Plant Biochem Biotech 22:71–79

Neuffer MG, Coe EH, Wessler SR (1997) Mutants of maize. Cold Spring Harbor Laboratory Press, Cold Spring Harbor, NY

Prasanna BM, Pixley K, Warburton ML, Xie C (2010) Molecular marker-assisted breeding for maize improvement in Asia. Mol Breed 26:339–356

Preiss J (1991) Biology and molecular biology of starch synthesis and its regulation. Oxford Surv Plant Mol Cell Biol 7:59–114

Qi X, Zhao Y, Jiang L, Cui Y, Wang Y, Liu B (2009) QTL analysis of kernel soluble sugar content in super sweet corn. African J Biotech 8:6913–6917

Ribaut JM, Hoisington DA (1998) Marker-assisted selection a new tool and strategies. Trends Plant Sci 3:236–239

Sa KJ, Park JY, Park KC, Lee JK (2012) Analysis of genetic mapping in a waxy/dent maize RIL population using SSR and SNP markers. Genes Genom 34:157–164

Saghai-Maroof MA, Soliman KM, Jorgenson R, Allard RW (1984) Ribosomal DNA space length polymorphisms in barley: Mendelian inheritance, chromosomal locations and population dynamics. Proc Natl Acad Sci USA 81:8014–8018

Shin JH, Kwon SJ, Lee JK, Min HK, Kim NS (2006) Genetic diversity of maize starch-synthesis genes with SNPs. Genome 49:1287–1296

Solomon KF, Martin I, Zeppa A (2012) Genetic effects and genetic relationships among shrunken2 (sh2) sweet corn lines and F1 hybrids. Euphytica 185:385–394

Tracy WF (1997) History, genetics and breeding of supersweet (shrunken-2) sweet corn. In: Janick J (ed) Plant breeding reviews. John Wiley and Sons 14:189–236

Vignal A, Milan D, Sancritobal M, Eggen A (2002) A review on SNP and other types of molecular markers and their use in animal genetics. Genet Sel Evol 34:275–305

Whitt SR, Wilson LM, Tenaillon MI, Gaut BS, Buckler ES (2002) Genetic diversity and selection in the maize starch pathway. Proc Natl Acad Sci USA 99:12959–12962

Wilson LM, Whitt SR, Ibanez AM, Rocheford TR, Goodman MM, Buckler ES (2004) Dissection of maize kernel composition and starch production by candidate gene association. Plant Cell 16:2719–2733

Xu Y, Zhu L, Xiao N, McCouch SR (1997) Chromosomal regions associated with segregation distortion of molecular markers in F2, backcross, doubled haploid and recombinant inbred populations in rice (Oryza sativa L.). Mol Gen Genet 253:535–545
Acknowledgments
The study was financially supported by Indian Council of Agricultural Research (ICAR) Network Project on 'Transgenics in Crop Plants (Maize Functional Genomics)'. We are thankful to Dr. P.K. Agrawal (VPKAS, Almora) for sharing the seed of V334, V390, V359 and V364 inbreds. The technical support rendered by Dr. Rajesh Kumar (Maize Genetics Unit, IARI) is gratefully acknowledged.
About this article
Cite this article
Hossain, F., Nepolean, T., Vishwakarma, A.K. et al. Mapping and validation of microsatellite markers linked to sugary1 and shrunken2 genes in maize (Zea mays L.). J. Plant Biochem. Biotechnol. 24, 135–142 (2015). https://doi.org/10.1007/s13562-013-0245-3
Received:

Accepted:

Published:

Issue Date:
Keywords
Linkage

Mapping population

Mutant

SSR

Sweet corn