Abstract
This article analyzes male fertility, with a particular focus on multipartner fertility, for cohorts born 1955 to 1984 in Norway. We find that socioeconomically disadvantaged men have the lowest chance of becoming fathers and the lowest likelihood of fathering multiple children in stable unions. Multipartner fertility, on the other hand, is positively associated with both disadvantage and advantage: higher-order birth risks with a new partner are more prevalent among men with low as well as high socioeconomic status. An intervening factor among disadvantaged men may be a higher union dissolution risk, and an elevated risk among advantaged men may be associated with their higher preferences for children and other features that make these men more attractive to women as partners and fathers of future children.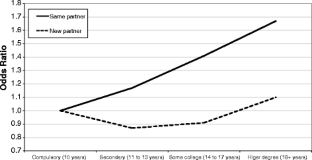 Notes
1.

Low education is here defined as compulsory or 10 years of schooling; highest education is defined as college or university taking five or more years (e.g., a master's degree or PhD, taking 18 or more years).

2.

We use a recent version of the standard in which the levels of education have been revised to be more compatible with international standards (see www.ssb.no/utniv_en/).

3.

1 US$ = 5.80 NOK according to exchange rates as of March 14, 2012.

4.

The income of persons with zero earnings is set to 1 NOK.

5.

Only 0.02 % become fathers before they reach age 16.

6.

The full results from these models may be obtained from the authors.
References
Allison, P. (1995). Survival analysis using the SAS® system: A practical guide. Cary, NC: SAS Institute Inc.

Andersson, G., Rønsen, M., Knudsen, L. B., Lappegård, T., Neyer, G., Skrede, K., & Vikat, A. (2009). Cohort fertility patterns in the Nordic countries. Demographic Research, 20(14), 313–352. doi:10.4054/DemRes.2009.20.14

Becker, G. (1981). A treatise on the family. Cambridge, MA: Harvard University Press.

Bernhardt, E. (2000). Att skaffa barn på 2000-tallet. Vad påverkar viljan att bli föräldar? [Having children in the 2000s. What affects the wish to become parents?]. Framtider, 4, 4–7.

Buber, I., & Prskawetz, A. (2000). Fertility in second unions in Austria: Findings from the Austrian FFS. Demographic Research, 3(2). doi:10.4054/DemRes.2000.3.2

Byberg, I. H., Foss, A. H., & Noack, T. (2001). Gjete kongens harer – rapport fra arbeidet med å få samboere mer innplassert i statistikken [Report on cohabitation in statistics]. Reports 2001/40. Oslo: Statistics Norway.

Carlson, M. J., & Furstenberg, F. F. (2006). The prevalence and correlates of multipartnered fertility among urban US parents. Journal of Marriage and Family, 68, 718–732.

Goldscheider, F., & Kaufman, G. (1996). Fertility and commitment: Bringing men back in. Population and Development Review, 22, 87–99.

Gupta, N. D., Smith, N., & Stratton, L. S. (2007). Is marriage poisonous? Are relationships taxing? An analysis of the male marital wage differential in Denmark. Southern Economic Journal, 74, 412–433.

Guzzo, K. B., & Furstenberg, F. F. (2007). Multipartnered fertility among American men. Demography, 44, 583–601.

Härkönen, J., & Dronkers, J. (2006). Stability and change in the educational gradient of divorce. A comparison of seventeen countries. European Sociological Review, 22, 501–517.

Henz, U. (2002). Childbirth in East and West German stepfamilies: Estimated probabilities from hazard rate models. Demographic Research, 7(6), 307–342.

Hoem, J. M. (1997). Educational gradients in divorce risks in Sweden in recent decades. Population Studies, 51, 19–27.

Jalovaara, M. (2003). The joint effects of marriage partners' socioeconomic positions on the risk of divorce. Demography, 40, 67–81.

Juby, H., & Le Bourdais, C. (1999). Where have all the children gone? Comparing mothers' and fathers' declarations in retrospective surveys. Canadian Studies in Population, 26, 1–20.

Kaufman, G. (2000). Do gender role attitudes matter? Family formation and dissolution among traditional and egalitarian men and women. Journal of Family Issues, 21, 128–144.

Kitterød, R. H. (2002). Utdanning og ulikhet? En diskusjon av utdanningsnivåets betydning for deling av husarbeid blant småbarnsforeldre [Education and inequality? A discussion of the educational effect of the division of housework among parents with young children]. Sosiologisk Tidsskrift, 3, 179–208.

Kitterød, R. H., & Pettersen, S. V. (2006). Making up for mothers' employed working hours? Housework and childcare among Norwegian fathers. Work Employment and Society, 20, 473–492.

Kravdal, O., & Rindfuss, R. R. (2008). Changing relationship between education and fertility: A study of women and men born 1960 to 1964. American Sociological Review, 73, 854–873.

Kunze, A. (2011, May). Are all the good men fathers? An analysis of earnings dynamics using sibling data. Paper presented at the ESOP workshop on Gender and Households, Oslo, Norway.

Lappegård, T., Rønsen, M., & Skrede, K. (2011). Fatherhood and fertility. Fathering, 9, 103–120.

Lundberg, S., & Rose, E. (2002). The effects of sons and daughters on men's labor supply and wages. The Review of Economics and Statistics, 84, 251–268.

Lyngstad, T. (2004). The impact of parents' and spouses' education on divorce rates in Norway. Demographic Research, 10(5), 121–142. doi:10.4054/DemRes.2004.10.5

Manlove, J., Logan, C., Ikramullah, E., & Holcombe, E. (2008). Factors associated with multiple-partner fertility among fathers. Journal of Marriage and Family, 70, 536–548.

Manning, W. D., Smock, P. J., & Majumdar, D. (2004). The relative stability of cohabiting and marital unions for children. Population Research and Policy Review, 23, 135–159.

Martín-García, T. (2009). "Bring men back in": A re-examination of the impact of type of education and educational enrolment on first births in Spain. European Sociological Review, 25, 199–213.

Oláh, L. S. (2001). Gender and family stability: Dissolution of the first parental union in Sweden and Hungary. Demographic Research, 4(2), 29–96. doi:10.4054/DemRes.2001.4.2

Petersen, T., Penner, A., & Høgsnes, G. (2011). The male marital wage premium: Sorting versus differential pay. Industrial & Labor Relations Review, 64, 283–304.

Rendall, M., Clarke, L., Peters, H. E., Ranjit, N., & Verropoulou, G. (1999). Incomplete reporting of men's fertility in the United States and Britain: A research note. Demography, 36, 135–144.

Rogers, W. M., III, & Stratton, L. S. (2010). The male marital wage differential: Race, training, and fixed effects. Economic Inquiry, 48, 722–742.

Rønsen, M., & Skrede, K. (2006). Nordic fertility patterns: Compatible with gender equality? In A.-L. Ellingsæter & A. Leira (Eds.), Politicising parenthood: Gender relations in Scandinavian welfare state restructuring (pp. 53–76). Bristol, UK: Policy Press.

Rønsen, M., & Skrede, K. (2010). Can public policies sustain fertility in the Nordic countries? Lessons from the past and questions for the future. Demographic Research, 22, 321–346. doi:10.4054/DemRes.2010.22.13

Skrede, K. (2004). Færre menn blir fedre [Fewer men are becoming fathers]. Økonomiske Analyzer, 6, 57–68.

Thomson, E. (2004). Step-families and childbearing desires in Europe. Demographic Research, Special Collection, 3(5), 117–134. doi:10.4054/DemRes.2004.S3.5

UNDP. (2009). Human development report 2009. Overcoming barriers: Human mobility and development. New York: United Nations Development Programme.

Vikat, A., Thomson, E., & Hoem, J. M. (1999). Stepfamily fertility in contemporary Sweden: The impact of childbearing before the current union. Population Studies, 53, 211–225.
Acknowledgments
This research was supported by the Research Council of Norway, and constitutes a part of the research project "Family dynamics, fertility choices, and family policy" (202442/S20). We are grateful for valuable comments from three anonymous referees and helpful suggestions from Torbjørn Hægeland, Øystein Kravdal, Turid Noack, Kjetil Telle, and participants at the XXVI IUSSP International Population Conference in Marrakech, Morocco, 2009.
About this article
Cite this article
Lappegård, T., Rønsen, M. Socioeconomic Differences in Multipartner Fertility Among Norwegian Men. Demography 50, 1135–1153 (2013). https://doi.org/10.1007/s13524-012-0165-1
Keywords
Male fertility

Multipartner fertility

Childlessness

Socioeconomic differences