Abstract
Climate change is a major issue for rural communities in developing countries; thus, a better understanding of climate-related vulnerability and risk beliefs to unlock adaptation actions is necessary. By focusing on the rural communities located in the Mexican lagoon system of El Carmen, El Pajonal and La Machona, we first investigate different sources of vulnerability (exposure, sensitivity and adaptive capacity) and derive an aggregated vulnerability index integrating all the information. Hence, we link the different vulnerability sources—on top of additional cognitive and experiential elements—with climate-related individual risk perceptions. On the one hand, results identify the municipalities and communities most endangered and reveal the existence of levels of vulnerability along the lagoon deserving prioritization and action. On the other hand, a relationship between greater vulnerability and higher perception of risk applies. While exposure, sensitivity and cognitive components are found to shape climate-related risk perception, adaptive capacity and experiential factors appear to have no statistically significant influence.
This is a preview of subscription content,
to check access.
Access this article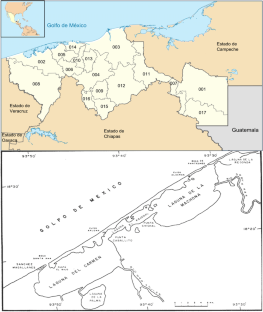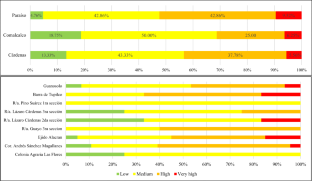 References
Abid M, Schilling J, Scheffran J, Zulfiqar F (2016) Climate change vulnerability, adaptation and risk perceptions at farm level in Punjab, Pakistan. Sci Total Environ 547:447–460

Adelekan IO (2010) Vulnerability of poor urban coastal communities to flooding in Lagos, Nigeria. Environ Urban 22(2):433–450

Adger WN (2006) Vulnerability. Glob Environ Chang 16(3):268–281

Adger WN, Arnell NW, Tompkins EL (2005) Successful adaptation to climate change across scales. Glob Environ Chang 15(2):77–86

Ajzen I (1985) From intentions to actions: a theory of planned behavior. In: Kuhl J, Beckman J (eds) Action-control: from cognition to behavior. Springer, Heidelberg, pp 11–39

Allen K (2003) Vulnerability reduction and the community-based approach. In: Pelling M (ed) Natural disasters and development in a globalising world. Routledge, London, pp 170–184

Andersen LE, Verner D, Wiebelt M (2017) Gender and climate change in Latin America: an analysis of vulnerability, adaptation and resilience based on household surveys. J Int Dev 29(7):857–876

Arbuckle JG Jr, Morton LW, Hobbs J (2015) Understanding farmer perspectives on climate change adaptation and mitigation: the roles of trust in sources of climate information, climate change beliefs, and perceived risk. Environ Behav 47(2):205–234

Barbier EB (2015) Climate change impacts on rural poverty in low-elevation coastal zones. Estuar Coast Shelf Sci 165:A1–A13

Barbier EB, Hochard JP (2018) The impacts of climate change on the poor in disadvantaged regions. Rev Environ Econ Policy 12(1):26–47

Barnes AP, Toma L (2012) A typology of dairy farmer perceptions towards climate change. Clim Chang 112(2):507–522

Beltrán JE (1988) Petróleo y desarrollo: la política petrolera en Tabasco. Gobierno del Estado de Tabasco, Villahermosa

Bergstrand K, Mayer B, Brumback B, Zhang Y (2015) Assessing the relationship between social vulnerability and community resilience to hazards. Soc Indic Res 122(2):391–409

Bodin Ö, Crona B (2009) The role of social networks in natural resource governance: what relational patterns make a difference? Glob Environ Chang 19(3):366–374

Bonatti M, Sieber S, Schlindwein SL, Lana MA, de Vasconcelos ACF, Gentile E, Boulanger J-P, Plencovich MC, Malheiros TF (2016) Climate vulnerability and contrasting climate perceptions as an element for the development of community adaptation strategies: case studies in Southern Brazil. Land Use Policy 58:114–122

Bord RJ, Fisher A, O'Connor RE (1998) Public perceptions of global warming: United States and international perspectives. Clim Res 11:75–84

Brody SD, Zahran S, Vedlitz A, Grover H (2008) Examining the relationship between physical vulnerability and public perceptions of global climate change in the United States. Environ Behav 40(1):72–95

Brody S, Grover H, Vedlitz A (2012) Examining the willingness of Americans to alter behaviour to mitigate climate change. Clim Pol 12:1–22

Calliari E, Ramieri E, Michetti M, Farnia L (2018) A network approach for moving from planning to implementation in climate change adaptation: evidence from southern Mexico. Environ Sci Policy 93:146–157

Caniglia BS, Vallée M, Frank B (2017) Resilience, environmental justice and the city. Routledge

Cardona OD (2005) Indicators of disaster risk and risk management: program for Latin America and the Caribbean. Summary report. Inter-American Development Bank—Sustainable Development Department, Washington D.C.

CEPAL (2012) Impacto socioeconómico de las inundaciones registradas en el estado de tabasco de septiembre a noviembre de 2011. Mexico D.F.: N.U. CEPAL. Available at: https://www.cepal.org/es/publicaciones/25923-impacto-socioeconomico-inundaciones-registradas-estado-tabasco-septiembre

Costello A, Abbas M, Allen A, Ball S, Bell S, Bellamy R, Friel S, Groce N, Johnson A, Kett M, Lee M, Levy C, Maslin M, McCoy D, McGuire B, Montgomery H, Napier D, Pagel C, Patel J, Puppim de Oliveira JA, Redclift N, Rees H, Rogger D, Scott J, Stephenson J, Twigg J, Wolff J, Patterson C (2009) Managing the health effects of climate change. Lancet and University College London Institute for Global Health Commission. Lancet 373(9676):1693–1733

Dietz T, Dan A, Shwom R (2007) Support for climate change policy: social psychological and social structural influences. Rural Sociol 72:185–214

Dumenu WK, Obeng EA (2016) Climate change and rural communities in Ghana: social vulnerability, impacts, adaptations and policy implications. Environ Sci Policy 55:208–217

Eakin H, Bojórquez-Tapia LA (2008) Insights into the composition of household vulnerability from multicriteria decision analysis. Glob Environ Chang 18(1):112–127

Easterling DR, Evans JL, Groisman PY, Karl TR, Kunkel KE, Ambenje P (2000) Observed variability and trends in extreme climate events: a brief review. Bull Am Meteorol Soc 81(3):417–425

Eisenack K, Moser SC, Hoffmann E, Klein RJT, Oberlack C, Pechan A, Rotter M, Termeer CJAM (2014) Explaining and overcoming barriers to climate change adaptation. Nat Clim Chang 4(10):867–872

Freduah G, Fidelman P, Smith TF (2019) A framework for assessing adaptive capacity to multiple climatic and nonclimatic stressors in small-scale fisheries. Environ Sci Policy 101:87–93

Friedman JB (2009) Adaptación a los impactos del cambio climático en los humedales costeros del Golfo de México. Volumen I. Instituto Nacional de Ecología, Mexico

Füssel H-M (2007) Vulnerability: a generally applicable conceptual framework for climate change research. Glob Environ Chang 17(2):155–167

Giannini V, Ramieri E, Caso-Chávez M, Santos-Del-Prado K, Martínez KP (2017) A participatory process to design climate change adaptation measures for the Carmen-Pajonal-Machona lagoon system in Mexico. In: Filho WL, Keenan JM (eds) Climate change adaptation in North America. Fostering resilience and the regional capacity to adapt. Springer, pp 27–49

Gorst A, Dehlavi A, Groom B (2018) Crop productivity and adaptation to climate change in Pakistan. Environ Dev Econ 23(6):679–701

Gurri FD, Ruiz-García W, Molina-Rosales DO, Vallejo-Nieto MI (2019) Measuring individual vulnerability to floods in the lower and middle Grijalva River Basin, Tabasco, Mexico. Nat Hazards 96:149–171

Gutiérrez-Estrada M, Galaviz-Solis A (1983) Morfología y sedimentos recientes de las lagunas El Carmen, Pajonal y La Machona, Tabasco, México. Anales del Instituto de Ciencias del Mar y Limnología. Universidad Nacional Autónoma de México

Hinkel J (2011) Indicators of vulnerability and adaptive capacity: towards a clarification of the science policy interface. Glob Environ Chang 21(1):198–208

Howden SM, Soussana J-F, Tubiello FN, Chhetri N, Dunlop M, Meinke H (2007) Adapting agriculture to climate change. Proc Natl Acad Sci 104:19691–19696

IFPRI - International Food Policy Research Institute (2006) PROGRESA and its impacts on the human capital and welfare of households in rural Mexico: a synthesis of the results of an evaluation by IFPRI. International Food Policy Research Institute, Washington: D.C.

INEGI (2010) Censo de Poblacion y Vivienda 2010. Instituto Nacional de Estadística y Geografía, Mexico

INEGI (2012) Panorama agropecuario en Tabasco: Censo Agropecuario 2007. Instituto Nacional de Estadística y Geografía, Mexico

IPCC (2007) Climate change 2007: impacts, adaptation and vulnerability. Contribution of Working Group II to the Fourth Assessment Report of the Intergovernmental Panel on Climate Change. Cambridge University Press, Cambridge

IPCC (2012) Managing the risks of extreme events and disasters to advance climate change adaptation In: Field CB et al (eds) A special report of working groups I and II of the Intergovernmental Panel on Climate Change (IPCC). Cambridge University Press, Cambridge and New York

IPCC (2014a) Climate change 2014: synthesis report. Contribution of working groups I, II and III to the Fifth Assessment Report of the Intergovernmental Panel on Climate Change. Geneva, Switzerland

IPCC (2014b) Summary for policymakers. In: Climate change 2014: impacts, adaptation, and vulnerability. Part A: global and sectoral aspects. Contribution of working group II to the Fifth Assessment Report of the Intergovernmental Panel on Climate Change. Cambridge University Press, Cambridge

IPCC TAR (2001) Climate change 2001: impacts, adaptation and vulnerability. IPCC Third Assessment Report. Cambridge University Press

Jaeger C, Durrenberger G, Kastenholz H, Truffer B (1993) Determinants of environmental action with regard to climatic change. Clim Chang 23:193–211

Kahneman D, Tversky A (1979) Prospect theory: an analysis of decision under risk. Econometrica 47(2):263–291

Kanouse DE, Hanson L (1972) Negativity in evaluations. In: Jones EE, Kanouse DE, Valins S, Kelley HH, Nisbett RE, Weiner B (eds) Attribution: perceiving the causes of behavior. General Learning Press, Morristown

Kirkby P, Williams C, Huq S (2017) Community-based adaptation (CBA): adding conceptual clarity to the approach and establishing its principles and challenges. Clim Dev 10(7):577–589

Klein WM, Harris PR, Ferrer RA, Zajac LE (2011) Feelings of vulnerability in response to threatening messages: effects of self-affirmation. J Exp Soc Psychol 47(6):1237–1242

Lee TM, Markowitz EM, Howe PD, Ko C-Y, Leiserowitz AA (2015) Predictors of public climate change awareness and risk perception around the world. Nat Clim Chang 5:1014–1020

Mendelsohn R, Dinar A, Williams L (2006) The distributional impact of climate change on rich and poor countries. Environ Dev Econ 11(2):159–178

Michetti M, Zampieri M (2014) Climate-human-land interactions: a review of major modelling approaches. Land 3(3):793–833

Milfont TL (2012) The interplay between knowledge, perceived efficacy, and concern about global warming and climate change: a one-year longitudinal study. Risk Anal 32(6):1003–1020

Muttarak R, Lutz W (2014) Is education a key to reducing vulnerability to natural disasters and hence unavoidable climate change? Ecol Soc 19(1):42

Ngo CC, Poortvliet PM, Feindt PH (2019) Drivers of flood and climate change risk perceptions and intention to adapt: an explorative survey in coastal and delta Vietnam. J Risk Res:1–23. https://doi.org/10.1080/13669877.2019.1591484

O'Brien K, Eriksen S, Nygaard LP, Schjolden A (2007) Why different interpretations of vulnerability matter in climate change discourses. Clim Pol 7(1):73–88

O'Connor RE, Bord RJ, Fisher A (1999) Risk perceptions, general environmental beliefs, and willingness to address climate change. Risk Anal 19(3):461–471

Oberlack C (2017) Diagnosing institutional barriers and opportunities for adaptation to climate change. Mitig Adapt Strateg Glob Chang 22(5):805–838

Ortiz PMA (1992) Retroceso reciente de la línea de costa del frente deltaico del río San Pedro, Campeche, Tabasco. Investigaciones Geográficas, Boletín 25, Instituto de Geografía, UNAM, México, pp 7–23

Qaisrani A, Muhammad AU, Ghamz EAS, Kashif MS (2018) What defines livelihood vulnerability in rural semi-arid areas? Evidence from Pakistan. Earth Syst Environ (2018) 2:455–475

Renn O (1992) Concept of risk: a classification. In: Krimsky S, Golding D (eds) Social theories of risk. Greenwood Publishing Group, Westport

Rogers RW (1975) A protection motivation theory of fear appeals and attitude change. J Psychol 91(1):93–114

Rozin P, Royzman EB (2001) Negativity bias, negativity dominance, and contagion. Personal Soc Psychol Rev 5(4):296–320

Safi AE, Smith WJ, Liu Z (2012) Rural Nevada and climate change: vulnerability, beliefs, and risk perception. Risk Anal 32(6)

Savage I (1993) Demographic influences on risk perceptions. Risk Analysis (1993) 3(4):413–420

Scoccimarro E, Michetti M, Gualdi S (2015) Análisis de los escenarios climáticos presentes y futuros. Capítulo 2 in "Valoración de los impactos de actividades humanas y del cambio climático, detección de sitios clave y propuestas de medidas de adaptación. Informe de valoración de los impactos de actividades antrópicas y del cambio climático". Reporte Técnico 25051-REL-T010.3. Producto C del proyecto" Diseño de Medidas de Adaptación para Reducir la Vulnerabilidad del sitio piloto del Sistema lagunar Carmen-Pajonal-Machona, Tabasco, a los Impactos Generados por el Cambio Climático y por Actividades Humanas"

Slovic P (2009) The perception of risk. Earthscan, London

Spence A, Poortinga W, Butler C, Pidgeon NF (2011) Perceptions of climate change and willingness to save energy related to flood experience. Nat Clim Chang 1(1):46–49

Stern PC (2000) New environmental theories: toward a coherent theory of environmentally significant behavior. J Soc Issues 56:407–424

Stevenson KT, Peterson MN, Bondell HD, Moore SE, Carrier SJ (2014) Overcoming skepticism with education: interacting influences of worldview and climate change knowledge on perceived climate change risk among adolescents. Clim Chang 126:293–304

Taylor M (2014) The political ecology of climate change adaptation: livelihoods, agrarian change and the conflicts of development. Routledge, London

Turner BL, Kasperson RE, Matsone PA, McCarthy JJ, Corell RW, Christensene L, Eckley N, Kasperson JX, Luers A, Martello ML, Polsky C, Pulsipher A, Schiller A (2003) A framework for vulnerability analysis in sustainability science. Proc Natl Acad Sci U S A 100(14):8074–8079

UNDP (2006) Human development report, United Nations Development Program. Available at: http://hdr.undp.org/sites/default/files/reports/267/hdr06-complete.pdf

UNEP (2016) The adaptation finance gap report 2016. United Nations Environment Programme (UNEP), Nairobi

van der Linden S (2015) The social-psychological determinants of climate change risk perceptions: towards a comprehensive model. J Environ Psychol 41:112–124

van der Linden S (2017) Determinants and measurement of climate change risk perception, worry, and concern. In: Nisbet MC, Schafer M, Markowitz E, Ho S, O'Neill S, Thaker J (eds) The Oxford encyclopedia of climate change communication. Oxford University Press, Oxford

Weis SWM, Agostini VN, Roth LM, Gilmer B, Schill SR, Knowles JE, Blyther R (2016) Assessing vulnerability: an integrated approach for mapping adaptive capacity, sensitivity, and exposure. Clim Chang 136(3–4):615–629

Wouter Botzen WJ, van den Bergh JCJM (2009) Bounded rationality, climate risks, and insurance: is there a market for natural disasters? Land Econ 85(2):265–278

Yohe G, Tol RSJ (2002) Indicators for social and economic coping capacity—moving toward a working definition of adaptive capacity. Glob Environ Chang 12:25–40
Funding
This research is related to the project "Diseño de Medidas de Adaptación para Reducir la Vulnerabilidad del sitio piloto del Sistema lagunar Carmen-Pajonal-Machona, Tabasco, a los Impactos Generados por el Cambio Climático y por Actividades Humanas", funded by the World Bank and developed by the Instituto Nacional de Ecología y Cambio Climático (INECC) and the Instituto Mexicano de Tecnología del Agua (IMTA). We are greatful to Emiliano Ramieri for his excelent project coordination and Elisa Calliari and Laura Esmeralda Vidal Fernández for their support in data production. 
Ethics declarations
Conflict of interest
The authors declare that they have no conflict of interest.
Additional information
Publisher's note
Springer Nature remains neutral with regard to jurisdictional claims in published maps and institutional affiliations.
About this article
Cite this article
Michetti, M., Ghinoi, S. Climate-driven vulnerability and risk perception: implications for climate change adaptation in rural Mexico. J Environ Stud Sci 10, 290–302 (2020). https://doi.org/10.1007/s13412-020-00607-8
Published:

Issue Date:

DOI: https://doi.org/10.1007/s13412-020-00607-8
Keywords