Abstract
The problem that climate change poses globally is being addressed locally through the use of diverse policy responses in many countries. Following its five-decade history of environmental policy making in the USA, the country has employed a particular mix of different renewable energy policy instruments, or tools, in order to reduce its greenhouse gas emissions and replace fossil fuels with renewably sourced energy. We analyze and compare renewable energy policies and policy instruments from 2000 to 2016 for Argentina, Brazil, Canada, and Mexico with the USA, to determine what makes the USA unique in its robust approach to climate policy and reflect on the time periods when policy making has been the most active. We found that the most often used regulatory instruments in the USA to achieve its climate policy goals have been Renewable Portfolio Standard requirements implemented at the state level, with federal climate mitigation policy being contested.
Access options
Buy single article
Instant access to the full article PDF.
USD 39.95
Price includes VAT (USA)
Tax calculation will be finalised during checkout.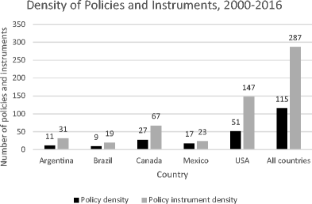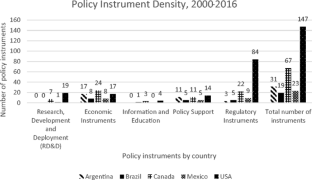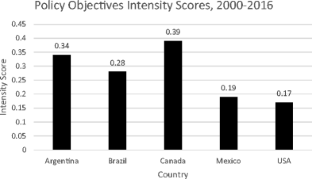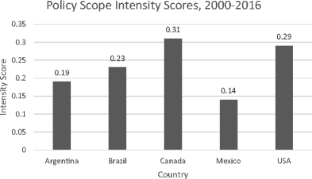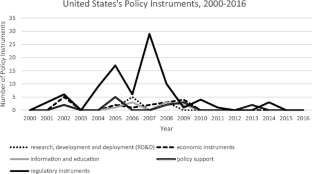 References
America's Pledge (2017) America's Pledge Phase 1 Report: States, Cities, and Businesses in the United States Are Stepping Up on Climate Action, https://www.bbhub.io/dotorg/sites/28/2017/11/ AmericasPledgePhaseOneReportWeb.pdf. Accessed 11 Jan 2018

Bauer MW, Jordan A, Green-Pedersen C, Héritier A (eds) (2012) Dismantling public policy: preferences, strategies, and effects. Oxford University Press, Oxford

Below A (2015) Environmental politics and foreign policy decision making in Latin America: ratifying the Kyoto protocol. Routledge, New York

Blanco G, Cordoba V, Baldi R, Fernandez M, Santalla E (2016) Outcomes of the Clean Development Mechanism in Argentina. Am J Clim Change 5(4):71725

Boden T, Marland G, Andres R (2017) National CO2 emissions from fossil-fuel burning, cement manufacture, and gas flaring: 1751–2014, Carbon Dioxide Information Analysis Center, Oak Ridge National Laboratory, U.S. Department of Energy, http://cdiac.ornl.gov/trends/emis/tre_coun.html. Accessed 12 Jan 2018

BP (2016) BP statistical review of world energy, https://www.bp.com/content/dam/bp/pdf/energy-economics/statistical-review-2016/bp-statistical-review-of-world-energy-2016-full-report.pdf. Accessed 6 July 2017

Buenos Aires Ciudad (2015) Buenos Aires climate change action plan English summary. https://www.bbhub.io/mayors/sites/14/2015/09/Plan-de-accion-resumen-en-ingles.pdf. Accessed 5 Aug 2017

Cashore B, Howlett M (2007) Punctuating which equilibrium? Understanding thermostatic policy dynamics in Pacific Northwest forestry. Am J Political Sci 51:532–551

Clinton B, Gore A Jr (1993) The climate change action plan. The White House, Washington, D.C. https://babel.hathitrust.org/cgi/pt?id=uc1.31822033838525;view=1up;seq=5. Accessed on 7 July 2017

Cook E (ed) (1996) Ozone protection in the United States: elements of success. World Resources Institute, Washington, DC

GOM (Government of Mexico) (2007) Executive summary: national strategy on climate change. Mexico City

Goulder LH (2002) U.S. climate-change policy: the Bush Administration's plan and beyond. Policy Brief, Stanford Institute for Economic Policy Research, Stanford, CA

Harrison K (2007) The road not taken: climate change policy in Canada and the United States. Glob Environ Polit 7:92–117

Hecht AD, Tirpak D (1995) Framework agreement on climate change: a scientific and policy history. Clim Chang 29:371–402

Hood CC, Margetts HZ (2007) The tools of government in the digital age. Palgrave Macmillan, Basingstoke

Howlett M (2009) Governance modes, policy regimes and operational plans: a multi-level nested model of policy instrument choice and policy design. Policy Sci 42:73–89

Hu Y, Monroy CR (2012) Chinese energy and climate policies after Durban: save the Kyoto Protocol. Renew Sust Energ Rev 16:3243–3250

International Monetary Fund (IMF) (2017) Report for selected countries and subjects. World Economic Outlook Database, https://www.imf.org/external/pubs/ft/weo/2017/01/weodata/index.aspx. Accessed on 12 Jan 2018

IPCC (2014) Climate change 2014: synthesis report. Contribution of Working Groups I, II and III to the Fifth Assessment Report of the Intergovernmental Panel on Climate Change[Core Writing Team, R.K. Pachauri and L.A. Meyer (eds)]. IPCC, Geneva, Switzerland

Kern F, Howlett M (2009) Implementing transition management as policy reforms: a case study of the Dutch energy sector. Policy Sci 42:391–408

Klassert C, Möckel S (2013) Improving the policy mix: the scope for market-based instruments in EU biodiversity policy. Environ Policy Gov 23:311–322

Konisky DM, Woods ND (2016) Environmental policy, federalism, and the Obama presidency. Publius 46:366–391

Liftin KT (2000) Advocacy coalitions along the domestic-foreign frontier: globalization and Canadian climate change policy. Policy Stud J 28:236–252

Mir-Artigues P, Del Río P (2014) Combining tariffs, investment subsidies and soft loans in a renewable electricity deployment policy. Energ Policy 69:430–442

Pong F (2010) Understanding developing country stances on post-2012 climate change negotiations: comparative analysis of Brazil, China, India, Mexico, and South Africa. Energ Policy 38:4582–4591

Schaffrin A, Sewerin S, Seubert S (2015) Toward a comparative measure of climate policy output. Policy Stud J 43:257–282

Schandl H, Hatfield-Dodds S, Wiedmann T, Geschke A, Cai Y, West J, Newth D, Baynes T, Lenzen M, Owen A (2016) Decoupling global environmental pressure and economic growth: scenarios for energy use, materials use and carbon emissions. J Clean Prod 132:45–56

Stevens WK (1998) Argentina takes a lead in setting goals on greenhouse gases. New York Times, 12 November. Accessed on 5 Aug 2017

Trennepohl N (2010) Brazil's policy on climate change: recent legislation and challenges to implementation. Carbon Clim Law Rev 4(3):271–277

United Nations Framework Convention on Climate Change (UNFCCC) (2017) NDC registry. http://unfccc.int/focus/ndc_registry/items/9433.php. Accessed on 29 Jan 2018

Wellstead A, Howlett M (2017) Assisted tree migration in North America: policy legacies, enhanced forest policy integration and climate change adaptation. Scand J Forest Res 32:535–543

York R, McGee JA (2017) Does renewable energy development decouple economic growth from CO2 emissions? Socius 3:1–6

Zaelke D, Cameron J (1989–90) Global warming and climate change: an overview of the international legal process. Am Univ J Int Law Policy 5:249–290
About this article
Cite this article
Pischke, E.C., Solomon, B.D. & Wellstead, A.M. A historical analysis of US climate change policy in the Pan-American context. J Environ Stud Sci 8, 225–232 (2018). https://doi.org/10.1007/s13412-018-0476-7
Keywords
Renewable energy

Climate change policy

Historical policy analysis

Pan-America