Abstract
Carbon dioxide (CO2) emissions are one important factor that lead to climate change, and the burning of fossil fuels for many economic activities has significantly contributed to CO2 emissions. The USA and China together accounted for 43% of global CO2 emissions in 2013. This study assesses and compares how the economy has affected the environment by analyzing data for 50 states and DC in the USA and 30 provinces in China. From a longitudinal perspective, the findings show that the economy, measured by GDP per capita, contributed to CO2 emissions. Meanwhile, the impact has become relatively decoupled. From a spatial perspective, the coastal states and provinces that have higher GDP per capita tend to have less CO2 emissions. In addition, Democratic states in the USA tend to have less CO2 emissions than Republican states, after controlling for other variables. We explain the findings by referring to the various contexts at the state/provincial level, country level, and international level. To our knowledge, this is the first study to compare the environmental impact of the economy between the US states and China's provinces. There are many political implications of these findings for both the USA and China moving forward, especially considering the recent political climate change in the USA, along with China's continued expansion as a major global power.
Access options
Buy single article
Instant access to the full article PDF.
USD 39.95
Price includes VAT (USA)
Tax calculation will be finalised during checkout.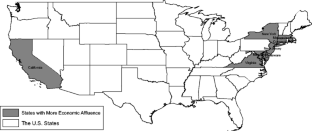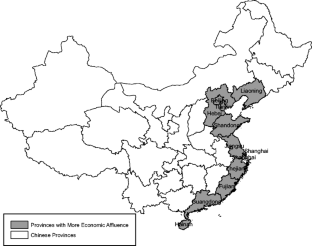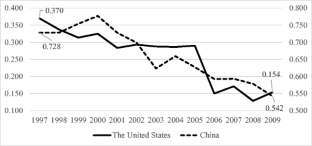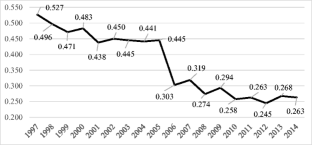 Notes
1.

The relative decoupling means that the growth rate of the environmental variable is positive, but less than the growth rate of the economic variable. This conservative assessment is in comparison with the absolute decoupling that the EKC holds, which means that the environmental variable is stable or decreasing while the economic variable is growing (Organization for Economic Co-operation and Development 2002).

2.

The currency exchange rate between RMB and US dollar has changed over years. It was 8.29 in 1997 ($1 equals approximately ¥8.29) and was 6.83 in 2009.

3.

We conduct several tests to check for violations of modeling assumptions. First, the mean VIF obtained from running an OLS regression of the saturated model is 1.01, which indicates that multicollinearity is likely not a concern. Second, we estimate the model by excluding each state/province and each year in turn and find that there are no potential influential cases. Third, we estimate the first-difference baseline model to assess whether the PW regression model estimates are spurious. The results are consistent, and the PW regression analyses are not biased.
References
Allison PD (2009) Fixed effects regression models. Sage, Thousand Oaks. https://doi.org/10.4135/9781412993869

Carleton TA, Hsiang SM (2016) Social and economic impacts of climate. Science 353(6304):1112. https://doi.org/10.1126/science.aad9837

Clement MT (2011) The Jevons paradox and anthropogenic global warming: a panel analysis of state-level carbon emissions in the United States, 1963–1997. Soc Nat Resour 24(9):951–961. https://doi.org/10.1080/08941920903482937

Dietz T, Rosa EA (1997) Effects of population and affluence on CO2 emissions. PNAS 94(1):175–179. https://doi.org/10.1073/pnas.94.1.175

Dietz T, Frank K, Whitley C, Kelly J, Kelly R (2015) Political influences on greenhouse gas emissions from US states. PNAS 112(27):8254–8259. https://doi.org/10.1073/pnas.1417806112

Fox J (1999) Mountaintop removal in West Virginia: an environmental sacrifice zone. Organ Environ 12(2):163–183. https://doi.org/10.1177/1086026699122002

Gould KA, Pellow DN, Schnaiberg A (2004) Interrogating the treadmill of production: everything you wanted to know about the treadmill but were afraid to ask. Organ Environ 17(3):296–316. https://doi.org/10.1177/1086026604268747

Gould KA, Pellow DN, Schnaiberg A (2008) The treadmill of production: injustice and unsustainability in the global economy. Paradigm, Boulder

Grossman GM, Krueger AB (1995) Economic growth and the environment. Q J Econ 110(2):353–377 http://www.jstor.org/stable/2118443

Hao F (2014) Material extraction/consumption and global trade: an empirical examination for 95 countries between 1980 and 2009. Perspect Glob Dev Technol 13(4):423–443. https://doi.org/10.1163/15691497-12341310

Hao F (2017) A temporal and spatial analysis of anthropogenic drivers of environmental impact for 30 Chinese provinces across three regions between 1997 and 2009. Soc Thought and Res 34:59–84

Intergovernmental Panel on Climate Change (2014) Climate change 2014: synthesis report. United Nations, New York. https://doi.org/10.1017/CBO9781107415416

Jackson RB, Canadell JG, Quéré CL, Andrew RM, Korsbakken JI, Peters GP, Nakicenovic N (2016) Reaching peak emissions. Nat Clim Chang 6(1):7–10. https://doi.org/10.1038/nclimate2892

Jorgenson AK (2012) The sociology of ecologically unequal exchange and carbon dioxide emissions, 1960-2005. Soc Sci Res 41(2):242–252. https://doi.org/10.1016/j.ssresearch.2011.11.011

Jorgenson AK, Clark B (2010) Assessing the temporal stability of the population/environment relationship in comparative perspective. Popul Environ 32(1):27–41. https://doi.org/10.1007/s11111-010-0117-x

Jorgenson AK, Clark B (2012) Are the economy and the environment decoupling? A comparative international study, 1960–2005. Am J Sociol 118(1):1–44 http://www.jstor.org/stable/10.1086/665990

Jorgenson AK, Schor JB, Huang X (2017) Income inequality and carbon emissions in the United States: a state-level analysis, 1997-2012. Ecol Econ 134:40–48. https://doi.org/10.1016/j.ecolecon.2016.12.016

Lidskog R, Mol APJ, Oosterveer P (2015) Towards a global environmental sociology? Legacies, trends and future directions. Curr Sociol 63(3):339–368. https://doi.org/10.1177/0011392114543537

Longhofer W, Jorgenson AK (2017) Decoupling reconsidered: does world society integration influence the relationship between the environment and economic development? Soc Sci Res 65:17–29. https://doi.org/10.1016/j.ssresearch.2017.02.002

Marquart-Pyatt S, Jorgenson AK, Hamilton L (2015) Methodological approaches for sociological research on climate change. In: Dunlap RE, Brulle R (eds) Climate Change and Society: Sociological Perspectives. Oxford University Press, New York, pp 369–411. https://doi.org/10.1093/acprof:oso/9780199356102.003.0012

Meng L, Guo J, Chai J, Zhang Z (2011) China's regional CO2 emissions: characteristics, inter-regional transfer and emission reduction policies. Energy Policy 39(10):6136–6144. https://doi.org/10.1016/j.enpol.2011.07.013

Mol APJ (1995) The refinement of production: ecological modernization theory and the chemical industry. Van Arkel, Utrecht

Mol APJ (2006) Environment and modernity in transitional China: frontiers of ecological modernization. Dev Chang 37(1):29–56. https://doi.org/10.1111/j.0012-155X.2006.00468.x

Mol APJ, Spaargaren G (1993) Environment, modernity and the risk society: the apocalyptic horizon of environmental reform. Int Sociol 8(4):431–459. https://doi.org/10.1177/026858093008004003

Mol APJ, Spaargaren G (2005) From additions and withdrawals to environmental flows. Organ Environ 18(1):91–107. https://doi.org/10.1177/1086026604270459

Organization for Economic Co-operation and Development (2002) Indicators to measure decoupling of environmental pressure from economic growth. OECD, Paris

Rosa EA, Dietz T (2012) Human drivers of national greenhouse-gas emissions. Nat Clim Chang 2(8):581–586. https://doi.org/10.1038/nclimate1506

Rosa EA, Rudel TK, York R, Jorgenson AK, Dietz T (2015) The human (anthropogenic) driving forces of global climate change. In: Dunlap RE, Brulle R (eds) Climate Change and Society: Sociological Perspectives. Oxford University Press, New York, pp 32–60. https://doi.org/10.1093/acprof:oso/9780199356102.003.0002

Schnaiberg A (1980) The environment: from surplus to scarcity. Oxford University Press, New York

Schnaiberg A, Gould KA (1994) Environment and society: the enduring conflict. St. Martin's, New York

Spaargaren G, Mol APJ (1992) Sociology, environment and modernity: ecological modernization as a theory of social change. Soc Nat Resour 5(4):323–344. https://doi.org/10.1080/08941929209380797

Wooldridge JM (2006) Introductory econometrics: a modern approach. South-Western, Mason

York R, Rosa EA, Dietz T (2003) Footprints on the earth: the environmental consequences of modernity. Am Sociol Rev 68(2):279–300 http://www.jstor.org/stable/1519769
About this article
Cite this article
Hao, F., He, G. & Snipes, M. A comparative study of the economy's environmental impact between states in the USA and provinces in China. J Environ Stud Sci 8, 132–141 (2018). https://doi.org/10.1007/s13412-018-0474-9
Keywords
China

Comparative

Economy

Environmental impact

The USA