Abstract
This article examines the conditions under which social learning occurs and leads to adaptive measures through two empirical examples of Peruvian cities that invested in watershed protection for their urban water supplies. Social learning is an increasingly popular approach aimed at achieving socio-ecological resiliency through multi-stakeholder collaborative governance processes. Social learning is a convergence in knowledge that occurs through dialog and deliberation. Yet, assumptions that social learning will necessarily lead to more environmentally sustainable and resilient practices may be overly optimistic, especially as they rarely consider the political and organizational dimensions of decision making. This study analyzes two seemingly similar case studies of multi-stakeholder water management in Peru that resulted in watershed protection programs—a novelty in Peru that will help ensure future water supplies. Despite similar programs adopted, though, the social interactions were markedly different. Social learning occurred in Moyobamba, where the multi-stakeholder platform was characterized by trust, flexibility, and sustainability. In Cusco, however, stakeholders reached an agreement on projects for watershed protection, but the process exhibited little evidence of social learning, trust, or flexibility. In this article, I use process tracing to analyze if and how social learning occurred in each case. Then, I identify factors that contributed to social learning, including diverse participation, open communication, multiple sources of knowledge, extended engagement, unbiased facilitation, and an opportunity to influence outcomes.
Access options
Buy single article
Instant access to the full article PDF.
USD 39.95
Price includes VAT (USA)
Tax calculation will be finalised during checkout.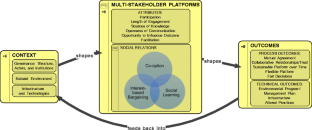 Notes
1.

While this builds off of Pahl-Wostl's process model of social learning, it departs from her (and others') three-level model where social learning occurs at the micro, meso, and macro levels. In line with Reed et al. (2010) critique of the difficulty of discerning learning, this research focuses only on the micro-level, although recognizes that other levels of learning can occur.

2.

To elaborate in greater depth on the other attributes: Sustained engagement over time can affect whether participants have time to form relationships and build trust. Open communication can help affect whether actors actually do open up and share their perspectives. Multiple sources of knowledge can contribute new types of information or new interpretations when combined, and notably also depends on the credibility, legitimacy, and salience of information. Facilitation can affect the tone and conduct of meetings, such as whether voices get heard or different types of knowledge discussed. Scholars also noted that opportunities to influence the outcome can help foster and sustain social learning, as it justifies time and effort to engage.

3.

Due to their many similarities with regard to adopting a watershed protection program, they were selected as "most similar" case studies, yet they differ in terms of social relations (Gerring 2006). Case study boundaries are the geographic context of each MSP's jurisdiction and from 1995 to 2016, which encompasses the period within which each was developed.

4.

Recognizing there are different types of power relations (see Barnett and Duvall 2005), here, I focus on unequal capabilities and resources.

5.

Following Brummel (2010), "shared" was identified when multiple participants had similar knowledge, exhibited a similar perspective, or noted shared knowledge/perspectives across actors, and when these findings were verified across multiple interviewees.

6.

Translated from Spanish transcript.

7.

Among interviewees, there was wide respect for this tiered structure: making decisions with a large group of stakeholders is difficult and people do not have time to go to too many meetings, so many appreciate when a smaller group rolled up their sleeves, developed recommendations, and then presented them to the larger group for discussion and approval.
References
ANA (2013) Plan Nacional de Recursos Hídricos del Perú. Autoridad Nacional del Agua, Lima

Armitage DR, Marschke M, Plummer R (2008) Adaptive co-management and the paradox of learning. Glob Environ Chang 18(1):86–98. https://doi.org/10.1016/j.gloenvcha.2007.07.002

Armitage DR, Plummer R, Berkes F, Arthur RI, Charles AT, Davidson-Hunt IJ, Diduck AP (2009) Adaptive co-management for social–ecological complexity. Front Ecol Environ 7(2):95–102. https://doi.org/10.1890/070089

Bandura A (1977) Social learning theory. Englewood Cliffs, Chicago

Barnett M, Duvall R (Eds) (2005) Power in global governance. Cambridge University Press, Cambridge

Bennett A, Checkel JT (2012) Process tracing: from philosophical roots to best practices. Simons papers in security and Development 21: 30

Biswas AK (2004) Integrated water resources management: a reassessment: a water forum contribution. Water Int 29(2):248–256. https://doi.org/10.1080/02508060408691775

Blomquist W, Schlager E (2005) Political pitfalls of integrated watershed management. Soc Nat Resour 18(2):101–117. https://doi.org/10.1080/08941920590894435

Borowski I (2010) Social learning beyond multistakeholder platforms: a case study on the Elbe River Basin. Soc Nat Resour 23(10):1002–1012. https://doi.org/10.1080/08941920903204307

Brummel RF, Nelson KC, Souter SG, Jakes PJ, Williams DR (2010) Social learning in a policy-mandated collaboration: community wildfire protection planning in the eastern United States. J Environ Plan Manag 53(6):681–699. https://doi.org/10.1080/09640568.2010.488090

Buck L, Wollenberg E, Edmunds D (2001) Social learning in the collaborative management of community forests: lessons from the field. Soc Learn Community For 120:1–20

Cash DW, Clark WC, Alcock F, Dickson NM, Eckley N, Guston DH, Jäger J, Mitchell RB (2003) Knowledge systems for sustainable development. Proc Natl Acad Sci 100(14):8086–8091. https://doi.org/10.1073/pnas.1231332100

Connick S, Innes JE (2003) Outcomes of collaborative water policy making: applying complexity thinking to evaluation. J Environ Plan Manag 46(2):177–197. https://doi.org/10.1080/0964056032000070987

Cundill G, Rodela R (2012) A review of assertions about the processes and outcomes of social learning in natural resource management. J Environ Manag 113:7–14. https://doi.org/10.1016/j.jenvman.2012.08.021

Dryzek J (1997) The politics of the earth. Oxford University Press, Oxford

Dryzek J (2000) Deliberative democracy and beyond: liberals, critics, contestations. Oxford University Press, New York

Elstub S (2010) The third generation of deliberative democracy. Polit Stud Rev 8(3):291–307. https://doi.org/10.1111/j.1478-9302.2010.00216.x

Engle NL, Lemos MC (2010) Unpacking governance: building adaptive capacity to climate change of river basins in Brazil. Glob Environ Chang 20(1):4–13. https://doi.org/10.1016/j.gloenvcha.2009.07.001

Estrada Zúñiga A, Antezana Julián W, Sallo C (2016) Justicia O Injusticia: El Agua de Piuray. Centro de Estudios Regionales Andinos Bartolomé de Las Casas, Comité de Gestión de la Microcuenca Piuray Ccorimarca, and Universidad Nacional de San Antonio Abad del Cusco, Cusco, Peru

Fazey I, Fazey JA, Fischer J, Sherren K, Warren J, Noss RF, Dovers SR (2007) Adaptive capacity and learning to learn as leverage for social–ecological resilience. Front Ecol Environ 5(7):375–380. https://doi.org/10.1890/1540-9295(2007)5[375:ACALTL]2.0.CO;2

Fischer F (2000) Citizens, experts, and the environment. Duke University Press, Durham. https://doi.org/10.1215/9780822380283

Folke C (2006) Resilience: the emergence of a perspective for social–ecological systems analyses. Glob Environ Chang 16(3):253–267. https://doi.org/10.1016/j.gloenvcha.2006.04.002

Folke C, Hahn T, Olsson P, Norberg J (2005) Adaptive governance of social-ecological systems. Annu Rev Environ Resour 30(1):441–473. https://doi.org/10.1146/annurev.energy.30.050504.144511

Forester J (1999) The deliberative practitioner: encouraging participatory planning processes. MIT Press, Cambridge

Gerring J (2006) Case study research: principles and practices. Cambridge University Press, New York. https://doi.org/10.1017/CBO9780511803123

Habermas J (1985) The theory of communicative action, volume 2: lifeworld and system: a critique of functionalist reason

Habermas J (1996) Between facts and norms: contributions to a discourse theory of law and democracy. Mit Press, Cambridge

Holling CS (1973) Resilience and stability of ecological systems. Annu Rev Ecol Syst 4(1):1–23. https://doi.org/10.1146/annurev.es.04.110173.000245

INEI (Instituto Nacional de Estadistica e Informacion) (2017) Población 2000 al 2015. Instituto Nacional de Estadistica e Informacion. http://proyectos.inei.gob.pe/web/poblacion/. Accessed 31 July 2017

Innes JE, Booher DE (1999) Consensus building and complex adaptive systems: a framework for evaluating collaborative planning. J Am Plan Assoc 65(4):412–423. https://doi.org/10.1080/01944369908976071

IPCC (Intergovernmental Panel on Climate Change) (2014) Climate change 2014: impacts, adaptation, and vulnerability. Intergovernmental Panel on Climate Change. http://www.ipcc.ch/report/ar5/wg2/. Accessed 30 Jan 2017

Ison R, Röling N, Watson D (2007) Challenges to science and society in the sustainable management and use of water: investigating the role of social learning. Environ Sci Policy 10(6):499–511. https://doi.org/10.1016/j.envsci.2007.02.008

Kolb DA (2014) Experiential learning: experience as the source of learning and development. FT Press, New Jersey

Lebel L, Grothmann F, Siebenhüner B (2010) The role of social learning in adaptiveness: insights from water management. Int Environ Agreements: Polit Law Econ 10(4):333–353. https://doi.org/10.1007/s10784-010-9142-6

León F, Renner I (2010) Conservation of water sources in Moyobamba: a brief review of the first experience in payments for environmental services in Peru. In Mountain Forum Bulletin, Vol 10

Mostert E, Pahl-Wostl C, Rees Y, Searle B, Tàbara D, Tippett J (2007) Social learning in European river-basin management: barriers and fostering mechanisms from 10 river basins. Ecol Soc 12(1). https://doi.org/10.5751/ES-01960-120119

Muro M, Jeffrey P (2008) A critical review of the theory and application of social learning in participatory natural resource management processes. J Environ Plan Manag 51(3):325–344. https://doi.org/10.1080/09640560801977190

Navarro C, Arturo M, Larrauri L, Mirko I (2016) Valor de la Conservación de la Fuente de Agua y de los Atributos del Servicio de Abastacimiento de Agua de SEDACUSCO: una Aproximación Empleando Experimentos de Elección. Informe Final Proyecto Mediano CIES (Consorcio de Investigación Económico y Social) A1-NaN-T1-2014. SUNASS and Instituto de Investigaciones Económicas Universidad Nacional Mayor de San Marcos, Lima, Peru

Nisbet MC, Scheufele DA (2009) What's next for science communication? Promising directions and lingering distractions. Am J Bot 96(10):1767–1778. https://doi.org/10.3732/ajb.0900041

Noble IR, Huq YA, Carmin J, Goudou D, Lansigan FP, Osman-Elasha B, Villamizar A (2014) Adaptation needs and options. Climate change 2014: impacts, adaptation, and vulnerability. Part a: global and sectoral aspects. Contribution of working group II to the fifth assessment report of the intergovernmental panel on climate change. Intergovernmental panel on climate change, New York

Pahl-Wostl C (2007) Transitions towards adaptive management of water facing climate and global change. Water Resour Manag 21(1):49–62

Pahl-Wostl C (2015) Water governance in the face of global change: from understanding to transformation. Springer. doi: https://doi.org/10.1007/978-3-319-21855-7

Pahl-Wostl C, Hare M (2004) Processes of social learning in integrated resources management. J Community Appl Soc Psychol 14(3):193–206. https://doi.org/10.1002/casp.774

Pahl-Wostl C, Craps M, Dewulf A, Mostert E, Tabara D, Taillieu T (2007) Social learning and water resources management. Ecol Soc 12(2). https://doi.org/10.5751/ES-02037-120205

Pinkerton EW (1994) Local fisheries co-management: a review of international experiences and their implications for salmon management in British Columbia. Can J Fish Aquat Sci 51(10):2363–2378. https://doi.org/10.1139/f94-238

Quintero M, Wunder S, Estrada RD (2009) For services rendered? Modeling hydrology and livelihoods in Andean payments for environmental services schemes. For Ecol Manag 258(9):1871–1880. https://doi.org/10.1016/j.foreco.2009.04.032

Reed M, Evely AC, Cundill G, Raymond I, Fazey A, Glass J, Laing A, Newig J, Parrish B, Prell C, Raymond C, Stringer LC (2010) What is social learning? Ecol Soc 15(4). https://doi.org/10.5751/ES-03564-1504r01

Rodela R (2013) The social learning discourse: trends, themes and interdisciplinary influences in current research. Environ Sci Policy 25:157–166. https://doi.org/10.1016/j.envsci.2012.09.002

Sallo Huallpayunca GC (n.d.) Compensación Por Servicios Ecosistemicos En La Microcuenca Piuray Ccorimarca. Powerpoint Presentation, Chinchero

Schusler TM, Decker DJ, Pfeffer MJ (2003) Social learning for collaborative natural resource management. Soc Nat Resour 16(4):309–326. https://doi.org/10.1080/08941920390178874

Stern M, Echavarría M (2013) Mecanismos de Retribucion Por Servicios Hidricos Para La Cuenca Del Alto Mayo, Departamento de San Martin, Perú. Forest Trends, Washington, DC

SUNASS (2014) Proyecto Moyobamba (San Martin). Youtube video. Available at https://www.youtube.com/watch?v=HlSFn_bCH3o

Tipacti Milachay MA, Romeiro AR, Ordónez Guerrero IC, Capacle Correa VH (2010) Pago de Servicios Ambientales Hidrológicos una Estrategia para la gestión Sustentable de los Servicios Ecosistémicos y el Desarrollo Humano. HAL00526995. Innovation and Sustainable Development in Agriculture and Food, Montpellier, France

Vinke-de KJ Bressers H, Augustijn D (2014) How social learning influences further collaboration: experiences from an international collaborative water project. Ecol Soc, 19(2)

Walker B, Holling CS, Carpenter SR, Kinzig A (2004) Resilience, adaptability and transformability in social–ecological systems. Ecol Soc 9(2):5

Warner J (2007) Multi-stakeholder platforms for integrated water management. Ashgate Publishing, Burlington

Webler T, Kastenholz H, Renn O (1995) Public participation in impact assessment: a social learning perspective. Environ Impact Assess Rev 15(5):443–463. https://doi.org/10.1016/0195-9255(95)00043-E

Wenger E (1998) Communities of practice: learning, meaning, and identity. Cambridge University Press, Cambridge. https://doi.org/10.1017/CBO9780511803932

Wondolleck JM, Yaffee SL (2000) Making collaboration work: lessons from innovation in natural resource management. Island Press

Woodhill AJ (2004) Dialogue and transboundary water resources management: towards a framework for facilitating social learning. In: Timmerman JG, Langaas S (eds) The role and use of information in European Transboundary River basin management. IWA Publishing, London, pp 44–59

Zamalloa Jordán JD (2016) Experiencia en el Diseño y en la Implementación de los MRSE en el Perú. Presented at the Politicas Publicas Para Garantizar la Securidad Hídrica en el Sector Agua Potable y Saneamiento del Peru, Cajamarca, Peru, 7 July 2016
Acknowledgements
This work was supported by the American University Graduate Research Fellowship, American University School of International Service Summer Research Awards, and Tinker Field Research Grant. Thanks to interview participants and to anonymous reviewers.
The interview protocol for human subjects research was reviewed and approved by American University's review board.
About this article
Cite this article
Lindsay, A. Social learning as an adaptive measure to prepare for climate change impacts on water provision in Peru. J Environ Stud Sci 8, 477–487 (2018). https://doi.org/10.1007/s13412-017-0464-3
Keywords
Water

Social learning

Adaptive capacity

Peru

Multi-stakeholder platform

Ecosystem services