Abstract
In light of President Trump's decision to withdraw the USA from the Paris Accord and reverse a number of federal climate policies, many states and localities have pledged to increase their activities to reduce greenhouse gas emissions. This article discusses the policies that they are likely to consider, and uses national survey data to ascertain whether policymakers are likely to find support for each of these policy approaches among the general public.
Access options
Buy single article
Instant access to the full article PDF.
USD 39.95
Price includes VAT (USA)
Tax calculation will be finalised during checkout.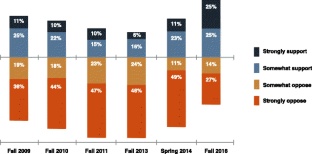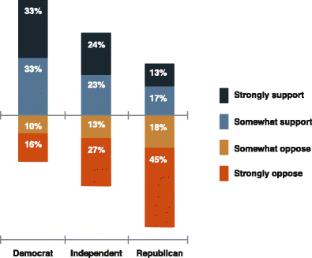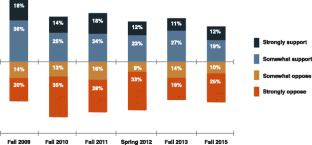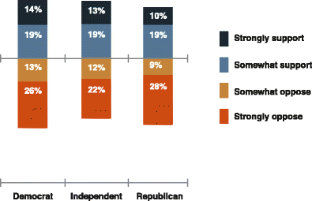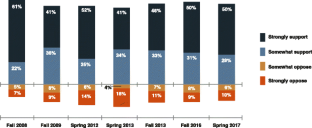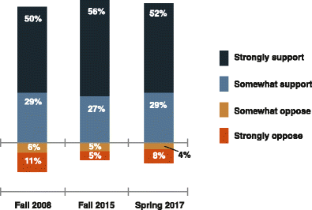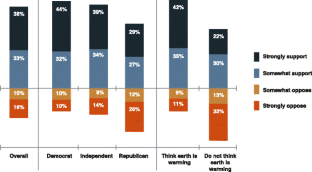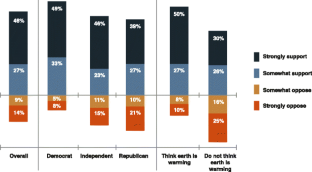 References
Amdur D, Rabe BG, Borick C (2014) Public views on a carbon tax depend on the proposed use of revenue. [a report from the National Surveys on Energy and Environment]. Ann Arbor, MI: The Center for Local, State, and Urban Policy at the Gerald R. Ford School of Public Policy, University of Michigan. Retrieved from http://closup.umich.edu/issues-in-energy-and-environmental-policy/13/public-views-on-a-carbon-tax-depend-on-the-proposed-use-of-revenue/

Forster D, Smith DA (2015) Environmental policies on the ballot. In: Wolinsky-Nahmias Y (ed) Climate change politics: U.S. policies and civic action. Sage, Washington, D.C.

Lenferna A (2017) Washington State's carbon tax initiative: lessons in getting carbon taxes via referendums. Public Administration Review Speak Your Mind Blog Commentary Symposium. Retrieved from https://publicadministrationreview.org/speak-your-mind-climate-change-symposium/

Mills SB, Rabe BG, Borick C (2015) Cap-and-trade support linked to revenue use. [a report from the National Surveys on Energy and Environment]. Ann Arbor, MI: The Center for Local, State, and Urban Policy at the Gerald R. Ford School of Public Policy, University of Michigan. Retrieved from http://closup.umich.edu/issues-in-energy-and-environmental-policy/23/cap-and-trade-support-linked-to-revenue-use/

Mills SB, Rabe BG, Borick C (2017) Strong public support for state-level policies to address climate change. [a report from the National Surveys on Energy and Environment]. Ann Arbor, MI: The Center for Local, State, and Urban Policy at the Gerald R. Ford School of Public Policy, University of Michigan. Retrieved from http://closup.umich.edu/issues-in-energy-and-environmental-policy/31/strong-public-support-for-state-level-policies-to-address-climate-change/

National Conference of State Legislature (2017) Energy and environmental Legislation Database. Retrieved on 29 August 2017 from http://www.ncsl.org/research/energy/energy-environment-legislation-tracking-database.aspx

Puskin D, Mills SB (2017) Moving the needle on American support for a carbon tax. [a report from the National Surveys on Energy and Environment]. Ann Arbor, MI: The Center for Local, State, and Urban Policy at the Gerald R. Ford School of Public Policy, University of Michigan. Retrieved from http://closup.umich.edu/issues-in-energy-and-environmental-policy/30/moving-the-needle-on-american-support-for-a-carbon-tax/

Rabe BG (2004) Statehouse and greenhouse: the emerging politics of American Climate Change Policy. Brooking Institution Press, Washington, DC

Rabe BG (2018) Can we price carbon? MIT Press, Cambridge, unpublished

Raymond L (2016) Reclaiming the atmospheric commons. MIT Press, Cambridge

Selin H, VanDeveer SD (eds) (2009) Changing climates in North American politics: institutions, policymaking, and multilevel governance. MIT Press, Cambridge
About this article
Cite this article
Rabe, B.G., Mills, S.B. State energy policy in the Trump Era: insights from public opinion. J Environ Stud Sci 7, 535–539 (2017). https://doi.org/10.1007/s13412-017-0453-6
Keywords
Climate policy

State policy

Public opinion

Carbon tax

Renewable energy