Abstract
The Bahamas is considered to be one of the most vulnerable countries to climate change due to its geographic, economic, and population characteristics. While prior research on specific Bahamian resident groups, such as tourism and healthcare workers, has shown limited awareness of climate change, minimal knowledge of specific impacts of environmental change, and low prioritization of environmental issues, in general, there is a lack of studies on the perception of the broader Bahamian public about climate change issues. In this study, over 500 Bahamian residents were surveyed to determine their familiarity with the issue of climate change, specific impacts on The Bahamas, and the perceived levels of risk of these impacts. The majority of respondents were females between the ages of 18 and 30 with some level of college education. The study provides analysis of how climate change is perceived by this subset of the population and potential links with how these perceptions can guide policymaking and risk communication strategies. The study also has implications for other small island developing states, as it contributes to an understanding of the needs for localized data and public education in vulnerable states such as these.
Access options
Buy single article
Instant access to the full article PDF.
USD 39.95
Price includes VAT (USA)
Tax calculation will be finalised during checkout.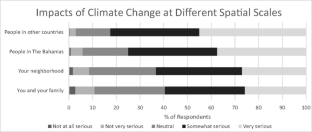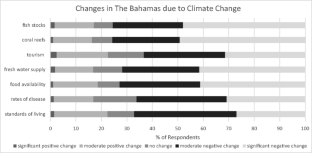 References
Akerlof K, DeBono R, Berry P, Leiserowitz A, Roser-Renouf C, Clarke K, Rogaeva A, Nisbet M, Weathers M, Maibach E (2010) Public perceptions of climate change as a human health risk: surveys of the United States, Canada and Malta. Int J Environ Res Public Health 7(6):2559–2606

Akerlof K, Delamater P, Boules C, Upperman C, Mitchell C (2015) Vulnerable populations perceive their health as at risk from climate change. Intl Journal of Env Research & Public Health 12:15419–15433

Altschuler B, Brownlee M (2016) Perceptions of climate change on the Island of Providencia. Local Env Journal Justice and Sustainability 12(5):615–635

Answani S, Vaccaro I, Abernethy K, Albert S, Fernández-López de Paolo J (2015) Can perceptions of environmental and climate change in island countries assist in adaptation planning locally? Environ Manag 56:1487–1501

Bahamas National Trust (BNT) (2015) Teacher workshops. Retrieved from: http://bnt.bs/education/teacher-workshops/

Bahamas Reef Environment Educational Foundation (BREEF) (2015) Corals, consumers & climate change: educator's toolkit. BREEF, Nassau

Bain PG, Hornsey MJ, Bongiorno R, Jeffries C (2012) Promoting pro-environmental action in climate change deniers. Nat Clim Chang 2(8):600–603

Belle N, Bramwell B (2005) Climate change and small island tourism: policy maker and industry perspectives in Barbados. J Travel Res 44(1):32–41

Benjamin, L. & Thomas, A. (2016) '1.5°C to stay alive? AOSIS and the long term temperature goal in the Paris Agreement. IUCNAEL E-J

BEST Commission (2005) National policy for the adaptation to climate change. Bahamas Government

BEST Commission (2013) Who tief muh conch? The possible effects of climate change in The Bahamas. The Public Education and Outreach Subcommittee of The National Climate Change Committee

Brody S, Zahran S, Vedlitz A, Grover H (2008) Examining the relationship between physical vulnerability and public perceptions of global climate change in the United States. Environmental Behaviour 40(1):72–95

Brulle RJ, Carmichael J, Jenkins JC (2012) Shifting public opinion on climate change: an empirical assessment of factors influencing concern over climate change in the US, 2002–2010. Clim Chang 114(2):169–188

Bunce M, Rosendo S, Brown K (2010) Perceptions of climate change, multiple stressors and livelihoods on marginal African coasts. Environ Dev Sustain 12:407–440

Buijs C (2010) Inuit perceptions of climate change in East Greenland. Inuit Studies 34:39–54

Carlton S, Jacobson S (2013) Climate change and coastal environmental risk perception in Florida. Journal of Env Management 130:32–39

Combest-Friedman C, Christie P, Miles E (2012) Household perceptions of coastal hazards and climate change in central Philippines. Journal of Env Management 112:137–148

Crona B, Wutich A, Brewis A, Gartin M (2013) Perceptions of climate change: linking local and global perceptions through a cultural knowledge approach. Clim Chang 119(2):519–531

Dasgupta S, Laplante B, Meisner C, Wheeler D, Yan J (2009) The impact of sea level rise on developing countries: a comparative analysis. Clim Chang 93(3–4):379–388

DeBono R, Vincenti K, Calleje N (2010) Risk communities: climate change as a human-health threat, a survey of public perceptions. Eur J Pub Health:143–149

Department of Statistics 2010 2010 Census of population and housing. Government of The Bahamas. 197pp

Dietz T, Dan A, Shwom R (2007) Support for climate change policy: social psychological and social structural influences. Rural Sociol 72(2):185–214

Flaherty, T. B., Honeycutt, E. D. Jr., & Powers, D. (2015) Exploring text-based electronic mail surveys as a means of primary data collection. In proceedings of the 1998 Academy of Marketing Science (AMS) annual conference (pp. 260–264). Springer International Publishing

Gamble DW, Campbell D, Allen TL, Barker D, Curtis S, McGregor D, Popke J (2010) Climate change, drought, and Jamaican agriculture: local knowledge and the climate record. Ann Assoc Am Geogr 100(4):880–893

Hagen B, Middel A, Pijawka D (2016) European climate change perceptions: public support for mitigation and adaptation policies. Environmental Policy and Governance 26:170–183

Holding S, Allen DM (2015) From days to decades: numerical modelling of freshwater lens response to climate change stressors on small low-lying islands. Hydrol Earth Syst Sci 19(2):933–949

Intergovernmental Panel on Climate Change (IPCC) (2014) Climate change 2014: impacts, adaptation, and vulnerability. Part A: global and sectoral aspects. Contribution of working group II to the fifth assessment report of the intergovernmental panel on climate change [Field, C.B., V.R. Barros, D.J. Dokken, K.J. Mach, M.D. Mastrandrea, T.E. Bilir, M. Chatterjee, K.L. Ebi, Y.O. Estrada, R.C. Genova, B. Girma, E.S. Kissel, A.N. Levy, S. MacCracken, P.R. Mastrandrea, and L.L. White (eds.)]. Cambridge University Press, Cambridge, United Kingdom and New York, NY, USA, 1132 pp

Johnson BB (2012) Climate change communication: a provocative inquiry into motives, meanings, and means. Risk Anal 32(6):973–991

Kahan DM, Peters E, Wittlin M, Slovic P, Ouellette LL, Braman D, Mandel G (2012) The polarizing impact of science literacy and numeracy on perceived climate change risks. Nat Clim Chang 2(10):732–735

Kim SY (2011) Public perceptions of climate change and support for climate policies in Asia: evidence from recent polls. The Journal of Asian Studies 70(2):319–331

Lata S, Nunn P (2012) Misperceptions of climate-change risk as barriers to climate-change adaptation: a case study from the Rewa Delta, Fiji. Clim Chang 110(1–2):169–186

Lee T, Markowitz E, Howe P, Chia-Ying K, Leiserowitz A (2015) Predictors of public climate change awareness and risk perception around the world. Nat Clim Chang 5:1014–1023

Leiserowitz A (2006) Climate change risk perception and policy preferences: the role of affect, imagery, and values. Clim Chang 77(1–2):45–72

Lorenzoni I, Pidgeon NF (2006) Public views on climate change: European and USA perspectives. Clim Chang 77(1–2):73–95

McGranahan G, Balk D, Anderson B (2007) The rising tide: assessing the risks of climate change and human settlements in low elevation coastal zones. Environ Urban 19(1):17–37

National Development Plan (NDP) Secretariat (2016) State of the nation report. Government of The Bahamas

Neely, R. (2012). Bahamians and climate change: an analysis of perception of risk and climate change literacy. Doctoral dissertation, Florida Agricultural and Mechanical University, USA

Nunn P, Mulgrew K, Scott-Parker B, Hine D, Marks A, Maebuta J (2016) Spirituality and attitudes towards nature in the Pacific Islands: insights for enabling climate change adaptation. Clim Chang 136:477–493

Obradovich N, Guenther S (2016) Collective responsibilities amplifies mitigation behavior. Clim Chang:1–13

Rabinovich A, Morton TA (2012) Unquestioned answers or unanswered questions: beliefs about science guide responses to uncertainty in climate change risk communication. Risk Anal 32(6):992–1002

Ratter BM, Philipp KH, von Storch H (2012) Between hype and decline: recent trends in public perception of climate change. Environ Sci Pol 18:3–8

Rudiak-Gould P (2012) Promiscuous corroboration and climate change translation: a case study from the Marshall Islands. Glob Environ Chang 22(1):46–54

Scannell L, Gifford R (2013) Personally relevant climate change the role of place attachment and local versus global message framing in engagement. Environ Behav 45(1):60–85

Schoenefeld JJ, McCauley MR (2015) Local is not always better: the impact of climate information on values, behavior and policy support. J Environ Stud Sci:1–9

Scott D, Simpson MC, Sim R (2012) The vulnerability of Caribbean coastal tourism to scenarios of climate change related sea level rise. J Sustain Tour 20(6):883–898

Secretariat of the Pacific Community, SPREP, UNISDR, UNDP, Pacific Island Forum Secretariat, University of the South Pacific, EU, CCCA, ACP (2015) Compendium of case studies on climate and disaster resilient development in the Pacific

Sovacool B (2012) Perceptions of climate change risks and resilient island planning in the Maldives. Mitg Adap Stratg Glob Change 17:731–752

Tapsuwan S, Rongrongmuang W (2015) Climate change perception in the dive tourism industry in Koh Tao island, Thailand. Journal of Outdoor Recreation and Tourism 11:58–63

Thomas A (2016) Forgotten impacts: Hurricane Sandy and the Caribbean. In: O'Neil K, Van Abs D (eds) Taking chances: the coast after Hurricane Sandy. Rutgers University Press, New Brunswick

Thomas, A. (2012) An integrated view: multiple stressors and small tourism enterprises in the Bahamas. Doctoral dissertation, Rutgers University-Graduate School-New Brunswick, USA

Thomas, A., Benjamin, L, and C. McNamarah. (2015) Situational analysis of the Bahamian environment. College of The Bahamas

Tien C (2013) The public perception of climate change in Taiwan and its paradigm shift. Energy Policy 61:1252–1260

Turvey R (2007) Vulnerability assessment of developing countries: the case of small-island developing states. Development Policy Review 25(2):243–264

Van der Linden S (2015) The social-psychological determinants of climate change risk perceptions: towards a comprehensive model. J Environ Psychol 41:112–124

Vignola R, Klinsky S, Tam J, McDaniels T (2013) Public perception, knowledge and policy support for mitigation and adaption to climate change in Costa Rica: comparisons with North American and European studies. Mitig Adapt Strateg Glob Chang 18(3):303–323

Williams S (2014) Climate change BREEF exhibition opens at College of The Bahamas. Bahamas Weekly May 15:2014

Wolf J, Moser SC (2011) Individual understandings, perceptions, and engagement with climate change: insights from in-depth studies across the world. Wiley Interdiscip Rev Clim Chang 2(4):547–569

Wright, K. B. (2005) Researching Internet-based populations: advantages and disadvantages of online survey research, online questionnaire authoring software packages, and web survey services. J Comput-Mediat Commun 10(3)
About this article
Cite this article
Thomas, A., Benjamin, L. Perceptions of climate change risk in The Bahamas. J Environ Stud Sci 8, 63–72 (2018). https://doi.org/10.1007/s13412-017-0429-6
Keywords
Public perception

Climate change risk

Small island developing states

Caribbean