Abstract
The twenty-first century challenges of climate change and resource scarcity bring a new urgency to the widely recognized sustainability challenges of the US food system. Environmental and social impacts associated with the geographic concentration and specialization in production, processing, and distribution that accompanied industrialization of the US food system have degraded our nation's capacity to adapt to changing climate conditions. A consensus is emerging in sustainable food system scholarship that two fundamental changes—a transformation of production methods from industrial to sustainable and a transformation of food system geography from regional specialization to regional diversity—should enhance the resilience of the food system to climate change. A review of the literature suggests that transition to a nationally integrated network of sustainable metropolitan food systems ("metropolitan foodsheds") would improve climate resilience by enhancing three key qualities associated with resilience in social-ecological systems—diversity, modularity, and balanced accumulation of capital assets. These qualities promote the capacity of a system to respond, to recover, and to transform in ways that reduce damaging effects and take advantage of opportunities created by change. Using a set of behavior-based resilience indicators in a review of case study research, this article examines the general resilience of sustainable production and supply chain systems. Sustainable production systems managed by award-winning sustainable food producers expressed all of the behaviors of a resilient system and demonstrated remarkable resilience to weather variability and extremes. These producers attributed the climate resilience of their farms and ranches to high-quality soils, planned biodiversity, and diversified marketing. Like many sustainable producers, these farmers and ranchers not only produce crops and livestock, they also participate in processing, distribution, and retailing. Resilient behavior was also expressed in sustainable supply chains developed by networked community cooperatives and through government investment in a large nonprofit food terminal. As recent food system planning projects in the USA illustrate, there is growing recognition of the potential sustainability and resilience benefits of regional food systems designed to develop positive relationships between the metropolitan core and surrounding areas. We can begin now to shift public support for a transition to more diversified production, to develop regional food system infrastructure, and to conduct comprehensive research to refine resilience indicators and develop food system performance metrics to guide a transformation of the US food system to a more sustainable and resilient future.
Access options
Buy single article
Instant access to the full article PDF.
USD 39.95
Price excludes VAT (USA)
Tax calculation will be finalised during checkout.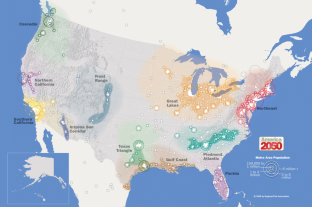 Notes
Although no simple typology or set of categories can capture the complexity of the farming systems used in US agriculture, we use the terms sustainable and diversified to refer to farming systems that emphasize the use of natural processes within the farming system, often called "ecological" or "ecosystem" strategies, which build efficiency (and ideally resilience) through complementarities and synergies within fields, on the entire farm, and at larger scales across the landscape and community. Such farming systems represent a major departure from the key features which characterize industrial agriculture: large size combined with a high degree of specialization, reliance on off-farm and synthetic inputs, and the production of commodities under contract to food processors and handlers. A food system is the complex set of actors, activities, and institutions that link food production to food consumption. Food systems differ from farming systems in that the primary focus is beyond the farm gate (National Research Council 2010).

Agroecosystems are human-dominated ecosystems managed to produce food and other agricultural products. Like all ecosystems, agroecosystems can be described in terms of key structural and functional properties that largely determine their health and productivity. The structural properties—such as species diversity, vegetative architecture, and the food supply web—describe the physical relationships between the organisms that inhabit the ecosystem. Functional properties describe the dynamic processes that capture, move, and store energy and materials in the ecosystem; regulate populations of organisms that inhabit it; and shape the development of the system over time. Because the boundary of the agroecosystem is defined by the user, energy flow and material cycling can be explored at a diversity of nested scales—a field, a whole farm or ranch, or even an entire food system. In each case, the physical components of the agroecosystem can be defined and measured; the interactions between components investigated; and emergent properties like health, profitability, sustainability, and resilience explored (adapted from Gliessman 2007).

These case studies are reported in detail in Lengnick 2015a.
References
Allison H, Hobbs R (2004) Resilience, adaptive capacity, and the "lock-in trap" of the western Australian agricultural region. Ecol Soc 9(1):3

Beebe J (2010) Climate change and grow biointensive. Ecol Action http://www.growbiointensive.org/PDF/ClimateChangeandGROWBIOINTENSIVE_English.pdf. Accessed 3 Jul 2014

Bellows AC, Hamm MW (2001) Local autonomy and sustainable development testing import substitution in local food systems. Agric Hum Values 18:271–284

Born B, Purcell M (2006) Avoiding the local trap: scale and food systems in planning research. J Plan Educ Res 26:195–207

Bowell B, Coffin C, Courchesne C, Frignoca I, Greene M, Iarrapino A, Rushlow J, Ruhf K (2014) New England food policy: building a sustainable food system. American Farmland Trust, Conservation Law Foundation, Northeast Sustainable Agriculture Working Group http://nesawg.org/sites/default/files/New_England_Food_Policy_Report_March2014.pdf. Accessed 29 Aug 2014

Cabell J, Oeofse M (2012) An indicator framework for assessing agroecosystem resilience. Ecol Soc 17:18. doi:10.5751/ES-04666-170118. Accessed 6 June 2014

Campbell E (2011) Regional food system plan for Vermont's Northeast Kingdom. Northeastern Vermont Development Association, St. Johnsbury, http://www.hardwickagriculture.org/assets/files/FinalPlan_NEKFoodSystem%282%29.pdf. Accessed 2 August 2014

Center for Integrated Agricultural Systems (2012) Values-based food supply chain case studies: Organic Valley Research Brief #80 and Shepherd's Grain Research Brief #81 November 2012. http://www.cias.wisc.edu/wp-content/uploads/2013/04/rb81shepherdsgrainfinal041813.pdf. Accessed 2 Oct 2015

Center for Integrated Agricultural Systems (2013) Values-based food supply chain case studies: Organic Valley Research Brief #80 March 2013 http://www.cias.wisc.edu/wp-content/uploads/2013/04/rb80organicvalleyfinal041813.pdf. Accessed 2 Oct 2015

Clancy K, Ruhf K (2010) Is local enough? Some arguments for regional food systems. Choices 25(1). http://www.choicesmagazine.org/magazine/article.php?article=114. Accessed 14 Sept 2014

Collaborative Initiatives at Massachusetts Institute of Technology (2009) Food and health: using the food system to challenge childhood obesity. Final Report on the Curbing Childhood Obesity Project, Phases I and II. http://collaborative.mit.edu/sites/default/files/projects/ObesityFoodHealth.pdf. Accessed 24 Jul 2015

Collaborative Initiatives at Massachusetts Institute of Technology (2011) National integrated regional food system: a new model for health (NIRF) http://collaborative.mit.edu/projects/national-integrated-regional-food-system. Accessed 24 Jul 2015

Conard M, Ackerman K, Gavrilaki D (2011) Infrastructure—health: modeling production, processing and distribution infrastructure for a resilient regional food system. Urban Design Institute, Columbia University. http://urbandesignlab.columbia.edu/projects/food-and-the-urban-environment/nyc-regional-food-shed-initiative/. Accessed 10 Aug 2014

Darnhofer I, Fairweather J, Moller H (2010) Assessing a farm's sustainability: insights from resilience thinking. Int J Agric Sustain 8(3):186–198

Day-Farnsworth L, Miller M (2014) Networking across the supply chain: transportation innovations in local and regional food systems. Center for Integrated Agricultural Systems, University of Wisconsin-Madison doi:10.9752/TS202.06-2014

Delind L (2010) Are local food and the local food movement taking us where we want to go? Or are we hitching our wagons to the wrong stars? Agric Hum Values 28:273–283. doi:10.1007/s10460-010-9263-0

Donahue B, Burke J, Anderson M, Beal A, Kelly T, Lapping M, Ramer H, Libby R, Berlin L (2014) A New England food vision. Food Solutions New England, University of New Hampshire http://www.foodsolutionsne.org/sites/default/files/LowResNEFV_0.pdf. Accessed 10 Aug 2014

Easterling W (2009) Guidelines for adapting agriculture to climate change. In Hillel D, Rosenzweig C (ed.) Handbook of climate change and agroecosystems: impacts, adaptation, and mitigation. Imperial College Press

Ericksen P (2008) What is the vulnerability of a food system to global environmental change? Ecol Soc 13(2):14

Forster T, Escudero A (2014) Creating city regions that work as landscapes for people, food and nature. Eco Agriculture Partners http://peoplefoodandnature.org/wp-content/uploads/sites/4/2014/06/creating_city_regions.pdf. Accessed 18 Jul 2015

Furman C, Roncoli C, Nelson D, Hoogenboom G (2013) Growing food, growing a movement: climate adaptation and civic agriculture in the southeastern United States. Agric Hum Values. doi:10.1007/s10460-013-9458-2

Giovannucci D (2012) Food and agriculture: the future of sustainability. Division for Sustainable Development, United Nations Department of Economic and Social Affairs

Gliessman S (2007) The agroecosystem concept. Ch. 2 and agroecosystem diversity and stability. Ch. 16 in agroecology: the ecology of sustainable food systems, 2nd edn. CRC Press, New York

Goerner S, Lietaer B, Ulanowicz R (2009) Quantifying economic sustainability: implications for free-enterprise theory, policy and practice. Ecol Econ 69:76–81

Hedden HW (1929) How great cities are fed. DC Heath & Co, Boston

Hendrickson J, Hanson J, Tanaka D, Sassenrath G (2008) Principles of integrated agricultural systems: introduction to processes and definition. Renew Agric Food Syst 23(Special Issue 4):265–271

Hill H (2008) Food miles background and marketing. National Sustainable Agriculture Information Service. https://attra.ncat.org/attra-pub/download.php?id=261. Accessed 10 Feb 2015

Hodgson, K (2010) Planning for food access and community-based food systems: a national scan and evaluation of local comprehensive and sustainability plans. American Planning Association n-line https://www.planning.org/research/foodaccess/pdf/foodaccessreport.pdf. Accessed 5 Oct 2015

Hoppe R, Banker D (2010) Structure and finances of U.S. farms: family farm report 2010 edition. USDA-ERS Economic Information Bulletin No. 66

Howitt RE, Medellin-Azuara J, MacEwan D, Lund JR, Sumner DA (2014) Economic analysis of the 2014 drought for California agriculture. Center for Watershed Sciences, University of California, Davis, http://watershed.ucdavis.edu. Accessed 14 July 2015

Iles A, Marsh R (2012) Nurturing diversified farming systems in industrialized countries: how public policy can contribute. Ecol Soc 17(4):42. doi:10.5751/ES-05041-170442. Accessed 8 July 2014

Jemison J Jr, Hall D, Welcomer S, Haskell J (2014) How to communicate with farmers about climate change: farmers' perceptions and adaptations to increasingly variable weather patterns in maine. J Agric Food Syst Community Dev 4(4):57–70

Jennings S, Cottee J, Curtis T, Miller S (2015) Food in an urbanized world: the role of city region food systems in resilience and sustainable development. The International Sustainability Unit, The Prince of Wales Charitable Foundation. http://www.fao.org/fileadmin/templates/agphome/documents/horticulture/crfs/foodurbanized.pdf. Accessed 18 Jul 2015

Jones L, Ludi E, Levine S (2010) Towards a characterization of adaptive capacity: a framework for analyzing adaptive capacity at the local level. Background Note. Overseas Development Institute, London, http://www.odi.org/sites/odi.org.uk/files/odi-assets/publications-opinion-files/6353.pdf. Accessed 10 July 2014

Kelly J (no date) Building local food systems to increase resiliency. Institute for Sustainable Communities. http://sustainablecommunitiesleadershipacademy.org/resource_files/documents/building-local-food-systems-increase-resiliency.pdf. Accessed 22 Oct 2014

Kenny G (2011) Adaptation in agriculture: lessons for resilience from eastern regions of New Zealand. Clim Chang 106(3):441–462

Keppen D, Dutcher P (2015) The 2014 drought and water management policy impacts on California's Central Valley food production. J Environ Stud Sci 5:362–377

King C (2008) Community resilience and contemporary agri-ecological systems: reconnecting people and food, and people with people. Syst Res Behav Sci Syst Res 25:111–124

Koliba C, Campbell E, Davis H (2011) Regional food systems planning: a case study from Vermont's Northeast Kingdom. Food System Research Collaborative, Opportunities for Agriculture Working Paper Series Vol. 2, No. 2. Center for Rural Studies, Univ. of Vermont

Kremen C, Miles A (2012) Ecosystem services in biologically diversified versus conventional farming systems: benefits, externalities, and trade-offs Ecol Soc 17(4):40. doi:10.5751/ES-05035-170440

Kremen C, Iles A, Bacon C (2012) Diversified farming systems: an agroecological, systems-based alternative to modern industrial agriculture. Ecol Soc 17(4):44. doi:10.5751/ES-05103-170444 

Lengnick L (2015a) Resilient agriculture: cultivating food systems for a changing climate. New Society Publishers, Gabriola Island

Lengnick L (2015b) The vulnerability of the U.S. food system to climate change. J Environ Stud Sci. doi:10.1007/s13412-015-0290-4

Liebman M, Schulte L (2015) Enhancing agroecosystem performance and resilience through increased diversification of landscapes and cropping systems. Elementa: Sci Anthropocene 3:000041. doi:10.12952/journal.elementa.000041

Liverman D, Ingram J (2010) Why regions? In: Ingram J, Erickson P, Liverman D (eds) Food security and global environmental change. Earthscan, Washington, pp 203–211

Lyson T (2004) Civic agriculture: reconnecting farm, food and community. Tufts University, Boston

Lyson T, Stevenson G, Welsh R (2008) Food and the mid-level farm: renewing an agriculture of the middle. MIT Press, Cambridge

Marshall N (2010) Understanding social resilience to climate variability in primary enterprises and industries. Glob Environ Chang 20(1):36–43

Marshall N, Stokes C, Howden S, Nelson R (2009) Enhancing adaptive capacity. In: Stokes C, Howden M (eds) Adapting agriculture to climate change: preparing Australian agriculture, forestry and fisheries for the future. CSIRO Publishing, Collingwood, pp 245–256

Marten GG, Atalan-Helicke N (2015) Introduction to the symposium on American food resilience. J Environ Stud Sci 5:308–320

McGuire A (2013) Mixing the perfect cover crop cocktail. Center for Sustainable Agriculture and Natural Resources, Washington State University csanr.wsu.edu/cover-crop-cocktail/. Accessed on 2 Aug 2014

McIntyre B, Herren H, Wakhungu J, Watson R (2009) Agriculture at a crossroads: international assessment of agricultural knowledge, science and technology for development. Island Press, Washington

Meadows D (2008) Leverage points: places to intervene in a system. In: Thinking in systems: a primer. Earthscan, London, pp 145–165

Merrill S, Tanaka D, Krupinsky J, Liebig M, Hanson J (2007) Soil water depletion and recharge under ten crop species and applications to the principles of dynamic cropping systems. Agron J 99:931–938

Miller M, Day-Farnsworth FL, Denicoff, M (2015) Regional food logistics: a stakeholder process to inform the multisystem redesign for sustainability. Presented to the National Transportation Forum, Atlanta March 12–14, 2015 (proceedings forthcoming). https://www.scribd.com/doc/284966035/Regional-Food-Logistics-A-stakeholder-process-to-inform-the-multi-system-redesign-for-sustainability. Accessed 5 Oct 2015

National Research Council (2010) A pivotal time in US agriculture. In: Toward sustainable agricultural systems in the 21st century. 2010. The National Academies Press, Washington, pp 43–83

Nelson R, Kokic P, Crimp S, Martin P, Meinke H, Howden S, Voil P, Nidumolu U (2010) The vulnerability of Australian rural communities to climate variability and change: part II—integrating impacts with adaptive capacity. Environ Sci Policy 13:18–27

Noble I, Huq S, Anokhin Y, Carmin J, Goudou D, Lansigan F, Osman-Elasha B, Villamizar A (2014) Adaptation needs and options. In: Climate change 2014: impacts, adaptation, and vulnerability. Part a: global and sectoral aspects. Contribution of working group II to the fifth assessment report of the intergovernmental panel on climate change. Cambridge University Press, New York, pp 833–868

Ontario Food Terminal (2015) Ontario food terminal board. http://www.oftb.com/. Accessed 2 Oct 2015

Perret A (2013) Beyond efficiency: reflections from the field on the future of the local food movement. https://www.uvm.edu/foodsystems/summit/Perrett-BeyondEfficiency.pdf. Accessed 6 Aug 2014

Peters C, Bills N, Wilkins J, Fick G (2009) Foodshed analysis and its relevance to sustainability. Renew Agric Food Syst 24(1):1–7

Peters C, Bills N, Wilkins J, Lembo A, Wilkins J, Fick G (2012) Mapping potential foodsheds in New York State by food group: an approach for prioritizing which foods to grow locally. Renew Agric Food Syst 27(2):125–137

Pimentel D, Hepperly P, Hanson J, Douds D, Seidel R (2005) Environmental, energetic, and economic comparisons of organic and conventional farming systems. Bioscience 55(7):575–82

Pollan M (2008) Farmer in chief. New York Times Magazine, Oct. 12. nytimes.com/2008/10/12/magazine/12policy-t.html?pagewanted=all. Accessed 8 Nov 2013

Regional Planning Association (2015) Megaregions. America 2050. http://www.america2050.org/megaregions.html. Accessed 4 Sept 2015

Rejesus R, Mutuc-Hensley M, Mitchell P, Coble K, Knight T (2013) U.S. agricultural producer perceptions of climate change. J Agric Appl Econ 45:701–718

Resilient Cities Team (2013) Resilient urban food systems: opportunities, challenges, and solutions. ICLEI-Local Governments for Sustainability

Rodale Institute (2014) Regenerative organic agriculture and climate change: a down-to-earth solution to global warming. rodaleinstitute.org/assets/WhitePaper.pdf. Accessed 10 Aug 2014

Ruhf K (2015) Regionalism: a New England recipe for a resilient food system. J Environ Stud Sci. doi:10.1007/s13412-015-0324-y

SARE (2005) The new American farmer: profiles in agricultural innovation. Sustainable Agriculture Research and Education Program. http://www.sare.org/Learning-Center/Books/The-New-American-Farmer-2nd-Edition. Accessed 4 Jan 2015

Shafer M, Ojima D, Antle J, Kluck D, McPherson R, Petersen S, Scanlon B, Sherman K (2014) Ch. 19: Great Plains. In: Melillo JM, Richmond Terese TC, Yohe GW (eds) Climate change impacts in the United States: the third national climate assessment, U.S. Global Change Research Program, 441–461. doi:10.7930/J0D798BC

Stephens C (2015) Raising grain in next year country: dryland farming, drought, and adaptation in the golden triangle, montana. Theses, Dissertations, Professional Papers. Paper 4513. http://scholarworks.umt.edu/etd/4513. Accessed 24 Sept 2015

Stevenson G, Pirog R (2008) Values-based supply chains: strategies for agrifood enterprises of the middle. In: Lyson T, Stevenson G, Welsh R (eds) Food and the mid-level farm. MIT Press, Cambridge, pp 119–143

Stockinger J, Gutknecht D (2014) The Twin Cities cooperative local food system: a case study and commentary. Cooperative Development Services http://www.crcworks.org/tccoops.pdf. Accessed 3 Oct 2015

Sustainable Agriculture Network (2007) Managing cover crops profitably. Handbook series, book 9. Sustainable Agriculture Network, Washington

Tagtow A, Roberts S (2011) Cultivating resilience: an Iowa food system blueprint that advances the health of iowans, farms and communities. Iowa Food Systems Council. www.IowaFoodSystemsCouncil.org/cultivating-resilience/. Accessed 2 May 2014

Tapiola T, Paloviita A (2015) Building resilient food supply chains for the future. In Paloviita A, Jarvela M (eds) Climate change adaptation and food Supply Chain management. Routledge, London, pp 30–42

Unglesbee E (2014) No-Till proponents tout cover crops, rotation in battle with weeds. AGFAX. agfax.com/2014/01/31/till-proponents-tout-cover-crops-rotation-battle-weeds/#sthash.MpGBR5tZ.dpuf. Accessed 6 Aug 2014

USDA Natural Resources Conservation Service (2013) Soil health matters: innovate to improve soil health. nrcs.usda.gov/Internet/FSE_DOCUMENTS/stelprdb1083163.pdf. Accessed 10 May 2015

van Apeldoorn D, Kok K, Sonneveld M, Veldkamp T (2011) Panarchy rules: rethinking resilience of agroecosystems, evidence from Dutch dairy-farming. Ecol Soc 16(1):39

Walker B, Salt D (2012) Resilience practice: building capacity to absorb disturbance and maintain function. Island Press, Washington

Walthall C, Hatfield J, Backlund P, Lengnick L, Marshall E et al (2012) Climate change and agriculture in the United States: effects and adaptation. USDA Technical Report 1935

Zumkehr A, Campbell J (2015) The potential for local croplands to meet US food demand. Front Ecol Environ 13:244–248. doi:10.1890/140246
Acknowledgments
Regina Gregory contributed to the final editing of the manuscript.
About this article
Cite this article
Lengnick, L., Miller, M. & Marten, G.G. Metropolitan foodsheds: a resilient response to the climate change challenge?. J Environ Stud Sci 5, 573–592 (2015). https://doi.org/10.1007/s13412-015-0349-2
Published:

Issue Date:

DOI: https://doi.org/10.1007/s13412-015-0349-2
Keywords
Agriculture

Food system

Sustainability

Resilience

Climate change

Metropolitan foodshed

City region

Megaregions