Abstract
The climate change vulnerability of a food system is a function of the exposure of the system to specific climate effects, the sensitivity of the system to those effects, and the capacity of the system adapt to those effects in order to maintain system integrity. A synthesis of recent literature conducted to explore the vulnerability of the US food system to climate change suggests that the interaction between regional climate change effects and the geographic specialization and concentration of agricultural production in the USA increases the vulnerability of the US food system to climate change. Vegetable and fruit production in the Pacific states are particularly sensitive to reduced water supplies, warmer winters, and more variable spring weather. Grain production in the Great Plains and the Midwest is sensitive to more variable weather, warmer winters, heat wave, and hot summer nights and flooding caused by more frequent heavy rains. The concentration of beef, pork, and poultry production in confined animal feeding operations located in the southern Great Plains and the Southeast is particularly sensitive to increased frequency and intensity of extreme weather and interruptions in feed, water, and power supplies associated with interactions between land, water, and energy use that amplify climate change effects. There is evidence that climate change is already causing disruptions throughout the US food system. Farmers and ranchers in the US report that increased weather variability and more frequent and intense weather extremes have increased the costs and complexity of food production. Businesses operating in the US agricultural supply, processing, distribution, and retailing sectors are actively managing supply networks to reduce disruptions associated with climate change effects. Food systems that rely on external or distant resources and specialized production, supply, and marketing chains appear to be particularly vulnerable to global environmental change. These characteristics, widely recognized as critical challenges to the sustainability of the US food system, take on new importance as barriers to climate resilience.
Access options
Buy single article
Instant access to the full article PDF.
USD 39.95
Price includes VAT (USA)
Tax calculation will be finalised during checkout.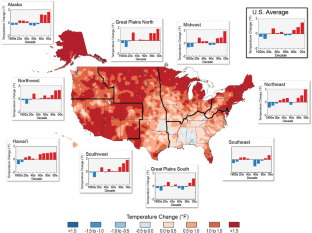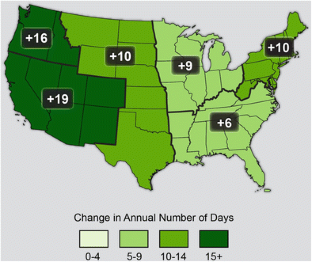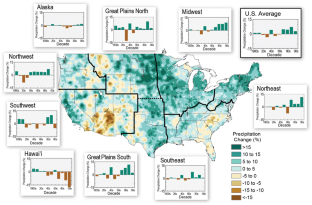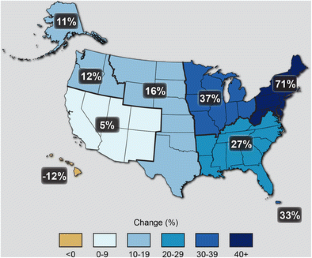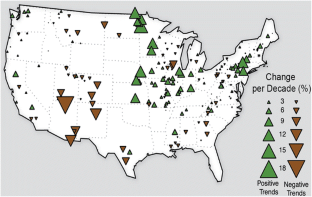 Notes
1.

All information on specific crops and livestock production reported in this section were obtained from the Agricultural Marketing Resource Center at agmrc.org unless otherwise noted. Production statistics included in this section were calculated using data from US Department of Agriculture Annual Production Summaries for 2012 unless otherwise noted.

2.

All of the observed and projected weather data discussed in this section is from Our Changing Climate (Walsh et al. 2014), unless otherwise noted.

3.

The term sustainable agriculture was defined by the US Congress in the 1990 Farm Bill as "an integrated system of plant and animal production practices having a site-specific application that will, over the long term: satisfy human food and fiber needs; enhance the environmental quality and the natural resource base upon which the agricultural economy depends; make the most efficient use of nonrenewable resources and on-farm resources and integrate, where appropriate, natural biological cycles and controls; sustain the economic viability of farm operations; and enhance the quality of life for farmers and society as a whole." This definition explicitly acknowledges the multiple dimensions of sustainability—ecological, social, and economic—and provides specific design criteria for sustainable agriculture systems.
References
Adger W, Agrawala S, Monirul Qader Mirza M (2007) Assessment of adaptation practices, options, constraints and capacity. In: Parry M, Canziani O, Palutikof J, van der Linden P, Hanson C (eds) Climate change 2007: impacts, adaptation and vulnerability: Working group II contribution to the fourth assessment report of the IPCC Intergovernmental Panel on Climate Change. Cambridge University Press, Cambridge, UK, pp 717–743

Arbuckle J Jr, Prokopy L, Haigh T, Hobbs J, Knoot T, Knutson C, Loy A, Mase A, McGuire J, Morton L, Tyndall J, Widhalm M (2013) Climate Change Beliefs, Concerns, and Attitudes toward Adaptation and Mitigation among Farmers in the Midwestern U.S. Clim Chang 117(4):943–950

Berardi G, Green R, Hammon B (2011) Stability, sustainability, and catastrophe: applying resilience thinking to U.S. agriculture. Hum Ecol Rev 18(2):115–125

Brander K (2007) Global Fish Production and Climate Change. PNAS 104(50):19709–19714

Carter L, Jones J, Berry L, Burkett V, Murley J, Obeysekera J, Schramm P, Wear D (2014) Ch. 17: Southeast and the Caribbean. In: Melillo JM, Richmond Terese (TC), Yohe GW (eds) Climate change impacts in the United States: the third national climate assessment, U.S. Global Change Research Program, 396–417. doi:10.7930/J0NP22CB

CorpWatch (2014) Concentration in the Food Industry. www.community.corpwatch.org/adm/pages/food_industry.php. Accessed 25 Oct 2013

Eakin H (2010) What is Vulnerable. In: Ingram J, Ericksen P, Liverman D (eds) Food security and global environmental change. Earthscan, Washington, DC

Ericksen P (2008) What is the Vulnerability of a Food System to Global Environmental Change? Ecol Soc 13(2):14

Expert Stakeholder Workshop (2013) USDA Technical Report on Global Climate Change, Food Security and the U.S. Food System http://www.globalchange.gov/sites/globalchange/files/Climate%20Change%20and%20Food%20Security%20Expert%20Stakeholder%20Mtg%20Summary%20%28Final%29.pdf. Accessed 10 Jan 2014

Fish Watch (2013) U.S. Seafood Facts. The Surprising Sources of Your Favorite Seafoods. National Oceanic and Atmospheric Administration www.fishwatch.gov/features/top10seafoods_and_sources_10_10_12.html. Accessed 15 Jan 2015

EPA (2014) High and Low Temperatures. In Climate Change Indicators in the United States, US Environmental Protection Agency: Washington DC www.epa.gov/climatechange/science/indicators/weather-climate/high-low-temps.html. Accessed 2 Feb 2015

Fitchette T (2015) New California law seeks to cap groundwater overdraft. Western Farm Press. http://westernfarmpress.com/irrigation/new-california-law-seeks-cap-groundwater-overdraft. Accessed 2 Feb 2015

Food and Water Watch (2010) Consolidation and Buyer Power in the Grocery Industry Factsheet. http://documents.foodandwaterwatch.org/doc/RetailConcentration-web.pdf. Accessed 10 Nov 2014

Francis C, Miller M, Anderson M, Creamer N, Wander M, Park J, Green T, McCown B (2013) Food webs and food sovereignty: research agenda for sustainability. J Agric Food Syst Commun Dev 3(4):95–101. doi:10.5304/jafscd.2013.034.010

Fuglie K, Heisey P, King J, Schimmelpfennig D (2012) Rising Concentration in Agricultural Input Industries Influences New Farm Technologies. Amber Waves: USDA-ERS

Garfin G, Franco G, Blanco H, Comrie A, Gonzalez P, Piechota T, Smyth R, Waskom R (2014) Ch. 20: Southwest. In: Melillo JM, Richmond Terese (TC), Yohe GW (eds) Climate change impacts in the United States: the third national climate assessment, U.S. Global Change Research Program, 462–486. doi:10.7930/J08G8HMN

Goerner S, Lietaer B, Ulanowicz R (2009) Quantifying economic sustainability: implications for free-enterprise theory, policy and practice. Ecol Econ 69:76–81

Halweil B (2002) Homegrown: a case for local food. World Watch Paper #163

Hatfield J, Tackle G, Grotjahn R, Holden P, Izaurralde R, Mader T, Marshall E, Liverman D (2014) Ch. 6: Agriculture. In: Melillo J, Richmond T,Yohe G (eds), Climate Change Impacts in the United States: The Third National Climate Assessment, U.S. Global Change Research Program, 150–174. doi:10.7930/J02Z13FR

Hibbard K, Wilson T (2014) Energy, water and land use, Ch. 10, in Climate change impacts in the United States: the third national climate assessment, J. Melillo, T. Richmond, and G.Yohe, (Eds.) U.S. Global Change Research Program, 150-174. doi:10.7930/J02Z13FR

Hoppe R, Banker D (2010) The structure and finances of U.S. Farms. ERS Economic Information Bulletin # 66

Howe P, Leiserowitz A (2013) Who remembers a hot summer or a cold winter? The asymmetric effect of beliefs about global warming on perceptions of local climate conditions in the U.S. Glob Environ Chang 23:1488–1500

Huang S (2013) Imports Contribute to Year-Round Fresh Fruit Availability. USDA-ERS FTS-356-01

Hurdle J (2014) Climate check: US produce prices to rise on extreme CA drought. MNI Market News. www.mninews.marketnews.com/content/climate-check-us-produce-prices-rise-extreme-ca-drought-0. Accessed 13 Feb 2015

Jemison J Jr, Hall D, Welcomer S, Haskell J (2014) How to communicate with farmers about climate change: farmers' perceptions and adaptations to increasingly variable weather patterns in Maine. J Agric Food Syst Commun Dev 4(4):57–70

Lengnick L (2015) Resilient agriculture: cultivating food systems for a changing climate. New Society Publishers, Gabriola Island

Lyson T (2004) Going global (Ch. 3), in civic agriculture: reconnecting farm, food and community. University Press of New England, Lebanon

Marshall N (2010) Understanding social resilience to climate variability in primary enterprises and industries. Glob Environ Chang 20(1):36–43

Melker S (2012) A Sour Season for Michigan's Cherry Farmers. PBS News Hour www.pbs.org/newshour/updates/science-july-dec12-michigancherry_08-15/. Accessed 4 Nov 2014

National Climate Assessment (2014). In: Melillo J, Richmond T,Yohe G (eds), Climate change impacts in the United States: the third national climate assessment, U.S. Global Change Research Program, 150–174. doi:10.7930/J02Z13FR

National Climatic Data Center (2010) Drought – September 2010. National Oceanic and Atmospheric Administration. www.ncdc.noaa.gov/sotc/drought/2010/9. Accessed 25 Feb 2015

National Research Council (2010) A Pivotal Time in U.S. Agriculture, Ch. 2. In: Toward Sustainable Agricultural Systems in the 21st Century. 2010. The National Academies Press: Washington, DC

Parry M, Canziani O, Palutikof J, van der Linden P, Hanson C (eds) (2007) Climate change 2007: impacts, adaptation and vulnerability. p. 880. Contribution of Working Group II to the Fourth Assessment Report of the Intergovernmental Panel on Climate Change. Cambridge University Press: Cambridge, UK

Pryor S, Scavia D, Downer D, Gaden M, Iverson L, Nordstrom R, Patz J, Robertson G (2014) Ch. 18: Midwest. In: Melillo JM, Richmond Terese (TC), Yohe GW (eds) Climate change impacts in the United States: the third national climate assessment, U.S. Global Change Research Program, 418-440. doi:10.7930/J0J1012N.

Rejesus R, Mutoc-Hensley M, Mitchell P, Coble K, Knight T (2013) U.S. Agricultural Producer Perceptions of Climate Change. J Agric Appl Econ 45:701–718

Shafer M, Ojima D, Antle J, Kluck D, McPherson R, Petersen S, Scanlon B, Sherman K (2014) Ch. 19: Great Plains. In: Melillo JM, Richmond Terese (TC), Yohe GW (eds) Climate change impacts in the United States: the third national climate assessment, U.S. Global Change Research Program, 441–461. doi:10.7930/J0D798BC

Smit B, Wandel J (2006) Adaptation, adaptive capacity and vulnerability. Glob Environ Chang 16(3):282–292

Soystats (2012) Domestic Utilization. American Soybean Association. www.soystats.com/archives/2012/non-frames.htm Accessed 15 Jan 2015

Stanne S (2012) Perfect Storms—how Hurricane Irene and Tropical Storm Lee slammed NY. New York State Conservationist Magazine August Issue

Taxpayers (2013) It's Official: 2012 Drought Cost Taxpayers a Record 14 Billion. Taxpayers for Common Sense. www.taxpayer.net/library/article/2012-drought-cost-taxpayers-a-record-14-billion Accessed 3 Dec 2014

USDA-FAS (2014) Livestock and Poultry World Markets and Trade. www.fas.usda.gov/data/livestock-and-poultry-world-markets-and-trade. Accessed 15 Jan 2015

Walker B, Salt D (2012) Assessing Resilience, Ch. 3. In: Resilience practice: building capacity to absorb disturbance and maintain function. Island Press: Washington, DC

Walsh J, Wuebbles D, Hayhoe K, Kossin J, Kunkel K, Stephens G, Thorne P, Vose R, Wehner M, Willis J, Anderson D, Doney S, Feely R, Hennon P, Kharin V, Knutson T, Landerer F, Lenton T, Kennedy J, Somerville R (2014). In: Melillo J, Richmond T, Yohe G (eds) Chapter 2: our changing climate. Climate Change Impacts in the United States: The Third National Climate Assessment, p 19-67. U.S. Global Change Research Program

Walthall C, Hatfield J, Backlund P, Lengnick L, Marshall E, Walsh M, Adkins S, Aillery M, Ainsworth E, Ammann C, Anderson C, Bartomeus I, Baumgard L, Booker F, Bradley B, Blumenthal D, Bunce J, Burkey K, Dabney S, Delgado J, Dukes J, Funk A, Garrett K, Glenn M, Grantz D, Goodrich D, Hu D, Izaurralde R, Jones R, Kim S-H, Leaky A, Lewers K, Mader T, McClung A, Morgan J, Muth D, Nearing M, Oosterhuis D, Ort D, Parmesan D, Pettigrew W, Polley W, Rader R, Rice C, Rivington M, Rosskopf E, Salas W, Sollenberger L, Srygley R, Stöckle C, Takle E, Timlin D, White J, Winfree R, Wright-Morton L, Ziska L. (2012) Climate change and agriculture in the United States: effects and adaptation. USDA Technical Report 1935

Waters T (2013) U.S. Drought In 2013 Hurts Cattle Ranchers With Dry, Poor Wheat Crop. Huffington Post. www.huffingtonpost.com/2013/01/14/us-drought-2013-cattle-ranchers_n_2469742.html. Accessed 12 Nov 2014

Wheat Overview (2013) USDA-ERS www.ers.usda.gov/topics/crops/wheat.aspx#.U64NTLEuKQo Accessed 10 Jan 2015

Wong J, Schuchard R (2011) Adapting to climate change: a guide for food, beverage, and agriculture companies. Business for Social Responsibility: Industry Guides

World Bank (2009) Country note on climate change aspects in agriculture: Mexico, Chile, Costa Rica. http://www.worldbank.org/lacagccnotes. Accessed 19 May 2015
About this article
Cite this article
Lengnick, L. The vulnerability of the US food system to climate change. J Environ Stud Sci 5, 348–361 (2015). https://doi.org/10.1007/s13412-015-0290-4
Keywords
Climate change

Vulnerability

Agricultural production

Food systems

Adaptive capacity

Resilience