Abstract
Using a contingent choice survey of US citizens, we investigate the influence of environmental art on individual willingness to purchase voluntary carbon offsets. In a split-sample experiment, we compare the stated preferences of survey respondents in two different treatment groups to the preferences of a control group. One treatment group is shown photographs that illustrate the impacts of climate change; the other is shown animated images that illustrate wind speeds and patterns for extreme weather events. While individuals seeing the photographs show a higher willingness to purchase voluntary offset than the control group, respondents seeing the animated images seem less willing to buy offsets. This result remains stable when accounting for preference heterogeneity related to prior knowledge about climate change issues. We hypothesize that the differential impacts of the two kinds of artistic images are due to a combination of factors influencing individual choices: emotional effect, cognitive interest, and preferences for the prevention of specific climate change impacts, as well as, more generally, internalized and social norms for the mitigation of climate change.
Access options
Buy single article
Instant access to the full article PDF.
US$ 39.95
Tax calculation will be finalised during checkout.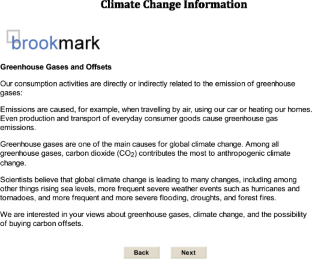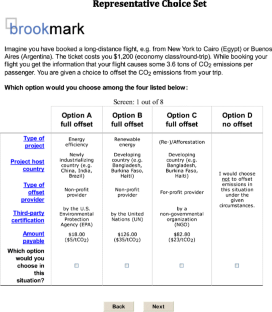 Notes
1.

These labels correspond to those used by the Canary Project and also related directly to information given to survey respondents about the likely impacts of global climate change.

2.

On the Web site for the Wind Map project, historical images are labeled with both the relevant dates and, for dates on which major events occurred, the names of the events. The animations shown to survey respondents, however, showed only the relevant dates.

3.

Although we collected data on how long respondents viewed the images (as well as other components of the survey), Brookmark Research Services reported doubts about the validity of this information since some respondents pause in the middle of taking the survey and then return to complete it later. Presumably, however, this affects mostly the upper end of the distribution. The median time respondents spent on the images section of the survey was a little under one minute for the Canary Project photos and almost two minutes for the Wind Map Project images.

4.

The cheap talk script included the following text: "Before going through the eight decision situations, please consider the following important instructions! Consider the situations to be real purchase situations: Choose your answers as if you really had to pay the respective amounts and take your monthly income into account when making the decisions." There is empirical evidence that a cheap talk script can reduce the hypothetical bias in choice experiments, see e.g., Cummings and Taylor (1999) or Carlsson et al. (2005).

5.

The median time respondents took for this section of the survey was around three minutes, but see footnote 3.

6.

All scenarios in the present study represent hypothetical situations: respondents were not asked to actually purchase offsets. Blasch and Farsi (2014) find, however, a high congruency between stated preference responses and actual purchase behavior by the respondents to their survey.

7.

The percentage in the control group (28 %) was slightly higher than in the two treatment groups (24 % for the Canary Project group, 23 % for the Wind Map Project group). The corresponding percentage in Blasch and Farsi (2014) is 15 %.

8.

The median age interval is 36–45; the median income interval is $35,000–49,999 per year. Both are comparable to statistics for the US population.

9.

These differences might be treatment effects, since questions about individual responsibility and family and friends' expectations were asked after the treatment groups saw images. This would imply that differences in the estimated coefficients on the status quo dummy variable would not correctly measure the total effects of treatment. But, our main measure of treatment effects, the difference in average derivatives with respect to the status quo (see later discussion and tables) incorporates these differences as well as differences in the estimated coefficients on the status quo dummy variable.

10.

This is not literally a derivative since the explanatory variable in question is a dummy variable. So, the "derivative" is calculated as the difference between the predicted values of the probability when the dummy variable equals one and when it equals zero.

11.

The main conclusions were also unchanged when a mixed logit model was used instead of a latent class analysis or when offset prices were used as variables rather than the total costs of purchasing offsets.
References
Ajzen I (1985) From intentions to actions: a theory of planned behaviour. In: Kuhl J, Beckman J (eds) Action-control: from cognition to behavior. Springer, Heidelberg, pp 11–39

Andreoni J (1988) Privately provided public goods in a large economy: the limits of altruism. J Public Econ 35:57–73

Andreoni J (1989) Giving with impure altruism: applications to charity and Ricardian equivalence. J Polit Econ 97:1447–1458

Andreoni J (1990) Impure altruism and donations to public goods: a theory of warm-glow giving. Econ J 100:464–477

Belfiore E, Bennett O (2007) Rethinking the social impacts of the arts. Int J Cult Pol 13(2):135–151

Bénabou R, Tirole J (2006) Incentives and prosocial behavior. Am Econ Rev 96:1652–1678

Bergstrom T, Blume L, Varian H (1986) On the private provision of public goods. J Public Econ 29:25–49

Blasch J, Farsi M (2014) Context effects and heterogeneity in voluntary carbon offsetting—a choice experiment in Switzerland. J Environ Econ Policy 3(1):1–24

Boxall PC, Adamowicz WL (2002) Understanding heterogeneity preferences in random utility models: a latent class approach. Environ Resour Econ 23:421–446

Brekke K, Kverndokk S, Nyborg K (2003) An economic model of moral motivation. J Public Econ 87(9–10):1967–1983

Carlsson F, Frykblom P, Lagerkvist CJ (2005) Using cheap-talk as a test of validity in choice experiments. Econ Lett 89:147–152

Champ PA, Bishop RC, Brown TC, McCollum DW (1997) Using donation mechanisms to value nonuse benefits from public goods. J Environ Econ Manag 33(2):151–162

Cummings RG, Taylor LO (1999) Unbiased value estimates for environmental goods: a cheap talk design for the contingent valuation method. Am Econ Rev 89:649–665

Curtis DJ (2009) Creating inspiration: the role of the arts in creating empathy for ecological restoration. Ecol Restor Manag 10:174–184

Curtis DJ (2011) Towards a culture of landcare: the arts in community capacity building for natural resources management. J Environ Assess Pol Manag 13:673–696

Curtis DJ, Reeve I, Reid N (2007) Creating inspiration: using the visual and performing arts to promote environmental sustainability. Report for Land & Water Australia, RIRDC Project No UNE-85A. Rural Industries Research and Development Corporation, Barton

Curtis DJ, Reid N, Ballard G (2012) Communicating ecology through art: what scientists think. Ecol Soc 17(2):3

Dawes RM, Thaler RH (1988) Anomalies—cooperation. J Econ Perspect 2:187–197

Fischbacher U, Gächter S, Fehr E (2001) Are people conditionally cooperative? Evidence from a public goods experiment. Econ Lett 71(3):397–404

Frey BS, Stutzer A (2008) Environmental morale and motivation. In: Lewis A (ed) The Cambridge Handbook of Psychology and Economic Behaviour. Cambridge University Press, Cambridge, pp 406–428

Gächter S (2007) Conditional cooperation: behavioral regularities from the lab and the field and their policy implications. In: Frey BS, Stutzer A (eds) Psychology and economics: a promising new cross-disciplinary field. CESifo Seminar Series, Cambridge, pp 19–50

Goldberg V (1991) A terrible beauty. ARTnews (Summer): 106–113

Hall S (1980) Encoding/decoding. In: Hall S, Hobson D, Lowe A, Willis P (eds) Culture, Media, Language. Hutchinson, London, pp 128–138

Hensher DA, Greene WH (2003) A latent class model for discrete choice analysis: contrasts with mixed logit. Transp Res B 37:681–698

Hensher DA, Rose JM, Greene WH (2005) Applied choice analysis. a primer. Cambridge University Press, Cambridge

Hertwich E, Peters G (2009) Carbon footprint of nations: a global, trade-linked analysis. Environ Sci Technol 43(16):6414–6420

Holländer H (1990) A social exchange approach to voluntary cooperation. Am Econ Rev 80(5):1157–1167

IPCC (2013) Climate Change 2013: The physical science basis. Contribution of Working Group I to the Fifth Assessment Report of the Intergovernmental Panel on Climate Change. Cambridge University Press, Cambridge

IPCC (2014) Climate Change 2014: Impacts, adaptation, and vulnerability. Contribution of Working Group II to the Fifth Assessment Report of the Intergovernmental Panel on Climate Change. Cambridge University Press, Cambridge

Jackson T (2005) Motivating sustainable consumption: a review of evidence on consumer behaviour and behavioural change. Report to the Sustainable Development Research Network. University of Surrey, Guildford, UK

Keser C, van Winden F (2000) Conditional cooperation and voluntary contributions to public goods. Scand J Econ 102(1):23–39

Lancaster KJ (1966) A new approach to consumer theory. J Polit Econ 71(2):132–157

Leiserowitz A (2004) Before and after The Day After Tomorrow: A U.S. Study of Climate Change Risk Perception. Environment 46:22–37

Leiserowitz A (2006) Climate change risk perception and policy preferences: the role of affect, imagery, and values. Climate Change 77:45–72

Louviere JJ, Hensher DA, Swait JD (2000) Stated choice methods: Analysis and Application. Cambridge University Press, Cambridge

Lowe T et al (2006) Does tomorrow ever come? Disaster narrative and public perceptions of climate change. Public Underst Sci 15:435–457

Lundhede T, Olsen S, Jacobsen J, Thorsen B (2009) Handling respondent uncertainty in Choice Experiments: Evaluating recoding approaches against explicit modelling of uncertainty. J Choice Model 2(2):118–147

Marschak J (1960) Binary choice constraints on random utility indications. In: Arrow K (ed) Stanford Symposium on Mathematical Methods in the Social Sciences. Stanford University Press, Stanford, pp 312–329

Martınez-Espineira R, Lyssenko N (2012) Alternative approaches to dealing with respondent uncertainty in contingent valuation: a comparative analysis. J Environ Manag 93:130–139

McCutcheon AL (1987) Latent class analysis. Sage Publications, Newbury Park

McFadden D (1974) Conditional logit analysis of qualitative choice behavior. In: Zarembka P (ed) Frontiers in econometrics. Academic Press, New York, pp 105–142

Meier S (2007) A survey of economic theories and field evidence on pro-social behavior. In: Frey B (ed) StutzerA (eds) Economics and psychology: a promising new cross-disciplinary field. MIT Press, Cambridge, pp 51–88

Nyborg K, Rege M (2003) Does public policy crowd out private contributions to public goods? Public Choice 115:397–418

Nyborg K, Howarth RB, Brekke KA (2006) Green consumers and public policy: on socially contingent moral motivation. Resour Energy Econ 28:351–366

O'Neill S, Smith N (2014) Climate change and visual imagery. WIREs Clim Chang 5:73–87

O'Neill S, Boykoff M, Niemeyer S, Day S (2013) On the use of imagery for climate change engagement. Glob Environ Chang 23:413–421

Reeves M (2002) Measuring the economic and social impact of the arts: a review. The Arts Council of England, London

Rege M (2004) Social norms and private provision of public goods. J Publ Econ Theory 6:65–77

Reid N, Reeve I, Curtis D (2005) Creating inspiration: how visual and performing arts shape environmental behaviours. Report for Land and Water Australia, Canberra Project LWRRDC. UNE44. University of New England, Armidale

Reusswig F, Schwarzkopf J, Pohlenz P (2004) Double impact: the climate blockbuster The Day After Tomorrow and its impact on the German cinema public. Potsdam Institute for Climate Impact Research, Potsdam

Samuelson W, Zeckhauser R (1988) Status quo bias in decision making. J Risk Uncertain 1:7–59

Schläpfer F, Schmitt M (2007) Anchors, endorsements, and preferences: a field experiment. Resour Energy Econ 29:229–243

Schläpfer F, Schmitt M, Roschewitz A (2008) Competitive politics, simplified heuristics, and preferences for public goods. Ecol Econ 65:574–589

Schwartz SH (1968) Awareness of consequences and the influence of moral norms on interpersonal behavior. Sociometry 31:355–369

Schwartz SH (1970) Moral decision making and behavior. In: Macaulay J, Berkowitz L (eds) Altruism and helping behavior. Social Psychological Studies of Some Antecedents and Consequences. Academic Press, New York, pp 127–141

Sheppard SRJ (2005) Landscape visualisation and climate change: the potential for influencing perceptions and behavior. Environ Sci Pol 8:637–654

Steg L, van den Berg AE, de Groot JIM (eds) (2013) Environmental psychology: an introduction. BPS Blackwell, West Sussex

Stern PC et al (1999) A value-belief-norm theory of support for social movements: the case of environmentalism. Hum Ecol Rev 6:81–97

Sugden R (1982) On the economics of philanthropy. Econ J 92:341–350

Tonsor G, Shupp R (2011) Cheap talk scripts and online choice experiments: 'looking beyond the mean'. Am J Agric Econ 93:1015–1031

Tonsor G, Schroeder T, Lusk J (2013) Consumer valuation of alternative meat origin labels. J Agric Econ 64:676–692

Train K (2003) Discrete choice methods with simulation. Cambridge University Press, Cambridge
Acknowledgments
This research was undertaken in response to an invitation from Dehlia Hannah to participate in a conference, Mapping the Climatic Imaginary through Art, Science and History, held in November 2013 at the Center for Contemporary History and Policy, Chemical Heritage Foundation, Philadelphia, PA. The authors would like to thank Dehlia and the other participants in that conference for useful comments. Edward Morris of the Canary Project was a conference participant and allowed us to use their photographs. Fernanda Viégas and Martin Wattenberg allowed us to use images from their Wind Map Project, which was featured as part of the art exhibition that accompanied the conference. The authors also received particularly helpful comments from Markus Ohndorf, Takao Kato, April Baptiste, Julia Martinez, and two anonymous reviewers. Any remaining errors are, of course, the responsibility of the authors.
Appendix
Appendix
About this article
Cite this article
Blasch, J., Turner, R.W. Environmental art, prior knowledge about climate change, and carbon offsets. J Environ Stud Sci 6, 691–705 (2016). https://doi.org/10.1007/s13412-015-0243-y
Keywords
Environmental art

Climate change

Carbon offsetting

Knowledge

Norms

Discrete choice experiment