Abstract
The Montreal Protocol on Substances that Deplete the Ozone Layer (Montreal Protocol) is widely considered to be the most successful multilateral environmental agreement (MEA) because: 1) it is working to protect the ozone layer, 2) it is the only treaty that enjoys universal membership, and 3) both developing and developed countries are committed to phasing out controlled ozone-depleting substances (ODSs) and are almost continuously in full compliance with the phase-out schedule. In addition, the abundance of ozone-depleting chlorine and bromine from manufactured chemicals is declining and is expected to continue to decline in the stratosphere to pre-Antarctic ozone hole levels by the middle of this century. The Montreal Protocol is a double success because the phase out of ODSs also protects the climate. Most ODSs are powerful greenhouse gases (GHGs), while many alternatives to ODSs are not or have lower global warming potential than the ODSs they replace. Furthermore, although the Kyoto Protocol already controls emissions of certain alternatives to ODSs that are powerful GHGs, amendments to the Montreal Protocol are proposed to control both their production and consumption. This paper explains how the Montreal Protocol has achieved its success and raises questions of practical and academic interest as to how the Montreal Protocol can guard against backsliding, loopholes, illegal trade, and other actions that are threatening, making the world safe for future generations. It also explores how the Kyoto and Montreal Protocols can be made stronger and more cost-effective by taking advantage of the synergy of separate and joint actions.
Access options
Buy single article
Instant access to the full article PDF.
US$ 39.95
Tax calculation will be finalised during checkout.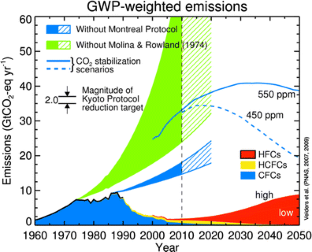 Notes
1.

United Nations, 2006. Report to the General Assembly's Millennium Summit, New York.

2.

For example, the UN Framework Convention On Climate Change, Montreal Protocol on Ozone Protection, Convention On Biological Diversity, Convention On Long-Range Transboundary Air Pollution, Convention On International Trade In Endangered Species, Basel Convention On Control Of Hazardous Wastes, Convention To Combat Desertification, and International Convention for the Regulation of Whaling. Data from Ronald B. Mitchell, 2002–2014. International Environmental Agreements Database Project (Version 2013.2). Accessed 13 May 2014 at: http://ie.uoregon.edu/

3.

See, for example, Ivanova, Maria and Tarasofsky, Richard (September 2007). International Environmental Governance. Report of the Chatham House Workshop, 26-27 July 2007. © Royal Institute of International Affairs, Chatham House, London.

4.

5.

6.

United Nations General Assembly (28 October 1982). "World Charter for Nature," United Nations. Retrieved 25 August 2013. The concept of precautionary principle has its academic roots in Siegfried von Ciriacy-Wantrup's concept of "Safe Minimum Standard," which is the threshold above which loss is catastrophic and irreversible within normal human time scales (Ciriacy-Wantrup 1952).

7.

8.

9.

10.

11.

12.

13.

This group of insiders who have been members of the Montreal Protocol institutions includes Stephen O. Andersen, Penelope Canan, John S. Daniel, David W. Fahey, Marco Gonzalez, Mack McFarland, Melanie K. Miller, Mario J. Molina, Stephen A. Montzka, Veerabhadran Ramanathan, A. R. Ravishankara, Stefan Reimann, Rajendra Shende, and Guus J.M. Velders.
References
Andersen SO, Sarma KM (2002) Protecting the ozone layer: the United Nations history. (Official publication of the United Nations Environment Programme) Earthscan Press, London

Andersen SO, Sarma KM, Taddonio KN (2007) Technology transfer for the ozone layer: lessons for climate change. Official publication of the Global Environment Facility and the United Nations Environment Programme. Earthscan Press, London

Andersen SO, Velders GJM, Canan P (2009) How science guides industry choice of alternatives to ozone-depleting substances, twenty years of ozone decline: proceedings of the Symposium for the 20th Anniversary of the Montreal Protocol. Springer Science, New York

Andersen SO, Ayala A, Baker JA, Luecken D (2013) A New Methodology to Estimate the Climate Benefits of a Rapid Transition to Climate-Friendly Mobile A/Cs. 5th European Workshop on Mobile Air Conditioning and Vehicle Thermal Systems. http://archivio.ata.it/en/convegni/view/106/5th-european-workshop-mobile-air-conditioning-and-vehicle-thermal-systems/programma/index.html

Andersen SO, Brack D, Depledge J (2014) A global response to HFCs through fair and effective ozone and climate policies. The Royal Institute for International Affairs. Chatham House, London

Brack D (2003) Monitoring the Montreal Protocol. In: Findlay T (ed) Verification yearbook 2003. VERTIC, London, p 209, 220–21

Ciriacy-Wantrup SV (1952) Resource conservation: economics and policies. University of California Press, Berkeley and Los Angeles

Gareau BJ (2013) From precaution to profit: contemporary challenges to environmental protection in the Montreal Protocol. Yale University Press, New Haven

Gramling C (2014) Ozone-depleting chemical still seeping into the atmosphere. Science 22 August 2014. http://news.sciencemag.org/chemistry/2014/08/ozone-depleting-chemical-still-seeping-atmosphere. Accessed 25 Aug 2014

Kanter DR (2014) Returning to the planetary boundary for nitrogen: science, economics and policy. Dissertation, Princeton University, Woodrow Wilson School of Public and International Affairs http://www.google.com/search?client=safari&rls=en&q=kanter+ravishankara+porter&ie=UTF-8&oe=UTF-8

Kanter DR, Ravishankara AR, Porter I (2012) A post-Kyoto partner: considering the ozone regime as a venue to manage nitrous oxide. Montreal Protocol Open-Ended Working Group, Geneva http://www.google.com/search?client=safari&rls=en&q=kanter+ravishankara+porter&ie=UTF-8&oe=UTF-8

Maduro RA, Schauerhammer R (1992) The holes in the ozone scare. Twenty-first Century Science Associates, Washington, DC

Molina M, Zaelke D (2012) A climate success story to build on, UNEP OzonAction, protecting our atmosphere for generations to come: 25 years of the Montreal Protocol

Molina M, Zaelke D, Sarma KM, Andersen SO, Ramanathan V, Kaniaru D (2009) Reducing abrupt climate change risk using the Montreal Protocol and other regulatory actions to complement cuts in CO2 emissions. Proc Natl Acad Sci 106(49):20616–21. doi:10.1073/pnas.0902568106

Sarma KM, Andersen SO (2011) Science and diplomacy: Montreal Protocol on ozone depleting substances. Science diplomacy: Antarctica, science and the governance of internal spaces. Smithsonian Institution Scholarly Press, Washington, DC

Velders GJM, Andersen SO, Daniel JS, Fahey DW, Farland M (2007) The importance of the Montreal Protocol in protecting climate. Proc Natl Acad Sci 104(12):4814–4819. doi:10.1073/pnas.0610328104

Velders GJM, Fahey DW, Daniel JS, McFarland M, Andersen SO (2009) The large contribution of projected HFC emissions to future climate forcing. Proc Natl Acad Sci 106:10949–10954. doi:10.1073/pnas.0902817106

Velders GJM, Ravishankara AR, Miller MK, Molina MJ, Alcamo J, Daniel JS, Fahey DW, Montzka SA, Reimann S (2012) Preserving Montreal Protocol climate benefits by limiting HFCs. Science 335:922–923. doi:10.1126/science.1216414

Velders GJM, Solomon S, Daniel JS (2014) Growth of climate change commitments from HFC banks and emissions. Atmos Chem Phys 14:4563–4572. doi:10.5194/acp-14-4563-2014, www.atmos-chem-phys.net/14/4563/2014

Xu Y, Zaelke D, Velders GJM, Ramanathan V (2013) The role of HFCs in mitigating 21st century climate change. Atmos Chem Phys 13:6083–6089. doi:10.5194/acp-13-6083-2013, www.atmos-chem-phys.net/13/6083/2013/

Zaelke D, Andersen SO, Borgford-Parnell N (2012) Strengthening ambition for climate mitigation: the role of the Montreal Protocol in reducing short-lived climate pollutants. Review of European Community & International Environmental Law (RECIEL) 21 (3) 2012
Acknowledgments
The authors are grateful for the advice and edits of Stephen O. Andersen and Durwood Zaelke.
About this article
Cite this article
Gonzalez, M., Taddonio, K.N. & Sherman, N.J. The Montreal Protocol: how today's successes offer a pathway to the future. J Environ Stud Sci 5, 122–129 (2015). https://doi.org/10.1007/s13412-014-0208-6
Keywords
Montreal Protocol

Climate change

Hydrofluorocarbons

HFCs

Precautionary principle

Ozone hole