Abstract
The acceleration of sea level rise (SLR) has become a threat to the stability of nation-states worldwide and associated with risks to environmental sustainability, economic infrastructure, and public health. However, from both an international and U.S. perspective, there is a lack of research examining legislative decision makers' perceptions about policies regarding SLR. This study addresses that gap by examining how politics and proximity affects Virginia state legislators' perceptions of the saliency of SLR. A survey of these legislators reveals their perceptions of credible sources of information, SLR-related risk, and who should take the lead to address SLR. While this study confirms other research about the effects of political party, it finds that proximity to coastal areas also greatly influences the perceived saliency of SLR. The findings from this research project enhance our understanding of the challenges inherent in addressing SLR at the state level. Finally, this study points to implications for agenda setting and suggests areas of further study regarding SLR policy at the state and local government levels.
Access options
Buy single article
Instant access to the full article PDF.
US$ 39.95
Tax calculation will be finalised during checkout.
Subscribe to journal
Immediate online access to all issues from 2019. Subscription will auto renew annually.
US$ 79
Tax calculation will be finalised during checkout.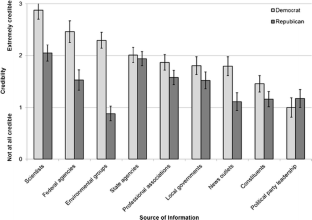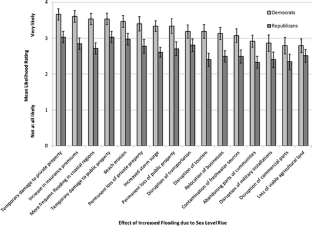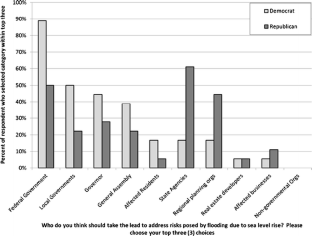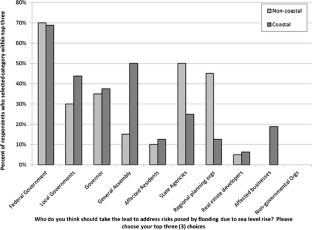 Notes
1.

Legislators were categorized as representing coastal districts if their constituent districts were located east of Interstate-95 (a north-state highway that, on average, is about 60 mi from Virginia's coastlines). Legislators were also asked to characterize their district as coastal or noncoastal. There was a 75 % overlap in the I-95 and legislators' self-categorizations. Accordingly, I-95 is used as a basis for determining coastal versus noncoastal legislators.

2.

The response rate of 26 % may raise concerns regarding nonresponse bias. However, this study's adequate representation from coastal and noncoastal districts, and from both the House of Delegates and the Senate, suggests minimal response bias.
References
Abel N, Gorddard R, Harman B, Leitch A, Langridge J, Ryan A, Heyenga S (2011) Sea level rise, coastal development and planned retreat: analytical framework, governance principles and an Australian case study. Environ Sci Pol 14(3):279–288

Aitken M (2012) Changing climate, changing democracy: a cautionary tale. Environ Polit 21(2):211–229. doi:10.1080/09644016.2012.651899

Bender S (2011) Global lessons on development planning and climate hazard reduction. Public Manag 40(1):27–31

Binder B (2011) Impact of climate change on public health. Pubic Manag 40(1):32–36

Brody SD, Zahran S, Vedlitz A, Grover H (2008) Examining the relationship between physical vulnerability and public perceptions of global climate change in the United States. Environ Behav 40

Brody S, Grover H, Lindquist E, Vedlitz A (2010) Examining climate change mitigation and adaptation behaviours among public sector organisations in the USA. Local Environ 15(6):591–603. doi:10.1080/13549839.2010.490828

Brody S, Grover H, Vedlitz A (2012) Examining the willingness of Americans to alter behaviour to mitigate climate change. Clim Pol 12:1–22

Brunner S (2008) Understanding policy change: multiple streams and emissions trading in Germany. Glob Environ Chang 18(3):501–507. doi:10.1016/j.gloenvcha.2008.05.003

Cook BJ (2010) Arenas of power in climate change policymaking. Pol Stud J 38(3):465–486. doi:10.1111/j.1541-0072.2010.00370.x

Dunlap RE, Allen MP (1976) Partisan differences on environmental issues: a congressional roll-call analysis. Western Pol Quart 29:384–397

Dunlap RE, McCright AM (2008) A widening gap: Republican and Democratic views on climate change. Environment 50(5):26–35

Dunlap RE, Xiao C, McCright AM (2001) Politics and environment in America: partisan and ideological cleavages in public support for environmentalism. Environ Polit 10(4):23–48

Fielding KS, Head BW, Laffan W, Western M, Hoegh-Guldberg O (2012) Australian politicians' beliefs about climate change: political partisanship and political ideology. Environ Polit 21(5):712–733. doi:10.1080/09644016.2012.698887

Foust C, Murphy WO (2009) Revealing and reframing apocalyptic tragedy in global warming discourse. Environ Commun 3(2):151–167

Garvin T (2001) Analytical paradigms: the epistemological distances between scientists, policy makers, and the public. Risk Anal 21(3):443–456. doi:10.1111/0272-4332.213124

Governor's Commission on Climate Change (2008) Final report: a climate change action plan. Richmond, VA

Grundmann R (2007) Climate change and knowledge politics. Environ Polit 16(3):414–432. doi:10.1080/09644010701251656

Hamilton LC (2011) Education, politics and opinions about climate change evidence for interaction effects. Clim Chang 104(2):231–242. doi:10.1007/s10584-010-9957-8

Hart DM, Victor DG (1993) Scientific elites and the making of U.S. Policy for climate change research, 1957-1974. Soc Stud Sci 23(4):643–680

Heazle M, Tangney P, Burton P, Howes M, Grant-Smith D, Reis K, Bosomworth K (2013) Mainstreaming climate change adaptation: an incremental approach to disaster risk management in Australia. Environ Sci Pol 33:162–170

Hindman DB (2009) Mass media flow and differential distribution of politically disputed beliefs: the belief gap hypothesis. J Mass Commun Q 86(4):808

Hulme M, Mahoney M (2010) Climate change: what do we know about the IPCC? Prog Phys Geogr 34(5):705–718

Intergovernmental Panel on Climate Change (2007) Climate change 2007: impacts. Cambridge University Press, New York, Adaptations and Vulnerability

Intergovernmental Panel on Climate Change (2013) Climate change 2013: the physical science basis. Cambridge University Press, New York

Jacques PJ, Dunlap RE, Freeman M (2008) The organisation of denial: conservative think tanks and environmental scepticism. Environ Polit 17(3):349–385. doi:10.1080/09644010802055576

Kahlor L, Rosenthal S (2009) If we seek, do we learn? Sci Commun 30(3):380–414. doi:10.1177/1075547008328798

Kamieniecki S (ed) (1995) Political parties and environmental policy. Environmental politics and policy. Duke University Press, Durham, NC

Keeler A (2007) State greenhouse gas reduction policies: a move in the right direction? Policy Sci 40(4):353–365. doi:10.1007/s11077-007-9050-y

McCright AM, Dunlap RE (2010) Anti-reflexivity. The American conservative movement's success in undermining climate science and policy. Theor Cult Soc 27(2–3):100–133

McCright AM, Dunlap RE (2011) The politicization of climate change and polarization in the American public's views of global warming, 2001–2010. Sociol Q 52(2):155–194. doi:10.1111/j.1533-8525.2011.01198.x

Moser SC (2005) Impact assessments and policy responses to sea-level rise in three US states: an exploration of human-dimension uncertainties. Glob Environ Chang 15(4):353–369. doi:10.1016/j.gloenvcha.2005.08.002

Moser SC (2006) Climate change and sea-level rise in Maine and Hawai'i: the changing tides of an issue domain. In: Mitchell RB, Clark WC, Cash DW, Dickson NM (eds) Global environmental assessments: information and influence. MIT Press, Cambridge, MA, pp 201–239

Moser SC, Tribbia J (2006) Vulnerability to inundation and climate change impacts in California: coastal managers' attitudes and perceptions. Mar Technol Soc J 40(4):35–44. doi:10.4031/002533206787353169

National Oceanic Atmospheric Administration (2012) Incorporating sea level change scenarios at the local level. NOAA Coastal Services Center, Charleston, SC

Nicholls RJ, Hanson S, Herweiher C, Patmore N, Hallegatte S, Corfee-Morlot J, Chateau J, Muir-Wood R (2007) Ranking of the world's cities most exposed to coastal flooding today and in the future. OECD Environment Working Paper No. 1. Organisation for Economic Co-operation and Development, Paris

Pellizzoni L (2011) The politics of facts: local environmental conflicts and expertise. Environ Polit 20(6):765–785. doi:10.1080/09644016.2011.617164

Posner PL (2010) The politics of vertical diffusion: the states and climate change. In: Rabe BG (ed) Greenhouse governance: addressing climate change in America. Brookings Institution Press, Washington, D.C., pp 73–98

Poulter B, Feldman RL, Brinson MM, Horton BP, Orbach MK, Pearsall SH, Reyes E, Riggs SR, Whitehead JC (2009) Sea-level rise research and dialogue in North Carolina: creating windows for policy change. Ocean 52(3–4):147–153. doi:10.1016/j.ocecoaman.2008.09.010

Pyke CR, Thomas R, Porter RD, Hellmann JJ, Dukes JS, Lodge DM, Chavarria G (2008) Current practices and future opportunities for policy on climate change and invasive species. Conserv Biol 22(3):585–592

Rabe BG (2004) Statehouse and greenhouse; the emerging politics of American climate change policy. Brookings Institution Press, Washington

Rabe B (2010) Introduction: the challenges of U.S. climate governance. In: Rabe BG (ed) Greenhouse governance: addressing climate change in America. Brookings Institution Press, Washington, D.C., pp 3–23

Rabe B (2011) Contested federalism and american climate policy. Publius J Federalism 41(3):494–521. doi:10.1093/publius/pjr017

Rampton S, Stauber J (2001) Trust us, we're experts! How industry manipulates science and gambles with your future. Tarcher/Putnam, New York

Rootes C, Zito A, Barry J (2012) Climate change, national politics and grassroots action: an introduction. Environ Polit 21(5):677–690. doi:10.1080/09644016.2012.720098

Rowley R, Kostelnick J, Bratten D, Li X, Meisel J (2007) Risk of rising sea level to population and land area. EOS Trans Am Geophys Union 88(9):105–116

Selin H, VanDeveer SD (2007) Political science and prediction: What's next for U.S. climate change policy? Rev Pol Res 24(1):1–27. doi:10.1111/j.1541-1338.2007.00265.x

Selman J, Daigle M (2011) Attracting strange bedfellows: climate users reshape the conversation. Public Manag 40(1):51–54

Stedman RC (2004) Risk and climate change: perceptions of key policy actors in Canada. Risk Anal 24(5):1395–1406. doi:10.1111/j.0272-4332.2004.00534.x

Steel B, Lach D, List P, Shindler B (2001) The Role of scientists in the natural resource and environmental policy process: a comparison of Canadian and American publics. J Environ Syst 28(2):113–155

Sundblad E-L, Biel A, Gärling T (2009) Knowledge and confidence in knowledge about climate change among experts, journalists, politicians, and laypersons. Environ Behav 41(2):281–302. doi:10.1177/0013916508314998

Swyngedouw E (2010) Apocalypse forever? post-political populism and the spectre of climate change. Theor Cult Soc 27(2–3):213–232

Takahashi B, Meisner M (2011) Comparing influences on Peruvian climate change policy: information, knowledge, and concern among political elites. J Intercult Commun Res 40(3):181–202. doi:10.1080/17475759.2011.615854

Wheeler SM (2008) State and municipal climate change plans: the first generation. J Am Plan Assoc 74(4):481–496. doi:10.1080/01944360802377973

Wu S-Y, Najjar R, Siewert J (2009) Potential impacts of sea-level rise on the mid- and upper-Atlantic region of the United States. Clim Chang 95(1–2):121–138. doi:10.1007/s10584-008-9522-x

Zahran S, Brody SD, Grover H, Vedlitz A (2006) Climate change vulnerability and policy support. Soc Nat Resour 19(9):771–789

Zia A, Todd AM (2010) Evaluating the effects of ideology on public understanding of climate change science: how to improve communication across ideological divides? Public Underst Sci 19(6):743–761. doi:10.1177/0963662509357871
Additional information
This research was funded through a Multidisciplinary Seed Fund from the Old Dominion University Research Foundation and in collaboration with the Old Dominion University Climate Change and Sea Level Rise Initiative.
About this article
Cite this article
Yusuf, JE., St. John, B. & Ash, I.K. The role of politics and proximity in sea level rise policy salience: a study of Virginia legislators' perceptions. J Environ Stud Sci 4, 208–217 (2014). https://doi.org/10.1007/s13412-014-0169-9
Keywords
Sea level rise

Climate change

State policy

Political ideology

Geopolitics