Abstract
Alginic acid, the heteropolysaccharide, obtained from farmed brown seaweeds is an industrially important biopolymer. As Pakistan lacks the required sea weeds, so meets the demand by importing it from technically advanced countries. The recent study was intended to evaluate the capacity of potato peels (Solanum tuberosum) for alginate biosynthesis by Azotobacter nigricans using solid-state fermentation. Different fermentation parameters were optimized and their interaction studied using central composite design of response surface methodology (RSM). After optimization, the highest amount of alginate (205 mg/gds) was attained after 4 days of incubation at pH 7.5, temperature 30 °C, 1 mL of inoculum, and 0.1% corn steep liquor (CSL). The F-value was estimated as 38.75 and p value, 0.00, using a statistical tool that specifies the planned model was highly significant. Coefficient of determination (R2) was used to calculate the goodness of fit of the model and value of 98.6 % indicated the precision of the model with all the factors having significant effect on production process. Identification of alginate produced was done by FTIR and quantification by HPLC method. It was calculated as 96.4 % pure in comparison to standard. The outcomes specified that alginate can be proficiently manufactured by solid-state fermentation by consuming cheap food waste as the substrate.
Access options
Buy single article
Instant access to the full article PDF.
US$ 39.95
Tax calculation will be finalised during checkout.
Subscribe to journal
Immediate online access to all issues from 2019. Subscription will auto renew annually.
US$ 79
Tax calculation will be finalised during checkout.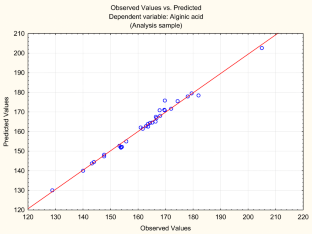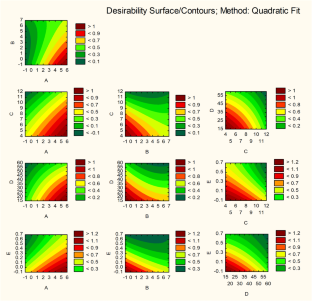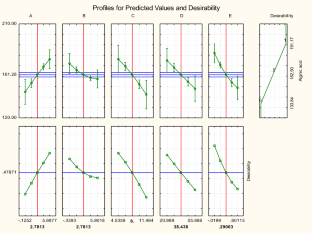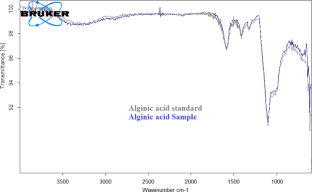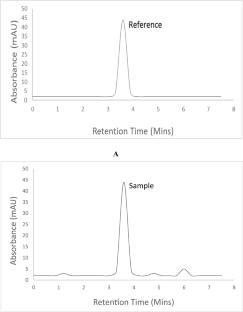 References
1.

Saeed S, Mehmood T, Irfan M (2020) Statistical optimization of cultural parameters for the optimized production of alginic acid using apple (Malus domestica) peels through solid-state fermentation. Biomass Conv Bioref. https://doi.org/10.1007/s13399-020-01143-9

2.

Szekalska M, Bowska AP, Nska ES, Ciosek P, Winnicka K (2016) Alginate: current use and future perspectives in pharmaceutical and biomedical applications. IJSR 2016:1–17. https://doi.org/10.1155/2016/7697031

3.

Then C, Othman Z, Mustapha WA, Sarmidi MR, Aziz R, Enshasy HAE (2012) Production of alginate by Azotobacter vinelandii in semi-industrial scale using batch and fed batch cultivation systems. J Adv Sci Res 3:45–50

4.

Moresi M, Sebastiani I, Wiley DE (2009) Experimental strategy to assess the main engineering parameters characterizing sodium alginate recovery from model solutions by ceramic tubular ultrafiltration membrane modules. J Membr Sci 26:441–452

5.

Hay ID, Rehman ZU, Moradali MF, Wang Y, Rehm BHA (2013) Microbial alginate production, modification and its applications. Microb Biotechnol 6:637–650

6.

Butt ZA, Ikram-ul-haq, Qadeer MA (2011) Alginate production by a mutant strain of Azotobacter vinelandii using shake flask fermentation. Pak J Bot 43:1053–1067

7.

Khanafari A, Sepahei AA (2007) Alginate biopolymer production by Azotobacter chroococcum from whey degradation. Int J Environ Sci Technol 4:427–432

8.

Pandurangan G, Jyothi S, Karunakaran T, David KJ (2012) Small scale production and characterization of alginate from Azotobacter chroococcum using different substrates under various stress conditions. Int J Appl Biol Pharm Technol 3:40–45

9.

Saeed S, Saeed S, Masood F, Firyal S, Tayyab M (2019) Potential of Carica papaya waste for the production of alginic acid by fermentation. J Chem Soc Pak 41:679–684

10.

Akhtar T, Hashmi AS, Tayyab M, Anjum A, Saeed AS (2020) Bioconversion of agricultural waste to butyric acid through solid state fermentation by Clostridium tyrobutyricum. Waste Biomass Valor 11:2067–2073

11.

Amin M, Bhatti HN, Zuber M, Bhatti IA, Asgher M (2014) Potential use of agricultural wastes for the production of lipase by Aspergillus Melleus under solid state fermentation. THE JAPS 24:1430–1437

12.

Saeed S, Aslam S, Mehmood T, Naseer R, Nawaz S, Mujahid H, Sultan A (2021) Production of gallic acid under solid-state fermentation by utilizing waste from food processing industries. Waste Biomass Valori 12:155–163

13.

Ali SW, Nawaz A, Irshad S, Khan AA (2015) Potato waste management in Pakistan's perspective. J Hyg Eng Des 13:100–107

14.

Mehmood T, Saman T, Irfan M, Anwar F, Ikram MS, Tabassam Q (2019) Pectinase Production from Schizophyllum commune through central composite design using citrus waste and its immobilization for industrial exploitation. Waste Biomass Valor 10:2527–2536

15.

Saeed S, Hashmi AS, Haq IU, Tayyab M, Awan AR, Anjum AA, Firyal S (2016) Bioconversion of agricultural by-products to alginate by Azotobacter vinelandii and physic-chemical optimization for hyper-production. THE JAPS 26:1514–1519

16.

Yasin MS, Saeed S, Tayyab M, Hashmi AS, Awan AR, Firyal S, Naseer R (2019) Production of Microbial Biomass Protein by Arachniotus ruber using Banana Peel and its Biological Evaluation in Broiler Chicks. J Chem Soc Pak 4:319–324

17.

Rezania S, Mohamad SE, Yahya A, Salleh MM (2018) Bioethanol production from cocoa waste by locally isolated microorganism using response surface methodology. MOJ Biol Med 3:160–166

18.

Galal GF, Ouda SM (2014) Production of Alginate by Different Isolates of Azotobacter species. Life Sci J 11:29–38

19.

Awad H, Aboul-Enein HY (2013) A validated HPLC assay method for the determination of sodium alginate in pharmaceutical formulations. J Chromatogr Sci 51:208–214

20.

Belalia F, Djelali NE (2014) Rheological properties of sodium alginates solutions. Rev Romaine Chim 59:135–145

21.

Martinsen A, Skjak-Bræk G, Smidsrod O, Zanetti F (1991) Comparison of different methods for determination of molecular weight and molecular weight distribution of alginates. Carbohydr Res 15:171–193

22.

Benabbas R, Noelia M, Ballester S, Bataille B, Leclercq L, Sharkawi T, Soulairol I (2020) Structure-properties relationship in the evaluation of alginic acid functionality for tableting. AAPS PharmSciTech 21:94. https://doi.org/10.1208/s12249-020-1633-3

23.

Boucelkha A, Petit E, Elboutachfaiti R, Molinié R, Amari S, Zaidi-Yahaoui R (2017) Production of guluronate oligosaccharide of alginate from brown algae Stypocaulon scoparium using an alginate lyase. J Appl Phycol 29:509–519. https://doi.org/10.1007/s10811-016-0928-y

24.

DeRamos CM, Irwin AE, Nauss JL, Stout BE (1997) 13C NMR and molecular modeling studies of alginic acid binding with alkaline earth and lanthanide metal ions. Inorg Chim Acta 256:69–75

25.

Ali NA, Al-Baker AY, Hamza HM (2005) Study the optimal cultural conditions for alginic acid production by local isolate of Azotobacter vinelandii using solid state fermentation. Iraqi J Biotech 4:51–75

26.

Moral K, Yıldız M (2016) Alginate production from alternative carbon sources and use of polymer-based adsorbent in heavy metal removal. Int J Polym Sci 2016:1–8
Ethics declarations
Conflict of interest
The authors proclaimed that they have no conflicts of concern regarding the publication of this paper.
Additional information
Publisher's Note
Springer Nature remains neutral with regard to jurisdictional claims in published maps and institutional affiliations.
About this article
Cite this article
Saeed, S., Tayyab, M., Mehmood, T. et al. Valorization of potato peel for production of alginate and optimization of the process through response surface methodology (RSM) by using Azotobacter nigricans. Biomass Conv. Bioref. (2021). https://doi.org/10.1007/s13399-021-01357-5
Received:

Revised:

Accepted:

Published:
Keywords
Alginic acid

Potato peels (Solanum tuberosum)
Azotobacter nigricans

Solid state fermentation

Response surface methodology