Abstract
Ethanol was produced by sole glycerol and glycerol-glucose fermentation using Enterobacter aerogenes TISTR 1468. The initial experiment was set up with waste glycerol as a sole carbon source with initial concentration ranged from 0, 8.7, 23.4, 43.4, to 63.1 g L−1 in 100-mL serum bottles under controlled condition at 30°C for 240-hr fermentation. Liquid samples, during the fermentation, were collected to quantitate concentrations of volatile fatty acids and glycerol, whilst gaseous samples were collected to quantitate CO2 and CH4 constituent. E. aerogenes TISTR 1468 produced maximum ethanol concentration and yield of 215.1 mM and 0.71 mol mol−1 after 72-hr fermentation with the initial waste glycerol concentration of 63.1 g L−1 (equivalent to 79.11 g COD L−1). The ethanol production from glycerol-glucose fermentation was set up based on the initial COD concentration equivalent to 79.11 g COD L−1 with varying glycerol-glucose ratios of 1:1, 10:1, and 100:1. At the ratio of 100:1, maximum ethanol concentration and yield were 232.8 mM and 0.59 mol mol−1 after 24-hr fermentation. Addition of glucose as co-carbon did improve ethanol concentration.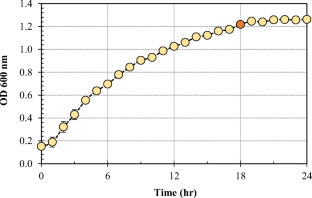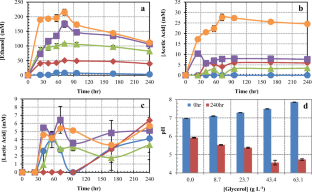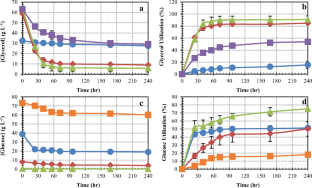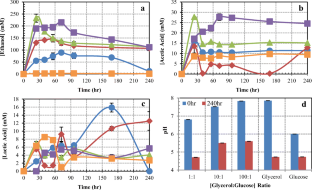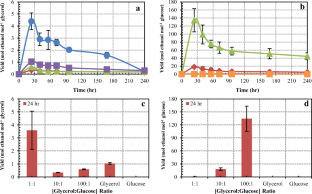 Abbreviations
CODS :

soluble chemical oxygen demand

E. aerogenes :

Enterobacter aerogenes

EtOH:

ethanol

Glu:

glucose

Gly:

glycerol

g L-1 :

gramme per litre

g mol-1 :

gramme per mole

HAc:

acetic acid

HLa:

lactic acid

MLD:

million litres per day

OD:

optical density

SM:

simple medium
References
1.

Aghbashlo M, Tabatabaei M, Jazini H, Ghaziaskar HS (2018) Exergoeconomic and exergoenvironmental co-optimization of continuous fuel additives (acetins) synthesis from glycerol esterification with acetic acid using Amberlyst 36 catalyst. Energy Convers Manag 165:183–194

2.

Grand View Research (2020) Market analysis report: glycerol market size, share & trends, analysis report.

3.

Panahi HKS, Dehhaghi M, Aghbashlo M, Karimi K, Tabatabaei M (2020) Conversion of residues from agro-food industry into bioethanol in Iran: an under-valued biofuel additive to phase out MTBE in gasoline. Renew Energy 145:699–710

4.

Tunpaiboon N (2019) Thailand Energy Outlook 2019-21: Ethanol Industry. Krungsri Research, 1-7

5.

Cheah WY, Sankaran R, Show PL, Ibrahim T, Baizura TN, Chew KW, Chang JS (2020) Pretreatment methods for lignocellulosic biofuels production: current advances, challenges and future prospects. Biofuel Res J 7:1115–1127

6.

Ito T, Nakashimada Y, Senba K, Matsui T, Nishio N (2005) Hydrogen and ethanol production from glycerol containing wastes discharged after biodiesel manufacturing process. J Biosci Bioeng 100:260–265

7.

Sakai S, Yagishita T (2007) Microbial production of hydrogen and ethanol from glycerol-containing wastes discharged from a biodiesel fuel production plant in a bioelectrochemical reactor with thionine. J Biotechnol Bioeng 98:340–348

8.

Ciptanto A (2009) Optimization on ethanol production from glycerol using Enterobacter aerogenes TISTR 1468. Master of Science in Biotechnology Prince of Songkla University.

9.

Oh BR, Seo JW, Heo SY, Hong WK, Luo LH, Joe MH, Park DH, Kim CH (2011) Efficient production of ethanol from crude glycerol by a Klebsiella pneumonia mutant strain. Bioresour Technol 102:3918–3922

10.

Vikromvarasiri N, Pisutpaisal N (2011) Fermentative conversion of glycerol to ethanol using mixed consortium. J Biotechnol 6:5–12

11.

Wu KJ, Lin YH, Lo YC, Chen CY, Chen WM, Chang JS (2011) Converting glycerol into hydrogen, ethanol and diols with a Klebsiella sp. HE1 strain via anaerobic fermentation. J Taiwan Inst Chem Eng 42:20–25

12.

Metsoviti M, Paramithiotis S, Drosinos EH, Galiotou-Panayotou M, Nychas GJE, Zeng AP, Papanikolaou S (2012) Screening of bacterial strains capable of converting biodiesel-derived raw glycerol into 1, 3-propanediol, 2, 3-butanediol and ethanol. J Eng Life Sci 12:57–68

13.

Metsoviti M, Paraskevaidi K, Koutinas A, Zeng AP, Papanikolaou S (2012) Production of 1, 3- propanediol, 2, 3-butanediol and ethanol by a newly isolated Klebsiella oxytoca strain growing on biodiesel-derived glycerol based media. J Process Biochem 47:1872–1882

14.

Nwachukwu RE, Shahbazi A, Wang L, Ibrahim S, Worku M, Schimmel K (2012) Bioconversion of glycerol to ethanol by a mutant Enterobacter aerogenes. AMB Express 2:1–6

15.

Rossi DM, da Costa JB, de Souza EA, Peralba MDCR, Ayub MAZ (2012) Bioconversion of residual glycerol from biodiesel synthesis into 1, 3-propanediol and ethanol by bacteria from environmental consortia. Renew Energy 39:223–227

16.

Varrone C, Giussani B, Izzo G, Massini G, Marone A, Signorini A, Wang A (2012) Statistical optimization of biohydrogen and ethanol production from crude glycerol by microbial mixed culture. J Inst J Hydrog Energy 37:16479–16488

17.

Reungsang A, Sittijunda S, Angelidaki I (2013) Simultaneous production of hydrogen and ethanol from waste glycerol by Enterobacter aerogenes KKU-S1. J Hydrogen Energy 38:1813–1825

18.

Varrone C, Liberatore R, Crescenzi T, Izzo G, Wang A (2013) The valorization of glycerol: economic assessment of an innovative process for the bioconversion of crude glycerol into ethanol and hydrogen. J Appl Energy 105:349–357

19.

Adnan NAA, Suhaimi SN, Abd-Aziz S, Hassan MA, Phang LY (2014) Optimization of bioethanol production from glycerol by Escherichia coli SS1. Renew Energy 66:625–633

20.

Haosagul S, Boonyawanich S, Pisutpaisal N (2019) Biomethane production from co-fermentation of agricultural wastes. Int J Hydrog Energy 44:5355–5364

21.

Van Handel E (1961) Suggested modification of the micro determination of triglycerides. Clin Chem 7:249–251

22.

Saqib AAN, Whitney PJ (2011) Differential behaviour of the dinitrosalicylic acid (DNS) reagent towards mono- and di-saccharide Sugars. Biomass Bioenergy 35:4748–4750

23.

APHA, AWWA, WEF (2005) Standard methods for the examination of water and wastewater, 21st edn. American Public Health Association, Washington

24.

Lee SJ, Kim SB, Kang SW, Han SO, Park C, Kim SW (2012) Effect of crude glycerol-derived inhibitors on ethanol production by Enterobacter aerogenes. Bioprocess Biosyst Eng 35:85–92

25.

Choi WJ, Hartono MR, Chan WH, Yeo SS (2011) Ethanol production from biodiesel-derived crude glycerol by newly isolated Kluyvera cryocrescens. J Appl Microbiol Biotechnol 89:1255–1264

26.

Nwachukwu RE, Shahbazi A, Wang L, Worku M, Ibrahim S, Schimmel K (2013) Optimization of cultural conditions for conversion of glycerol to ethanol by Enterobacter aerogenes S012. AMB Express 3:12

27.

Ward B, (2015) Bacterial energy metabolism. In Molecular Medical Microbiology Academic Press, 201-233.

28.

Jitrwung R, Yargeau V (2015) Biohydrogen and bioethanol production from biodiesel-based glycerol by Enterobacter aerogenes in a continuous stir tank reactor. Int J Mol Sci 16:10650–10664

29.

Thapa LP, Lee SJ, Yang X, Lee JH, Choi HS, Park C, Kim SW (2015) Improved bioethanol production from metabolic engineering of Enterobacter aerogenes ATCC 29007. Process Biochem 50:2051–2060

30.

Sunarno JN, Prasertsan P, Duangsuwan W, Cheirsilp B, Sangkharak K (2019) Biodiesel derived crude glycerol and tuna condensate as an alternative low-cost fermentation medium for ethanol production by Enterobacter aerogenes. Ind Crop Prod 138:111451

31.

Sunarno JN, Prasertsan P, Duangsuwan W, Cheirsilp B, Sangkharak K (2020) Improve biotransformation of crude glycerol to ethanol of Enterobacter aerogenes by two-stage redox potential fed-batch process under microaerobic environment. Biomass Bioenergy 134:105503

32.

Szymanowska-Powałowska D (2015) The effect of high concentrations of glycerol on the growth, metabolism and adaptation capacity of Clostridium butyricum DSP1. Electron J Biotechnol 18:128–133

33.

Da Silva GP, Mack M, Contiero J (2009) Glycerol: a promising and abundant carbon source for industrial microbiology. Biotechnol Adv 27:30–39
Acknowledgements
The authors are grateful to Trang Palm Oil Co., Ltd. (Trang, Thailand), for supporting the waste glycerol throughout the study.
Funding
The authors would like to thank King Mongkut's University of Technology North Bangkok for the financial support (grant no. KMUTNB-62-KNOW-08 and KMUTNB-63-KNOW-17).
Additional information
Publisher's note
Springer Nature remains neutral with regard to jurisdictional claims in published maps and institutional affiliations.
About this article
Cite this article
Boonyawanich, S., Haosagul, S. & Pisutpaisal, N. Ethanol production from waste glycerol using glucose as co-carbon source. Biomass Conv. Bioref. (2021). https://doi.org/10.1007/s13399-021-01325-z
Received:

Revised:

Accepted:

Published:
Keywords
Waste glycerol

Co-fermentation

Enterobacter aerogenes TISTR 1468

Ethanol

Glycerol-glucose