Abstract
Carbon deposits are well known to cover the γ-alumina surface when exposed to high temperatures in the presence of carbonaceous feedstocks by means of coking and/or fouling mechanisms. Herein, it is demonstrated that this phenomenon, which is extremely undesirable when γ-alumina is used as a catalyst or an adsorbent material, can be successfully exploited for the production of fluorescent carbon-based quantum nanodots (CQDs) under mild conditions of temperatures (250–300 °C) and time (30 min) by using residual biomasses as a carbon source. Specifically, four agro-industrial residues including sugar beet pulp (SBP), grape marc, tomato peels and seeds, and olive pomace have been successfully tested for the synthesis of biomass-based CQDs. Different techniques including UV–vis spectroscopy, fluorescence spectroscopy (PL), X-ray photoelectron spectroscopy, Raman spectroscopy, and transmission electron microscopy (TEM) have been applied for the characterization of the as-prepared SBP-based CQDs. Results highlight that the obtained carbon dots exhibit excellent solubility in both water and organic media. In addition, TEM investigations show that such nanoparticles disclose a rather uniform spherical morphology and a narrow size distribution in the range of 2–4 nm. The typical excitation dependent PL emission behavior of carbon-based quantum dots was also observed by PL analysis. Unlike other currently available bottom-up synthesis routes, a high-value by-product is obtained during the synthesis of biomass-based CQDs assisted by γ-Al2O3, i.e., the residual thermally treated biomass, which can be further valorized as a high-quality solid biofuel exhibiting a lower oxygen-to-carbon ratio and, hence, a higher calorific value than the parent biomass. The innovative finding of the present work is that a catalyst can be used to produce CQDs from the volatile matter that is driven off the biomass by heating, which opens up new possibilities of valorization for the off-gas substream coming from other biomass conversion process, like for example slow pyrolysis and carbonization.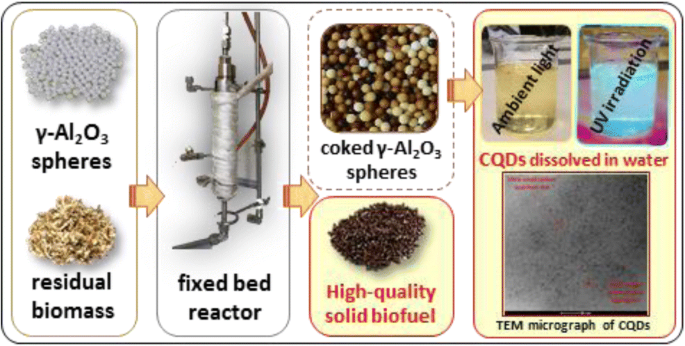 This is a preview of subscription content, log in to check access.
Access options
Buy single article
Instant access to the full article PDF.
US$ 39.95
Tax calculation will be finalised during checkout.
Subscribe to journal
Immediate online access to all issues from 2019. Subscription will auto renew annually.
US$ 99
Tax calculation will be finalised during checkout.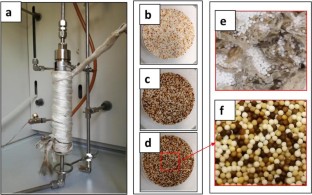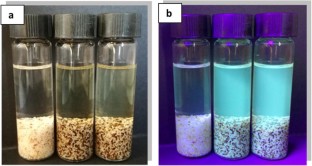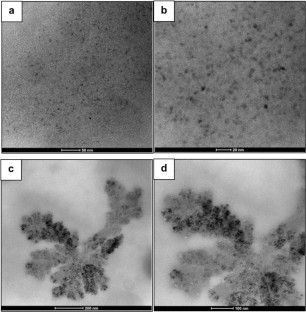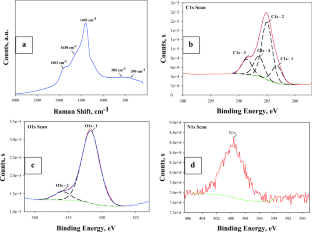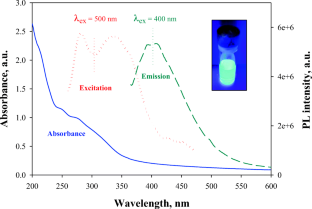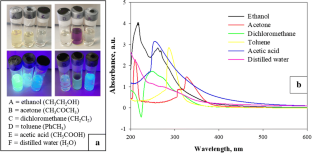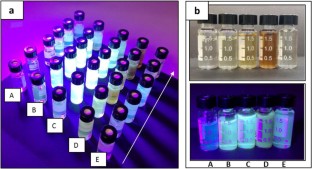 Acknowledgments
The author is grateful to Professor Giuliana Gorrasi (University of Salerno) for providing expertise and access to UV–visible spectrophotometer.
Additional information
Publisher's note
Springer Nature remains neutral with regard to jurisdictional claims in published maps and institutional affiliations.
The original version of this article was revised: The presentation of Figs. 6b and 7b were incorrect
About this article
Cite this article
Brachi, P. Synthesis of fluorescent carbon quantum dots (CQDs) through the mild thermal treatment of agro-industrial residues assisted by γ-alumina. Biomass Conv. Bioref. (2019). https://doi.org/10.1007/s13399-019-00503-4
Received:

Revised:

Accepted:

Published:
Keywords
Biomass-based carbon dots

γ-Alumina catalyst

Agro-industrial residues

Dry thermal synthesis

Fixed-bed reactor