Abstract
Lignocellulosic biomass is carbon neutral and produces fuels and chemicals which are used for domestic, industrial, and transportation system. Thermochemical conversion processes (combustion, gasification, and pyrolysis) are emerging technologies which have great potential for industrial implementation. In this paper, the investigation has been done to select appropriate bamboo biomass suitable for thermochemical conversion process out of 21 biomass samples available in Mizoram, India. Various characteristics considered here for the selection of the appropriate bamboo biomass include proximate analysis, ultimate analysis, and their heating values. These characteristics are plotted in different diagrams and analysed in detail. It is observed after analysis that some bamboo biomasses are suitable combustion, some are suitable for pyrolysis and rest are suitable for gasification.
This is a preview of subscription content, log in to check access.
Access options
Buy single article
Instant access to the full article PDF.
US$ 39.95
Price includes VAT for USA
Subscribe to journal
Immediate online access to all issues from 2019. Subscription will auto renew annually.
US$ 99
This is the net price. Taxes to be calculated in checkout.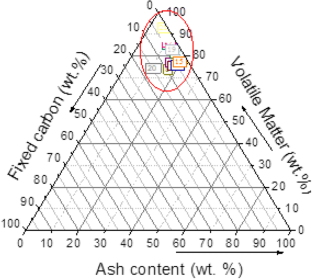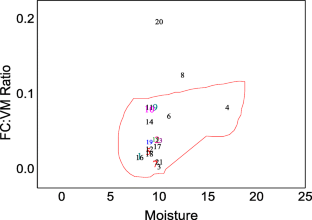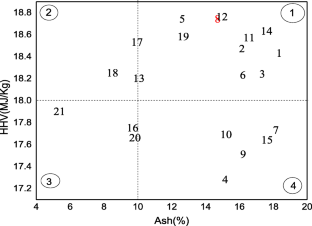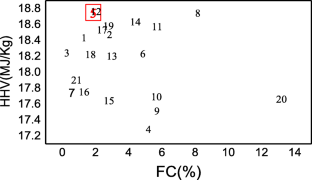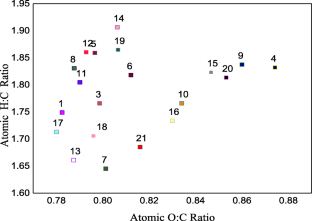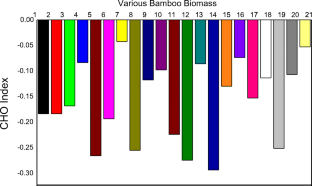 References
1.

Singh H, Sapra PK, Sidhu BS (2013) Evaluation and characterization of different biomass residues through proximate & ultimate analysis and heating value. 2:6–10

2.

S. Society, Project report on Eco-Energy solutions, (n.d.)

3.

Kumar A, Kumar N, Baredar P, Shukla A (2015) A review on biomass energy resources, potential, conversion and policy in India. Renew Sust Energ Rev 45:530–539. https://doi.org/10.1016/j.rser.2015.02.007

4.

Buragohain B, Mahanta P, Moholkar VS (2010) Biomass gasification for decentralized power generation: the Indian perspective. Renew Sust Energ Rev 14:73–92. https://doi.org/10.1016/j.rser.2009.07.034

5.

Cai J, He Y, Yu X, Banks SW, Yang Y, Zhang X, Yu Y, Liu R, Bridgwater AV (2017) Review of physicochemical properties and analytical characterization of lignocellulosic biomass. 76:309–322. https://doi.org/10.1016/j.rser.2017.03.072

6.

Liu Z, Xu A, Zhao T (2011) Energy from combustion of rice straw: status and challenges to China. 2011:325–331. https://doi.org/10.4236/epe.2011.33040

7.

Werther J, Saenger M, Hartge E, Ogada T, Siagi Z (2000) Combustion of agricultural residues, vol 26, pp 1–27

8.

Worley M, Yale J (2012) Biomass gasification technology assessment consolidated report biomass gasification technology assessment consolidated report

9.

Horvat I (2018) Combustion of agricultural biomass – ISSUES AND, 1 75–86

10.

Adhikari U, Eikeland MS, Halvorsen BM (2015) Gasification of biomass for production of syngas for biofuel:255–260. https://doi.org/10.3384/ecp15119255

11.

Tanger P, Field JL, Jahn CE, Defoort MW, Leach JE, Allison GG (2013) Biomass for thermochemical conversion : targets and challenges. 4:1–20. https://doi.org/10.3389/fpls.2013.00218

12.

Gillespie GD, Everard CD, Fagan CC, Mcdonnell KP (2013) Prediction of quality parameters of biomass pellets from proximate and ultimate analysis. Fuel. 111:771–777. https://doi.org/10.1016/j.fuel.2013.05.002

13.

Vassilev SV, Vassileva CG, Vassilev VS (2015) Advantages and disadvantages of composition and properties of biomass in comparison with coal : an overview. Fuel 158:330–350. https://doi.org/10.1016/j.fuel.2015.05.050

14.

Tinaut FV, Melgar A, Pérez JF, Horrillo A (2008) Effect of biomass particle size and air superficial velocity on the gasification process in a downdraft fixed bed gasifier. An experimental and modelling study. Fuel Process Technol 89:1076–1089. https://doi.org/10.1016/j.fuproc.2008.04.010

15.

Ni M, Leung DYC, Leung MKH, Sumathy K (2006) An overview of hydrogen production from biomass. Fuel Process Technol 87:461–472. https://doi.org/10.1016/j.fuproc.2005.11.003

16.

Xiao G, Ni M, Huang H, Chi Y, Xiao R, Zhong Z, Cen K (2007) Fluidized-bed pyrolysis of waste bamboo. J Zhejiang Univ Sci A 8:1495–1499. https://doi.org/10.1631/jzus.2007.A1495

17.

Chin KL, Ibrahim S, Hakeem KR, Lee SH, Azmi M, Lila M, Bioenergy c (2017) Production from bamboo: potential source from Malaysia's perspective, vol 12, pp 6844–6867

18.

Salovaara J, Romero-tehuitzil H, Vaca MCM, Villamar JH (2015) Pre-operational analysis of a prototype downdraft gasifier fueled by bamboo. 62–72

19.

A.H. Truong, Overview of bamboo biomass for energy production An Ha Truong , Thi My Anh Le to cite this version : HAL Id : halshs-01100209, (2018)

20.

Basu P (2010 Elsevier Inc.) Biomass characteristics, first edit, ©, p 2013. https://doi.org/10.1016/B978-0-12-396488-5.00003-4

21.

Efomah AN, Gbabo A (2015) The physical, proximate and ultimate analysis of rice husk briquettes produced from a vibratory block mould briquetting machine. 2:814–822

22.

Obernberger I, Brunner T, Bärnthaler G (n.d.) Chemical properties of solid biofuels – significance and impact principles of solid biofuel combustion and technologies applied, pp 1–20

23.

Bimbela F, Faria J, Ruiz MP (2015) Pyrolysis of red eucalyptus, camelina straw, and wheat straw in an ablative reactor. https://doi.org/10.1021/ef5026054

24.

Krasznai DJ, Champagne P, Cunningham MF (2012) Bioresource technology quantitative characterization of lignocellulosic biomass using surrogate mixtures and multivariate techniques. Bioresour Technol 110:652–661. https://doi.org/10.1016/j.biortech.2012.01.089

25.

Žecová M, Terpák J, Dor Ľ (2012) Mathematical model of gasification and combustion of biomass, 780–785

26.

Caputo AC, Palumbo M, Pelagagge PM, Scacchia F (2005) Economics of biomass energy utilization in combustion and gasification plants: effects of logistic variables. Biomass Bioenergy 28:35–51. https://doi.org/10.1016/j.biombioe.2004.04.009

27.

Singh RI, Brink A, Hupa M (2013) CFD modeling to study fluidized bed combustion and gasification. Appl Therm Eng 52:585–614. https://doi.org/10.1016/j.applthermaleng.2012.12.017

28.

Ginting N (2017) Characteristics of ampel bamboo as a biomass energy source potential in Bali characteristics of Ampel bamboo as a biomass energy source potential in Bali:5–10. https://doi.org/10.1088/1757-899X/201/1/012032

29.

Hernandez-mena LE, Pécora AAB, Beraldo AL (2014) Slow pyrolysis of bamboo biomass: analysis of biochar properties, vol 37, pp 115–120. https://doi.org/10.3303/CET1437020

30.

Qian H, Guo X, Fan S, Hagos K, Lu X, Liu C, Huang D (2016) A simple prediction model for higher heat value of biomass. https://doi.org/10.1021/acs.jced.6b00537
Acknowledgements
We are thankful to the Advanced Research Centre for Bamboo and Rattan, Aizawl, Mizoram, India for their help in collecting different types of Bamboo available in Mizoram, India. We are also thankful to CSIR-CMERI, Durgapur for providing the lab facility for biomass analysis.
Additional information
Publisher's note
Springer Nature remains neutral with regard to jurisdictional claims in published maps and institutional affiliations.
About this article
Cite this article
Pattanayak, S., Hauchhum, L., Loha, C. et al. Selection criteria of appropriate bamboo based biomass for thermochemical conversion process. Biomass Conv. Bioref. 10, 401–407 (2020). https://doi.org/10.1007/s13399-019-00421-5
Received:

Revised:

Accepted:

Published:

Issue Date:
Keywords
Biomass selection

Thermo-chemical conversion

Proximate analysis

Ultimate analysis

HHV