Abstract
Bangladesh is a densely populated agricultural country. As the allocated forestland for pulpwood production is very limited and a substantial amount of crops residues are generated each year, the latter can substitute pulpwood. But it is hard to use crops residues as pulping raw materials in a conventional pulping process due to its high content of silica and fines. It was observed that formic acid (FA) pulping process can overcome these limitations. In this context, fourteen residues of crops produced in Bangladesh were evaluated by FA pulping with varying FA charge for 4 h at the boiling temperature followed by peroxyformic acid (PFA) treatment under constant conditions. It was observed that pulp yield and delignification degree decreased with FA charge. Also, PFA treatment further reduced the kappa number of pulps. Final pulp yields were 39–51% with the kappa number of 12–28 depending on crops residues. Holocellulose and α-cellulose content in crops residues were positively correlated (R2 = 0.95) with pulp yield at 0% level of significance. Pulps were bleached by alkaline peroxide bleaching and brightness reached to about 80% with acceptable papermaking properties.
This is a preview of subscription content, log in to check access.
Access options
Buy single article
Instant access to the full article PDF.
US$ 39.95
Price includes VAT for USA
Subscribe to journal
Immediate online access to all issues from 2019. Subscription will auto renew annually.
US$ 99
This is the net price. Taxes to be calculated in checkout.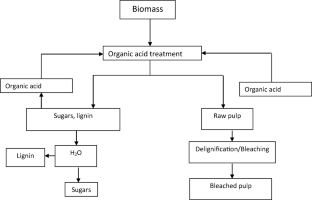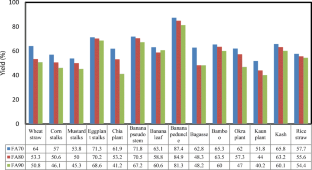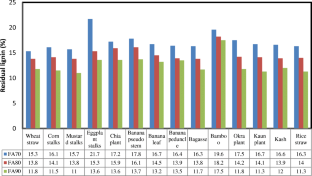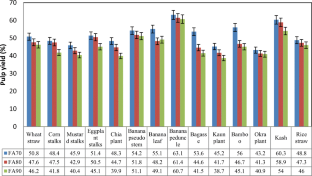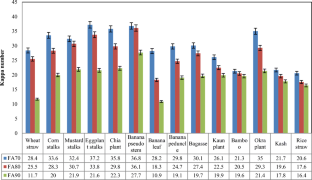 References
1.

Jahan MS, Uddin MN, Akhtaruzzaman AF (2016) An approach for the use of agricultural by-products through a biorefinery in Bangladesh. Forest Chron 92:447–452

2.

Anon (2019) https://tradingeconomics.com/bangladesh/agriculture-value-added-annual-percent-growth-wb-data.html (accessed on 24 Jan 2019)

3.

Jahan MS, Lee ZZ, Jin Y (2006) Organic acid pulping of rice straw. I: cooking. Turk J Agric For 30:231–239

4.

Jahan MS, Rahman MM, Sutradhar S, Quaiyyum MA (2015) Fractionation of rice straw for producing dissolving pulp in biorefinery concept. Nord Pulp Paper Res 30:562–567. https://doi.org/10.3183/npprj-2015-30-04-p562-567

5.

Pan XJ, Sano Y, Ito T (1999) Atmospheric acetic acid pulping of rice straw II: behavior of ash and silica in rice straw during atmospheric acetic acid pulping and bleaching. Holzforschung 53:49–55. https://doi.org/10.1515/HF.1999.009

6.

Seisto A, Poppius-Levlin K (1997) Peroxyformic acid pulping of nonwood plants by the MILOX method. 1. Pulping and bleaching. TAPPI J 80:215–221

7.

Jiménez L, De la Torre MJ, Maestre F, Ferrer JL, Pérez I (1998) Delignification of wheat straw by use of low-molecular-weight organic acids. Holzforschung 52:191–196. https://doi.org/10.1515/hfsg.1998.52.2.191

8.

Lam HQ, Le Bigot Y, Delmas M (2001) Formic acid pulping of rice straw. Ind Crop Prod 14:65–71. https://doi.org/10.1016/S0926-6690(00)00089-3

9.

Poppius-Levlin K, Mustonen R, Huovila T, Sundquist J (1991) Milox pulping with acetic acid/peroxyacetic acid. Pap Puu-Pap Tim 73:154–158

10.

Muurinen E (2000) Organosolv pulping--a review and distillation study related to peroxyacid pulping. Dissertation, University Oulu, Finland

11.

Jahan MS, Rukhsana B, Baktash MM, Ahsan L, Fatehi P, Ni Y (2013) Pulping of non-wood and its related biorefinery potential in Bangladesh: a review. Curr Org Chem 17:1570–1576

12.

Tachon N, Benjelloun-Mlayah B, Delmas M (2016) Organosolv wheat straw lignin as a phenol substitute for green phenolic resins. BioResources 11:5797–5815

13.

Jahan MS, Chowdhury DN, Islam MK, Islam MS (2007) Organic acid pulping of jute and its mechanism. Cellul Chem Technol 41:137–147

14.

Watkins D, Nuruddin M, Hosur M, Tcherbi-Narteh A, Jeelani S (2015) Extraction and characterization of lignin from different biomass resources. J Mater Res Technol 4:26–32. https://doi.org/10.1016/j.jmrt.2014.10.009

15.

Kubo S, Uraki Y, Sano Y (1998) Preparation of carbon fibers from softwood lignin by atmospheric acetic acid pulping. Carbon 36:1119–1124. https://doi.org/10.1016/S0008-6223(98)00086-4

16.

Cetin NS, Özmen N (2002) Use of organosolv lignin in phenol–formaldehyde resins for particleboard production: I Organosolv lignin modified resins. Int J Adhes Adhes 22:477–480. https://doi.org/10.1016/S0143-7496(02)00058-1

17.

Podschun J, Saake B, Lehnen R (2015) Reactivity enhancement of organosolv lignin by phenolation for improved bio-based thermosets. Eur Polym J 67:1–11. https://doi.org/10.1016/j.eurpolymj.2015.03.029

18.

Kadla JF, Kubo S, Venditti RA, Gilbert RD, Compere AL, Griffith W (2002) Lignin-based carbon fibers for composite fiber applications. Carbon 40:2913–2920. https://doi.org/10.1016/S0008-6223(02)00248-8

19.

Sarkar M, Tian C, Jahan MS (2018) Activated carbon from potassium hydroxide spent liquor lignin using phosphoric acid. TAPPI J 17:63–69

20.

Browning BL (1967) Methods of wood chemistry, vol I & II. Wiley, New York

21.

Tutuş AH, Eroğlu HÜ (2003) A practical solution to silica problem in straw pulping. Appita J 56:111–115

22.

Rodríguez A, Moral A, Serrano L, Labidi J, Jiménez L (2008) Rice straw pulp obtained by using various methods. BioresourceTechnol 99:2881–2886. https://doi.org/10.1016/j.biortech.2007.06.003

23.

Ateş S, Deniz I, kirci H, Atik C, Okan OT (2015) Comparison of pulping and bleaching behaviors of some agricultural residues. Turk J Agric For 39:144–153

24.

Rahman MM, Islam T, Nayeem J, Jahan M (2014) Variation of chemical and morphological properties of different parts of banana plant (Musa paradisica) and their effects on pulping. Int J Lignocellul Prod 1:93–103

25.

Jahan MS, Chowdhury N, Ni Y (2010) Effect of different locations on the morphological, chemical, pulping and papermaking properties of Trema orientalis (Nalita). Bioresour Technol 101:1892–1898. https://doi.org/10.1016/j.biortech.2009.10.024

26.

Shakhes J, Marandi MA, Zeinaly F, Saraian A, Saghafi T (2011) Tobacco residuals as promising lignocellulosic materials for pulp and paper industry. BioResources 6:4481–4493

27.

Clark TF, Cunningham RL, Wolff IA (1971) A search for new fiber crops. Tappi 54:63–65

28.

Jahan MS, Uddin MN, Rahman A, Rahman MM, Aminb MN (2016) Soda pulping of umbrella palm grass (cyperusflabettiformic). J Bioresour Bioprod 1:85–91

29.

Nieschlag HJ (1960) A search for new fibre crops. Tappi 43:193–201

30.

Bai L, Hu H, Xu J (2012) Influences of configuration and molecular weight of hemicelluloses on their paper-strengthening effects. CarbohydPolym 88:1258–1263. https://doi.org/10.1016/j.carbpol.2012.02.002

31.

Cao S, Ma X, Lin L, Huang F, Huang L, Chen L (2014) Morphological and chemical characterization of green bamboo (Dendrocalamopsis oldhami (Munro) Keng f.) for dissolving pulp production. BioResources 9:4528–4539

32.

Alcaide LJ, Parra IS, Baldovin FL (1990) Characterization of Spanish agricultural residues with a view to obtaining cellulose pulp. TAPPI J 73:173–176

33.

Sharma AK, Dutt D, Upadhyaya JS, Roy TK (2011) Anatomical, morphological, and chemical characterization of Bambusatulda, Dendrocalamushamiltonii, Bambusabalcooa, Malocanabaccifera, Bambusaarundinacea and Eucalyptus tereticornis. BioResources 6:5062–5073

34.

Lourenço A, Gominho J, Marques AV, Pereira H (2012) Reactivity of syringyl and guaiacyl lignin units and delignification kinetics in the kraft pulping of Eucalyptus globulus wood using Py-GC–MS/FID. Bioresour Technol 123:296–302. https://doi.org/10.1016/j.biortech.2012.07.092

35.

Yasuda S, Abe Y, Hirokaga Y (1991) Behavior of lignin in organic acid pulping. Part III. Additive effects of potassium and sodium halides on delignification. Holzforschung 45:79–82. https://doi.org/10.1515/hfsg.1991.45.s1.79

36.

Jahan MS, Rumee JN, Rahman MM, Quaiyyum A (2014) Formic acid/acetic acid/water pulping of agricultural wastes. Cellul Chem Technol 48:111–118

37.

Behin J, Zeyghami M (2009) Dissolving pulp from corn stalk residue and waste water of Merox unit. ChemEng J 152:26–35. https://doi.org/10.1016/j.cej.2009.03.024

38.

Jahan MS, Rahman MM (2012) Effect of pre-hydrolysis on the soda-anthraquinone pulping of corn stalks and Saccharum spontaneum (kash). Carbohydr Polym 88:583–588. https://doi.org/10.1016/j.carbpol.2012.01.005

39.

Jahan MS, Islam MK, Hasan AM, Chowdhury DN (2002) Investigation on soda and soda-anthraquinone (AQ) pulping of Saccharumsp ontaneum. Tappsa J 26:27–33

40.

Scott WE, Abbott JC (1995) Properties of paper: an introduction, 2nd edn. TAPPI PRESS, Atlanta

41.

Retulainen E, Luukko K, Nieminen K, Pere J, Laine J Paulapuro H (2001) papermaking quality of fines from different pulps-the effect of size, shape and chemical composition. In: 55th Appita annual conference. Proceedings Appita Inc, Hobart, p 291

42.

Kang TA, Paulapuro H (2006) Effect of external fibrillation on paper strength. Pulp Pap-Canada 107:51

43.

Hartman RR (1984) Mechanical treatment of pulp fibers for property development. Dissertation, Lawrence University

44.

Seisto A, Poppius-Levlin K, Jousimaa T (1997) Peroxyformic acid pulping of nonwood plants by the MILOX method. Part 2: reed pulp for wood free fine papers. TAPPI J 80:235–240

45.

Jahan MS, Chowdhury DN, Islam MK (2007) Atmospheric formic acid pulping and TCF bleaching of dhaincha (Sesbaniaaculeata), kash (Saccharumspontaneum) and banana stem (Musa Cavendish). Ind Crop Prod 26:324–331

46.

Sahin HT, Young RA (2008) Auto-catalyzed acetic acid pulping of jute. Ind Crop Prod 28:24–28. https://doi.org/10.1016/j.indcrop.2007.12.008

47.

Nimz HH, Tschivner V, Roth M (1983) Proceedings of the international symposium on wood and pulping chemistry, Japan TAPPI, 1: 90
Additional information
Publisher's note
Springer Nature remains neutral with regard to jurisdictional claims in published maps and institutional affiliations.
About this article
Cite this article
Ferdous, T., Jahan, M.S., Quaiyyum, M.A. et al. Formic acid pulping of crops residues available in Bangladesh. Biomass Conv. Bioref. 10, 289–297 (2020). https://doi.org/10.1007/s13399-019-00415-3
Received:

Revised:

Accepted:

Published:

Issue Date:
Keywords
Crops residue

Organic acid pulping

Pulp yield

Kappa number

Brightness

Papermaking properties