Abstract
The stability of anthocyanins is greatly affected by pH and temperature, and thus their application in food products is limited. This study was aimed to develop an antibacterial food colorant using anthocyanin from Clitoria ternatea flowers by applying microencapsulation technology. Maltodextrin was used as a carrier agent in the spray drying process. The anthocyanin microcapsule was durable to the light exposure up to 21 days, and the best color stability was observed between the temperature range of − 20 °C to 4 °C. However, the color was sustained with approximately 50% of the stability index after 1 day exposure at 80 °C and 180 °C. On disk diffusion assay, the anthocyanin microcapsule manifested a broad-spectrum antibacterial activity against Gram-bacteria. According to minimal inhibitory concentration (MIC) and minimal bactericidal concentration (MBC) assay, anthocyanin microcapsule exhibited bactericidal activity on all test bacteria, with the lowest MIC and MBC observed on Escherichia coli. The application of anthocyanin microcapsule on muffins has shown a significant inhibitory activity on foodborne bacteria. This study revealed the potential of C. ternatea anthocyanin microcapsule as a bio-preservative, which can prolong the shelf life of baked food products.
This is a preview of subscription content, log in to check access.
Access options
Buy single article
Instant access to the full article PDF.
US$ 39.95
Price includes VAT for USA
Subscribe to journal
Immediate online access to all issues from 2019. Subscription will auto renew annually.
US$ 99
This is the net price. Taxes to be calculated in checkout.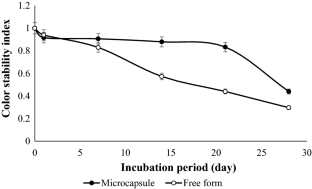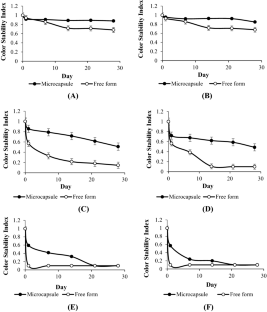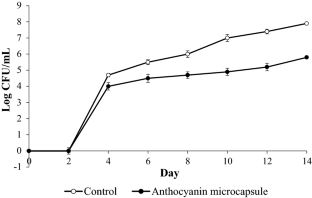 References
1.

Siti, A.A.M.; Noriham, A.; Manshoor, N.: Anthocyanin content in relation to the antioxidant activity and color properties of Garcinia mangostana peel, Syzigiumcumini and Clitoriaternatea extracts. Int. Food Res. J. 21, 2369–2375 (2014)

2.

Amelia, F.; Afnani, G.N.; Musfiroh, A.; Fikriyani, A.S.; Ucche, S.; Murrukmihadi, M.: Extraction and stability test of anthocyanin from buni fruits (Antidesma Bunius L) as an alternative natural and safe food colourant. J. Food Pharm. Sci. 1, 49–53 (2013)

3.

Amchova, P.; Kotolova, H.; Ruda-Kucerova, J.: Health safety issues of synthetic food colourants. Regul. Toxicol. Pharmacol. 73, 914–922 (2015)

4.

Kobylewski, S.; Jacobson, M.F.: Toxicology of food dyes. Int. J. Occup. Environ. Health. 18(3), 220–246 (2012)

5.

Rawat, S.: Food spoilage: microorganisms and their prevention. Asian J. Plant Sci. Res. 5, 47–56 (2015)

6.

Ferrari, C.C.; Germer, S.P.M.; Alvim, I.D.; Vissotto, F.Z.; de Aguirre, J.M.: Influence of carrier agents on the physicochemical properties of blackberry powder produced by spray drying. Int. J. Food Sci. Technol. 47, 1237–1245 (2012)

7.

Neda, G.D.; Rabeta, M.S.; Ong, M.T.: Chemical composition and anti-proliferative properties of flowers of Clitoria ternatea. Int. Food Res. J. 20, 113–118 (2013)

8.

Mukherjee, P.K.; Kumar, V.; Kumar, N.S.; Heinrich, M.: The Ayurvedic medicine Clitoriaternatea—from traditional use to scientific assessment. J. Ethnopharmacol. 120, 291–301 (2008)

9.

Yanti, Y.; Setiawan, T.; Lay, B.W.: Antibacterial, antibiofilm and quorum sensing inhibitory activities of Clitoriaternatea anthocyanin against Streptococcus mutans. Int. J. Infect. Dis. 73, 143–144 (2018)

10.

Rahman, A.S.; Saha, R.; Talukder, N.; Khaleque, S.M.A.; Ali, H.A.: Bioactivity guided cytotoxic activity of Clitoriaternatea utilizing brine shrimp lethality bioassay. Bangladesh J. Physiol. Pharmacol. 22, 18–21 (2006)

11.

Cisowska, A.; Wojnicz, D.; Hendrich, A.B.L.: Anthocyanins as antimicrobial agents of natural plant origin. Nat. Prod. Commun. 6, 149–156 (2011)

12.

Mozetic, B.; Trebse, P.; Simcic, M.; Hribar, J.: Changes of anthocyanins and hydroxycinnamic acids affecting the skin colour during maturation of sweet cherries (Prunusavium L.). Lebenson Wiss Technol. 37, 123–128 (2004)

13.

Nielsen, I.L.F.; Haren, G.R.; Magnussen, E.L.; Dragsted, L.O.; Rasmussen, S.E.: Quantification of anthocyanins in commercial black currant juices by simple high-performance liquid chromatography. Investigation of their pH stability and antioxidative potency. J. Agric. Food Chem. 51, 5861–5866 (2003)

14.

Leong, C.R.; Azizi, K.; Afif, M.; Taher, M.A.; Wahidin, S.; Lee, K.C.; Tong, W.Y.: Anthocyanins from Clitoriaternatea attenuate foodborne Penicillium expansum and its potential application as food biopreservative. Nat. Prod. Sci. 23, 125–131 (2017)

15.

Harsha, N.; Sridevi, V.; Lakshmi, M.V.V.C.; Rani, K.; Vani, K.N.D.S.: Phytochemical analysis of some selected spices. Int. J. Innov. Res. Sci. Eng. Technol. 2(11), 6618–6621 (2013)

16.

Malien-Aubert, C.; Dangles, O.; Amiot, M.J.: Color stability of commercial anthocyanin-based extracts in relation to the phenolic composition. J. Agric. Food Chem. 49, 170–176 (2001)

17.

Clinical and Laboratory Standards Institute: Performance Standards for Antimicrobial Disk Susceptibility Tests-Ninth Edition: Approved Standard M2-A9. CLSI, Pennsylvania (2006)

18.

Tong, W.Y.; Ang, S.N.; Darah, I.; Latiffah, Z.: Antimicrobial activity of Penicillium minioluteum ED24, an endophytic fungus residing in Orthosiphon stamineus Benth. World J. Pharm. Pharm. Sci. 3(3), 121–132 (2014)

19.

Tantituvanont, A.; Werawatganone, P.; Jiamchaisri, P.; Manopakdee, K.: Preparation and stability of butterfly pea colour extract loaded in microparticles prepared by spray drying. Thail. J. Pharm. Sci. 32, 59–69 (2008)

20.

Mahdavi, S.A.; Jafari, S.M.; Assadpoor, E.; Dehnad, D.: Microencapsulation optimization of natural anthocyanins with maltodextrin, gum Arabic and gelatin. Int. J. Biol. Macromol. 85, 379–385 (2016)

21.

Laleh, G.H.; Frydoonfar, H.; Jameei, R.; Zare, S.: The effect of light, temperature, pH and species on stability of anthocyanin pigments in four Berberis species. Pak. J. Nutr. 5(1), 90–92 (2006)

22.

Aramwit, P.; Bang, N.; Srichana, T.: The properties and stability of anthocyanins in mulberry fruits. Food Res. Int. 43(4), 1093–1097 (2010)

23.

Xu, Q.; Li, B.; Wang, D.; Luo, L.; Liu, G.; Zhou, Y.: Microencapsulation and stability analysis of blueberry anthocyanins. IOP Conf. Ser. Earth Environ. Sci. 252, 052133 (2019)

24.

Fan, G.; Han, Y.; Gu, Z.; Gu, F.: Composition and colour stability of anthocyanins extracted from fermented purple sweet potato culture. LWT 41(8), 1412–1416 (2008)

25.

George, F.; Figueiredo, P.; Toki, K.; Tatsuzawa, F.; Saito, N.; Brouillard, R.: Influence of trans-cis isomerisation of coumaric acid substituents on colour variance and stabilisation in anthocyanins. Phytochemistry 57(5), 791–795 (2001)

26.

Jiménez-Aguilar, D.M.; Ortega-Regules, A.E.; Lozada-Ramírez, J.D.; Pérez-Pérez, M.C.I.; Vernon-Carter, E.J.; Welti-Chanes, J.: Colour and chemical stability of spray-dried blueberry extract using mesquite gum as wall material. J. Food Compos. Anal. 24, 889–894 (2011)

27.

Reyes, L.F.; Cisneros-Zevallos, L.: Degradation kinetics and colour of anthocyanins in aqueous extracts of purple-and red-flesh potatoes (Solanumtuberosum L). Food Chem. 100, 885–894 (2007)

28.

Silhavy, T.J.; Kahne, D.; Walker, S.: The bacterial cell envelope. Cold Spring Harb. Perspect. Biol. 2(5), a000414 (2010)

29.

Burt, S.: Essential oils: their antibacterial properties and potential applications in foods—a review. Int. J. Food Microbiol. 94, 223–253 (2004)

30.

Eyler, C.E.; Wu, Q.; Yan, K.; MacSwords, J.M.; Chandler-Militello, D.; Misuraca, K.L.; Goldman, S.A.: Glioma stem cell proliferation and tumor growth are promoted by nitric oxide synthase-2. Cell 146, 53–66 (2011)
Acknowledgements
This project was in conjunction with the Ministry of Higher Education, Malaysia, under Fundamental Research Grant Scheme (FRGS/1/2017/STG05/UNIKL/02/5).
Ethics declarations
Conflict of interest
None.
About this article
Cite this article
Ab Rashid, S., Tong, W., Leong, C. et al. Anthocyanin Microcapsule from Clitoria ternatea: Potential Bio-preservative and Blue Colorant for Baked Food Products. Arab J Sci Eng (2020). https://doi.org/10.1007/s13369-020-04716-y
Received:

Accepted:

Published:
Keywords
Anthocyanin

Clitoria ternatea

Antibacterial activity

Microencapsulation

Foodborne bacteria