Abstract
Myrsine africana is a medicinal plant which belongs to the family Myrsinaceae and has been used as an appetizer, carminative and anthelmintic. This study was conducted to evaluate the cytotoxic, antitumor, antimicrobial and antioxidant properties of fruit and leaf methanolic and chloroform extracts of M. africana as well as the quantitative phytochemical assessment. Leaves and fruits were collected randomly from M. Africana plants growing at Margallah Hills, Islamabad, Pakistan. Samples were shade-dried for further extraction. Methanol extract of both leaf and fruit performed better results than chloroform extract in terms of all activities (i.e., antioxidant, cytotoxic, antitumor and antimicrobial. Fruits extract exhibited cytotoxicity with 100% mortality, while leaves exhibited 33.33% mortality of brine shrimp at 1000 µgmL−1. Similarly, tumor inhibition of potato disk exhibited by methanol extract of fruit and leaves was 82.22% and 53.70%, respectively, at 1000 µgmL−1. Fruit extracts have shown remarkable antibacterial and antifungal activity, with maximum percentage observed against Staphylococcus epidermidis and Klebsiella pneumonia (83.05 and 69.98) at 25 mgmL−1, respectively, while leaves have shown 30.94% and 28.51%, respectively. Maximum antifungal inhibition was observed in methanol extract of both fruit and leaves against Alternaria alternata (83.64%) at 25 mgmL−1. A percentage of 66.48 and 52.47 radical scavenging activity was observed against DPPH assay by methanolic fruit and leave extract, respectively, at 250 µgmL−1. Similarly, an absorbance range of 0.986–0.207 nm and 0.402–0.014 nm was shown by methanolic fruit and leaves extract, respectively, against phosphomolybdate assay. Phytochemicals such as terpenoids, steroids, flavonoids, carbohydrates, tannins and saponins were present qualitatively in all tested extracts. Fruit and leaf extracts contain total phenolics (0.137 mgg−1 and 0.089 mgg−1), flavonoids (20 mgg−1 and 12.5 mgg−1) and saponins (140 mgg−1 and 66 mgg−1), respectively. Selected phytochemical properties such as flavonoids, phenolic, terpenoids, steroids and saponins are major bioactive components considered vital sources for the treatment of destructive disease. In the view of obtained results, we conclude that fruit extracts of M. Africana have better pharmacological properties than leaf extracts. Further studies are in progress toward identification and characterization of chemical compounds.
This is a preview of subscription content, log in to check access.
Access options
Buy single article
Instant access to the full article PDF.
US$ 39.95
Price includes VAT for USA
Subscribe to journal
Immediate online access to all issues from 2019. Subscription will auto renew annually.
US$ 99
This is the net price. Taxes to be calculated in checkout.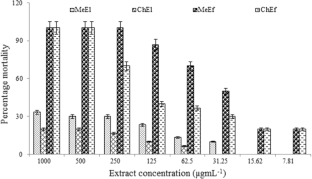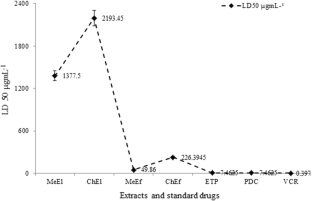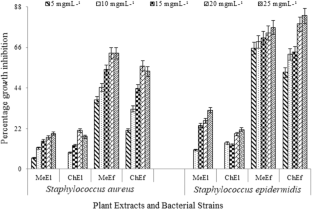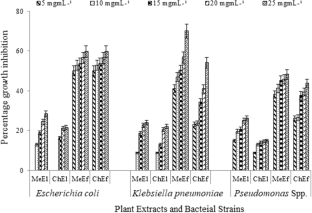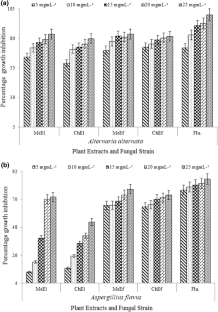 References
1.

Ahmad, B.; Azam, S.; Bashir, S.; Hussain, F.; Chaudhary, M.I.: Insecticidal, brine shrimp cytotoxicity, antifungal and nitric oxide free radical scavenging activities of the aerial parts of Myrsine africana L. Afr. J. Biotechnol. 10(8), 1448–1453 (2011)

2.

Abbasi, A.M.; Khan, M.A.; Ahmad, M.; Zafar, M.: Medicinal plant biodiversity of lesser Himalayas-Pakistan. Springer, Berlin (2011)

3.

Azam, S.; Bashir, S.; Ahmad, B.: Anti-spasmodic action of crude methanolic extract and a new compound isolated from the aerial parts of Myrsine africana. BMC Complement. Altern. Med. 11, 55 (2011). https://doi.org/10.1186/1472-6882-11-55

4.

Abbasi, A.M.; Khan, M.A.; Ahmed, M.; Zafar, M.: Herbal medicines used to cure various ailments by the inhabitants of Abbottabad district. North West Frontier Province, Pakistan (2010)

5.

Ur-Rehman, E.: Indigenous knowledge on medicinal plants, village Barali Kass and its allied areas, District Kotli Azad Jammu & Kashmir. Pakistan. Ethnoleaflets. 2006(1), 27 (2006)

6.

Muthee, J.K.; Gakuya, D.W.; Mbaria, J.M.; Kareru, P.G.; Mulei, C.M.; Njonge, F.K.: Ethnobotanical study of anthelmintic and other medicinal plants traditionally used in Loitoktok district of Kenya. J. Ethnopharmacol. 135(1), 15–21 (2011)

7.

Hamayun, M.: Ethnobotanical studies of some useful shrubs and trees of district Buner, NWFP, Pakistan. Ethnobotleaflets. 2003(1), 12 (2003)

8.

Abbhi, V.; Joseph, L.; Jena, A.K.; George, M.: Anti-inflammatory and analgesic activity of methanolic and hydro-alcoholic extract of Myrsine africana L. fruits. J. Nat. Prod. 6(1), 56–61 (2016)

9.

Githiori, J.B.; Höglund, J.; Waller, P.J.; Baker, R.L.: Anthelmintic activity of preparations derived from Myrsine africana and Rapanea melanophloeos against the nematode parasite, Haemonchus contortus, of sheep. J. Ethnopharmacol. 80(2–3), 187–191 (2002)

10.

Zhang, Y.J.; Gan, R.Y.; Li, S.; Zhou, Y.; Li, A.N.; Xu, D.P.; Li, H.B.: Antioxidant phytochemicals for the prevention and treatment of chronic diseases. Molecules 20(12), 21138–21156 (2015)

11.

Barbieri, R.; Coppo, E.; Marchese, A.; Daglia, M.; Sobarzo-Sánchez, E.; Nabavi, S.F.; Nabavi, S.M.: Phytochemicals for human disease: an update on plant-derived compounds antibacterial activity. Microbiol. Res. 196, 44–68 (2017)

12.

Wu, C.; Wang, F.; Liu, J.; Zou, Y.; Chen, X.: A comparison of volatile fractions obtained from Lonicera macranthoides via different extraction processes: ultrasound, microwave, Soxhlet extraction, hydrodistillation, and cold maceration. Integr. Med. Res. 4(3), 171–177 (2015)

13.

Khuda, F.; Iqbal, Z.; Khan, A.; Nasir, F.; Muhammad, N.; Khan, J.A.; Khan, M.S.: Metal analysis, phytotoxic, insecticidal and cytotoxic activities of selected medicinal plants of Khyber Pakhtunkhwa. Pak. J. Pharm. Sci. 25(1), 51–58 (2012)

14.

Hussain, A.; Zia, M.; Mirza, B.: Cytotoxic and antitumor potential of Fagonia cretica L. Turk. J. Biol. 31(1), 19–24 (2007)

15.

Bibi, Y.; Nisa, S.; Waheed, A.; Zia, M.; Sarwar, S.; Ahmed, S.; Chaudhary, M.F.: Evaluation of Viburnum foetens for anticancer and antibacterial potential and phytochemical analysis. Afr. J. Biotechnol. 9(34), 5611–5615 (2010)

16.

Ahmad, B.; Ali, N.; Bashir, S.; Choudhary, M.I.; Azam, S.; Khan, I.: Parasiticidal, antifungal and antibacterial activities of Onosma griffithii Vatke. Afr. J. Biotechnol. 8(19), 5084–5087 (2009)

17.

Ashraf, A.; Sarfraz, R.A.; Rashid, M.A.; Shahid, M.: Antioxidant, antimicrobial, antitumor, and cytotoxic activities of an important medicinal plant (Euphorbia royleana) from Pakistan. J. Food Drug Anal. 23(1), 109–115 (2015)

18.

Umamaheswari, M.; Chatterjee, T.K.: In vitro antioxidant activities of the fractions of Coccinia grandis L. leaf extract. Afr. J. Tradit. Complement. Altern. Med. 5(1), 61–73 (2008)

19.

Iqbal, E.; Salim, K.A.; Lim, L.B.: Phytochemical screening, total phenolics and antioxidant activities of bark and leaf extracts of Goniothalamus velutinus (Airy Shaw) from Brunei Darussalam. J. King Saud Univ. Sci. 27(3), 224–232 (2015)

20.

Yadav, R.N.S.; Agarwala, M.: Phytochemical analysis of some medicinal plants. J. Phytol. 3(12), 10–14 (2011)

21.

Chlopicka, J.; Pasko, P.; Gorinstein, S.; Jedryas, A.; Zagrodzki, P.: Total phenolic and total flavonoid content, antioxidant activity and sensory evaluation of pseudocereal breads. LWT-Food Sci. Technol. 46(2), 548–555 (2012)

22.

Bohm, B.A.; Kocipai-Abyazan, R.: Flavonoid and condensed tannins from the leaves of Vaccinum raticulation and Vaccinum calcyimium. Pac. Sci. 48(3), 458–463 (1994)

23.

Abbhi, V.A.S.U.D.H.A.; Joseph, L.I.N.C.Y.; George, M.A.T.H.E.W.: Phytochemical analysis of fruit extract of Myrsine africana. Int. J. Pharm. Pharm. Sci. 3(4), 427–430 (2011)

24.

Steel, R.G.D.; Torrie, J.H.; Dickey, D.A.: Principles and procedures of statistics: a biometrical approach, 3rd edn. McGraw Hill Book Co. Inc, New York (1997)

25.

Abdennacer, B.; Karim, M.; Nesrine, R.; Mouna, D.; Mohamed, B.: Determination of phytochemicals and antioxidant activity of methanol extracts obtained from the fruit and leaves of Tunisian Lycium intricatum Boiss. Food Chem. 174, 577–584 (2015)

26.

Podolak, I.; Galanty, A.; Sobolewska, D.: Saponins as cytotoxic agents: a review. Phytochem. Rev. 9(3), 425–474 (2010)

27.

Al-Bayati, F.A.: Al-Mola HF Antibacterial and antifungal activities of different parts of Tribulus terrestris L. growing in Iraq. J. Zhejiang Univ. Sci. B. 9(2), 154–159 (2008)

28.

Chasanah, U.; Rahmawati, H.; Febriana, V.; Wulandari, F.T.; Sikdewa, F.B.; Amalia, R.; Debby, A.S.; Jamil, A.S.: Anticancer pre-screening for several plant using brine shrimp lethality test. In: Proc. Int. Con. Drug Dev. Nat. Resour (2011)

29.

Matata, D.Z.; Ngassapa, O.D.; Machumi, F.; Moshi, M.J.: Screening of plants used as traditional anticancer remedies in Mkuranga and same districts, Tanzania, using brine shrimp toxicity bioassay. Evid. Based Complement. Altern. Med. (2018). https://doi.org/10.1155/2018/3034612

30.

Sahreen, S.; Khan, M.R.; Khan, R.A.; Shah, N.A.: Estimation of flavoniods, antimicrobial, antitumor and anticancer activity of Carissa opaca fruits. BMC Complement. Altern. Med. 13(1), 372 (2013)

31.

Kanwal, S.; Ullah, N.; Haq, I.U.; Afzal, I.; Mirza, B.: Antioxidant, antitumor activities and phytochemical investigation of Hedera nepalensis K. Koch, an important medicinal plant from Pakistan. Pak. J. Bot. 43(SI), 85–89 (2011)

32.

Palombo, E.A.; Semple, S.J.: Antibacterial activity of traditional Australian medicinal plants. J. Ethnopharmacol. 77(2–3), 151–157 (2001)

33.

Parekh, J.; Chanda, S.: Antibacterial and phytochemical studies on twelve species of Indian medicinal plants. Afr. J. Biomed. Res. 10(2), 175–181 (2007)

34.

Parekh, J.; Jadeja, D.; Chanda, S.: Efficacy of aqueous and methanol extracts of some medicinal plants for potential antibacterial activity. Turk. J. Biol. 29(4), 203–210 (2006)

35.

Cosge, B.; Turker, A.; Ipek, A.; Gurbuz, B.: Chemical compositions and antibacterial activities of the essential oils from aerial parts and corollas of Origanum acutidens (Hand.-Mazz.) Ietswaart, an endemic species to Turkey. Molecules 14(5), 1702–1712 (2009)

36.

Hammer, K.A.; Carson, C.F.; Riley, T.V.: Antimicrobial activity of essential oils and other plant extracts. J. Appl. Microbiol. 86(6), 985–990 (1999)

37.

Martin, I.; Jayaraman, G.; Wong, T.; Liu, G.; Gilmour, M.: Canadian Public Health Laboratory N. Trends in antimicrobial resistance in Neisseria gonorrhoeae isolated in Canada: 2000–2009. J. Sex Transm. Dis. 38(10), 892–898 (2011)

38.

Abdel-Hameed, E.S.S.; Bazaid, S.A.; Shohayeb, M.M.; El-Sayed, M.M.; El-Wakil, E.A.: Phytochemical studies and evaluation of antioxidant, anticancer and antimicrobial properties of Conocarpus erectus L. growing in Taif, Saudi Arabia. Eur. J. Med. Plants 2(2), 93–112 (2012)

39.

Narayana, K.R.; Reddy, M.S.; Chaluvadi, M.R.; Krishna, D.R.: Bioflavonoids classification, pharmacological, biochemical effects and therapeutic potential. Indian J. Pharmacol. 33(1), 2–16 (2001)

40.

Ncube, B.; Finnie, J.F.; Van Staden, J.: Quality from the field: the impact of environmental factors as quality determinants in medicinal plants. S. Afr. J. Bot. 82, 11–20 (2012)

41.

Sen, A.; Batra, A.: Evaluation of antimicrobial activity of different solvent extracts of medicinal plant: melia azedarach L. Int. J. Curr. Pharm. Res. 4(2), 67–73 (2012)

42.

Tatsimo, S.J.N.; de Tamokou, J.D.; Havyarimana, L.; Csupor, D.; Forgo, P.; Hohmann, J.; Kuiate, J.R.; Tane, P.: Antimicrobial and antioxidant activity of kaempferol rhamnoside derivatives from Bryophyllum pinnatum. BMC Res. Notes 5, 158–163 (2012)

43.

Prieto, P.; Pineda, M.; Aguilar, M.: Spectrophotometric quantitation of antioxidant capacity through the formation of a phosphomolybdenum complex: specific application to the determination of vitamin E. Anal. Biochem. 269(2), 337–341 (1999)

44.

Sahreen, S.; Khan, M.R.; Khan, R.A.: Evaluation of antioxidant activities of various solvent extracts of Carissa opaca fruits. Food Chem. 122(4), 1205–1211 (2010)
Acknowledgements
The authors gratefully acknowledge Department of Botany, PMAS-Arid Agriculture University Rawalpindi, Pakistan, for providing financial support for this research.
Ethics declarations
Conflict of interest
There is no conflict of interest to be declared.
About this article
Cite this article
Laraib, S., Sharif, S., Bibi, Y. et al. Phytochemical Analysis and Some Bioactivities of Leaves and Fruits of Myrsine africana Linn. Arab J Sci Eng (2020). https://doi.org/10.1007/s13369-020-04710-4
Received:

Accepted:

Published:
Keywords
Antifungal

Antioxidant

Antitumor

Antibacterial

Cytotoxicity

Myrsine africana