Abstract
We propose a general linear programming formulation for a poultry integration to facilitate decision making in production and financial planning. The formulation is motivated by a medium-size application and by involving practitioners from the industry. It is a realistic and strategic model since we incorporate all divisions in a complex poultry integration, (including, but not limited to, feed mill, breeder coops, incubation house, broiler coops, slaughterhouse and distribution centers) as well as the interrelations among these divisions. The horizon we consider is in years, which makes the plan a strategic level plan in this fast-paced industry. Through extensive experimentation with various end-customer demand scenarios, we found out that the quantity of breeder chicks to buy at certain times during the planning horizon is the robust key decision variable in the overall system.
Access options
Buy single article
Instant access to the full article PDF.
US$ 39.95
Tax calculation will be finalised during checkout.
Subscribe to journal
Immediate online access to all issues from 2019. Subscription will auto renew annually.
US$ 79
Tax calculation will be finalised during checkout.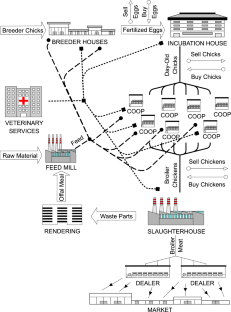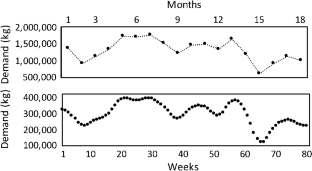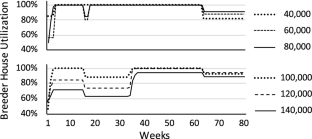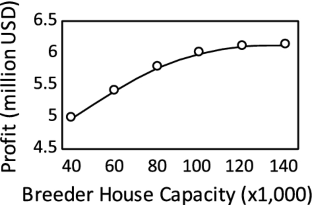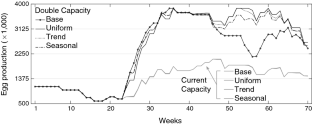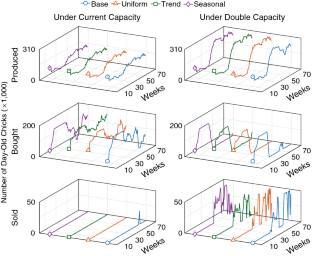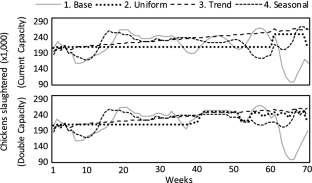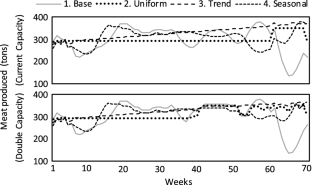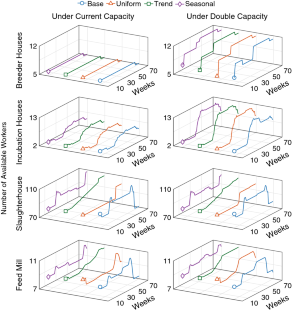 References
1.

FAO.: World Food and Agriculture – Statistical Pocketbook 2018, Rome (2018)

2.

Crama, Y.; Pochet, Y.; Wera, Y.: A discussion of production planning approaches in the process industry. Technical Report, University of Liége (2001)

3.

Boyabatlı, O.; Kleindorfer, P.R.; Koontz, S.R.: Integrating long-term and short-term contracting in beef supply chains. Manag. Sci. 57(10), 1771–1787 (2011)

4.

Minegishi, S.; Thiel, D.: System dynamics modeling and simulation of a particular food supply chain. Simul. Pract. Theory 8, 321–339 (2000)

5.

Oliveira, G.A.; Lindau, L.A.: A framework for delivery scheduling in the poultry industry. J. Sched. 15(6), 757–772 (2012)

6.

Khamjan, S.; Piewthongngam, K.; Pathumnakul, S.: Pig procurement plan considering pig growth and size distribution. Comput. Ind. Eng. 64(4), 886–894 (2013)

7.

Nadal-Roig, E.; Plà-Aragonès, L.M.; Alonso-Ayuso, A.: Production planning of supply chains in the pig industry. Comput. Electron. Agric. 161, 72–78 (2019)

8.

Rodríguez-Sanchez, S.V.; Pla-Aragones, L.M.; De Castro, R.: Insights to optimise marketing decisions on pig-grower farms. Anim. Prod. Sci. 59(6), 1126–1135 (2019)

9.

Naprom, S.; Piewthongngam, K.; Chatavithee, P.: Determination of size and quantity of chicken supply: a simulation-based optimization. Appl. Eng. Agric. 34(4), 717–726 (2018b)

10.

Naprom, S.; Piewthongngam, K.; Athipanyakul, T.: Determination of order pattern frequency analysis using the copula method. Kasetsart J. Soc. Sci. (2018a) (in press)

11.

Nobil, A.H.; Sedigh, A.H.A.; Cárdenas-Barrón, L.E.: A generalized economic order quantity inventory model with shortage: case study of a poultry farmer. Arab. J. Sci. Eng. 44(3), 2653–2663 (2019)

12.

Gharaei, A.; Almehdawe, E.: Economic growing quantity. Int. J. Prod. Econ. (2019) (in press)

13.

Boyar, E.: A decision support system for production planning and control for a broiler producer. Master's thesis, Middle East Technical University (1997)

14.

Tadei, R.; Trubian, M.T.; Avendano, J.L.; Croce, F.D.; Menga, G.: Aggregate planning and scheduling in the food industry: a case study. Eur. J. Oper. Res. 87(3), 564–573 (1995)

15.

Reiner, G.; Trcka, M.: Customized supply chain design: problems and alternatives for a production company in the food industry. A simulation based analysis. Int. J. Prod. Econ. 89(2), 217–229 (2004)

16.

Shin, M.; Lee, H.; Ryu, K.; Cho, Y.; Son, Y.J.: A two-phased perishable inventory model for production planning in a food industry. Comput. Ind. Eng. 133, 175–185 (2019)

17.

Malekitabar, M.; Yaghoubi, S.; Gholamian, M.R.: A novel mathematical inventory model for growing-mortal items (case study: Rainbow trout). Appl. Math. Model. 71, 96–117 (2019)

18.

Wade, E.M.; Fadel, J.G.: Optimization of caviar and meat production from white sturgeon (Acipenser transmontanus). Agric. Syst. 54(1), 1–21 (1997)

19.

Taube-Netto, M.: Integrated planning for poultry production at Sadia. Interfaces 26(1), 38–53 (1996)
Acknowledgements
Authors would like to thank Prof. Dr. Ömer Kırca from Industrial Engineering Department of Middle East Technical University, Ankara, Turkey, for his valuable comments and suggestions, and the two anonymous reviewers and the editor whose insightful comments and suggestions helped improve this study.
Electronic supplementary material
Below is the link to the electronic supplementary material.
Appendix A Parameters Used in the Mathematical Model
Appendix A Parameters Used in the Mathematical Model
Sets and indices:
T :

Horizon length (in weeks) indexed by t

J :

Total number of coops indexed by j
Market parameters:
\({MXE}^{b}\)

:

Maximum number of eggs that can be bought from the market per period (20,000)

\({MXE}^{s}\)

:

Maximum number of eggs that can be sold in the market per period (5000)

\({MXC}^{b}\)

:

Maximum number of chicks that can be bought from the livestock market per period (170,000)

\({MXC}^{s}\)

:

Maximum number of chicks that can be sold in the livestock market per period (50,000)

\({MXN}^{b}\)

:

Maximum number of chickens that can be bought from the livestock market per period (20,000)

\({MXN}^{s}\)

:

Maximum number of chickens that can be sold in the livestock market per period (10,000)
Capacity and performance parameters:
\({CAP}^{{FM}\text {-}i}\)

:

Feed mill raw material stock (i.e., silos) capacity (1600 tons)

\({CAP}^{{FM}\text {-}p}\)

:

Feed mill production capacity per week (1300 tons)

\({CAP}^{{BH}}\)

:

Total breeder capacity (60,000 units)

\({CAP}^{{IH}}\)

:

Total incubation house capacity (380,000 units)

\({CAP}_{j}^{{CH}}\)

:

Chick placement capacity of coop j (maximum of previous chicken placements)

\({CAP}_{jt}^{{CH}\text {-}a}\)

:

Binary parameter indicating availability of coop j in period t

\({{CAP}}^{{SH}}\)

:

Slaughterhouse capacity per period (300,000 units)

\({CAP}^{W \text {-} {BF},{NF}}\)

:

Tons of feed handled by a worker per period (100)

\({CAP}^{W \text {-} B}\)

:

Number of breeders taken care of by one worker per period (10,000)

\({CAP}^{W \text {-} E}\)

:

Number of eggs handled by one worker per period (30,000)

\({CAP}^{W \text {-} N}\)

:

Number of processed chickens handled by one worker per period (2500)

\({PE}_{t}^{{BH}}\)

:

Breeder performance in number of eggs produced by a t-week-old breeder

\({PE}^{{IH}}\)

:

Incubation performance (0.80, ratio of chicks to eggs)

\({PE}^{{SH}}\)

:

Slaughterhouse performance (0.74, ratio of meat produced to live weight of chicken slaughtered)

\({FCR}_{j}\)

:

Feed conversion ratio estimate of coop j

\({MLW}_{j}\)

:

Mean live weight estimate of coop j

\({DPR}_{j}\)

:

Death percentage rate estimate of coop j
Consumption and production parameters:
\({BF}_{t}^{c}\)

:

Breeder feed consumption for a t-week-old breeder (in grams)

\({\widehat{BF}}_{t}^{c}\)

:

Projected feed consumption of current breeders in period t (in tons)

\({NF}_{t}^{c}\)

:

Chicken feed consumption for a t-week-old chicken (in grams, 1: 150, 2: 350, 3: 550, 4: 700, 5: 800, 6: 1000)

\({\widehat{{NF}}}_{t}^{c}\)

:

Projected chicken feed consumption in period t (in tons, 1: 820, 2: 710, 3: 590, 4: 450, 5: 290, 6: 110)

\({\widehat{B}}_{t}\)

:

Projected number of breeder chicks for period t

\({\widehat{E}}_{t}^{p}\)

:

Projected egg production by current breeders for period t

\({\widehat{C}}_{t}^{p}\)

:

Estimated chick production in period t using the current (period 0) fertilized eggs at incubation house (units, 1: 135,000, 2: 142,000, 3: 140,000)

\({\widehat{N}}_{t}^{p}\)

:

Estimated number of chickens to slaughter in period t including those chicks placed in coops in period 0 (1: 185,000, 2: 205,000, 3: 197,000, 4: 210,000, 5: 188,000, 6: 190,000)

\(M_{t}^{q}\)

:

Production requirement (i.e., demand) for period t (in kilograms of chicken meat)

\(M^{+}\)

:

Percent allowance over production requirement (20%)

\(M^{-}\)

:

Percent allowance below production requirement (40%)
Cost and price parameters:
\({FC}^{{BH}}\)

:

Fixed cost of breeder houses per period ($200)

\({FC}^{{IH}}\)

:

Fixed cost of incubation per period ($300)

\({FC}^{{CH}}\)

:

Fixed cost of working with a coop per chick placement ($50)

\({FC}^{{SH}}\)

:

Fixed cost of slaughterhouse per period ($1,700)

\({UC}^{RM}\)

:

Raw material cost per ton ($150)

\({VC}_{t}^{RM}\)

:

Raw material cost per ton in period t (in TRY), \({VC}_{t}^{RM} = {{USD}}_{t} \cdot {{UC}}^{{RM}}\)

\({{UC}}^{{BF}}\)

:

Breeder feed production cost per ton ($80)

\({{VC}}_{t}^{{BF}}\)

:

Breeder feed production cost per ton in period t (in TRY), \({{VC}}_{t}^{{BF}} = {{USD}}_{t} \cdot {{UC}}^{{BF}}\)

\({{UC}}^{{NF}}\)

:

Chicken feed production cost per ton ($150)

\({{VC}}_{t}^{{NF}}\)

:

Chicken feed production cost per ton in period t (in TRY), \({{VC}}_{t}^{{NF}} = {{USD}}_{t} \cdot {{UC}}^{{NF}}\)

\({{UC}}^{E}\)

:

Unit price per egg bought ($0.35)

\({{UC}}^{B}\)

:

Unit price per breeder chick bought ($2.5)

\({{UC}}^{C}\)

:

Unit price per chick bought ($0.45)

\({{UC}}^{N}\)

:

Unit price per kilogram of live chicken bought ($1.2)

\({{UC}}^{{{IH}}}\)

:

Per chick incubation cost ($0.01)

\({{UC}}^{{{SH}}}\)

:

Slaughterhouse production cost per kilogram ($0.1)

\({{PC}}^{M^{+}}\)

:

Over sales penalty cost percentage w.r.t. price per kilogram (15%)

\({{PC}}^{M^{-}}\)

:

Under sales penalty cost percentage w.r.t. price per kilogram (20%)

\({{PC}}^{{{MLW}}}\)

:

Payment made to coop owners for a kilogram of live weight for chicken ($0.35)

\({{PC}}^{{{FCR}}}\)

:

Penalty paid by coop owners for deviating from feed conversion ratio of 2.00 ($0.35)

\({{PC}}^{{{DPR}}}\)

:

Penalty paid by coop owners for deviating from death percentage rate of 6% ($0.65)

\({{UC}}^{W \text {-} s}\)

:

Wage per worker in TRY, (55)

\({{VC}}_{t}^{W \text {-} s}\)

:

Wage per worker in period t (in TRY), \({{VC}}_{t}^{W \text {-} s} = {{USD}}_{t} \cdot {{UC}}^{W \text {-} s}\)

\({{UC}}^{W \text {-} h}\)

:

Hiring cost per worker ($220)

\({{VC}}_{t}^{W \text {-} h}\)

:

Hiring cost per worker in period t (in TRY), \({{VC}}_{t}^{W \text {-} h} = {{USD}}_{t} \cdot {{UC}}^{W \text {-} h}\ \)

\({{ UC}}^{W \text {-} f}\)

:

Firing cost per worker ($440)

\({{VC}}_{t}^{W \text {-} f}\)

:

Firing cost per worker in period t (in TRY), \({{VC}}_{t}^{W \text {-} f} = {{USD}}_{t} \cdot {{UC}}^{W \text {-} f}\)

\({{UR}}^{E}\)

:

Price per egg sold ($0.28)

\({{UR}}^{C}\)

:

Price per chick sold ($0.30)

\({{UR}}^{N}\)

:

Price per kilogram of live chicken sold ($0.8)

\({{UR}}^{M}\)

:

Meat market price per kilogram ($1.97)

\({{VR}}_{t}^{M}\)

:

Meat market price per kilogram in period t (in TRY), \({{VR}}_{t}^{M} = {{USD}}_{t} \cdot {{UR}}^{M}\)

\({UP}^{N}\)

:

Profit per chicken (used to value live chicken leftover at the end of rolling horizon), ($1.3)

\({{VP}}_{t}^{N}\)

:

Profit per chicken in period t (used to value live chicken leftover at the end of rolling horizon (in TRY), \({{VP}}_{t}^{N} = {{USD}}_{t} \cdot {UP}^{N}\)
\({{PR}}_{t}\)

:

Payment rate in future periods for a purchase in period t (1: 0.4, 2: 0.3, 3: 0.3)

\({{CR}}_{t}\)

:

Collection rate in future periods for a sale in period t (1: 0.5, 2: 0.25, 3: 0.25)

\({\widehat{{PAY}}}_{t}^{{{FM}}}\)

:

Projected future payments for feed mill (in TRY) (1: 50,000, 2: 25,000)

\({\widehat{{COL}}}_{t}^{s}\)

:

Projected future collections for sales (in TRY) (1: 150,000, 2: 75,000)

\({{USD}}_{t}\)

:

Dollar exchange rate for period t published by the Central Bank of Turkey (in TRY)

r :

Interest rate per week (0.5%)
About this article
Cite this article
Satır, B., Yıldırım, G. A General Production and Financial Planning Model: Case of a Poultry Integration. Arab J Sci Eng 45, 6803–6820 (2020). https://doi.org/10.1007/s13369-020-04366-0
Received:

Accepted:

Published:

Issue Date:
Keywords
Optimization

Production planning

Financial planning

Strategic plan