Whole Cell MALDI Fingerprinting Is a Robust Tool for Differential Profiling of Two-Component Mammalian Cell Mixtures
Abstract
MALDI fingerprinting was first described two decades ago as a technique to identify microbial cell lines. Microbial fingerprinting has since evolved into an automated platform for microorganism identification and classification, which is now routinely used in clinical and environmental sectors. The extension of fingerprinting to mammalian cells has yet to progress partly due to compartmentalization of eukaryotic cells and overall higher cellular complexity. A number of publications on mammalian whole cell fingerprinting suggest that the method could be useful for classification of different cell types, cell states, and monitoring cell differentiation. We report the optimization of MALDI fingerprinting workflow parameters for mammalian cells and its application for differential profiling of mammalian cell lines and two-component cell line mixtures. Murine fallopian tube cells and high-grade ovarian carcinoma cell lines and their mixtures are used as model mammalian cell lines. Two-component cell mixtures serve to determine the method's feasibility for complex biological samples as the ability to detect cancer cells in a mixed cell population. The level of detection of cancer cells in the two-component mixture by principle component analysis (PCA) starts to deteriorate at 5% but with application of a different statistical approach, Wilcoxon rank sum test, the level of detection was determined to be 1%. The ability to differentiate heterogeneous cell mixtures will help further extend whole cell MALDI fingerprinting to complex biological systems.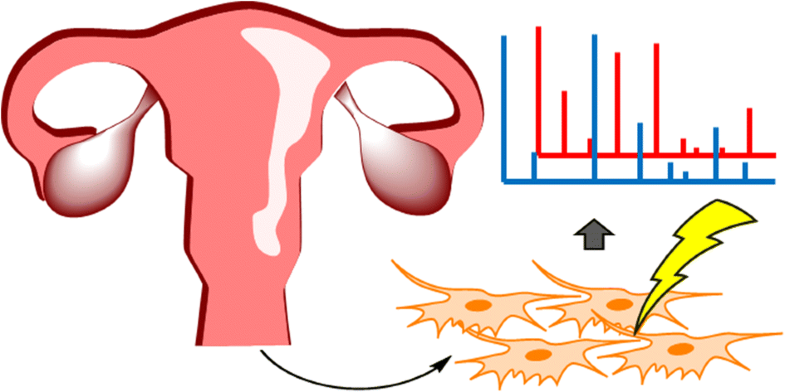 Keywords
Whole cell MALDI fingerprinting 
Mammalian cell lines 
Two-component cell line populations 
Notes
Acknowledgments
The project described was supported by the National Center for Advancing Translational Sciences, National Institutes of Health, through Grant UL1TR002003 (LMS and JEB) and by Grant Number K12HD055892 from the National Institute of Child Health and Human Development (NICHD) and the National Institutes of Health Office of Research on Women's Health (ORWH) (LMS), University of Illinois at Chicago Startup Funds (LMS), UG3 ES029073 (JEB), and F30 CA217079 (ANY).
We would like to thank Dr. Pavel Petukhov for help with mzML file conversion and Laura Rodgers Hardy for the creation of the OVCAR4-RFP cell line.
Copyright information
© American Society for Mass Spectrometry 2018