Abstract
Microorganisms produce a range of metabolites with varying pest control properties. With this concept, we earlier identified 15 Streptomyces spp. strains with insecticidal activity against Helicoverpa armigera (Hübner), Spodoptera litura (Fabricius), and Chilo partellus (Swinhoe). In recent studies, we evaluated an insecticidal compound purified from the extracellular extract of S. griseoplanus SAI-25 by bioactivity-guided fractionation against H. armigera. Spectral studies by infrared (IR), nuclear magnetic resonance (NMR), and electron spray ionization mass spectroscopy (ESI-MS) confirmed that the purified compound was cyclo(Trp-Phe) of the diketopiperazines class. Cyclo(Trp-Phe) exhibited antifeedant (70 %), larvicidal (67 %), and pupicidal (59 %) action against H. armigera in a dose-dependent manner. The lethal dose for 50 % of the group (LD50) and LD90 values for larvicidal effect were 619 and 2750 ppm, respectively. In addition, the purified compound prolonged larval (10.3–11.1 days) and pupal (10.9–11.8 days) periods compared with the untreated control (larval duration 9.8 days, pupal duration 10.6 days). This is the first report on the presence and biological activity of cyclo(Trp-Phe) isolated from the genus Streptomyces.
Access options
Buy single article
Instant access to the full article PDF.
US$ 39.95
Tax calculation will be finalised during checkout.
Subscribe to journal
Immediate online access to all issues from 2019. Subscription will auto renew annually.
US$ 79
Tax calculation will be finalised during checkout.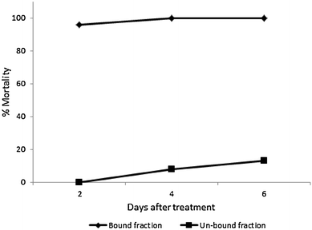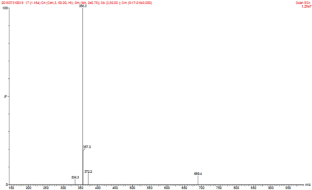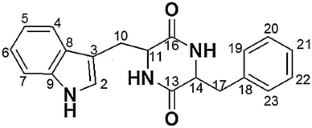 References
Abbott WS (1925) A method of computing the effectiveness of an insecticide. J Econ Entomol 18:265–266

Akhtar Y, Isman MB, Niehaus LA, Lee CH, Lee HS (2012) Antifeedant and toxic effects of naturally occurring and synthetic quinones to the cabbage looper, Trichoplusia ni. Crop Prot 31:8–14

Anonymous (2010) Economic survey 2009–2010. Ministry of finance and company affairs, Government of India, New Delhi

Arasu MV, Al-Dhabi NA, Saritha V, Duraipandiyan V, Muthukumar C, Kim S (2013) Antifeedant, larvicidal and growth inhibitory bioactivities of novel polyketide metabolite isolated from Streptomyces sp. AP-123 against Helicoverpa armigera and Spodoptera litura. BMC Microbiol 13:105

Balk-Bindseil W, Helmke E, Weyland H, Laatsch H (1995) Maremycin A and B, new diketopiperazines form a marine Streptomyces sp. Liebigs Annalen 1995:1291–1294

Baskar K, Ignacimuthu S (2012a) Bioefficacy of violacein against Asian armyworm Spodoptera litura Fab. (Lepidoptera: Noctuidae). J Saudi Soc Agric Sci 11:73–77

Baskar K, Ignacimuthu S (2012b) Antifeedant, larvicidal and growth inhibitory effects of ononitol monohydrate isolated from Cassia tora L. against Helicoverpa armigera (Hub.) and Spodoptera litura (Fab.) (Lepidoptera: Noctuidae). Chemosphere 88:384–388

Benbrook CM (2012) Impacts of genetically engineered crops on pesticide use in the US—the first sixteen years. Environ Sci Eur 24:24. doi:10.1186/2190-4715-24-24

Berdy J (2005) Bioactive microbial metabolites: a personal view. J Antibiot 58:1–26

Chu D, Peng C, Ding B, Liu F, Zhang F, Lin H, Li Z (2011) Biological active metabolite cyclo(l-Trp-l-Phe) produced by South China sea sponge Holoxea sp. associated fungus Aspergillus versicolor strain TS08. Bioprocess Biosyst Eng 34:223–229

Cleveland CB, Mayes MA, Cryer SA (2002) An ecological risk assessment for spinosad use on cotton. Pest Manag Sci 58:70–84

CN102669110 (2012) Institute of Oceanology Chinese Academy of Sciences. Chinese Patent No. CN102669110. The application of an indolyl diketopiperazine compound. China Patent and Trademark Office, Shanghai, China

CN102675293 (2012) Institute of Oceanology Chinese Academy of Sciences. Chinese Patent No. CN102675293. An indolyl diketopiperazine-like derivative, its preparation method and application. China Patent and Trademark Office, Shanghai, China

Copping LG, Duke SO (2007) Natural products that have been used commercially as crop protection agents. Pest Manag Sci 63:524–554

Crowder DW, Harwood JD (2014) Promoting biological control in a rapidly changing world. Biol Control 75:1–7

Czepak C, Albernaz KC, Vivan LM, Guimarães HO, Carvalhais T (2013) Primeiro registro de ocorrência de Helicoverpa armigera (Hübner) (Lepidoptera: Noctuidae) no Brasil. Pesqu Agropec Trop 43:110–113

de Guzman FS, Dowd PF, Gloer JB, Wicklow DT (1993) Cycloechinulin antiinsectan metabolite, US5196420 A

de Guzman FS, Dowd PF, Gloer JB, Wicklow DT (1994) N-Methylepiamauromine epiamauromine and cycloechinulin antiinsectan metabolites, US5286727 A

Devappa RK (2012) Isolation, characterization and potential agro pharmaceutical applications of phorbol esters from Jatropha curcas oil. Ph.D thesis, University of Hohenheim, Stuttgart, Germany

Dhaliwal GS, Arora R (2001) Integrated pest management: concepts and approaches. Kalyani Publishers, New Delhi

Dhaliwal GS, Jindal V, Dhawan AK (2010) Insect pest problems and crop losses: changing trends. Indian J Ecol 37:1–7

Ding L, Li FC, Qin M (2008) Antitumor compounds isolated from marine Aspergillus sp. Chin J Nat Med 6:421–424

Isman MB (2002) Insect antifeedants. Pestic. Outlook 13:152–157

Johnson H, Solensky MJ, Satterfield DA, Davis AK (2014) Does skipping a meal matter to a butterfly's appearance? Effects of larval food stress on wing morphology and color in monarch butterflies. PLoS one 9:e93492

Kimura Y, Tani K, Kojima A, Sotoma G, Okadat K, Shimada A (1996) Cyclo-(l-tryptophyl-l-phenylalanyl), a plant growth regulator produced by the fungus Penicillium sp. Phytochemistry 41:665–669

Koul O (2012) Plant biodiversity as a resource for natural products for insect pest management. In: Gurr GM, Wratten SD, Snyder WE, Read DMY (eds) Biodiversity and insect pests: key issues for sustainable management. Wiley, Oxford, pp 85–105

Kranthi KR, Jadhav DR, Kranthi S, Wanjari RR, Ali SS, Russel DA (2002) Insecticide resistance in five major insect pests of cotton in India. Crop Prot 21:449–460

Levot G, Sales N (2008) In vitro effectiveness of ivermectin and spinosad fly strike treatments against larvae of the Australian sheep blowfly Lucilia cuprina (Wiedemann) (Diptera: Calliphoridae). Aus J Entomol 47:365–369

Li X, Dobretsov S, Xu Y, Xiao X, Hung OS, Qian P (2006) Antifouling diketopiperazines produced by a deep-sea bacterium, Streptomyces fungicidicus. Biofouling 22:187–194

Narayanamma VL, Sharma HC, Gowda CLL, Sriramulu M (2007) Mechanisms of resistance to Helicoverpa armigera and introgression of resistance genes into F1 hybrids in chickpea. Arthropod Plant Interact 1:263–270

Nath Paras (2007) Emerging pest problems in India and critical issues in their management. In: Jain PC, Bhargava MC (eds) Entomology—novel approaches. New India Publishing Agency, New Delhi, pp 43–96

Nishanth Kumar S, Mohandas C, Nambisan B (2014) Purification, structural elucidation and bioactivity of tryptophancontaining diketopiperazines, from Comamonas testosterone associated with a rhabditid entomopathogenic nematode against major human-pathogenic bacteria. Peptides 53:48–58

Oerke EC (2006) Crop losses to pests. J Agr Sci 144:31–43

Schneider MI, Smagghe G, Pineda S, Viñuela E (2004) Action of insect growth regulator insecticides and spinosad on life history parameters and absorption in third-instar larvae of the endoparasitoid Hyposoter didymator. Biol Control 31:189–198

SEAGRI (2013) Secretaria da Agricultura, Irrigação e Reforma Agrária. Governo da Bahia e Mapa buscam estratégias para enfrentar a praga Helicoverpa no Oeste baiano. Available: http://www.seagri.ba.gov.br/not_Governo_da_Bahia_e_Mapa_estrategias_praga_Helicoverpa_032013.pdf last Accessed Apr 2013

Sharma HC (2005) Heliothis/Helicoverpa management: emerging trends and strategies for future research. Oxford and IBH Publishers, India

Sharma KK, Ananda Kumar P, Sharma HC (2005) Insecticidal genes and their potential in developing transgenic crops for resistance to Heliothis/Helicoverpa. In: Sharma HC (ed) Heliothis/Helicoverpa management: emerging trends and strategies for future researches. Oxford and IBH Publishers, India, pp 255–274

Sterner O (2012) Isolation of microbial natural products. In: Sarker SD, Nahar L (eds) Natural products isolation. Methods in molecular microbiology, Humana Press, New York, pp 393–414

Tarkka M, Hampp R (2008) Secondary metabolites of soil streptomycetes in biotic interactions. In: Karlovsky P (ed) Secondary metabolites in soil ecology—soil ecology. Springer, Berlin, pp 107–126

Telang A, Frame L, Brown MR (2007) Larval feeding duration affects ecdysteroid levels and nutritional reserves regulating pupal commitment in the yellow fever mosquito Aedes aegypti (Diptera: Culicidae). J Exp Biol 210:854–864

Vijayabharathi R, Kumari BR, Sathya A, Srinivas V, Abhishek R, Sharma HC, Gopalakrishnan S (2014) Biological activity of entomopathogenic actinomycetes against lepidopteran insects (Noctuidae: Lepidoptera). Can J Plant Sci 94:759–769

Wang Y, Wang P, Ma H, Zhu W (2013a) Developments around the bioactive dieketopiperazines: a patent review. Expert Opin Ther Pat 23:1415–1433

Wang P, Xi L, Liu P, Wang Y, Wang W, Huang Y, Zhu W (2013b) Diketopiperazine derivatives from the marine-derived actinomycete Streptomyces sp. FXJ7.328. Mar Drugs 11:1035–1049

Yang Y, Li Y, Wu Y (2013) Current status of insecticide resistance in Helicoverpa armigera after 15 years of Bt cotton planting in China. J Econ Entomol 106:375–381
Acknowledgments
The authors are grateful to the Department of Biotechnology, India, for their financial assistance (BT/PR13824/AGR/05/508/2010). This work was undertaken as part of the CGIAR Research Program on Grain Legumes. ICRISAT is a member of CGIAR Consortium. We thank the NMR research centre, IISc, Bangalore, India, and IIT, Madras, India, for NMR and ESI–MS analysis. We also thank ICRISAT and all of the staff members of the biocontrol unit, including P.V.S. Prasad, P. Manohar, B. Nagappa, D. Barath, and A. Jabbar, for technical assistance, and S. Suraj Prasad for larval supply.
Ethics declarations
Conflict of interest
The authors declare that there is no conflict of interest.
About this article
Cite this article
Sathya, A., Vijayabharathi, R., Kumari, B.R. et al. Assessment of a diketopiperazine, cyclo(Trp-Phe) from Streptomyces griseoplanus SAI-25 against cotton bollworm, Helicoverpa armigera (Lepidoptera: Noctuidae). Appl Entomol Zool 51, 11–20 (2016). https://doi.org/10.1007/s13355-015-0366-3
Received:

Accepted:

Published:

Issue Date:
Keywords
Helicoverpa armigera
Streptomyces

Diketopiperazine

Cyclo(Trp-Phe)

Pest management