Abstract
Background
Regular clinic visits are essential for keeping diabetes well controlled. Nevertheless, about half of the known diabetic patients do not receive regular medical care, as estimated by the National Survey in Japan. From the viewpoint of medical resources, primary care physicians (PCPs) should provide regular medical care to the many diabetic patients in Japan. Therefore, maintaining regular care and improving care quality are expected for diabetes treatment at the PCP level.
Methods/design
The Japan Diabetes Outcome Intervention Trial-2 (J-DOIT2) is a cluster-randomized two-armed intervention study. Fifteen district medical associations (DMAs) and 300 PCPs will participate. The PCPs in each DMA will be divided into two groups and randomized, with each group acting as a cluster within the DMA. Then, 3,750 type 2 diabetes patients (aged 40–64 years) will be recruited. In the intervention group, patients will receive reminders for medical visits to their PCP and lifestyle advice over the telephone or face to face. The PCPs will be provided with benchmark indicators of his/her own diabetes treatment activities. In the control group, the PCPs will provide ordinary medical treatment to his/her patients. With a 1-year intervention and follow-up period, the primary outcome will be the rate of patient dropout from regular medical care of both groups. The quality of diabetes treatment provided by the PCPs will also be evaluated.
Discussion
The J-DOIT2 is a large-scale trial for improvement of diabetes care in an ordinary primary care setting and is expected to contribute to establishing widely adoptable countermeasures for diabetes.
Access options
Buy single article
Instant access to the full article PDF.
US$ 39.95
Tax calculation will be finalised during checkout.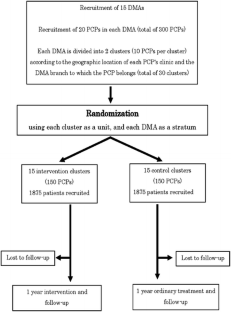 Abbreviations
CG:

Control group

CRC:

Clinical research coordinator

DMA:

District medical association

IG:

Intervention group

J-DOIT:

Japan Diabetes Outcome Intervention Trial

J-DOIT2-LT:

J-DOIT2 large-scale trial

J-DOIT2-PS:

J-DOIT2 pilot study

LA:

Lifestyle adviser

NVD:

Next visit day

PCP:

Primary care physician

TSC:

Treatment support center
References
1.

King H, Aubert RE, Herman WH. Global burden of diabetes, 1995–2025: prevalence, numerical estimates, and projections. Diabetes Care. 1998;21(9):1414–31.

2.

Yazaki Y, Kadowaki T. Combating diabetes and obesity in Japan. Nat Med. 2006;12(1):73–4.

3.

UK Prospective Diabetes Study (UKPDS) Group. Intensive blood-glucose control with sulphonylureas or insulin compared with conventional treatment and risk of complications in patients with type 2 diabetes (UKPDS 33). Lancet. 1998;352:837–53.

4.

Gæde P, Vedel P, Larsen N, Jensen GV, Parving HH, Pedersen O. Multifactorial intervention and cardiovascular disease in patients with type 2 diabetes. N Engl J Med. 2003;348(5):383–93.

5.

Outline for the Results of the National Health and Nutrition Survey Japan, 2007. http://www.nih.go.jp/eiken/english/research/pdf/nhns2007.pdf. Accessed 1 Sept 2010.

6.

Smith DM, Weinberger M, Katz BP. A controlled trial to increase office visits and reduce hospitalizations of diabetic patients. J Gen Intern Med. 1987;2(4):232–8.

7.

Campbell M, Grimshaw J, Steen N. Sample size calculations for cluster randomised trials. Changing Professional Practice in Europe Group (EU BIOMED II Concerted Action). J Health Serv Res Policy. 2000;5(1):12–6.

8.

Campbell MK, Mollison J, Grimshaw JM. Cluster trials in implementation research: estimation of intracluster correlation coefficients and sample size. Stat Med. 2001;20(3):391–9.

9.

Hayes RJ, Bennett S. Simple sample size calculation for cluster-randomized trials. Int J Epidemiol. 1999;28(2):319–26.

10.

White H. A heteroskedasticity-consistent covariance matrix estimator and a direct test for heteroskedasticity. Econometrica. 1980;48(4):817–38.
Acknowledgments
This study is funded by a Health and Labour Sciences Research Grant (Strategic Outcomes Research Program for Research on Diabetes and Comprehensive Research on Diabetes/Cardiovascular and Life-Style Related Diseases) from the Ministry of Health, Labour and Welfare of Japan. The funding body has determined the goal of this study, that is, verification of the intervention for reducing patient dropout from regular diabetes treatment.
Conflict of interest
The authors declare that they have no conflict of interest.
About this article
Cite this article
Izumi, K., Hayashino, Y., Yamazaki, K. et al. Multifaceted intervention to promote the regular visiting of patients with diabetes to primary care physicians: rationale, design and conduct of a cluster-randomized controlled trial. The Japan Diabetes Outcome Intervention Trial-2 study protocol. Diabetol Int 1, 83–89 (2010). https://doi.org/10.1007/s13340-010-0015-6
Received:

Accepted:

Published:

Issue Date:
Keywords
Diabetes

Dropout

Regular medical care

Primary care physician

Quality of diabetes care