Abstract
Newcastle disease virus (NDV) can modulate cancer cell signaling pathway and induce apoptosis in cancer cells. Cancer cells increase their glycolysis rates to meet the energy demands for their survival and generate ATP as the primary energy source for cell growth and proliferation. Interfering the glycolysis pathway may be a valuable antitumor strategy. This study aimed to assess the effect of NDV on the glycolysis pathway in infected breast cancer cells. Oncolytic NDV attenuated AMHA1 strain was used in this study. AMJ13 and MCF7 breast cancer cell lines and a normal embryonic REF cell line were infected with NDV with different multiplicity of infections (moi) to determine the IC50 of NDV through MTT assay. Crystal violet staining was done to study the morphological changes. NDV apoptosis induction was assessed using AO/PI assay. NDV interference with the glycolysis pathway was examined through measuring hexokinase (HK) activity, pyruvate, and ATP concentrations, and pH levels in NDV infected and non-infected breast cancer cells and in normal embryonic cells. The results showed that NDV replicates efficiently in cancer cells and spare normal cells and induce morphological changes and apoptosis in breast cancer cells but not in normal cells. NDV infected cancer cells showed decreased in the HK activity, pyruvate and ATP concentrations, and acidity, which reflect a significant decrease in the glycolysis activity of the NDV infected tumor cells. No effects on the normal cells were observed. In conclusion, oncolytic NDV ability to reduce glycolysis pathway activity in cancer cells can be an exciting module to improve antitumor therapeutics.
This is a preview of subscription content, log in to check access.
Access options
Buy single article
Instant access to the full article PDF.
US$ 39.95
Price includes VAT for USA
Subscribe to journal
Immediate online access to all issues from 2019. Subscription will auto renew annually.
US$ 99
This is the net price. Taxes to be calculated in checkout.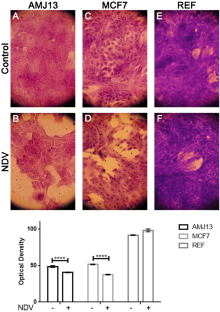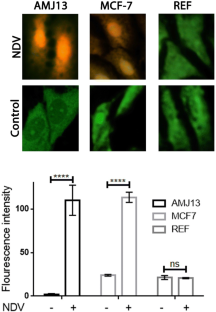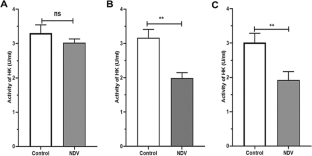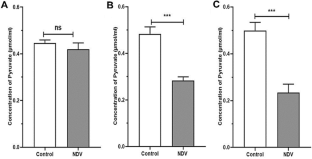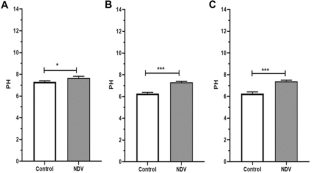 References
1.

Abdullah SA, Al-Shammari AM, Lateef SA. Attenuated measles vaccine strain have potent oncolytic activity against Iraqi patient derived breast cancer cell line. Saudi J Biol Sci. 2020;27(3):865–72. https://doi.org/10.1016/j.sjbs.2019.12.015.

2.

Alfarouk KO, Verduzco D, Rauch C, Muddathir AK, Adil HH, Elhassan GO, et al. Glycolysis, tumor metabolism, cancer growth and dissemination. A new pH-based etiopathogenic perspective and therapeutic approach to an old cancer question. Oncoscience. 2014;1(12):777–802. https://doi.org/10.18632/oncoscience.109.

3.

Alsaraf KM, Mohammad MH, Al-Shammari AM, Abbas IS. Selective cytotoxic effect of Plantago lanceolata L. against breast cancer cells. J Egypt Natl Cancer Inst. 2019;31(1):10. https://doi.org/10.1186/s43046-019-0010-3.

5.

Al-Shammari A, Yaseen N. In vitro synergistic enhancement of Newcastle disease virus to methotrexate cytotoxicity against tumor cells. Al-Anbar J Vet Sci. 2012;5(2):102–9.

4.

AL-Shammari AM, Al-Hilli ZA, Yaseen NY. Molecular microarray study for the anti-angiogenic effect of Newcastle disease virus on Glioblastoma tumor cells. In: Third international scientific conference on nanotechnology, advanced material and their applications. Baghdad: University of Technology; 2011. p. 109–18.

6.

Al-Shammari AM, Al-Hili ZA, Yaseen NY. 647. Iraqi Newcastle disease virus virulent strain as cancer antiangiogenic agent. Mol Ther. 2013;21:1.

7.

Al-Shammari AM, Al-Nassrawei HA, Kadhim AMA. Isolation and sero-diagnosis of Newcastle disease virus infection in human and chicken poultry flocks in three cities of middle Euphrates. Kufa J Vet Sci. 2014;5(1):16–21.

8.

Al-Shammari AM, Humadi TJ, Al-Taee EH, Al-Atabi SM, Yaseen NY. 439. Oncolytic Newcastle disease virus Iraqi virulent strain induce apoptosis in vitro through intrinsic pathway and association of both intrinsic and extrinsic pathways in vivo. Mol Ther. 2015;23:S173–4. https://doi.org/10.1016/s1525-0016(16)34048-5.

9.

Al-Shammari AM, Alshami MA, Umran MA, Almukhtar AA, Yaseen NY, Raad K, et al. Establishment and characterization of a receptor-negative, hormone-nonresponsive breast cancer cell line from an Iraqi patient. Breast Cancer Targets Ther. 2015;7:223–30. https://doi.org/10.2147/BCTT.S74509.

10.

Al-Shammari AM, Abdullah AH, Allami ZM, Yaseen NY. 2-Deoxyglucose and Newcastle disease virus synergize to kill breast cancer cells by inhibition of glycolysis pathway through glyceraldehyde3-phosphate downregulation. Front Mol Biosci. 2019;6:90. https://doi.org/10.3389/fmolb.2019.00090.

11.

Al-Shammari AM, Hamad MA, AL-Mudhafar MA, Raad K, Ahmed A. Clinical, molecular and cytopathological characterization of a Newcastle disease virus from an outbreak in Baghdad, Iraq. Vet Med Sci. 2020;4:5. https://doi.org/10.1002/vms3.262.

12.

Al-Shammari AM, Al-Saadi H, Al-Shammari SM, Jabir MS. Galangin enhances gold nanoparticles as anti-tumor agents against ovarian cancer cells. AIP Conf Proc. 2020;2213(1):020206. https://doi.org/10.1063/5.0000162.

13.

Al-Shammary AM, Hassani HH, Ibrahim UA. Newcastle disease virus (NDV) Iraqi strain AD2141 induces DNA damage and FasL in cancer cell lines. J Biol Life Sci. 2014;5(1):1–11.

14.

Amin ZM, Ani MAC, Tan SW, Yeap SK, Alitheen NB, Najmuddin SUFS, et al. Evaluation of a recombinant newcastle disease virus expressing human IL12 against human breast cancer. Sci Rep. 2019;9(1):13999. https://doi.org/10.1038/s41598-019-50222-z.

15.

Arora R, Schmitt D, Karanam B, Tan M, Yates C, Dean-Colomb W. Inhibition of the Warburg effect with a natural compound reveals a novel measurement for determining the metastatic potential of breast cancers. Oncotarget. 2015;6(2):662–78. https://doi.org/10.18632/oncotarget.2689.

16.

Cairns RA, Harris IS, Mak TW. Regulation of cancer cell metabolism. Nat Rev Cancer. 2011;11(2):85.

17.

Cheng M-L, Chien K-Y, Lai C-H, Li G-J, Lin J-F, Ho H-Y. Metabolic reprogramming of host cells in response to enteroviral infection. Cells. 2020;9(2):473.

18.

Ciavardelli D, Rossi C, Barcaroli D, Volpe S, Consalvo A, Zucchelli M, et al. Breast cancer stem cells rely on fermentative glycolysis and are sensitive to 2-deoxyglucose treatment. Cell Death Dis. 2014;5(7):e1336.

19.

Corbet C, Feron O. Tumour acidosis: from the passenger to the driver's seat. Nat Rev Cancer. 2017;17(10):577–93. https://doi.org/10.1038/nrc.2017.77.

20.

Deng X, Cong Y, Yin R, Yang G, Ding C, Yu S, et al. Proteomic analysis of chicken peripheral blood mononuclear cells after infection by Newcastle disease virus. J Vet Sci. 2014;15(4):511–7.

21.

Elankumaran S, Rockemann D, Samal SK. Newcastle disease virus exerts oncolysis by both intrinsic and extrinsic caspase-dependent pathways of cell death. J Virol. 2006;80(15):7522–34.

22.

Gill KS, Fernandes P, O'Donovan TR, McKenna SL, Doddakula KK, Power DG, et al. Glycolysis inhibition as a cancer treatment and its role in an anti-tumour immune response. Biochim Biophys Acta. 2016;1866(1):87–105. https://doi.org/10.1016/j.bbcan.2016.06.005.

23.

Gonin-Giraud S, Mathieu AL, Diocou S, Tomkowiak M, Delorme G, Marvel J. Decreased glycolytic metabolism contributes to but is not the inducer of apoptosis following IL-3-starvation. Cell Death Differ. 2002;9(10):1147–57. https://doi.org/10.1038/sj.cdd.4401079.

24.

Gray LR, Tompkins SC, Taylor EB. Regulation of pyruvate metabolism and human disease. Cell Mol Life Sci. 2014;71(14):2577–604.

25.

Hartkopf AD, Fehm T, Wallwiener D, Lauer UM. Oncolytic virotherapy of breast cancer. Gynecol Oncol. 2011;123(1):164–71. https://doi.org/10.1016/j.ygyno.2011.06.021.

26.

Hassan SA, Allawe AB, Al-Shammari AM. In vitro oncolytic activity of non-virulent Newcastle disease virus LaSota strain against mouse mammary adenocarcinoma. Iraq J Sci. 2020;61(2):285–94.

27.

Ippolito L, Morandi A, Giannoni E, Chiarugi P. Lactate: a metabolic driver in the tumour landscape. Trends Biochem Sci. 2019;44(2):153–66. https://doi.org/10.1016/j.tibs.2018.10.011.

28.

Mayo MA. A summary of taxonomic changes recently approved by ICTV. Arch Virol. 2002;147(8):1655–6. https://doi.org/10.1007/s007050200039.

29.

Mohammed MS, Al-Taee MF, Al-Shammari A. Caspase dependent and independent anti-hematological malignancy activity of AMHA1 attenuated newcastle disease virus. Int J Mol Med. 2019;8(3):211–22. https://doi.org/10.22088/ijmcm.bums.8.3.211.

30.

Schirrmacher V. Fifty years of clinical application of Newcastle disease virus: time to celebrate! Biomedicines. 2016;4(3):16.

31.

Vander Heiden MG, Cantley LC, Thompson CB. Understanding the Warburg effect: the metabolic requirements of cell proliferation. Science. 2009;324(5930):1029–33.
Acknowledgements
The authors thank the Experimental Therapy Department, Iraqi Center for Cancer and Medical genetic research, Mustansiriyah University, for their support.
Ethics declarations
Conflict of interest
The authors disclose no potential conflict of interest.
Additional information
Publisher's Note
Springer Nature remains neutral with regard to jurisdictional claims in published maps and institutional affiliations.
About this article
Cite this article
Al-Ziaydi, A.G., Al-Shammari, A.M., Hamzah, M.I. et al. Newcastle disease virus suppress glycolysis pathway and induce breast cancer cells death. VirusDis. (2020). https://doi.org/10.1007/s13337-020-00612-z
Received:

Accepted:

Published:
Keywords
Warburg effect

Pyruvate

Virotherapy

Cancer metabolism

Oncolytics