Abstract
Okra (Abelmoschus esculentus L. Moench) serves as a vegetable of great food, medicinal and industrial value. The production of the crop is, however, constrained by lack of improved high yielding, virus and pest resistant varieties. The current study sought to identify resistance in ten okra cultivars to okra mosaic disease and okra yellow vein mosaic disease within the coastal savannah agro-ecological zone of Ghana. Enzyme-linked immunosorbent assay (ELISA) detected Okra mosaic virus (OkMV) and Okra yellow vein mosaic virus (OYVMV) in symptomatic leaves of the ten cultivars. Okra mosaic disease was the most frequently detected in cultivar Adom while okra yellow vein mosaic disease was most abundant in cultivar Labadi dwarf. Mixed infection of OkMV and OYVMV was found in eight cultivars while cultivars F1-Sahari and F1-Kirene were singly infected by OkMV. The highest index of symptom severity for all plants (ISSap) was found in cultivar Kwabenya (2.80) while Togo and Adom had the least (0.30). The index of symptom severity for diseased plants only (ISSdp) varied significantly and was highest in cultivar Kwabenya (3.85). Based on disease incidence and severity, cultivars Adom, Togo, Asutem, Labadi dwarf, Kirikou-F1 and Kwabenya were rated as tolerant while F1-Sahari and Lucky-19F1 were rated as moderately susceptible. F1-Kirene and Clemson Spineless were rated as highly susceptible with disease incidence of 88.6% and 88.5% respectively.
This is a preview of subscription content, log in to check access.
Access options
Buy single article
Instant access to the full article PDF.
US$ 39.95
Price includes VAT for USA
Subscribe to journal
Immediate online access to all issues from 2019. Subscription will auto renew annually.
US$ 99
This is the net price. Taxes to be calculated in checkout.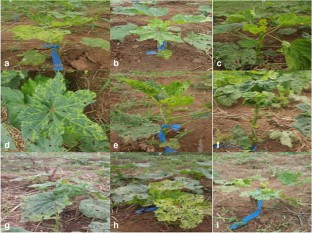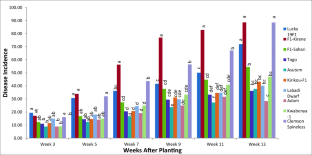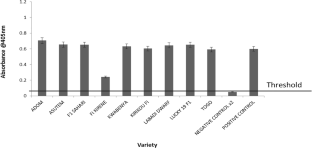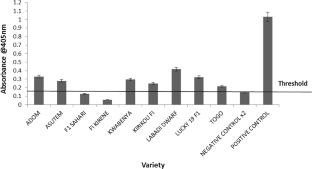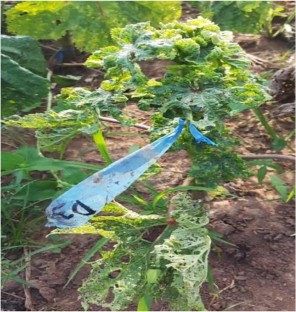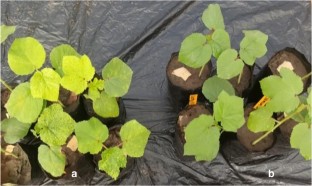 References
Alegbejo MD (2001a) Effect of sowing date on the incidence and severity of okra mosaic Tymovirus. J Veg Crop Prod 8:9–14

Alegbejo MD (2001) Whitefly transmitted plant viruses in Nigeria. J Sustain Agric 17:99–109

Akaho EKH, Maakuu BT, Anim-Sampong S, Emi-Reynolds G, Boadu HO, Osae EK, Akoto-Bamford S, Dodoo-Amoo DNA (2003) Intermediate safety analysis report (GAEC-NNRI-RT-90)

Alegbejo M, Ogunlana M, Banwo O (2008) Survey for incidence of Okra mosaic virus in northern Nigeria and evidence for its transmission by beetles. Span J Agric Res 6:408–411

Ali MAS, Khan A, Habib S, Iftikhar Y (2005) Correlation of environmental conditions with Okra yellow vein mosaic virus and Bemisia tabaci population density. Int J Agricul Biol 7:142–144

Amayo R, Arinaitwe AB, Mukasa SB, Tusiime G, Kyamanywa S, Rubaihayo PR, Edema R (2012) Prevalence of viruses infecting okra in Uganda and their molecular detection. Afr J Biotechnol 77(11):14132–14139

Amoatey HM, Klu GYP, Quartey EK, Doku HA, Sossah FL, Segbefia MM, Ahiakpa JK (2015) Genetic diversity studies in 29 accessions of okra (Abelmoschus spp L.) using 13 quantitative traits. Am J Exp Agricul 5(3):217–225

Appiah AS, Quartey EK, Amoatey HM, Nunekpeku M, Owusu-Ansah M, Ofori S (2014) Response of nine cultivars of pepper (Capsicum spp.) to infection by four viruses under natural field conditions in the coastal savanna zone of Ghana. Res J Appl Sci, Eng Technol 7(5):903–907

Asare-Bediako E, Addo-Quaye AA, Bi-Kusi A (2014a) Comparative efficacy of plant extractsin managing whitefly (Bemisia tabaci gen) and leaf curl disease in okra (Abelmoschus esculentus L). Am J Agricul Sci Technol 2(1):31–41

Asare-Bediako E, Van der Puije GC, Taah KJ, Abole EA, Baidoo A (2014b) Prevalence of okra mosaic and leaf curl diseases and Podagrica spp. damage of okra (Abelmoschus esculentus) plants. Int J Curr Res Acad Rev 2(6):260–271

Askira AB (2012) A survey on the incidence of Okra leaf curl virus on okra in Lake Alau area of Borno state, Nigeria. Int J Agricult 4(1):1–6

Basu AN (1995) Bemisia tabaci (gen.) crop pest and principal whitefly vector of plant viruses. West view press. Boulder. San Francisco, Oxford, p 183

Bi-Kusi A (2013) Effectiveness of plant extracts in the management of viral diseases and pests of okra (Abelmoschus esculentus L.). B. Sc. Dissertation, School of Agriculture. University of Cape Coast, Cape Coast. Ghana. Pp 35-65

Brunt A, Crabtree K, Gibbs A (1990) Viruses of tropical plants: descriptions and lists from the VIDE database. C.a.B. international, U.K. pp 707

Brunt AA, Crabtree K, Dallwitz MJ, Gibbs AJ, Watson L (1996) Viruses of plants-description and lists from the VIDE Database. CAB Int., Wallingford, UK, pp 233–234

Clark MF, Adams NE (1977) Characterization of the microtitre plate method of enzyme – linked immunoassay (ELISA), for the detection of plant viruses. J Gen Virol 37:475–483

Dickson KB, Benneh G (2004) A new geography of Ghana. Longmans Group Limited, London

Fargette D, Muniyappa V, Fauguet C, Nguessan P, Thouvenel JC (1993) Comparative epidemiology of three tropical whitefly-transmitted Geminiviruses. Biochimie 75:547–554

Fauquet CM, Stanley J (2005) Revising the way we conceive and name viruses below the species level: a review of Geminivirus taxonomy calls for new standardized isolate descriptors. Arch Virol 150:2151–2179

Givord L, Koenig R (1974) Okra mosaic virus. Commonwealth mycological institute/Association of Applied Biologists; description plant viruses, London. Pp 128

Givord L, Hirth I (1973) Identification, purification and some properties of a mosaic of okra (Hibiscus esculentus L). Ann Appl Biol 74:359–370

Handa A, Gupta MD (1993) Management of Bhendi yellow vein mosaic virus. Indian Phytopathol 46(2):123–130

Hull R (2002) Matthew's plant virology, 4th edn. Academic press, San Diego

Iakimova ET, Michalczuk L, Woltering EJ (2005) Hypersensitive cell death in plants-its mechanisms and role in plant defence against pathogens. J FruitOrnamental Plant Res 13:135–138

Krishnareddy M, Jalali S, Samuel DK (2003) Fruit distortion mosaic disease of okra in India. Plant Dis 87:1395

Legg JP, Raya M (1997) A survey of cassava virus diseases in Tanzania. Int J Pest Manag 44:17–522

Maramorosch K, Smith KM, Lauffer MA (2003) Advances in virus research. Academic Press Inc. New York. 4. 50–256

Masarapu H, Pothur S, Basavaprabhu LP, Lava KD, Reddy VR (2014) Tropical Food Legumes: Virus Dis Econ Import Control 90:431–505

Ndunguru J, Rajabu AC (2004) Effect of Okra mosaic virus disease on the above-ground morphological yield components of okra in Tanzania. Scienta Horticulturae 99:225–235

Njock TE, Ndip RN (2007) Limitation in detecting African cassava mosaic Geminivirus in lignified tissues of cassava stems. Afr J Biotechnol 6(20):2340–2347

Ogbe FO, Atiri GI, Dixon AGO, Thottappilly G (2001) Cassava mosaic disease and its causal agents: the Nigerian situation. Plant virology in Sub-Saharan Africa, In, pp 411–422

Pun KB, Doraiswamy S, Jeyarajan R (1999) Immunological detection of Okra yellow vein mosaic virus. Indian J Virol 16(2):93–96

Ramappa HK, Muniyappa V, Colvin J (1998) The contribution of tomato and alternative host plants to Tomato leaf curl virus inoculum pressure in different areas of South India. Ann Appl Biol 138:187–198

Sastry KSM, Singh SJ (1974) Effect of Yellow vein mosaic virus infection on growth and yield of okra crop. Indian Phytopathol 27:294–297

Sherwood JL, Reddick BB, Conway KE (1986) Reaction of Bahamian hot pepper to single and double infection with Tobacco mosaic virus (TMV) and Potato virus Y (PVY). Phytopathology 76:1126

Shetty AA, Singh JP, Singh D (2013) Resistance to Yellow vein mosaic virus in okra: a review. Biol Agricult Horticulture 29(3):159–164. https://doi.org/10.1080/01448765.2013.793165

Song WY, Wang GL, Chen LL, Kim HS (1995) A receptor kinase-like protein encoded by the rice disease resistance gene, Xa21. Science 270:1804–1806

SRID-MOFA (2007) Statistical research and information directorate, Ministry of Food and Agriculture, (Ghana). Production Figures pp 56–57

Swanson MM, Harrison BD (1993) Serological relationships and epitope profiles of an isolate of okra leaf curl geminivirus from Africa and the Middle East. Biochemistry 75:707–711

Vanlommel S, Duchateau L, Coosemans J (1996) The effect of Okra mosaic virus and beetle damage on yield of four okra cultivars. Afr Crop Sci J 4:71–77

Venkataravanappa V, Reddy CNL, Jalali S, Reddy MK (2015) Association of tomato leaf curl New Delhi virus dNA-B with Bhendi yellow vein mosaic virus in okra showing yellow vein mosaic disease symptoms. Acta Virol 59:125–139. https://doi.org/10.4149/av._02_125
Acknowledgments
We wish to profoundly commend the invaluable contributions of Mr. Yusif Mohammed (School of Nuclear and Allied Sciences) as well as staff of the Biotechnology Centre that have enabled the success of this work. We also acknowledge the Biotechnology and Nuclear Agriculture Research Institute (BNARI) of the Ghana Atomic Energy Commission (GAEC) for permitting the use of the Molecular Biology Laboratory and other facilities to carry out this study.
Ethics declarations
Conflict of interest
Authors have no financial or any relevant interest that may have influenced the study.
About this article
Cite this article
Appiah, A.S., Amiteye, S., Boateng, F. et al. Evaluation of okra (Abelmoschus esculentus L. Moench) cultivars for resistance to okra mosaic virus and okra yellow vein mosaic virus. Australasian Plant Pathol. (2020). https://doi.org/10.1007/s13313-020-00727-3
Received:

Accepted:

Published:
Keywords
Okra mosaic virus
Okra yellow vein mosaic virus

Disease incidence

Cultivar resistance

ELISA

Symptom severity