Abstract
Modern neurocritical care relies on ancillary diagnostic testing in the form of multimodal monitoring to address acute changes in the neurological homeostasis. Much of our armamentarium rests upon physiological and biochemical surrogates of organ or regional level metabolic activity, of which a great deal is invested at the metabolic–hemodynamic–hydrodynamic interface to rectify the traditional intermediaries of glucose consumption. Despite best efforts to detect cellular neuroenergetics, current modalities cannot appreciate the intricate coupling between astrocytes and neurons. Invasive monitoring is not without surgical complication, and noninvasive strategies do not provide an adequate spatial or temporal resolution. Without knowledge of the brain's versatile behavior in specific metabolic states (glycolytic vs oxidative), clinical practice would lag behind laboratory empiricism. Noninvasive metabolic imaging represents a new hope in delineating cellular, nigh molecular level energy exchange to guide targeted management in a diverse array of neuropathology.
Access options
Buy single article
Instant access to the full article PDF.
US$ 39.95
Tax calculation will be finalised during checkout.
Subscribe to journal
Immediate online access to all issues from 2019. Subscription will auto renew annually.
US$ 79
Tax calculation will be finalised during checkout.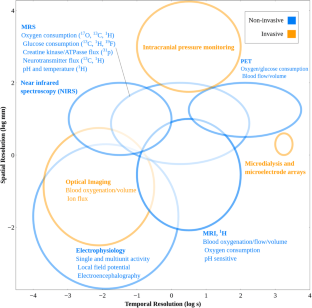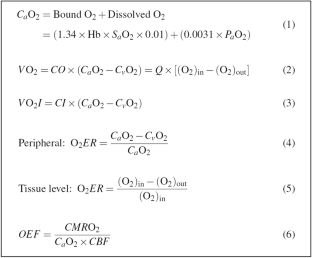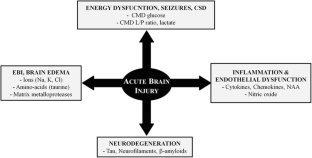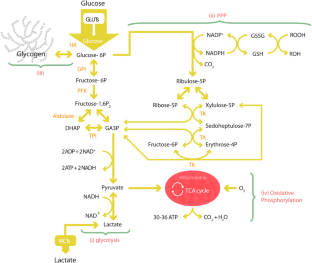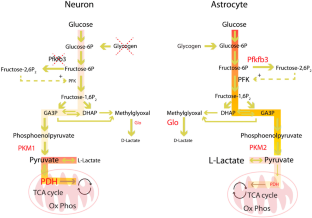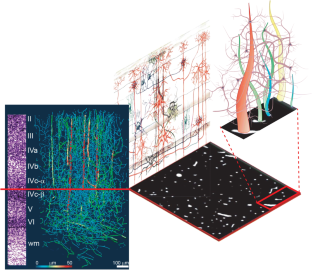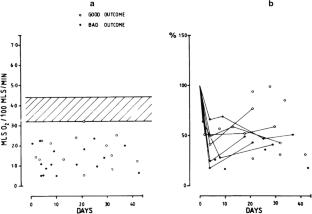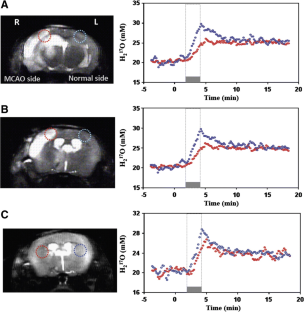 References
1.

Magistretti PJ, Allaman I. A cellular perspective on brain energy metabolism and functional imaging. Neuron. 2015;86(4):883-901.

2.

Herculano-Houzel S. Scaling of brain metabolism with a fixed energy budget per neuron: implications for neuronal activity, plasticity and evolution. PLoS One 2011;6(3):e17514.

3.

Goyal MS, Hawrylycz M, Miller JA, Snyder AZ, Raichle ME. Aerobic glycolysis in the human brain is associated with development and neotenous gene expression. Cell Metab 2014;19(1):49-57.

4.

Bauernfeind AL, Barks SK, Duka T, Grossman LI, Hof PR, Sherwood CC. Aerobic glycolysis in the primate brain: reconsidering the implications for growth and maintenance. Brain Struct Funct 2014;219(4):1149-67.

5.

Bélanger M, Allaman I, Magistretti PJ. Brain energy metabolism: focus on astrocyte-neuron metabolic cooperation. Cell Metab 2011;14(6):724-38.

6.

Roy CS, Sherrington CS. On the regulation of the blood-supply of the brain. J Physiol 1890;11(1-2):85-158 17.

7.

Attwell D, Buchan AM, Charpak S, Lauritzen M, Macvicar BA, Newman EA. Glial and neuronal control of brain blood flow. Nature 2010;468(7321):232-243.

8.

Cauli B, Hamel E. Revisiting the role of neurons in neurovascular coupling. Front Neuroenerg 2010;2:9.

9.

Filosa JA, Iddings JA. Astrocyte regulation of cerebral vascular tone. Am J Physiol Heart Circ Physiol 2013;305(5):H609-H619.

10.

Petzold GC, Murthy VN. Role of astrocytes in neurovascular coupling. Neuron. 2011;71(5):782-&97.

11.

Hillman EM. Coupling mechanism and significance of the BOLD signal: a status report. Annu Rev Neurosci 2014;37:161-181.

12.

Kleinfeld D, Blinder P, Drew PJ, et al. A guide to delineate the logic of neurovascular signaling in the brain. Front Neuroenerg 2011;3:1.

13.

Logothetis NK, Pauls J, Augath M, Trinath T, Oeltermann A. Neurophysiological investigation of the basis of the fMRI signal. Nature. 2001;412(6843):150.

14.

Raichle ME. Positron emission tomography. Annu Rev Neurosci 1983;6(1):249-267.

15.

Raichle ME. Behind the scenes of functional brain imaging: a historical and physiological perspective. Proc Natl Acad Sci 1998;95(3):765-772.

16.

Ogawa S, Lee T-M, Kay AR, Tank DW Brain magnetic resonance imaging with contrast dependent on blood oxygenation. Proc Natl Acad Sci 1990;87(24):9868-9872.

17.

Fox PT, Raichle ME, Mintun MA, Dence C. Nonoxidative glucose consumption during focal physiologic neural activity. Science (New York, NY). 1988;241(4864):462-464.

18.

Fox PT, Raichle ME. Focal physiological uncoupling of cerebral blood flow and oxidative metabolism during somatosensory stimulation in human subjects. Proc Natl Acad Sci U S A 1986;83(4):1140-1144.

19.

Sappey-Marinier D, Calabrese G, Fein G, Hugg JW, Biggins C, Weiner MW. Effect of photic stimulation on human visual cortex lactate and phosphates using 1H and 31P magnetic resonance spectroscopy. J Cereb Blood Flow Metab 1992;12(4):584-592.

20.

Prichard J, Rothman D, Novotny E, et al. Lactate rise detected by 1H NMR in human visual cortex during physiologic stimulation. Proc Natl Acad Sci U S A 1991;88(13):5829-5831.

21.

Ogawa S, Tank DW, Menon R, et al. Intrinsic signal changes accompanying sensory stimulation: functional brain mapping with magnetic resonance imaging. Proc Natl Acad Sci U S A 1992;89(13):5951-5955.

22.

Hyder F and Rothman DL. Advances in imaging brain metabolism. Annu Rev Biomed Eng 2017;19:485-515.

23.

Duarte JM, Lei H, Mlynárik V, Gruetter R. The neurochemical profile quantified by in vivo 1H NMR spectroscopy. Neuroimage. 2012;61(2):342-62.

24.

Shulman RG, Rothman DL. 13C NMR of intermediary metabolism: implications for systemic physiology. Annu Rev Physiol 2001;63(1):15-48.

25.

Bonvento G, Valette J, Flament J, Mochel F, Brouillet E. Imaging and spectroscopic approaches to probe brain energy metabolism dysregulation in neurodegenerative diseases. J Cereb Blood Flow Metab 2017;37(6):1927-1943.

26.

Shulman RG, Hyder F, Rothman DL. Lactate efflux and the neuroenergetic basis of brain function. NMR Biomed 2001;14(7-8):389-396.

27.

Forsén S, Hoffman RA. Study of moderately rapid chemical exchange reactions by means of nuclear magnetic double resonance. J Chem Phys 1963;39(11):2892-2901.

28.

Cahoy JD, Emery B, Kaushal A, et al. A transcriptome database for astrocytes, neurons, and oligodendrocytes: a new resource for understanding brain development and function. J Neurosci 2008;28(1):264-278.

29.

Lovatt D, Sonnewald U, Waagepetersen HS, et al. The transcriptome and metabolic gene signature of protoplasmic astrocytes in the adult murine cortex. J Neurosci 2007;27(45):12255-12266.

30.

Zhang Y, Chen K, Sloan SA, Bennett ML, et al. An RNA-sequencing transcriptome and splicing database of glia, neurons, and vascular cells of the cerebral cortex. J Neurosci 2014;34(36):11929-11947.

31.

Barros LF, San Martin A, Sotelo-Hitschfeld T, et al. Small is fast: astrocytic glucose and lactate metabolism at cellular resolution. Front Cell Neurosci 2013;7:27.

32.

Chuquet J, Quilichini P, Nimchinsky EA, Buzsaki G. Predominant enhancement of glucose uptake in astrocytes versus neurons during activation of the somatosensory cortex. J Neurosci 2010;30(45):15298-15303.

33.

Jakoby P, Schmidt E, Ruminot I, Gutierrez R, Barros LF, Deitmer JW. Higher transport and metabolism of glucose in astrocytes compared with neurons: a multiphoton study of hippocampal and cerebellar tissue slices. Cereb Cortex 2014;24(1):222-231.

34.

Bartelle BB, Barandov A, Jasanoff A. Molecular fMRI. J Neurosci 2016;36(15):4139-4148.

35.

Constable RT. Challenges in fMRI and its limitations. Functional MRI. Springer; 2006. p. 75-98.

36.

Jasanoff A. MRI contrast agents for functional molecular imaging of brain activity. Curr Opin Neurobiol 2007;17(5):593-600.

37.

Logothetis NK. What we can do and what we cannot do with fMRI. Nature 2008;453(7197):869-878.

38.

Glover GH. Overview of functional magnetic resonance imaging. Neurosurg Clin N Am 2011;22(2):133-139, vii.

39.

Rose J, Valtonen S, Jennett B. Avoidable factors contributing to death after head injury. Br Med J 1977;2(6087):615-618.

40.

Miller JD, Piper IR, Jones PA. Integrated multimodality monitoring in the neurosurgical intensive care unit. Neurosurg Clin N Am 1994;5(4):661-670.

41.

Le Roux P, Menon DK, Citerio G, et al. Consensus summary statement of the international multidisciplinary consensus conference on multimodality monitoring in neurocritical care. Neurocrit Care 2014;21(2):1-26.

42.

Torbey MT, Bosel J, Rhoney DH, et al. Evidence-based guidelines for the management of large hemispheric infarction : a statement for health care professionals from the Neurocritical Care Society and the German Society for Neuro-intensive Care and Emergency Medicine. Neurocrit Care 2015;22(1):146-164.

43.

Purkayastha S, Sorond F. Transcranial Doppler ultrasound: technique and application. Semin Neurol 2012;32(4):411-420.

44.

Willie CK, Tzeng YC, Fisher JA, Ainslie PN. Integrative regulation of human brain blood flow. J Physiol 2014;592(5):841-859.

45.

Brugniaux JV, Hodges AN, Hanly PJ, Poulin MJ. Cerebrovascular responses to altitude. Respir Physiol Neurobiol 2007;158(2-3):212-223.

46.

Dunn JF, Wu Y, Zhao Z, Srinivasan S, Natah SS. Training the brain to survive stroke. PLoS One 2012;7(9):e45108.

47.

Hamer J, Wiedemann K, Berlet H, Weinhardt F, Hoyer S. Cerebral glucose and energy metabolism, cerebral oxygen consumption, and blood flow in arterial hypoxaemia. Acta Neurochir 1978;44(3-4):151-160.

48.

Spencer JA, Ferraro F, Roussakis E, et al. Direct measurement of local oxygen concentration in the bone marrow of live animals. Nature. 2014;508(7495):269-273.

49.

Malte H, Lykkeboe G. The Bohr/Haldane effect: a model-based uncovering of the full extent of its impact on O2 delivery to and CO2 removal from tissues. J Appl Physiol (1985). 2018;125(3):916–922.

50.

Peacock AJ. ABC of oxygen: oxygen at high altitude. BMJ. 1998;317(7165):1063-1066.

51.

Ellsworth ML, Pittman RN. Arterioles supply oxygen to capillaries by diffusion as well as by convection. Am J Phys 1990;258(4 Pt 2):H1240-H1243.

52.

Bodmer SI, Balestra GM, Harms FA, et al. Microvascular and mitochondrial PO(2) simultaneously measured by oxygen-dependent delayed luminescence. J Biophotonics 2012;5(2):140-151.

53.

Mik EG. Special article: measuring mitochondrial oxygen tension: from basic principles to application in humans. Anesth Analg 2013;117(4):834-846.

54.

Meixensberger J, Dings J, Kuhnigk H, Roosen K. Studies of tissue PO2 in normal and pathological human brain cortex. Acta Neurochir Suppl (Wien) 1993;59:58-63.

55.

Hoffman WE, Charbel FT, Edelman G. Brain tissue oxygen, carbon dioxide, and pH in neurosurgical patients at risk for ischemia. Anesth Analg 1996;82(3):582-586.

56.

Zacchetti L, Magnoni S, Di Corte F, Zanier ER, Stocchetti N. Accuracy of intracranial pressure monitoring: systematic review and meta-analysis. Crit Care 2015;19:420.

57.

Raabe A, Totzauer R, Meyer O, Stockel R, Hohrein D, Schoche J. Reliability of epidural pressure measurement in clinical practice: behavior of three modern sensors during simultaneous ipsilateral intraventricular or intraparenchymal pressure measurement. Neurosurgery. 1998;43(2):306-311.

58.

Tavakoli S, Peitz G, Ares W, Hafeez S, Grandhi R. Complications of invasive intracranial pressure monitoring devices in neurocritical care. Neurosurg Focus 2017;43(5):E6.

59.

Sinha S, Hudgins E, Schuster J, Balu R. Unraveling the complexities of invasive multimodality neuromonitoring. Neurosurg Focus 2017;43(5):E4.

60.

Ortiz-Prado E, Dunn JF, Vasconez J, Castillo D, Viscor G. Partial pressure of oxygen in the human body: a general review. Am J Blood Res 2019;9(1):1-14.

61.

Stevens WJ. Multimodal monitoring: head injury management using SjvO2 and LICOX. J Neurosci Nurs 2004;36(6):332-339.

62.

Bouzat P, Marques-Vidal P, Zerlauth JB, et al. Accuracy of brain multimodal monitoring to detect cerebral hypoperfusion after traumatic brain injury*. Crit Care Med 2015;43(2):445-452.

63.

Kennedy RT. Emerging trends in in vivo neurochemical monitoring by microdialysis. Curr Opin Chem Biol 2013;17(5):860-867.

64.

Thelin EP, Carpenter KL, Hutchinson PJ, Helmy A. Microdialysis monitoring in clinical traumatic brain injury and its role in neuroprotective drug development. AAPS J 2017;19(2):367-376.

65.

Ngernsutivorakul T, White TS, Kennedy RT. Microfabricated probes for studying brain chemistry: a review. Chemphyschem. 2018;19(10):1128-1142.

66.

Lee WH, Ngernsutivorakul T, Mabrouk OS, et al. Microfabrication and in vivo performance of a microdialysis probe with embedded membrane. Anal Chem 2016;88(2):1230-1237.

67.

Hinzman JM, Gibson JL, Tackla RD, et al. Real-time monitoring of extracellular adenosine using enzyme-linked microelectrode arrays. Biosens Bioelectron 2015;74:512-517.

68.

Jobsis FF. Noninvasive, infrared monitoring of cerebral and myocardial oxygen sufficiency and circulatory parameters. Science (New York, NY). 1977;198(4323):1264-1267.

69.

Boas DA, Campbell LE, Yodh AG. Scattering and imaging with diffusing temporal field correlations. Phys Rev Lett 1995;75(9):1855-1858.

70.

Krakauskaite S, Petkus V, Bartusis L, et al. Accuracy, precision, sensitivity, and specificity of noninvasive ICP absolute value measurements. Acta Neurochir Suppl 2016;122:317-321.

71.

Robba C, Cardim D, Tajsic T, et al. Non-invasive intracranial pressure assessment in brain injured patients using ultrasound-based methods. Acta Neurochir Suppl 2018;126:69-73.

72.

Zhang X, Medow JE, Iskandar BJ, et al. Invasive and noninvasive means of measuring intracranial pressure: a review. Physiol Meas 2017;38(8):R143-R182.

73.

Cloostermans MC, van Meulen FB, Eertman CJ, Hom HW, van Putten MJ. Continuous electroencephalography monitoring for early prediction of neurological outcome in postanoxic patients after cardiac arrest: a prospective cohort study. Crit Care Med 2012;40(10):2867-2875.

74.

Hamberger A, Hydén H. Inverse enzymatic changes in neurons and glia during increased function and hypoxia. J Cell Biol 1963;16(3):521-525.

75.

Hydén H, Lange PW. A kinetic study of the neuron-glia relationship. J Cell Biol 1962;13(2):233-237.

76.

Tabata H. Diverse subtypes of astrocytes and their development during corticogenesis. Front Neurosci 2015;9:114.

77.

Harris JJ, Jolivet R, Attwell D. Synaptic energy use and supply. Neuron. 2012;75(5):762-777

78.

Rogatzki MJ, Ferguson BS, Goodwin ML, Gladden LB. Lactate is always the end product of glycolysis. Front Neurosci 2015;9:22.

79.

Vaishnavi SN, Vlassenko AG, Rundle MM, Snyder AZ, Mintun MA, Raichle ME. Regional aerobic glycolysis in the human brain. Proc Natl Acad Sci 2010;107(41):17757-17762.

80.

Bouzier-Sore AK, Voisin P, Bouchaud V, Bezancon E, Franconi JM, Pellerin L. Competition between glucose and lactate as oxidative energy substrates in both neurons and astrocytes: a comparative NMR study. Eur J Neurosci 2006;24(6):1687-1694.

81.

Selak I, Skaper SD, Varon S. Pyruvate participation in the low molecular weight trophic activity for central nervous system neurons in glia-conditioned media. J Neurosci 1985;5(1):23-28.

82.

Shulman RG, Hyder F, Rothman DL. Cerebral energetics and the glycogen shunt: neurochemical basis of functional imaging. Proc Natl Acad Sci 2001;98(11):6417-6422.

83.

Katz LC, Shatz CJ. Synaptic activity and the construction of cortical circuits. Science (New York, NY). 1996;274(5290):1133-1138.

84.

Pavlides S, Tsirigos A, Vera I, et al. Transcriptional evidence for the "reverse Warburg effect" in human breast cancer tumor stroma and metastasis: similarities with oxidative stress, inflammation, Alzheimer's disease, and "neuron-glia metabolic coupling". Aging (Albany NY). 2010;2(4):185.

85.

Warburg O. On the origin of cancer cells. Science (New York, NY). 1956;123(3191):309-314.

86.

Bélanger M, Yang J, Petit J-M, Laroche T, Magistretti PJ, Allaman I. Role of the glyoxalase system in astrocyte-mediated neuroprotection. J Neurosci 2011;31(50):18338-18352.

87.

Herrero-Mendez A, Almeida A, Fernández E, Maestre C, Moncada S, Bolaños JP. The bioenergetic and antioxidant status of neurons is controlled by continuous degradation of a key glycolytic enzyme by APC/C–Cdh1. Nat Cell Biol 2009;11(6):747.

88.

Bennett CM, Miller MB. How reliable are the results from functional magnetic resonance imaging? Ann N Y Acad Sci 2010;1191:133-155.

89.

Bennett CM, Miller MB, Wolford GL. Neural correlates of interspecies perspective taking in the post-mortem Atlantic salmon: an argument for multiple comparisons correction. NeuroImage 2009;47:S125.

90.

Astrup J, Siesjo BK, Symon L. Thresholds in cerebral ischemia—the ischemic penumbra. Stroke. 1981;12(6):723-725.

91.

Trojaborg W, Boysen G. Relation between EEG, regional cerebral blood flow and internal carotid artery pressure during carotid endarterectomy. Electroencephalogr Clin Neurophysiol 1973;34(1):61-69.

92.

Sundt TM, Jr., Sharbrough FW, Anderson RE, Michenfelder JD. Cerebral blood flow measurements and electroencephalograms during carotid endarterectomy. 1974. J Neurosurg 2007;107(4):887-897.

93.

Astrup J, Symon L, Branston NM, Lassen NA. Cortical evoked potential and extracellular K+ and H+ at critical levels of brain ischemia. Stroke. 1977;8(1):51-57.

94.

Salford LG, Plum F, Siesjo BK. Graded hypoxia-oligemia in rat brain. I. Biochemical alterations and their implications. Arch Neurol 1973;29(4):227-233.

95.

Salford LG, Plum F, Brierley JB. Graded hypoxia-oligemia in rat brain. II. Neuropathological alterations and their implications. Arch Neurol 1973;29(4):234-238.

96.

Dani KA, Warach S. Metabolic imaging of ischemic stroke: the present and future. AJNR Am J Neuroradiol 2014;35(6 Suppl):S37-S43.

97.

Campbell BC, Christensen S, Levi CR, et al. Comparison of computed tomography perfusion and magnetic resonance imaging perfusion-diffusion mismatch in ischemic stroke. Stroke. 2012;43(10):2648-2653.

98.

Allmendinger AM, Tang ER, Lui YW, Spektor V. Imaging of stroke: part 1, perfusion CT—overview of imaging technique, interpretation pearls, and common pitfalls. AJR Am J Roentgenol 2012;198(1):52-62.

99.

Maurer I, Zierz S, Moller H. Evidence for a mitochondrial oxidative phosphorylation defect in brains from patients with schizophrenia. Schizophr Res 2001;48(1):125-136.

100.

Wong-Riley M, Antuono P, Ho KC, et al. Cytochrome oxidase in Alzheimer's disease: biochemical, histochemical, and immunohistochemical analyses of the visual and other systems. Vis Res 1997;37(24):3593-3608.

101.

Maurer I, Zierz S, Moller HJ. A selective defect of cytochrome c oxidase is present in brain of Alzheimer disease patients. Neurobiol Aging 2000;21(3):455-462.

102.

Frackowiak RS, Herold S, Petty RK, Morgan-Hughes JA. The cerebral metabolism of glucose and oxygen measured with positron tomography in patients with mitochondrial diseases. Brain. 1988;111 (Pt 5):1009-1024.

103.

Beal MF. Does impairment of energy metabolism result in excitotoxic neuronal death in neurodegenerative illnesses? Ann Neurol 1992;31(2):119-130.

104.

Harrison RV, Harel N, Panesar J, Mount RJ. Blood capillary distribution correlates with hemodynamic-based functional imaging in cerebral cortex. Cereb Cortex 2002;12(3):225-233.

105.

Chang FY, Xiao JX, Xie S, et al. Determination of oxygen extraction fraction using magnetic resonance imaging in canine models with internal carotid artery occlusion. Sci Rep 2016;6:30332.

106.

An H, Ford AL, Chen Y, et al. Defining the ischemic penumbra using magnetic resonance oxygen metabolic index. Stroke. 2015;46(4):982-988.

107.

Kim BJ, Kang HG, Kim HJ, et al. Magnetic resonance imaging in acute ischemic stroke treatment. J Stroke 2014;16(3):131-145.

108.

Guadagno JV, Warburton EA, Jones PS, et al. How affected is oxygen metabolism in DWI lesions?: a combined acute stroke PET-MR study. Neurology. 2006;67(5):824-829.

109.

Kidwell CS, Saver JL, Mattiello J, et al. Thrombolytic reversal of acute human cerebral ischemic injury shown by diffusion/perfusion magnetic resonance imaging. Ann Neurol 2000;47(4):462-469.

110.

Nogueira RG, Jadhav AP, Haussen DC, et al. Thrombectomy 6 to 24 hours after stroke with a mismatch between deficit and infarct. N Engl J Med 2018;378(1):11-21.

111.

Powers WJ, Rabinstein AA, Ackerson T, et al. Guidelines for the early management of patients with acute ischemic stroke: 2019 update to the 2018 guidelines for the early management of acute ischemic stroke: a guideline for healthcare professionals from the American Heart Association/American Stroke Association. Stroke. 2019;50(12):e344-e418.

112.

Sobesky J. Refining the mismatch concept in acute stroke: lessons learned from PET and MRI. J Cereb Blood Flow Metab 2012;32(7):1416-1425.

113.

Frackowiak RS, Lenzi GL, Jones T, Heather JD. Quantitative measurement of regional cerebral blood flow and oxygen metabolism in man using 15O and positron emission tomography: theory, procedure, and normal values. J Comput Assist Tomogr 1980;4(6):727-736.

114.

Mintun MA, Raichle ME, Martin WR, Herscovitch P. Brain oxygen utilization measured with O-15 radiotracers and positron emission tomography. J Nucl Med 1984;25(2):177-187.

115.

Baron JC, Bousser MG, Comar D, Soussaline F, Castaigne P. Noninvasive tomographic study of cerebral blood flow and oxygen metabolism in vivo. Potentials, limitations, and clinical applications in cerebral ischemic disorders. Eur Neurol 1981;20(3):273-284.

116.

Lenzi GL, Frackowiak RS, Jones T. Cerebral oxygen metabolism and blood flow in human cerebral ischemic infarction. J Cereb Blood Flow Metab 1982;2(3):321-335.

117.

Marchal G, Beaudouin V, Rioux P, et al. Prolonged persistence of substantial volumes of potentially viable brain tissue after stroke: a correlative PET-CT study with voxel-based data analysis. Stroke. 1996;27(4):599-606.

118.

Marchal G, Serrati C, Rioux P, et al. PET imaging of cerebral perfusion and oxygen consumption in acute ischaemic stroke: relation to outcome. Lancet. 1993;341(8850):925-927.

119.

del Zoppo GJ, Sharp FR, Heiss WD, Albers GW. Heterogeneity in the penumbra. J Cereb Blood Flow Metab 2011;31(9):1836-1851.

120.

Baron JC, Rougemont D, Soussaline F, et al. Local interrelationships of cerebral oxygen consumption and glucose utilization in normal subjects and in ischemic stroke patients: a positron tomography study. J Cereb Blood Flow Metab 1984;4(2):140-149.

121.

Marchal G, Benali K, Iglesias S, Viader F, Derlon JM, Baron JC. Voxel-based mapping of irreversible ischaemic damage with PET in acute stroke. Brain J Neurol 1999:122:2387-2400.

122.

Heiss WD. Ischemic penumbra: evidence from functional imaging in man. J Cereb Blood Flow Metab 2000;20(9):1276-1293.

123.

Arai T, Nakao S, Mori K, et al. Cerebral oxygen utilization analyzed by the use of oxygen-17 and its nuclear magnetic resonance. Biochem Biophys Res Commun 1990;169(1):153-158.

124.

Arai T, Mori K, Nakao S, et al. In vivo oxygen-17 nuclear magnetic resonance for the estimation of cerebral blood flow and oxygen consumption. Biochem Biophys Res Commun 1991;179(2):954-961.

125.

Pekar J, Ligeti L, Ruttner Z, et al. In vivo measurement of cerebral oxygen consumption and blood flow using 17O magnetic resonance imaging. Magn Reson Med 1991;21(2):313-319.

126.

Kwong KK, Hopkins AL, Belliveau JW, et al. Proton NMR imaging of cerebral blood flow using H2(17)O. Magn Reson Med 1991;22(1):154-158.

127.

Hopkins AL, Lust WD, Haacke EM, Wielopolski P, Barr RG, Bratton CB. The stability of proton T2 effects of oxygen-17 water in experimental cerebral ischemia. Magn Reson Med 1991;22(1):167-174.

128.

Zhu XH, Zhang Y, Tian RX, et al. Development of (17)O NMR approach for fast imaging of cerebral metabolic rate of oxygen in rat brain at high field. Proc Natl Acad Sci U S A 2002;99(20):13194-13199.

129.

Zhang N, Zhu XH, Lei H, Ugurbil K, Chen W. Simplified methods for calculating cerebral metabolic rate of oxygen based on 17O magnetic resonance spectroscopic imaging measurement during a short 17O2 inhalation. J Cereb Blood Flow Metab 2004;24(8):840-848.

130.

Zhu XH, Chen JM, Tu TW, Chen W, Song SK. Simultaneous and noninvasive imaging of cerebral oxygen metabolic rate, blood flow and oxygen extraction fraction in stroke mice. Neuroimage. 2013;64:437-447.

131.

McCommis KS, He X, Abendschein DR, Gupte PM, Gropler RJ, Zheng J. Cardiac 17O MRI: toward direct quantification of myocardial oxygen consumption. Magn Reson Med 2010;63(6):1442-1447.

132.

Atkinson IC, Thulborn KR. Feasibility of mapping the tissue mass corrected bioscale of cerebral metabolic rate of oxygen consumption using 17-oxygen and 23-sodium MR imaging in a human brain at 9.4 T. Neuroimage. 2010;51(2):723-733.

133.

Cui W, Zhu XH, Vollmers ML, et al. Non-invasive measurement of cerebral oxygen metabolism in the mouse brain by ultra-high field (17)O MR spectroscopy. J Cereb Blood Flow Metab 2013;33(12):1846-1849.

134.

Hoffmann SH, Radbruch A, Bock M, Semmler W, Nagel AM. Direct (17)O MRI with partial volume correction: first experiences in a glioblastoma patient. MAGMA 2014;27(6):579-587.

135.

Gordji-Nejad A, Mollenhoff K, Oros-Peusquens AM, Pillai DR, Shah NJ. Characterizing cerebral oxygen metabolism employing oxygen-17 MRI/MRS at high fields. MAGMA. 2014;27(1):81-93.

136.

Zhu X-H, Zhang Y, Wiesner HM, Ugurbil K, Chen W. In vivo measurement of CBF using 17O NMR signal of metabolically produced H217O as a perfusion tracer. Magn Reson Med 2013;70(2):309-314.

137.

Zhu XH, Zhang N, Zhang Y, Zhang X, Ugurbil K, Chen W. In vivo 17O NMR approaches for brain study at high field. NMR Biomed 2005;18(2):83-103.

138.

Lou S, Lepak VC, Eberly LE, et al. Oxygen consumption deficit in Huntington disease mouse brain under metabolic stress. Hum Mol Genet 2016;25(13):2813-2826.

139.

Kurzhunov D, Borowiak R, Reisert M, Joachim Krafft A, Caglar Özen A, Bock M. 3D CMRO2mapping in human brain with direct17O MRI: comparison of conventional and proton-constrained reconstructions. NeuroImage. 2017;155(May):612-624.

140.

Kurzhunov D, Borowiak R, Hass H, et al. Quantification of oxygen metabolic rates in human brain with dynamic (17)O MRI: profile likelihood analysis. Magn Reson Med 2016;78(3):1157-1167.

141.

Aguirre GK, Zarahn E, D'Esposito M. The variability of human, BOLD hemodynamic responses. Neuroimage. 1998;8(4):360-369.

142.

Lu H, Ge Y. Quantitative evaluation of oxygenation in venous vessels using T2-relaxation-under-spin-tagging MRI. Magn Reson Med 2008;60(2):357-363.

143.

Xu F, Uh J, Brier MR, et al. The influence of carbon dioxide on brain activity and metabolism in conscious humans. J Cereb Blood Flow Metab 2011;31(1):58-67.

144.

Chapman SB, Aslan S, Spence JS, et al. Shorter term aerobic exercise improves brain, cognition, and cardiovascular fitness in aging. Front Aging Neurosci 2013;5:75.

145.

Kety SS, Schmidt CF. The nitrous oxide method for the quantitative determination of cerebral blood flow in man: theory, procedure and normal values. J Clin Invest 1948;27(4):476-483.

146.

Cerdonio M, Morante S, Vitale S. Magnetic susceptibility of hemoglobins. Methods Enzymol 1981;76:354-371.

147.

Li L, Leigh JS. Quantifying arbitrary magnetic susceptibility distributions with MR. Magn Reson Med 2004;51(5):1077-1082.

148.

Jain V, Langham MC, Wehrli FW. MRI estimation of global brain oxygen consumption rate. J Cereb Blood Flow Metab 2010;30(9):1598-1607.

149.

Li C, Langham MC, Epstein CL, et al. Accuracy of the cylinder approximation for susceptometric measurement of intravascular oxygen saturation. Magn Reson Med 2012;67(3):808-813.

150.

Xu F, Ge Y, Lu H. Noninvasive quantification of whole-brain cerebral metabolic rate of oxygen (CMRO2) by MRI. Magn Reson Med 2009;62(1):141-148.

151.

Bulte DP, Kelly M, Germuska M, et al. Quantitative measurement of cerebral physiology using respiratory-calibrated MRI. Neuroimage. 2012;60(1):582-591.

152.

Lee JM, Vo KD, An H, et al. Magnetic resonance cerebral metabolic rate of oxygen utilization in hyperacute stroke patients. Ann Neurol 2003;53(2):227-232.

153.

Lin YJ, Koretsky AP. Manganese ion enhances T1-weighted MRI during brain activation: an approach to direct imaging of brain function. Magn Reson Med 1997;38(3):378-388.

154.

Pautler RG, Koretsky AP. Tracing odor-induced activation in the olfactory bulbs of mice using manganese-enhanced magnetic resonance imaging. Neuroimage. 2002;16(2):441-448.

155.

Li W-H, Fraser SE, Meade TJ. A calcium-sensitive magnetic resonance imaging contrast agent. J Am Chem Soc 1999;121(6):1413-1414.

156.

Atanasijevic T, Shusteff M, Fam P, Jasanoff A. Calcium-sensitive MRI contrast agents based on superparamagnetic iron oxide nanoparticles and calmodulin. Proc Natl Acad Sci U S A 2006;103(40):14707-14712.

157.

Golman K, in't Zandt R, Thaning M. Real-time metabolic imaging. Proc Natl Acad Sci. 2006;103(30):11270.

158.

Cai K, Haris M, Singh A, et al. Magnetic resonance imaging of glutamate. Nat Med 2012;18(2):302-306.

159.

Bagga P, Pickup S, Crescenzi R, et al. In vivo GluCEST MRI: reproducibility, background contribution and source of glutamate changes in the MPTP model of Parkinson's disease. Sci Rep 2018;8(1):2883.

160.

Rodrigues TB, Gray HL, Benito M, et al. Futile cycling of lactate through the plasma membrane of C6 glioma cells as detected by (13C, 2H) NMR. J Neurosci Res 2005;79(1-2):119-127.

161.

Zhu X-H, Lu M, Chen W. Quantitative imaging of brain energy metabolisms and neuroenergetics using in vivo X-nuclear 2H, 17O and 31P MRS at ultra-high field. J Magn Reson 2018;292:155-170.

162.

De Feyter HM, Behar KL, Corbin ZA, et al. Deuterium metabolic imaging (DMI) for MRI-based 3D mapping of metabolism in vivo. Sci Adv. 2018;4(8):eaat7314.

163.

Hanaoka K, Kikuchi K, Urano Y, et al. Design and synthesis of a novel magnetic resonance imaging contrast agent for selective sensing of zinc ion. Chem Biol 2002;9(9):1027-1032.

164.

Que EL, Chang CJ. A smart magnetic resonance contrast agent for selective copper sensing. J Am Chem Soc 2006;128(50):15942-15943.

165.

Zhang X-A, Lovejoy KS, Jasanoff A, Lippard SJ. Water-soluble porphyrins as a dual-function molecular imaging platform for MRI and fluorescence zinc sensing. Proc Natl Acad Sci. 2007;104(26):10780.

166.

Tsang A, Stobbe RW, Beaulieu C. Triple-quantum-filtered sodium imaging of the human brain at 4.7 T. Magn Reson Med 2012;67(6):1633-1643.

167.

Fleysher L, Oesingmann N, Brown R, Sodickson DK, Wiggins GC, Inglese M. Noninvasive quantification of intracellular sodium in human brain using ultrahigh-field MRI. NMR Biomed 2013;26(1):9-19.

168.

Chesler M. Regulation and modulation of pH in the brain. Physiol Rev 2003;83(4):1183-1221.

169.

Garcia-Martin ML, Martinez GV, Raghunand N, Sherry AD, Zhang S, Gillies RJ. High resolution pHe imaging of rat glioma using pH-dependent relaxivity. Magn Reson Med 2006;55(2):309-315.

170.

Raghunand N, Howison C, Sherry AD, Zhang S, Gillies RJ. Renal and systemic pH imaging by contrast-enhanced MRI. Magn Reson Med 2003;49(2):249-257.

171.

Raghunand N, Zhang S, Sherry AD, Gillies RJ. In vivo magnetic resonance imaging of tissue pH using a novel pH-sensitive contrast agent, GdDOTA-4AmP. Acad Radiol 2002;9(2):S481-S483.

172.

Zhou J, Payen J-F, Wilson DA, Traystman RJ, van Zijl PCM. Using the amide proton signals of intracellular proteins and peptides to detect pH effects in MRI. Nat Med 2003;9(8):1085-1090.

173.

Weissleder R, Moore A, Mahmood U, et al. In vivo magnetic resonance imaging of transgene expression. Nat Med 2000;6(3):351-355.

174.

Louie AY, Hüber MM, Ahrens ET, et al. In vivo visualization of gene expression using magnetic resonance imaging. Nat Biotechnol 2000;18(3):321-325.

175.

Bulte JW, Douglas T, Witwer B, et al. Magnetodendrimers allow endosomal magnetic labeling and in vivo tracking of stem cells. Nat Biotechnol 2001;19(12):1141-1147.

176.

Gilad AA, McMahon MT, Walczak P, et al. Artificial reporter gene providing MRI contrast based on proton exchange. Nat Biotechnol 2007;25(2):217-219.

177.

Genove G, DeMarco U, Xu H, Goins WF, Ahrens ET. A new transgene reporter for in vivo magnetic resonance imaging. Nat Med 2005;11(4):450-454.

178.

Kleinridders A, Ferris HA, Reyzer ML, et al. Regional differences in brain glucose metabolism determined by imaging mass spectrometry. Mol Metab 2018;12:113-121.

179.

Mergenthaler P, Lindauer U, Dienel GA, Meisel A. Sugar for the brain: the role of glucose in physiological and pathological brain function. Trends Neurosci 2013;36(10):587-597.

180.

Quintard H, Patet C, Zerlauth JB, et al. Improvement of neuroenergetics by hypertonic lactate therapy in patients with traumatic brain injury is dependent on baseline cerebral lactate/pyruvate ratio. J Neurotrauma 2016;33(7):681-687.

181.

Carteron L, Patet C, Solari D, et al. Non-ischemic cerebral energy dysfunction at the early brain injury phase following aneurysmal subarachnoid hemorrhage. Front Neurol 2017;8:325.

182.

Bouzat P, Sala N, Payen JF, Oddo M. Beyond intracranial pressure: optimization of cerebral blood flow, oxygen, and substrate delivery after traumatic brain injury. Ann Intensive Care 2013;3(1):23.

183.

Cesak T, Adamkov J, Habalova J, et al. The relationship between intracranial pressure and lactate/pyruvate ratio in patients with subarachnoid haemorrhage. Bratisl Lek Listy 2018;119(3):139-142.

184.

Murr R, Stummer W, Schurer L, Polasek J. Cerebral lactate production in relation to intracranial pressure, cranial computed tomography findings, and outcome in patients with severe head injury. Acta Neurochir 1996;138(8):928-936; discussion 36-7.

185.

Mathupala SP, Colen CB, Parajuli P, Sloan AE. Lactate and malignant tumors: a therapeutic target at the end stage of glycolysis. J Bioenerg Biomembr 2007;39(1):73-77.

186.

Bergersen LH. Lactate transport and signaling in the brain: potential therapeutic targets and roles in body-brain interaction. J Cereb Blood Flow Metab 2015;35(2):176-185.

187.

Malkov A, Ivanov AI, Latyshkova A, Bregestovski P, Zilberter M, Zilberter Y. Activation of nicotinamide adenine dinucleotide phosphate oxidase is the primary trigger of epileptic seizures in rodent models. Ann Neurol 2019;85(6):907-20.

188.

Bernini A, Masoodi M, Solari D, et al. Modulation of cerebral ketone metabolism following traumatic brain injury in humans. J Cereb Blood Flow Metab 2020;40(1):177-186.

189.

Eiden M, Christinat N, Chakrabarti A, et al. Discovery and validation of temporal patterns involved in human brain ketometabolism in cerebral microdialysis fluids of traumatic brain injury patients. EBioMedicine. 2019;44:607-617.

190.

Maalouf M, Sullivan PG, Davis L, Kim DY, Rho JM. Ketones inhibit mitochondrial production of reactive oxygen species production following glutamate excitotoxicity by increasing NADH oxidation. Neuroscience. 2007;145(1):256-264.

191.

Bazzigaluppi P, Lake EM, Beckett TL, et al. Imaging the effects of beta-hydroxybutyrate on peri-infarct neurovascular function and metabolism. Stroke. 2018;49(9):2173-2181.

192.

Nasrallah FA, Garner B, Ball GE, Rae C. Modulation of brain metabolism by very low concentrations of the commonly used drug delivery vehicle dimethyl sulfoxide (DMSO). J Neurosci Res 2008;86(1):208-214.

193.

Barreto G, White RE, Ouyang Y, Xu L, Giffard RG. Astrocytes: targets for neuroprotection in stroke. Cent Nerv Syst Agents Med Chem 2011;11(2):164-173.

194.

Wijman CA, Smirnakis SM, Vespa P, et al. Research and technology in neurocritical care. Neurocrit Care 2012;16(1):42-54.

195.

Medaglia JD. Functional neuroimaging in traumatic brain injury: from nodes to networks. Front Neurol 2017;8:407.

196.

Gu Y, Wang CY, Anderson CE, et al. Fast magnetic resonance fingerprinting for dynamic contrast-enhanced studies in mice. Magn Reson Med 2018;80(6):2681-2690.

197.

Liu Y, Zhang Y, Wu C, et al. High-resolution dynamic oxygen-17 MR imaging of mouse brain with golden-ratio-based radial sampling and k-space-weighted image reconstruction. Magn Reson Med 2018;79(1):256-263.

198.

Zhang Y, Xu K, Liu Y, et al. Increased cerebral vascularization and decreased water exchange across the blood-brain barrier in aquaporin-4 knockout mice. PLoS One 2019;14(6):e0218415.

199.

Ohtsuki S, Terasaki T. Contribution of carrier-mediated transport systems to the blood-brain barrier as a supporting and protecting interface for the brain; importance for CNS drug discovery and development. Pharm Res 2007;24(9):1745-1758.

200.

Tsuji A. Small molecular drug transfer across the blood-brain barrier via carrier-mediated transport systems. NeuroRx. 2005;2(1):54-62.

201.

Reivich M, Kuhl D, Wolf A, et al. The [18F] fluorodeoxyglucose method for the measurement of local cerebral glucose utilization in man. Circ Res 1979;44(1):127-137.

202.

de Backer ME, Nabuurs RJ, van Buchem MA, van der Weerd L. MR-based molecular imaging of the brain: the next frontier. AJNR Am J Neuroradiol 2010;31(9):1577-1583.
Acknowledgments
This work was supported by National Institutes of Health funding: NIH NINDS RES512515 and NIH 5-R01-EB023704-03EB023704.
Additional information
Publisher's Note
Springer Nature remains neutral with regard to jurisdictional claims in published maps and institutional affiliations.
Issue theme
Neurocritical Care: Bench to Bedside or Imaging Guidance for Therapeutic Delivery.
About this article
Cite this article
Alambyan, V., Pace, J., Sukpornchairak, P. et al. Imaging Guidance for Therapeutic Delivery: The Dawn of Neuroenergetics. Neurotherapeutics 17, 522–538 (2020). https://doi.org/10.1007/s13311-020-00843-4
Keywords
Brain metabolism

Metabolic imaging

MRI

Neurocritical care

Neuroenergetics

Stroke