Abstract
Background
Despite robust management techniques, locoregional recurrence rates of rectal cancer are still significant. Although offering intensive follow-up has been shown to be beneficial in the early detection, it can be resource consuming. Having a robust knowledge of risk factors of locoregional recurrence will help in identification of patients who actually need intensive follow-up programs. This review aimed to identify the factors that can predict locoregional recurrence after Total mesorectal excision (TME).
Methods
We systematically reviewed PubMed, Scopus and Cochrane for relevant articles with no date restrictions while language was restricted to English. We only included articles that had either provided Hazards ratio (HR)/odds ratio (OR) or provided enough data that allowed calculation of HR/OR specifically for rectal cancer. Articles were deemed eligible if they included patients undergoing (TME).
Results
Seventeen studies (18,605 patients) published between 2002 and 2019 were included. A total of 699 patients developed locoregional recurrence at a median time of 25.2 months after surgery. There were eight significant predictors evaluated by more than one study; T3–T4 stage, circumferential resection margin, lymphovascular invasion, mucinous histology, N1–N2 stage, positive distal resection margin, Tumor < 5 cm from anal verge, and lack of neoadjuvant radiotherapy. A scoring system was developed based on the weight and pooled OR/HR of each predictor.
Conclusion
Using predictive factors identified in our review in context of scoring system may help in the early detection of locoregional recurrence after TME. This may help in tailoring the application of intensive follow-up programs.
Access options
Buy single article
Instant access to the full article PDF.
US$ 39.95
Tax calculation will be finalised during checkout.
Subscribe to journal
Immediate online access to all issues from 2019. Subscription will auto renew annually.
US$ 79
Tax calculation will be finalised during checkout.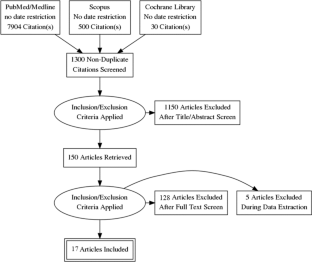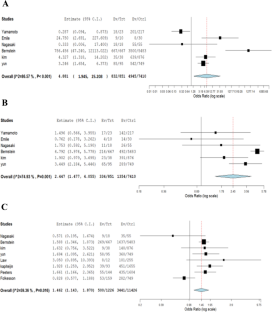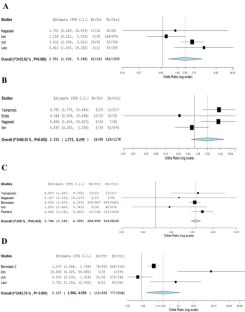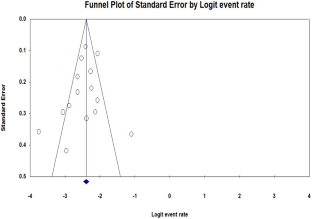 References
1.

Arbman G, Nilsson E, Hallböök O, Sjödahl R (1996) Local recurrence following total mesorectal excision for rectal cancer. Br J Surg 83(3):375–379

2.

Palmer G, Martling A, Cedermark B, Holm T (2007) A population-based study on the management and outcome in patients with locally recurrent rectal cancer. Ann Surg Oncol 14(2):447–454

3.

Kapiteijn E, Marijnen CA, Nagtegaal ID, Putter H, Steup WH, Wiggers T, Rutten HJ, Pahlman L, Glimelius B, van Krieken JHJ (2001) Preoperative radiotherapy combined with total mesorectal excision for resectable rectal cancer. N Engl J Med 345(9):638–646

4.

Stevenson AR, Solomon MJ, Brown CS, Lumley JW, Hewett P, Clouston AD, Gebski VJ, Wilson K, Hague W, Simes J (2019) Disease-free survival and local recurrence after laparoscopic-assisted resection or open resection for rectal cancer: the Australasian laparoscopic cancer of the rectum randomized clinical trial. Ann Surg 269(4):596–602

5.

Mahvi DA, Liu R, Grinstaff MW, Colson YL, Raut CP (2018) Local cancer recurrence: the realities, challenges, and opportunities for new therapies. Cancer J Clin 68(6):488–505

6.

Platell C, Spilsbury K (2014) Influence of local recurrence on survival in patients with rectal cancer. ANZ J Surg 84(1–2):85–90

7.

Baca B, Beart RW Jr, Etzioni DA (2011) Surveillance after colorectal cancer resection: a systematic review. Dis Colon Rectum 54(8):1036–1048

8.

Tjandra JJ, Chan MK (2007) Follow-up after curative resection of colorectal cancer: a meta-analysis. Dis Colon Rectum 50(11):1783–1799

9.

Macafee D, Whynes D, Scholefield J (2008) Risk-stratified intensive follow up for treated colorectal cancer–realistic and cost saving? Colorectal Dis 10(3):222–230

10.

Secco GB, Fardelli R, Gianquinto D, Bonfante P, Baldi E, Ravera G, Derchi L, Ferraris R (2002) Efficacy and cost of risk-adapted follow-up in patients after colorectal cancer surgery: a prospective, randomized and controlled trial. Eur J Surg Oncol (EJSO) 28(4):418–423

11.

Moher D, Liberati A, Tetzlaff J, Altman DG (2009) Preferred reporting items for systematic reviews and meta-analyses: the PRISMA statement. Ann Intern Med 151(4):264–269

12.

Shea BJ, Reeves BC, Wells G, Thuku M, Hamel C, Moran J, Moher D, Tugwell P, Welch V, Kristjansson E (2017) AMSTAR 2: a critical appraisal tool for systematic reviews that include randomised or non-randomised studies of healthcare interventions, or both. BMJ 358:j4008

13.

Emile SH, Magdy A, Elnahas W, Hamdy O, Abdelnaby M, Khafagy W (2018) Predictors for local recurrence and distant metastasis of mucinous colorectal adenocarcinoma. Surgery 164(1):56–65

14.

Lin H-H, Lin J-K, Lin C-C, Lan Y-T, Wang H-S, Yang S-H, Jiang J-K, Chen W-S, Lin T-C, Liang W-Y (2013) Circumferential margin plays an independent impact on the outcome of rectal cancer patients receiving curative total mesorectal excision. Am J Surg 206(5):771–777

15.

Franz C, Lang HM, Ghamarnejad O et al (2020) Prognostic impact of ventral versus dorsal tumor location after total mesorectal excision of rectal cancer. Ann Surg Oncol 27:430–438

16.

Baek JY, Yu JI, Park HC, Choi DH, Yoo GS, Cho WK, Lee W-Y, Yun SH, Cho YB, Park YA (2019) Risk factors for locoregional recurrence in patients with pathologic T3N0 rectal cancer with negative resection margin treated by surgery alone. Rad Oncol J 37(2):110

17.

Räsänen M, Renkonen-Sinisalo L, Mustonen H, Lepistö A (2019) Is there a need for neoadjuvant short-course radiotherapy in T3 rectal cancer with positive lymph node involvement? A single-center retrospective cohort study. World J Surg Oncol 17(1):139

18.

Peeters KC, Marijnen CA, Nagtegaal ID, Kranenbarg EK, Putter H, Wiggers T, Rutten H, Pahlman L, Glimelius B, Leer JW (2007) The TME trial after a median follow-up of 6 years: increased local control but no survival benefit in irradiated patients with resectable rectal carcinoma. Ann Surg 246(5):693–701

19.

Folkesson J, Birgisson H, Pahlman L, Cedermark B, Glimelius B, Gunnarsson U (2005) Swedish Rectal Cancer Trial: long lasting benefits from radiotherapy on survival and local recurrence rate. J Clin Oncol 23(24):5644–5650

20.

Yamamoto T, Kawada K, Hida K, Ganeko R, Inamoto S, Yoshitomi M, Watanabe T, Sakai Y (2019) Optimal treatment strategy for rectal cancer based on the risk factors for recurrence patterns. Int J Clin Oncol 24(6):677–685

21.

Nagasaki T, Akiyoshi T, Fujimoto Y, Konishi T, Nagayama S, Fukunaga Y, Ueno M (2017) Preoperative chemoradiotherapy might improve the prognosis of patients with locally advanced low rectal cancer and lateral pelvic lymph node metastases. World J Surg 41(3):876–883

22.

Kim N-K, Kim Y-W, Min B-S, Lee K-Y, Sohn S-K, Cho C-H (2009) Factors associated with local recurrence after neoadjuvant chemoradiation with total mesorectal excision for rectal cancer. World J Surg 33(8):1741–1749

23.

Yun H, Lee L, Park J, Cho Y, Cho Y, Lee W, Kim H, Chun H, Yun S (2008) Local recurrence after curative resection in patients with colon and rectal cancers. Int J Colorectal Dis 23(11):1081–1087

24.

Bernstein T, Endreseth B, Romundstad P, Wibe A, Registry NCC (2012) Improved local control of rectal cancer reduces distant metastases. Colorectal Dis 14(10):e668–e678

25.

Law WL, Chu KW (2002) Local recurrence following total mesorectal excision with double-stapling anastomosis for rectal cancers: analysis of risk factors. World J Surg 26(10):1272

26.

Kim YW, Kim NK, Min BS, Huh H, Kim JS, Kim JY, Sohn SK, Cho CH (2009) Factors associated with anastomotic recurrence after total mesorectal excision in rectal cancer patients. J Surg Oncol 99(1):58–64

27.

Bernstein T, Endreseth B, Romundstad P, Wibe A, Registry NCC (2012) What is a safe distal resection margin in rectal cancer patients treated by low anterior resection without preoperative radiotherapy? Colorectal Dis 14(2):e48–e55

28.

Deng Y (2017) Rectal cancer in Asian vs. Western countries: why the variation in incidence. Curr Treat Options Oncol 18(10):64

29.

Doyle TJ, Zheng W, Cerhan JR, Hong C-P, Sellers TA, Kushi LH, Folsom AR (1997) The association of drinking water source and chlorination by-products with cancer incidence among postmenopausal women in Iowa: a prospective cohort study. Am J Public Health 87(7):1168–1176

30.

Gunderson LL, Sargent DJ, Tepper JE, Wolmark N, O'Connell MJ, Begovic M, Allmer C, Colangelo L, Smalley SR, Haller DG (2004) Impact of T and N stage and treatment on survival and relapse in adjuvant rectal cancer: a pooled analysis. J Clin Oncol 22(10):1785–1796

31.

Dresen R, Peters E, Rutten H, Nieuwenhuijzen G, Demeyere T, Van den Brule A, Kessels A, Beets-Tan R, Van Krieken J, Nagtegaal I (2009) Local recurrence in rectal cancer can be predicted by histopathological factors. Eur J Surg Oncol (EJSO) 35(10):1071–1077

32.

Hogan J, Chang KH, Duff G, Samaha G, Kelly N, Burton M, Burton E, Coffey JC (2015) Lymphovascular invasion: a comprehensive appraisal in colon and rectal adenocarcinoma. Dis Colon Rectum 58(6):547–555

33.

Ptok H, Meyer F, Steinert R, Vieth M, Ridwelski K, Lippert H, Gastinger I (2007) No prognostic impact of isolated lymphovascular invasion after radical resection of rectal cancer—results of a multicenter observational study. Int J Colorectal Dis 22(7):749–756

34.

Barresi V, Bonetti LR, Vitarelli E, Di Gregorio C, de Leon MP, Barresi G (2012) Immunohistochemical assessment of lymphovascular invasion in stage I colorectal carcinoma: prognostic relevance and correlation with nodal micrometastases. Am J Surg Pathol 36(1):66–72

35.

Bosman FT, Carneiro F, Hruban RH, Theise ND (2010) WHO classification of tumours of the digestive system, 4th edn. World Health Organization, Geneva, Switzerland, pp 417 (9789283224327)

36.

Shin US, Yu CS, Kim JH, Kim TW, Lim S-B, Yoon SN, Yoon YS, Kim CW, Kim JC (2011) Mucinous rectal cancer: effectiveness of preoperative chemoradiotherapy and prognosis. Ann Surg Oncol 18(8):2232–2239

37.

McCawley N, Clancy C, O'Neill BD, Deasy J, McNamara DA, Burke JP (2016) Mucinous rectal adenocarcinoma is associated with a poor response to neoadjuvant chemoradiotherapy: a systematic review and meta-analysis. Dis Colon Rectum 59(12):1200–1208

38.

Sugarbaker PH (2001) Mucinous colorectal carcinoma. J Surg Oncol 77(4):282–283

39.

Rickles AS, Dietz DW, Chang GJ, Wexner SD, Berho ME, Remzi FH, Greene FL, Fleshman JW, Abbas MA, Peters W (2015) High rate of positive circumferential resection margins following rectal cancer surgery: a call to action. Ann Surg 262(6):891

40.

Nagtegaal ID, Quirke P (2008) What is the role for the circumferential margin in the modern treatment of rectal cancer? J Clin Oncol 26(2):303–312

41.

Wibe A, Rendedal P, Svensson E, Norstein J, Eide T, Myrvold H, Søreide O (2002) Prognostic significance of the circumferential resection margin following total mesorectal excision for rectal cancer. Br J Surg 89(3):327–334

42.

Khani MH, Smedh K, Kraaz W (2007) Is the circumferential resection margin a predictor of local recurrence after preoperative radiotherapy and optimal surgery for rectal carcinoma? Colorectal Dis 9(8):706–712

43.

Monson J, Weiser M, Buie W, Chang G, Rafferty J, Buie WD, Rafferty J, Guillem J, Boushey R, Chang G (2013) Practice parameters for the management of rectal cancer (revised). Dis Colon Rectum 56(5):535–550

44.

Bujko K, Rutkowski A, Chang GJ, Michalski W, Chmielik E, Kusnierz J (2012) Is the 1-cm rule of distal bowel resection margin in rectal cancer based on clinical evidence? A systematic review. Ann Surg Oncol 19(3):801–808

45.

Åsli LM, Johannesen TB, Myklebust TÅ, Møller B, Eriksen MT, Guren MG (2017) Preoperative chemoradiotherapy for rectal cancer and impact on outcomes–A population-based study. Radiother Oncol 123(3):446–453

46.

Sauer R, Becker H, Hohenberger W, Rödel C, Wittekind C, Fietkau R, Martus P, Tschmelitsch J, Hager E, Hess CF (2004) Preoperative versus postoperative chemoradiotherapy for rectal cancer. N Engl J Med 351(17):1731–1740

47.

Shihab OC, Brown G, Daniels IR, Heald RJ, Quirke P, Moran BJ (2010) Patients with low rectal cancer treated by abdominoperineal excision have worse tumors and higher involved margin rates compared with patients treated by anterior resection. Dis Colon Rectum 53(1):53–56

48.

Marr R, Birbeck K, Garvican J, Macklin CP, Tiffin NJ, Parsons WJ, Dixon MF, Mapstone NP, Sebag-Montefiore D, Scott N (2005) The modern abdominoperineal excision: the next challenge after total mesorectal excision. Ann Surg 242(1):74

49.

Wibe A, Syse A, Andersen E, Tretli S, Myrvold HE, Søreide O, Group NRC (2004) Oncological outcomes after total mesorectal excision for cure for cancer of the lower rectum: anterior vs. abdominoperineal resection. Dis Colon Rectum 47(1):48–58

50.

Choi Y, Lee Y-H, Park SK, Cho H, Ahn KJ (2016) Association between obesity and local control of advanced rectal cancer after combined surgery and radiotherapy. Radiat Oncol J 34(2):113

51.

Wu X-Y, Wu Z-F, Cao Q-H, Chen C, Chen Z-W, Xu Z, Li W-S, Liu F-K, Yao X-Q, Li G (2014) Insulin-like growth factor receptor-1 overexpression is associated with poor response of rectal cancers to radiotherapy. World J Gastroenterol 20(43):16268

52.

Kim S-E, Paik HY, Yoon H, Lee JE, Kim N, Sung M-K (2015) Sex-and gender-specific disparities in colorectal cancer risk. World J Gastroenterol 21(17):5167
Ethics declarations
Conflict of interest
None declared by authors.
Research involving human participants and/or animals
This article does not contain any studies with human participants or animals performed by any of the authors.
Informed consent
For this type of studies formal consent is not required.
Additional information
Publisher's Note
Springer Nature remains neutral with regard to jurisdictional claims in published maps and institutional affiliations.
Electronic supplementary material
Below is the link to the electronic supplementary material.
About this article
Cite this article
Khan, S.M., Emile, S.H., Barsom, S.H. et al. Development of the 'PREDICT' score through a systematic review and meta-analysis of the predictive parameters for locoregional recurrence after total mesorectal excision. Updates Surg 73, 35–46 (2021). https://doi.org/10.1007/s13304-020-00853-z
Received:

Accepted:

Published:

Issue Date:
Keywords
Rectal cancer

Predictive factors

Locoregional recurrence