ABSTRACT
Background
Indocyanine green (ICG) has been recently introduced in clinical practice as a fluorescent tracer. Lymphadenectomy is particularly challenging in gastric cancer surgery, owing to the complex anatomical drainage.
Aim
The primary outcomes of this study were the feasibility and usefulness of ICG-guided lymphadenectomy in gastric cancer surgery, considering both the success rate and improved understanding of the surgical anatomy of nodal basins. The secondary outcome was the diagnostic ability of ICG to predict the presence of nodal metastases.
Patients and methods
We conducted a single-center prospective trial comprising 13 patients with gastric cancer. ICG was injected the afternoon prior to surgery or intraoperatively via the submucosal or subserosal route. Standard lymphadenectomy was performed in all patients, according to patient age and tumor stage, as usual, but after standard lymphadenectomy the residual ICG + nodes were harvested and analyzed. Each nodal station and each dissected node was recorded and classified as ICG + or ICG− (both in vivo and back table evaluation was utilized for classification). After pathological analysis, each nodal station and each dissected node was recorded as metastatic or nonmetastatic (E&E staining).
Results
The feasibility rate was 84.6% (11/13). The mean number of dissected lymph nodes per patient was 37.9. Focusing on the 11 patients in whom ICG-guided nodal navigation was successfully performed, 81 lymph node stations were removed, for a total of 417 lymph nodes. Sixty-six stations (81.48%), comprising a total of 336 lymph nodes, exhibited fluorescence. No IC− node was metastatic; all 54 metastatic nodes were ICG + . A total of 282 ICG + nodes were nonmetastatic. In two cases, some nodes outside D2 areas were harvested, being ICG + (1 case of metastatic node).
Conclusions
Fluorescence lymphography–guided lymphadenectomy is a promising new technique that combines a high feasibility rate with considerable ease of use. Regarding its diagnostic value, the key finding from this prospective series is that no metastatic nodes were found outside fluorescent lymph node stations. Further studies are needed to investigate whether this technique can help surgeons performing standard lymphadenectomy and selecting cases for D2 + lymphadenectomy.
This is a preview of subscription content, log in to check access.
Access options
Buy single article
Instant access to the full article PDF.
US$ 39.95
Price includes VAT for USA
Subscribe to journal
Immediate online access to all issues from 2019. Subscription will auto renew annually.
US$ 99
This is the net price. Taxes to be calculated in checkout.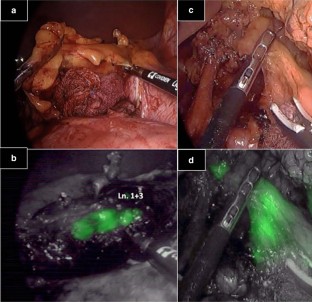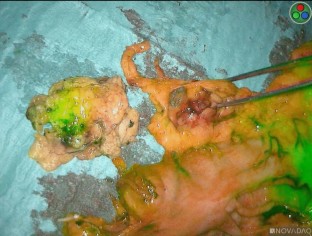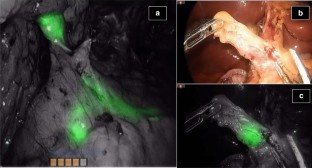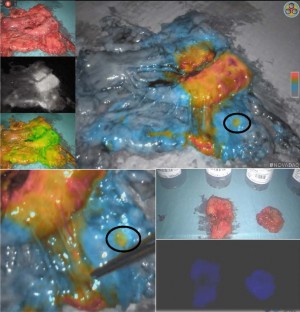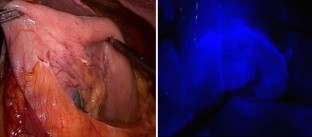 References
1.

Kamisaka K, Yatsuji Y, Yamada H, Kameda H (1974) The binding of indocyanine green and other organic anions to serum proteins in liver diseases. Clin Chim Acta 53:255–264

2.

Alander JT, Kaartinen I, Laakso A, Pätilä T, Spillmann T, Tuchin VV, Venermo M, Välisuo P (2012) A review of indocyanine green fluorescent imaging in surgery. Int J Biomed Imaging. https://doi.org/10.1155/2012/940585

3.

Mishra A, Behera RK, Behera PK, Mishra BK, Behera GB (1990s) Cyanine during the 1990s: a review. Chem Rev 100:1973–2011

4.

Kang Y, Lee J, Kwon K, Choi C (2010) Dynamic fluorescence imaging of indocyanine green for reliable and sensitive diagnosis of peripheral vascular insufficiency. Microvasc Res 80:552–555

5.

Molteni B, Porsio P, Molfino S, Alfano MS, Benedicenti S, Catena F, Ansaloni L, Portolani N, Baiocchi GL (2018) Gastric cancer indocyanine green lymph node navigation surgery: systematic review. JoPer. https://doi.org/10.4081/joper.2018.97

6.

Molfino S, Alfano MS, Benedicenti S, Molteni B, Peroni M, Baresi M, Tarasconi A, Catena F, Boni L, Portolani N, Baiocchi GL (2018) Different ways to manage indocyanine green fluorescence to different purposes in liver surgery: a systematic review. JoPer. https://doi.org/10.4081/joper.2018.96

7.

Alfano MS, Molfino S, Benedicenti S, Molteni B, Porsio P, Arici E, Gheza F, Botticini M, Portolani N, Baiocchi GL (2019) Intraoperative ICG-based imaging of liver neoplasms: a simple yet powerful tool. Preliminary results. Surg Endosc 33:126–134

8.

Benedicenti S, Molfino S, Alfano MS, Molteni B, Porsio P, Portolani N, Baiocchi GL (2018) Indocyanine-green fluorescence-guided liver resection of metastasis from squamous cell carcinoma invading the biliary tree. Case Rep Gastrointest Med. https://doi.org/10.1155/2018/5849816

9.

Baiocchi GL, Diana M, Boni L (2018) Indocyanine green-based fluorescence imaging in visceral and hepatobiliary and pancreatic surgery: state of the art and future directions. World J Gastroenterol 24:2921–2930

10.

Kim DW, Jeong B, Shin IH, Kang U, Lee Y, Park YS, Ahn SH, Park DJ, Kim HH (2019) Sentinel node navigation surgery using near-infrared indocyanine green fluorescence in early gastric cancer. Surg Endosc 33:1235–1243

11.

Boni L, David G, Mangano A, Dionigi G, Rausei S, Spampatti S, Cassinotti E, Fingerhut A (2015) Clinical applications of indocyanine green (ICG) enhanced fluorescence in laparoscopic surgery. Surg Endosc 29:2046–2055

12.

Ferro A, Peleteiro B, Malvezzi M, Bosetti C, Bertuccio P, Levi F, Negri E, La Vecchia C, Lunet N (2014) Worldwide trends in gastric cancer mortality (1980–2011) with prediction to 2015 and incidence by subtype. Eur J Cancer 50:1330–1344

13.

Baiocchi GL, Molfino S, Baronchelli C, Giacopuzzi S, Marrelli D, Morgagni P, Bencivenga M, Saragoni L, Vindigni C, Portolani N, Botticini M, De Manzoni G (2017) Recurrence in node-negative advanced gastric cancer: Novel findings from an in-depth pathological analysis of prognostic factors from a multicentric series. World J Gastroenterol 23:8000–8007

14.

De Manzoni G, Marrelli D, Baiocchi GL, Morgagni P, Saragoni L, Degiuli M, Donini A, Fumagalli U, Mazzei MA, Pacelli F, Tomezzoli A, Berselli M, Catalano F, Di Leo A, Framarini M, Giacopuzzi S, Graziosi L, Marchet A, Marini M, Milandri C, Mura G, Orsenigo E, Quagliuolo V, Rausei S, Ricci R, Rosa F, Roviello G, Sansonetti A, Sgroi G, Tiberio GA, Verlato G, Vindigni C, Rosati R, Roviello F (2015) The Italian Research Group for Gastric Cancer (GIRCG) guidelines for gastric cancer staging and treatment. Gastric Cancer 20:20–30

15.

Japanese Gastric Cancer Association (2011) Japanese classification of gastric carcinoma: 3rd English edition. Gastric Cancer 14:101–112

16.

Tajima Y, Yamazaki K, Masuda Y, Kato M, Yasuda D, Aoki T, Kato T, Murakami M, Miwa M, Kusano M (2009) Sentinel node mapping guided by indocyanine green fluorescence imaging in gastric cancer. Ann Surg 249:58–62

17.

Kwon IG, Son T, Kim HI, Hyung WJ (2019) Fluorescent lymphography–guided lymphadenectomy during robotic radical gastrectomy for gastric cancer. JAMA Surg 154:150–158

18.

Cianchi F, Indennitate G, Trallori G, Paoli B, Ortolani M, Taddei A, Lami G, Foppa C, Badii B, Novelli L, Skalamera I, Montanelli P, Coratti F, Perigli G, Staderini F (2018) Lymph node mapping with near-infrared fluorescence imaging during robotic surgery for gastric cancer: a pilot study. Ann Laparosc Endosc Surg 3:31–39

19.

Herrera-Almario G, Patane M, Sarkaria I, Strong VE (2016) Initial report of near-infrared fluorescence imaging as an intraoperative adjunct for lymph node harvesting during robot-assisted laparoscopic gastrectomy. J Surg Oncol 133:768–770

20.

Lan YT, Huang KH, Chen PH, Liu CA, Lo SS, Wu CW, Shyr YM, Fang WL (2017) A pilot study of lymph node mapping with indocyanine green in robotic gastrectomy for gastric cancer. SAGE Open Med. https://doi.org/10.1177/2050312117727444

21.

Chen QY, Xie JW, Zhong Q, Wang JB, Lin JX, Lu J, Cao LL, Lin M, Tu RH, Huang ZN, Lin JL, Zheng HL, Li P, Zheng CH, Huang CM (2020) Safety and efficacy of indocyanine green tracer-guided lymph node dissection during laparoscopic radical gastrectomy in patients with gastric cancer: a randomized clinical trial. JAMA Surg. https://doi.org/10.1001/jamasurg.2019.6033(Online ahead of print. PMID: 32101269)

22.

Kim TH, Kong SH, Park JH, Son YG, Huh YJ, Suh YS, Lee HJ, Yang HK (2018) Assessment of the completeness of lymph node dissection using near-infrared imaging with indocyanine green in laparoscopic gastrectomy for gastric cancer. J Gastric Cancer 18:161–171
Acknowledgements
This study was supported by the University Hospital of Brescia (Spedali Civili di Brescia), Italy, the University of Brescia, and RicerChiAmo onlus (www.ricerchiamobrescia.it). The equipment used in this study was made available by Karl Storz and Stryker companies.
Ethics declarations
Conflict of interest
Prof. Baiocchi was the scientific organizer of two international workshops ["Intraoperative ICG Fluorescence Imaging in Hepatobiliary and Visceral Surgery: State of the Art and New Frontiers", (Brescia, Italy, October 21, 2017); and "ICG 2.0. Intraoperative ICG Fluorescence Imaging in Abdominal Surgery: Prevention of Complications and Oncological Perspectives", Milano, Italy, September 27–28, 2018) partly funded (travel expenses) by Karl Storz and Stryker companies. Prof. Baiocchi has a paid consultant relationship wit Stryker. Drs. B. Molteni, S. Molfino, G. Arcangeli, S. Manenti, L. Arru, F Gheza, Prof. M Botticini have no conflicts of interest or financial ties to disclose.
Research involving human participant and/or animals
All procedures performed in studies involving human participants were in accordance with the ethical standards of the institutional and national research committee and with the 1964 Helsinki declaration and its later amendments or comparable ethical standards. This article does not contain any studies with animals performed by any of the authors.
Informed consent
Informed consent was obtained from all individual participants included in the study.
Additional information
Publisher's Note
Springer Nature remains neutral with regard to jurisdictional claims in published maps and institutional affiliations.
About this article
Cite this article
Baiocchi, G.L., Molfino, S., Molteni, B. et al. Fluorescence-guided lymphadenectomy in gastric cancer: a prospective western series. Updates Surg (2020). https://doi.org/10.1007/s13304-020-00836-0
Received:

Accepted:

Published:
Keywords
Fluorescence-guided surgery

Indocyanine green

Gastric cancer

Lymphadenectomy

Navigation surgery