Abstract
Pancreatic trauma is associated with high mortality and morbidity, especially in main pancreatic duct (MPD) injuries. Here, we introduce a novel technique via the placement of bridge stenting-based internal drainage (BSID) along the injured MPD to restore pancreatic tissue integrity. Twelve patients with MPD injury underwent unobstructed BSID as physical support for healing. Six patients with peripheral organ injuries underwent operative end-to-end anastomosis of the MPD by using a polyurethane central venous catheter for the BSID, and the other six patients with isolated proximal MPD rupture received BSID via endoscopic pancreatic stent placement. The BSID technique was successfully performed in all pancreatic trauma patients without the need for a second open surgery. With this simplified BSID-based operation, a short procedure duration (242.7 ± 38.71 min in the surgical group and 100.2 ± 16.24 min in the endoscopic group) and a short hospital stay (13.0 ± 7.05 days) were achieved. However, a few complications (41.67%) still occurred, including pancreatitis, fistula, abscess, pseudocyst, cholangitis, and haemorrhage. Except for the deceased case, all postoperative courses were marked by decreases in the peripancreatic fluid collection, blood amylase recovery, and normal endocrine function. The BSID approach is a feasible surgical approach for the treatment of MPD injury and can be used endoscopically in isolated MPD injuries for its safety and convenience.
This is a preview of subscription content, log in to check access.
Access options
Buy single article
Instant access to the full article PDF.
US$ 39.95
Price includes VAT for USA
Subscribe to journal
Immediate online access to all issues from 2019. Subscription will auto renew annually.
US$ 99
This is the net price. Taxes to be calculated in checkout.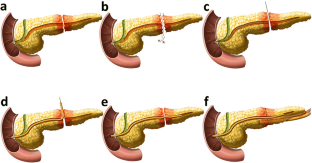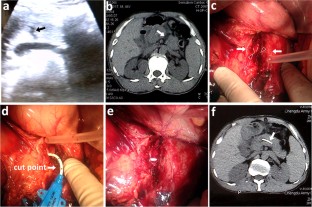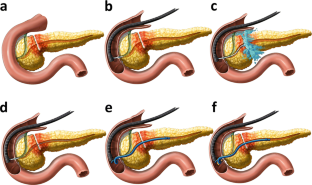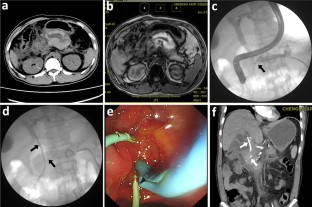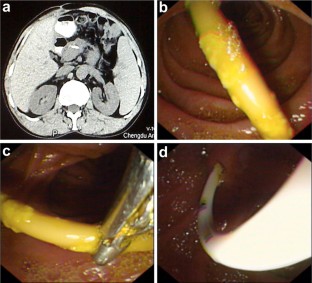 References
1.

Vasquez JC, Coimbra R, Hoyt DB, Fortlage D (2001) Management of penetrating pancreatic trauma: an 11-year experience of a level-1 trauma center. Injury 32(10):753–759. https://doi.org/10.1016/s0020-1383(01)00099-7

2.

Stawicki SP, Schwab CW (2008) Pancreatic trauma: demographics, diagnosis, and management. Am Surgeon 74(12):1133–1145. https://doi.org/10.1111/j.1600-6143.2008.02441

3.

Potoka DA, Gaines BA, Leppaniemi A, Peitzman AB (2015) Management of blunt pancreatic trauma: what's new? Eur J Trauma Emerg Surg 41(3):239–250. https://doi.org/10.1007/s00068-015-0510-3

4.

Moore EE, Cogbill TH, Malangoni MA, Jurkovich GJ, Champion HR, Gennarelli TA, McAninch JW, Pachter HL, Shackford SR, Trafton PG (1990) Organ injury scaling, II: pancreas, duodenum, small bowel, colon, and rectum. J Trauma 30(11):1427–1429

5.

Prachalias AA, Kontis E (2014) Isolated abdominal trauma: diagnosis and clinical management considerations. Curr Opin Crit Care 20(2):218–225. https://doi.org/10.1097/MCC.0000000000000074

6.

Koh EY, van Poll D, Goslings JC, Busch OR, Rauws EA, Oomen MW, Besselink MG (2017) Operative versus nonoperative management of blunt pancreatic trauma in children: a systematic review. Pancreas 46(9):1091–1097. https://doi.org/10.1097/MPA.0000000000000916

7.

Kim HS, Lee DK, Kim IW, Baik SK, Kwon SO, Park JW, Cho NC, Rhoe BS (2001) The role of endoscopic retrograde pancreatography in the treatment of traumatic pancreatic duct injury. Gastrointest Endosc 54(1):49–55. https://doi.org/10.1067/mge.2001.115733

8.

Schellenberg M, Inaba K, Cheng V, Bardes JM, Lam L, Benjamin E, Matsushima K, Demetriades D (2018) Spleen-preserving distal pancreatectomy in trauma. J Trauma Acute Care Surg 84(1):118–122. https://doi.org/10.1097/TA.0000000000001725

9.

Thakor AS, Sangha BS, Ho SG, Warnock GL, Meloche M, Liu DM (2015) Percutaneous autologous pancreatic islet cell transplantation for traumatic pancreatic injury. J Clin Endocrinol Metab 100(4):1230–1233. https://doi.org/10.1210/jc.2014-4165

10.

Elmunzer BJ (2018) Endoscopic drainage of pancreatic fluid collections. Clin Gastroenterol Hepatol 16(12):1851–1863. https://doi.org/10.1016/j.cgh.2018.03.021

11.

Thomas H, Madanur M, Bartlett A, Marangoni G, Heaton N, Rela M (2009) Pancreatic trauma–12-year experience from a tertiary center. Pancreas 38(2):113–116. https://doi.org/10.1097/MPA.0b013e31818d92d7

12.

Fisher M, Brasel K (2011) Evolving management of pancreatic injury. Curr Opin Crit Care 17(6):613–617

13.

Chinnery GE, Thomson SR, Ghimenton F, Anderson F (2008) Pancreatico-enterostomy for isolated main pancreatic duct disruption. Injury 39(1):50–56. https://doi.org/10.1097/MCC.0b013e32834cd374

14.

Doley RP, Yadav TD, Kang M, Dalal A, Jayant M, Sharma R, Wig JD (2010) Traumatic transection of pancreas at the neck: feasibility of parenchymal preserving strategy. Gastroenterol Res 3(2):79–85. https://doi.org/10.4021/gr2010.02.163w

15.

Canty TG Sr, Weinman D (2001) Treatment of pancreatic duct disruption in children by an endoscopically placed stent. J Pediatr Surg 36(2):345–348. https://doi.org/10.1053/jpsu.2001.20712

16.

Date S, Sato T (2015) Mini-gut organoids: reconstitution of the stem cell niche. J Annu Rev Cell Dev Biol 31:269–289. https://doi.org/10.1146/annurev-cellbio-100814-125218

17.

Kawahara I, Maeda K, Ono S, Kawashima H, Deie R, Yanagisawa S, Baba K, Usui Y, Tsuji Y, Fukuta A, Sekine S (2014) Surgical reconstruction and endoscopic pancreatic stent for traumatic pancreatic duct disruption. Pediatr Surg Int 30(9):951–956. https://doi.org/10.1007/s00383-014-3570-2

18.

Menahem B, Lim C, Lahat E, Salloum C, Osseis M, Lacaze L, Compagnon P, Pascal G, Azoulay D (2016) Conservative and surgical management of pancreatic trauma in adult patients. Hepatobiliary Surg Nutr 5(6):470–477. https://doi.org/10.21037/hbsn.2016.07.01

19.

Mansfield N, Inaba K, Berg R, Beale E, Benjamin E, Lam L, Matsushima K, Demetriades D (2017) Early pancreatic dysfunction after resection in trauma: an 18-year report from a Level I trauma center. J Trauma Acute Care Surg 82(3):528–533. https://doi.org/10.1097/TA.0000000000001327

20.

Kong Y, Zhang H, He X, Liu C, Piao L, Zhao G, Zhen Y (2014) Endoscopic management for pancreatic injuries due to blunt abdominal trauma decreases failure of nonoperative management and incidence of pancreatic- related complications. Injury 45(1):134–140. https://doi.org/10.1016/j.injury.2013.07.017

21.

Lillemoe KD, Kaushal S, Cameron JL, Sohn TA, Pitt HA, Yeo CJ (1999) Distal pancreatectomy: indications and outcomes in 235 patients. J Ann Surg 229(5):693–698. https://doi.org/10.1097/00000658-199905000-00012(discussion 698–700)

22.

Schellenberg M, Inaba K, Bardes JM, Cheng V, Matsushima K, Lam L, Benjamin E, Demetriades D (2018) Detection of traumatic pancreatic duct disruption in the modern era. Am J Surg 216(2):299–303. https://doi.org/10.1016/j.amjsurg.2018.06.002

23.

Debi U, Kaur R, Prasad KK, Sinha SK, Sinha A, Singh K (2013) Pancreatic trauma: a concise review. World J Gastroenterol 19(47):9003–9011. https://doi.org/10.3748/wjg.v19.i47.9003

24.

Telford JJ, Farrell JJ, Saltzman JR, Shields SJ, Banks PA, Lichtenstein DR, Johannes RS, Kelsey PB, Carr-Locke DL (2002) Pancreatic stent placement for duct disruption. Gastrointest Endosc 56(1):18–24. https://doi.org/10.1067/mge.2002.125107

25.

Liu DQ, Zhang H, Xiao L, Zhang BY, Liu WH (2019) Single-operator cholangioscopy for the treatment of concomitant gallbladder stones and secondary common bile duct stones. J Gastroenterol Hepatol 34(5):929–936. https://doi.org/10.1111/jgh.14468

26.

Wolf A, Bernhardt J, Patrzyk M, Heidecke CD (2005) The value of endoscopic diagnosis and the treatment of pancreas injuries following blunt abdominal trauma. Surg Endosc 19(5):665–669. https://doi.org/10.1007/s00464-003-9276-5

27.

Thomson DA, Krige JE, Thomson SR, Bornman PC (2014) The role of endoscopic retrograde pancreatography in pancreatic trauma: a critical appraisal of 48 patients treated at a tertiary institution. J Trauma Acute Care Surg 76(6):1362–1366. https://doi.org/10.1097/TA.0000000000000227

28.

Bhasin DK, Rana SS, Rawal P (2009) Endoscopic retrograde pancreatography in pancreatic trauma: need to break the mental barrier. J Gastroenterol Hepatol 24(5):720–728. https://doi.org/10.1111/j.1440-1746.2009.05809.x

29.

Dai R, Chen G, Huang Z, Yan H, Lin N, Yan Y, Wang T, Tang L (2012) Establishment and characteristics of an animal model for isolated pancreatic trauma. J Trauma Acute Care Surg 73(3):648–653. https://doi.org/10.1097/TA.0b013e318250ad07
Acknowledgements
We sincerely thank the critical revisions by Professor Nalu Navarro-Alvarez from the College of Medicine, Harvard Medical School, and give thanks to Mr. Kai-jiong Li in beautifying the schematic diagrams for this manuscript. This work was partially supported by Foundation for National Clinic Key Construction Speciality (no. PTWK2016-CMGH), Natural Science Foundation of China (no. 81302168), and Scientific Foundation of Chengdu Medical College (no. CYZ19-07).
Ethics declarations
Conflict of interest
The authors declare no competing interests.
Research involving human participants and/or animals
This study was performed in accordance with clinical study protocols and the principles of the Declaration of Helsinki (modified 2000) and was approved by the Research Care and Ethics Committee at our institution (No. SPPHCT2019–0901).
Informed consent
Written informed consent was obtained from all patients or their relatives.
Additional information
Publisher's Note
Springer Nature remains neutral with regard to jurisdictional claims in published maps and institutional affiliations.
About this article
Cite this article
Wen, X., Liu, D., Zhang, B. et al. The bridge stenting-based internal drainage in pancreatic trauma patients with main pancreatic duct injury. Updates Surg (2020). https://doi.org/10.1007/s13304-020-00807-5
Received:

Accepted:

Published:
Keywords
Pancreatic trauma

Main pancreatic duct injury

Bridge stenting-based internal drainage

Endoscopic surgery

Pancreatic surgery