Abstract
Ecological restoration and conservation are primary components of sustainable development around the world, particularly during the contemporary era of climate change. However, restoration and conservation are not free; they consume huge amounts of resources that would otherwise support social and economic development. Therefore, excessive conservation creates a risk of creating rather than eliminating poverty. Unfortunately, scientists have largely ignored the balance between these contrasting goals. Here, we discuss the concept of finding the threshold that represents a suitable balance between ecological conservation and economic development, thereby maximizing the benefits for both humans and the environment and promoting sustainable development. To demonstrate the concept, we examined China's ecological restoration achievements and discussed some of the unforeseen negative consequences that accompanied these achievements to discuss how future policies could better balance ecological and socioeconomic goals.
Access options
Buy single article
Instant access to the full article PDF.
US$ 39.95
Tax calculation will be finalised during checkout.
Subscribe to journal
Immediate online access to all issues from 2019. Subscription will auto renew annually.
US$ 79
Tax calculation will be finalised during checkout.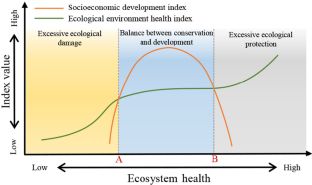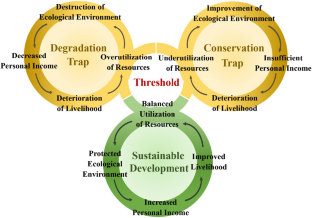 References
Bastan, M., R.R. Khorshid-Doust, S.D. Sisi, and A. Ahmadvand. 2017. Sustainable development of agriculture: A system dynamics model. Kybernetes 47: 142–162.

Cao, S., L. Chen, and Q. Zu. 2010. Remembering the ultimate goal of environmental protection: Including protection of impoverished citizens in China's environmental policy. Ambio 39: 439–444.

Cao, S., L. Chen, D. Shankman, C. Wang, X. Wang, and H. Zhang. 2011. Excessive reliance on afforestation in China's arid and semi-arid regions: Lessons in ecological restoration. Earth Science Reviews 104: 240–245.

Cao, S., X. Suo, and C. Xia. 2020a. Payoff from afforestation under the Three-North Shelter Forest Program. Journal of Cleaner Production 256: 120461.

Cao, S., C. Xia, J. Xian, H. Guo, and H. Zheng. 2020b. Payoff of the grain for green policy. Journal of Applied Ecology 57: 1180–1188.

Chen, C., T. Park, X. Wang, S. Piao, B. Xu, R.K. Chaturvedi, R. Fuchs, V. Brovkin et al. 2019. China and India lead in greening of the world through land-use management. Nature Sustainability 2: 122–129.

Criollo, R., T. Malheiros, and J.F. Alfaro. 2019. Municipal environmental management indicators: A bottom-up approach applied to the Colombian context. Social Indicators Research 141: 1037–1054.

Dong, S., Z. Shang, J. Gao, and R.B. Boone. 2020. Enhancing sustainability of grassland ecosystems through ecological restoration and grazing management in an era of climate change on Qinghai-Tibetan Plateau. Agriculture, Ecosystems & Environment 287: 106684.

Glazer, A.N. 2001. Natural reserves and preserves. In Encyclopedia of biodiversity, ed. S. Lewin, 317–327. San Diego: Academic Press.

Griggs, D.J., M. Stafford-Smith, O. Gaffney, R. Johan, M.C. Ohman, P. Shyamsundar, W. Steffen, G. Glaser, et al. 2013. Sustainable development goals for people and planet. Nature 495: 305–307.

Jin, J. 1997. The construction and management of nature reserves in China. Journal of Environmental Science 2: 4–15.

Kates, R.W., and P. Dasgupta. 2007. African poverty: A grand challenge for sustainability. Proceedings of the National Academy of Sciences of the USA 104: 16747–16750.

Laurance, W.F. 2012. China's appetite for wood takes a heavy toll. Timber and Forestry E-News 204: 12–13.

Lu, C., T. Zhao, X. Shi, and S. Cao. 2018. Ecological restoration by afforestation may increase groundwater depth and create potentially large ecological and water opportunity costs in arid and semiarid China. Journal of Cleaner Production 176: 1213–1222.

Ma, Z., C. Xia, and S. Cao. 2020. Cost–benefit analysis of China's Natural Forest Conservation Program. Journal for Nature Conservation 55: 125818.

Mabogunje, A.L. 2007. Tackling the African "poverty trap": The Ijebu-Ode experiment. Proceedings of the National Academy of Sciences of the USA 104: 16781–16786.

Naidoo, R., and W.L. Adamowicz. 2006. Modeling opportunity costs of conservation in transitional landscapes. Conservation Biology 20: 490–500.

Naidoo, R., and T.H. Ricketts. 2006. Mapping the economic costs and benefits of conservation. PLoS Biology 4: 360.

National Development and Reform Commission. 2006–2016. The national relocation plan for poverty alleviation in inhospitable areas. Beijing: National Development and Reform Commission (in Chinese).

Nelson, E.J., G. Mendoza, J. Regetz, S. Polasky, H. Tallis, D. Cameron, K.M. Chan, G.C. Daily et al. 2009. Modeling multiple ecosystem services, biodiversity conservation, commodity production, and tradeoffs at landscape scales. Frontiers in Ecology and Environment 7: 4–11.

Sietz, D., M.K. Lüdeke, and C. Walther. 2011. Categorisation of typical vulnerability patterns in global drylands. Global Environmental Change 21: 431–440.

Song, L., J. Zhu, M. Li, and J. Zhang. 2016. Water use patterns of Pinus sylvestris var. mongolica trees of different ages in a semiarid sandy land of Northeast China. Environmental and Experimental Botany 129: 94–107.

State Forestry Administration. 1999–2018. China Forestry and Grassland Statistical Yearbook. Beijing: China Forestry Press (in Chinese).

Stephens, S.L., B.M. Collins, C.J. Fettig, M.A. Finney, C.M. Hoffman, E.E. Knapp, and R. Wayman. 2018. Drought, tree mortality, and wildfire in forests adapted to frequent fire. BioScience 68: 77–88.

Su, H., Z. Li, and H. Yang. 2009. Impact of Russian log export tariffs on China. Chinese Forestry Science and Technology 8: 59–64.

Tallis, H., P. Kareiva, M. Marvier, and A. Chang. 2008. An ecosystem services framework to support both practical conservation and economic development. Proceedings of the National academy of Sciences of the United States of America 105: 9457–9464.

Wang, X., C. Zhang, E. Hasi, and Z. Dong. 2010. Has the Three Norths Forest Shelterbelt Program solved the desertification and dust storm problems in arid and semiarid China? Journal Arid Environments 74: 13–22.

Wang, Y., Y. Sun, Z. Wang, S. Chang, and F. Hou. 2018. Grazing management options for restoration of alpine grasslands on the Qinghai-Tibet Plateau. Ecosphere 9: e02515.

Xin, H. 2008. A green fervor sweeps the Qinghai-Tibetan Plateau. Science 321: 633–635.
Acknowledgements
This research was funded by the National Natural Science Foundation of China (Grant No. 41641002). We thank Geoffrey Hart of Montréal, Canada, for his help in writing this manuscript. We are also grateful for the comments and criticisms of an earlier version of this manuscript by our colleagues and by the journal's reviewers.
Funding
This research was funded by the Natural Science Foundation of China (Grant No. 41641002).
Ethics declarations
Conflicts of interest
The authors declare that they no conflicts of interest.
Additional information
Publisher's Note
Springer Nature remains neutral with regard to jurisdictional claims in published maps and institutional affiliations.
About this article
Cite this article
Cao, S., Liu, Z., Li, W. et al. Balancing ecological conservation with socioeconomic development. Ambio (2021). https://doi.org/10.1007/s13280-020-01448-z
Received:

Revised:

Accepted:

Published:
Keywords
Conservation threshold

Conservation trap

Degradation trap

Ecosystem degradation

Environmental conservation