Abstract
The terms 'coexistence', 'tolerance,' and 'acceptance' appear frequently in conservation literature, but lack consistent characterization, making them difficult to apply across intervention frameworks. This review aims to describe the common characterizations of these three terms using Africa-based research as a case study. Through systematic lexical searches, we identified 392 papers containing one or more of the three terms. We assessed their usage, definition, and measurement (or lack thereof) in wildlife conservation. Coexistence was used in 46% of papers, but was defined in only 2% and measured in 4%. Tolerance and acceptance were used in 63% and 61% of the papers in which they appeared, respectively, defined in 4% and 2%, and measured in 19% and 5%. These results confirm the lack of clear understanding of these concepts and evidence the need for a precise lexicon. This would allow conservationists to cohesively describe their work and increase replicability of research across contexts.
This is a preview of subscription content, log in to check access.
Access options
Buy single article
Instant access to the full article PDF.
US$ 39.95
Price includes VAT for USA
Subscribe to journal
Immediate online access to all issues from 2019. Subscription will auto renew annually.
US$ 99
This is the net price. Taxes to be calculated in checkout.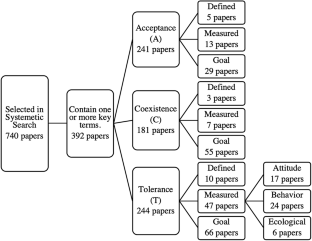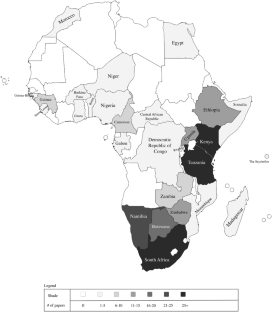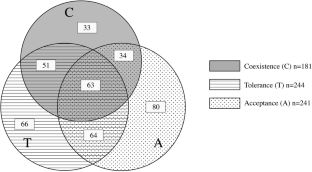 References
Agha, M., T. Batter, E.C. Bolas, A.C. Collins, D. Gomes da Rocha, C.M. Monteza-Moreno, S. Preckler-Quisquater, and R. Sollman. 2018. A review of wildlife camera trapping trends across Africa. African Journal of Ecology 56: 694–701.

Alelign, A., and M. Yonas. 2017. Community perceptions of grivet monkey crop depredation in the Ethiopian Highlands: Implications for primate conservation. Human–Wildlife Interactions 11: 175–181.

Ashenafi, Z.T., T. Coulson, C. Sillero-Zubiri, and N. Leader-Williams. 2005. Behaviour and ecology of the Ethiopian wolf (Canis simensis) in a human-dominated landscape outside protected areas. Animal Conservation 8: 113–121. https://doi.org/10.1017/S1367943005001952.

Barua, M., S.A. Bhagwat, and S. Jadhav. 2013. The hidden dimensions of human–wildlife conflict: Health impacts, opportunity and transaction costs. Biological Conservation 157: 309–316.

Benjamin-Fink, N., and B.K. Reilly. 2017. Conservation implications of wildlife translocations; the state's ability to act as conservation units for wildebeest populations in South Africa. Global Ecology and Conservation 12: 46–58.

Bennett, N.J. 2016. Using perceptions as evidence to improve conservation and environmental management. Conservation Biology 30: 582–592.

Bennett, N.J., R. Roth, S.C. Klain, K. Chan, P. Christie, D.A. Clark, G. Cullman, D. Curran, et al. 2017. Conservation social science: Understanding and integrating human dimensions to improve conservation. Biological Conservation 205: 93–108.

Boast, L.K., K. Good, and R. Klein. 2016. Translocation of problem predators: Is it an effective way to mitigate conflict between farmers and cheetahs Acinonyx jubatus in Botswana? Oryx 50: 537–544. https://doi.org/10.1017/S0030605315000241.

Bottrill, M., S. Cheng, R. Garside, S. Wongbusarakum, D. Roe, M.B. Holland, J. Edmond, and W.R. Turner. 2014. What are the impacts of nature conservation interventions on human well-being: a systematic map protocol. Environmental Evidence 3: 16. https://doi.org/10.1186/2047-2382-3-16.

Brooks, J., K.A. Waylen, and M.B. Mulder. 2013. Assessing community-based conservation projects: A systematic review and multilevel analysis of attitudinal, behavioral, ecological, and economic outcomes. Environmental Evidence 2: 2. https://doi.org/10.1186/2047-2382-2-2.

Brown-Nuñez, C., and J.A. Jonker. 2008. Attitudes toward wildlife and conservation in Africa: A review of survey research. Human Dimensions of Wildlife 13: 47–70. https://doi.org/10.1080/10871200701812936.

Bruskotter, J.T., and D.C. Fulton. 2012. Will hunters steward wolves? A comment on Treves and Martin. Society and Natural Resources 25: 97–102. https://doi.org/10.1080/08941920.2011.622735.

Bruskotter, J.T., and R.S. Wilson. 2014. Determining where the wild things will be: Using psychological theory to find tolerance for large carnivores. Conservation Letters 7: 158–165.

Bruskotter, J.T., A. Singh, D.C. Fulton, and K. Slagle. 2015. Assessing tolerance for wildlife: Clarifying relations between concepts and measures. Human Dimensions of Wildlife 20: 255–270.

Carpenter, L.H., D.J. Decker, and J.F. Lipscomb. 2000. Stakeholder acceptance capacity in wildlife management. Human Dimensions of Wildlife 5: 5–19.

Carter, N.H., and J.D.C. Linnell. 2016. Co-adaptation is key to coexisting with large carnivores. Trends in Ecology and Evolution 31: 575–578.

Chapron, G., P. Kaczensky, J.D.C. Linnell, M. von Arx, D. Huber, H. Andén, J.V. López-Bao, M. Adamec, et al. 2014. Recovery of large carnivores in Europe's modern human-dominated landscapes. Science 346: 1517–1519.

Child, B.A., J. Musengezi, G.D. Parent, and G.F.T. Child. 2012. The economics and institutional economics of wildlife on private land in Africa. Pastoralism: Research, Policy and Practice 2: 18. https://doi.org/10.1186/2041-7136-2-18.

Cortés-Avizanda, A., B. Martín-López, O. Ceballos, and H.M. Pereira. 2018. Stakeholders perceptions of the endangered Egyptian vulture: Insights for conservation. Biological Conservation 218: 173–180. https://doi.org/10.1016/j.biocon.2017.09.028.

Crees, J.J., A.C. Collins, P.J. Stephenson, H.M. Meredith, R.P. Young, C. Howe, et al. 2016. A comparative approach to assess drivers of success in mammalian conservation recovery programs. Conservation Biology 30: 694–705.

Crespin, S.J., and J.A. Simonetti. 2019. Reconciling farming and wild nature: Integrating human–wildlife coexistence into the land-sharing and land-sparing framework. Ambio 48: 131–138. https://doi.org/10.1007/s13280-018-1059-2.

de Leeuw, J.M., M.Y. Said, S. Kifugo, J.O. Ogutu, P. Osano, and J. de Leeuw. 2014. Spatial variation in the willingness to accept payments for conservation of a migratory wildlife corridor in the Athi-Kaputiei Plains, Kenya. Ecosystem Services 8: 16–24.

de Pinho, J.R., C. Grilo, R.B. Boone, K.A. Galvin, and J.G. Snodgrass. 2014. Influence of aesthetic appreciation of wildlife species on attitudes towards their conservation in Kenyan agropastoralist communities. PLoS ONE 9: e88842.

Decker, D.J., and K.G. Purdy. 1988. Toward a concept of Wildlife Acceptance Capacity in wildlife management. Wildlife Society Bulletin 16: 53–57.

Decker, D.J., S.J. Riley, and W.F. Siemer. 2012. Human Dimensions of Wildlife Management, 2nd ed. Baltimore: Johns Hopkins University Press.

Dickman, A.J., and L. Hazzah. 2016. Money, myths and man-eaters: Complexities of human–wildlife conflict. In Problematic Wildlife, ed. F. Angelici, 339–356. Cham: Springer.

Dickman, A.J., E.A. Macdonald, and D.W. Macdonald. 2011. A review of financial instruments to pay for predator conservation and encourage human–carnivore coexistence. Proceedings of the National Academy of Sciences of the United States of America 108: 13937–13944.

Du Toit, J. 2002. Wildlife harvesting guidelines for community-based wildlife management: A southern African perspective. Biodiversity and Conservation 11: 1403–1416.

Elliot, A.J., and J.W. Fryer. 2013. The goal construct in psychology. In Handbook of Motivation Science, ed. J.Y. Shah and W.L. Gardner, 245–250. New York: Guilford Publications.

Elliot, A.J., and T.M. Thrash. 2001. Achievement goals and the hierarchical model of achievement motivation. Educational Psychology Review 12: 139–156.

Elliot, E.E., S. Vallance, and L. Molles. 2016. Coexisting with coyotes (Canis latrans) in an urban environment. Urban Ecosystems 19: 1335–1350.

Enck, J.W., D.J. Decker, S.J. Riley, J.F. Organ, L.H. Carpenter, and W.F. Siemer. 2006. Integrating ecological and human dimensions in adaptive management of wildlife-related impacts. Wildlife Society Bulletin 34: 698–705.

Eshete, G., G. Tesfay, H. Bauer, Z.T. Ashenafi, H. de Iongh, and J. Marino. 2015. Community resource uses and Ethiopian wolf conservation in Mount Abune Yosef. Environmental Management 56: 684–694. https://doi.org/10.1007/s00267-015-0529-6.

Frank, B. 2016. Human–wildlife conflicts, the need to include tolerance and coexistence: An introductory comment. Society and Natural Resources 29: 738–743.

Frank, B., J.A. Glikman, and S. Marchini. 2019. Human–Wildlife Interactions Turning Conflict into Coexistence. Cambridge: Cambridge University Press.

Fynn, R.W.S., D.J. Augustine, M.J.S. Peel, and M. de Garine-Wichatitsky. 2016. Strategic management of livestock to improve biodiversity conservation in African savannahs: A conceptual basis for wildlife-livestock coexistence. Journal of Applied Ecology 53: 388–397. https://doi.org/10.1111/1365-2664.12591.

Galvin, K.A., T.A. Beeton, and M.W. Luizza. 2018. African community-based conservation: A systematic review of social and ecological outcomes. Ecology and Society 23: 39. https://doi.org/10.5751/ES-10217-230339.

Glikman, J.A., B. Frank, and S. Marchini. 2019. Multifaceted approaches for turning conflict into coexistence. In Human–Wildlife Interactions: Turning Conflict into Coexistence, ed. B. Frank, J.A. Glikman, and S. Marchini, 439–450. Cambridge: Cambridge University Press.

Gusset, M., M.J. Swarner, L. Mponwane, K. Keletile, and J.W. McNutt. 2009. Human–wildlife conflict in northern Botswana: Livestock predation by Endangered African wild dog Lycaon pictus and other carnivores. Oryx 43: 67–72.

Haddaway, N.R., P. Woodcock, B. Macura, and A. Collins. 2015. Making literature reviews more reliable through application of lessons from systematic reviews. Conservation Biology 29: 1596–1603.

Hanaček, K., and B. Rodríguez-Labajos. 2018. Impacts of land-use and management changes on cultural agroecosystem services and environmental conflicts—A global review. Global Environmental Change 50: 41–59.

Harihar, A., P. Chanchani, R.K. Sharma, J. Vattakaven, S. Gubbi, B. Pandav, and B. Noon. 2013. Conflating 'co-occurrence' with 'coexistence'. Proceedings of the National Academy of Sciences of USA 110: e109.

Hazzah, L., M.B. Mulder, and L. Frank. 2009. Lions and Warriors: Social factors underlying declining African lion populations and the effect of incentive-based management in Kenya. Biological Conservation 142: 2428–2437. https://doi.org/10.1016/j.biocon.2009.06.006.

Hazzah, L., S. Dolrenrey, D. Kaplan, and L. Frank. 2013. The influence of park access during drought on attitudes toward wildlife and lion killing behaviour in Maasailand, Kenya. Environmental Conservation 40: 266–276.

Higginbottom, K., and N. Scott. 2019. Wildlife Tourism: A Strategic Destination Analysis. University Press.

Hill, C. 2017. Introduction. Complex problems: Using a biosocial approach to understanding human–wildlife interactions. In Understanding Conflicts About Wildlife: A Biosocial Approach, eds. C.M. Hill, A. Webber, N.E.C. Priston, 1–14. Oxford: Berghahn.

Hill, C., and A. Webber. 2010. Perceptions of nonhuman primates in human–wildlife conflict scenarios. American Journal of Primatology 72: 919–924. https://doi.org/10.1002/ajp.20845.

Hoare, R. 1995. Options for the control of elephants in conflict with people. Pachyderm 19: 54–63.

Hoare, R., and J.T. Du Toit. 1999. Coexistence between people and elephants in African savannas. Conservation Biology 13: 633–639.

Ibbett, H., and S. Brittain. 2020. Conservation publications and their provisions to protect research participants. Conservation Biology 34: 80–92.

Infield, M. 1988. Attitudes of a rural community towards conservation and a local conservation area in Natal, South Africa. Biological Conservation 45: 21–46.

Inskip, C., N. Carter, S. Riley, T. Roberts, and D. MacMillan. 2016. Toward human–carnivore coexistence: Understanding tolerance for tigers in Bangladesh. PLoS ONE 11: e0145913.

Kaltenborn, B.P., T. Bjerke, J.W. Nyahongo, and D.R. Williams. 2006. Animal preferences and acceptability of wildlife management actions around Serengeti National Park, Tanzania. Biodiversity and Conservation 15: 4633–4649. https://doi.org/10.1007/s10531-005-6196-9.

Kansky, R., M. Kidd, and A.T. Knight. 2014. Meta-analysis of attitudes toward damage-causing mammalian wildlife. Conservation Biology 28: 924–938. https://doi.org/10.1111/cobi.12275.

Kansky, R., M. Kidd, and A.T. Knight. 2016. A wildlife tolerance model and case study for understanding human wildlife conflicts. Biological Conservation 201: 137–145.

Kideghesho, J.R., E. Røskaft, and B.P. Kaltenborn. 2007. Factors influencing conservation attitudes of local people in Western Serengeti, Tanzania. Biodiversity and Conservation 16: 2213–2230. https://doi.org/10.1007/s10531-006-9132-8.

Krippendorff, K. 2004. Content Analysis: An Introduction to Its Methodology. Thousand Oaks: SAGE.

Krippendorff, K. 2007. Computing Krippendorff's alpha reliability. Departmental Papers (ASC) 43. https://repository.upenn.edu/asc_papers/43.

Lamichane, B. 2019. Living with the Large Carnivores: The interaction between humans, tigers and leopards in Chitwan National Park, Nepal. PhD Thesis, Leiden University.

Larson, D.M., E.F. Pienaar, and L.S. Jarvis. 2015. Wildlife conservation, labor supply and time values in rural Botswana. Environment and Development Economics 21: 135–157.

Larson, L.R., A.L. Conway, S.M. Hernandez, and J.P. Carrol. 2016. Human–wildlife conflict, conservation attitudes, and a potential role for citizen science in Sierra Leone, Africa. Conservation and Society 14: 205–217.

Lindsey, P.A., C.P. Havemann, R. Lines, L. Palazy, A.E. Price, T.A. Retief, T. Rhebergen, and C. Van der Waal. 2013. Determinants of persistence and tolerance of carnivores on Namibian ranches: Implications for conservation on southern African private lands. PLoS ONE 8: e52458. https://doi.org/10.1371/journal.pone.0052458.

Lischka, S.A., S.J. Riley, and B.A. Rudolph. 2008. Effects of impact perception on acceptance capacity for white-tailed deer. Journal of Wildlife Management 72: 502–509.

Lynch, M., and W. Gabriel. 1987. Environmental tolerance. The American Naturalist 129: 283–303.

Madden, F. 2004. Creating coexistence between humans and wildlife: Global perspectives on local efforts to address human–wildlife conflict. Human Dimensions of Wildlife 9: 247–257. https://doi.org/10.1080/10871200490505675.

McNutt, J.W., A.B. Stein, L.B. McNutt, and N.R. Jordan. 2017. Living on the edge: Characteristics of human–wildlife conflict in a traditional livestock community in Botswana. Wildlife Research 44: 546–557.

Miller, J.R.B., K.J. Stoner, M.R. Cejtin, T.K. Meyer, A.D. Middleton, and O.J. Schmitz. 2016. Effectiveness of contemporary techniques for reducing livestock depredations by large carnivores. Wildlife Society Bulletin 40: 806–815.

Mund, C., and U. Schmoch. 2012. The growth of science and database coverage. Scientometrics 93: 831–846.

Montgomery, R.A., C.F. Hoffman, E.D. Tans, and B. Kissui. 2018. Discordant scales and the potential pitfalls for human–carnivore conflict mitigation. Biological Conservation 224: 170–177.

Mwangi, E., and E. Ostrom. 2009. Top-down solutions: Looking up from East Africa's rangelands. Environment. Science and Policy for Sustainable Development 51: 34–45.

Myers, N., R.A. Mittermeier, C.G. Mittermeier, G.A.B. da Fonseca, and J. Kent. 2000. Biodiversity hotspots for conservation priorities. Nature 403: 853–858.

Nyhus, P.J. 2016. Human–wildlife conflict and coexistence. Annual Review of Environment and Resources 41: 143–171.

Oriol-Cotterill, A., D.W. Macdonald, M. Valeix, S. Ekwanga, and L.G. Frank. 2015. Spatiotemporal patterns of lion space use in a human-dominated landscape. Animal Behavior 101: 27–39.

Parathian, H.E., M.R. McLennan, C.M. Hill, A. Frazão-Moreira, and K.J. Hockings. 2018. Breaking through disciplinary barriers: Human–wildlife interactions and multispecies ethnography. International Journal of Primatology 39: 749–775. https://doi.org/10.1007/s10764-018-0027-9.

Peterson, M.N., J.L. Birckhead, K. Leong, M.J. Peterson, and T.R. Peterson. 2010. Rearticulating the myth of human–wildlife conflict. Conservation Letters 3: 74–82.

Redpath, S.M., S. Bhatia, and J. Young. 2015. Tilting at wildlife: Reconsidering human–wildlife conflict. Oryx 49: 222–225.

Riley, S.J., and D.J. Decker. 2000. Wildlife stakeholder acceptance capacity for cougars in Montana. Wildlife Society Bulletin 28: 931–939.

Roe, D., M. Day, F. Booker, W. Zhou, S. Allebone-Webb, N. Kümpel, N.A.O. Hill, J. Wright, et al. 2015. Are alternative livelihood projects effective at reducing local threats to specified elements of biodiversity and/or improving or maintaining the conservation status of those elements? Environmental Evidence 4: 22. https://doi.org/10.1186/s13750-015-0048-1.

Rust, N.A., and L.L. Marker. 2013. Cost of carnivore coexistence on communal and resettled land in Namibia. Environmental Conservation 41: 45–53. https://doi.org/10.1017/S0376892913000180.

Salafsky, N., D. Salzer, A.J. Stattersfield, C. Hilton-Taylor, R. Neugarten, S.H.M. Butchart, B. Collen, N. Cox, et al. 2008. A standard lexicon for biodiversity conservation: Unified classifications of threats and actions. Conservation Biology 22: 897–911.

Sitati, N.W., M.J. Walpole, R.J. Smith, and N. Leader-Williams. 2003. Predicting spatial aspects of human–elephant conflict. Journal of Applied Ecology 40: 667–677.

Soliku, O., and U. Schraml. 2018. Making sense of protected area conflicts and management approaches: A review of causes, contexts and conflict management strategies. Biological Conservation 222: 136–145. https://doi.org/10.1016/j.biocon.2018.04.011.

Songhurst, A. 2017. Measuring human–wildlife conflicts: Comparing insights from different monitoring approaches. Wildlife Society Bulletin 41: 351–361.

St John, F.A.V., A.M. Keane, G. Edwards-Jones, L. Jones, R.W. Yarnell, and J.P.G. Jones. 2012. Identifying indicators of illegal behaviour: Carnivore killing in human-managed landscapes. Proceedings of the Royal Society B: Biological Sciences 279: 804–812. https://doi.org/10.1098/rspb.2011.1228.

Stein, A.B., T.K. Fuller, D.T. Damery, L. Sievert, and L.L. Marker. 2010. Farm management and economic analysis of leopard conservation in north-central Namibia. Animal Conservation 13: 419–427. https://doi.org/10.1111/j.1469-1795.2010.00364.x.

Tabossi, P. 1988. Effects of context on the immediate interpretation of unambiguous nouns. Journal of Experimental Psychology 14: 153–162.

Tchamba, M.N. 1995. The problem elephants of Kaele: A challenge for elephant conservation in northern Cameroon. Pachyderm 19: 26–32.

Tessema, M.E., R.J. Lilieholm, Z.T. Ashenafi, and N. Leader-Williams. 2010. Community attitudes toward wildlife and protected areas in Ethiopia. Society and Natural Resources 23: 489–506. https://doi.org/10.1080/08941920903177867.

Treves, A. 2012. Tolerant attitudes reflect an intent to steward: A reply to Bruskotter and Fulton. Society and Natural Resources 25: 103–104.

Treves, A., and J. Bruskotter. 2014. Ecology. Tolerance for predatory wildlife. Science 344: 476–477.

Treves, A., R.B. Wallace, and S. White. 2009. Participatory planning of interventions to mitigate human–wildlife conflicts. Conservation Biology 23: 1577–1587. https://doi.org/10.1111/j.1523-1739.2009.01242.x.

UNEP-WCMC. 2016. The State of Biodiversity in Africa: A Mid-term Review of Progress Towards the Aichi Biodiversity Targets. Cambridge: UNEP-WCMC.

van Velden, J., K. Wilson, and D. Biggs. 2018. The evidence for the bushmeat crisis in African savannas: A systematic quantitative literature review. Biological Conservation 221: 345–356.

Western, G., D.W. Macdonald, A.J. Loveridge, and A.J. Dickman. 2019. Creating landscapes of coexistence: Do conservation interventions promote tolerance of lions in human-dominated landscapes? Conservation and Society 17: 204–217.
Acknowledgements
At the time of writing, JAG was the associate director of the Community Engagement Team of the San Diego Zoo's Institute for Conservation Research. JK was supported by a research fellowship from Institute for Conservation Research. We would also like to thank the two anonymous reviewers for their helpful comments and suggestions.
Additional information
Publisher's Note
Springer Nature remains neutral with regard to jurisdictional claims in published maps and institutional affiliations.
Electronic supplementary material
Below is the link to the electronic supplementary material.
About this article
Cite this article
Knox, J., Ruppert, K., Frank, B. et al. Usage, definition, and measurement of coexistence, tolerance and acceptance in wildlife conservation research in Africa. Ambio (2020). https://doi.org/10.1007/s13280-020-01352-6
Received:

Revised:

Accepted:

Published:
Keywords
Attitudes

Behavior

Conservation goals

Conservation lexicon

Human dimensions

Literature review