Abstract
There is a long history of fire management in African savannas, but knowledge of historical and current use of fire is scarce in savanna-woodland biomes. This study explores past and present fire management practices and perceptions of the Khwe (former hunter-gatherers) and Mbukushu (agropastoralists) communities as well as government and non-government stakeholders in Bwabwata National Park in north-east Namibia. Semi-structured interviews and focus groups were used in combination with satellite data (from 2000 to 2015), to investigate historical and current fire management dynamics. Results show that political dynamics in the region disrupted traditional fire practices, specifically a policy of fire suppression was initiated by colonial governments in 1888 and maintained during independence until 2005. Both the Khwe and Mbukushu communities use early season (i.e. between April and July) fires for diverse interrelated historical and current livelihood activities, and park management for managing late season fires. The Mbukushu community also use late season burns to prepare land for crops. In this study, we use a pyrogeographic framework to understand the human dimension of fires. This study reveals how today's fire management practices and policies, specifically the resurgence of early season burning are entrenched in the past. Understanding and acknowledging the social and cultural dynamics of fire, alongside participatory stakeholder engagement is critical for managing fires in the future.
This is a preview of subscription content, log in to check access.
Access options
Buy single article
Instant access to the full article PDF.
US$ 39.95
Price includes VAT for USA
Subscribe to journal
Immediate online access to all issues from 2019. Subscription will auto renew annually.
US$ 99
This is the net price. Taxes to be calculated in checkout.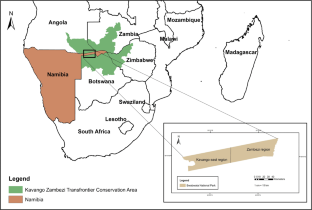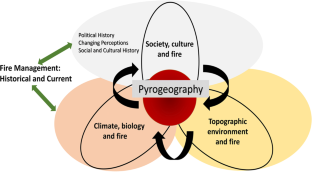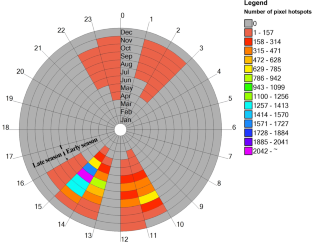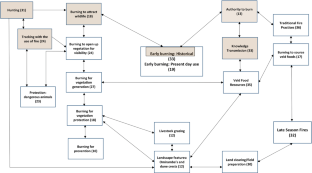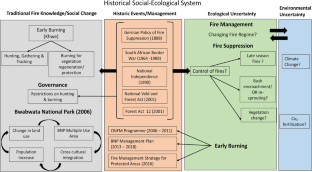 References
Bird, D.W., R.B. Bird, and C.H. Parker. 2005. Aboriginal burning regimes and hunting strategies in Australia's Western Desert. Human Ecology. 33: 443–464.

Bowman, D.M. 1998. The impact of Aboriginal landscape burning on the Australian biota. New Phytologist 140: 385–410.

Bowman, D.M., J. Balch, P. Artaxo, W.J. Bond, M.A. Cochrane, C.M. D'antonio, R. DeFries, F.H. Johnston, et al. 2011. The human dimension of fire regimes on Earth. Journal of Biogeography. 38: 2223–2236.

Bowman, D.M., J.A. O'Brien, and J.G. Goldammer. 2013. Pyrogeography and the global quest for sustainable fire management. Annual Review of Environment and Resources 38: 57–80.

Braithwaite, R.W. 1996. Biodiversity and fire in the savanna landscape. Biodiversity and savanna ecosystem processes, 121–140. Berlin, Heidelberg: Springer.

Brockett, B.H., H.C. Biggs, and B.W. van Wilgen. 2001. A patch mosaic burning system for conservation areas in southern African savannas. International Journal of Wildland Fire 10: 169–183.

Butz, R.J. 2009. Traditional fire management: Historical fire regimes and land use change in pastoral East Africa. International Journal of Wildland Fire. 18: 442–450.

Coughlan, M.R., and A.M. Petty. 2012. Linking humans and fire: A proposal for a transdisciplinary fire ecology. International Journal of Wildland fire. 21: 477–847.

Delcourt, H.R., and P.A. Delcourt. 1997. Pre-Columbian native American use of fire on southern Appalachian landscapes. Conservation Biology. 11: 1010–1014.

Eriksen, C. 2007. Why do they burn the 'bush'? Fire, rural livelihoods, and conservation in Zambia. The Geographical Journal. 173: 242–256.

Fairhead, J., and M. Leach. 1996. Misreading the African landscape: Society and ecology in a forest-savanna mosaic (Vol 90). Cambridge: Cambridge University Press.

Frost, P.G. 1999. Fire in southern African woodlands: origins, impacts, effects and control. In: Proceedings of an FAO Meeting on Public Policies Affecting Forest Fires. FAO Forestry Paper 138, FAO, Rome, pp 191–205.

Glaser, B. 2002. Conceptualization: On theory and theorizing using grounded theory. International journal of qualitative methods. 1: 23–38.

Hitchcock, R.K. 2012. Refugees, resettlement, and land and resource conflicts: the politics of identity among! Xun and Khwe San in North-eastern Namibia. African Study Monographs. 33: 73–132.

Hitchcock, R.K. 2019. The impacts of conservation and militarization on indigenous peoples. Human Nature. 30: 217–241.

Hitchcock, R.K. and D. Vinding, eds., 2004. Indigenous peoples' rights in Southern Africa (No. 110). Copenhagen. International Work Group for Indigenous Affairs (IWGIA).

Hough, J.L. 1993. Why burn the bush? Social approaches to bush-fire management in West African National Parks. Biological conservation 65: 23–28.

Huffman, M. 2013. The many elements of traditional fire knowledge: Synthesis, classification, and aids to cross-cultural problem solving in fire-dependent systems around the world. Ecology and Society. 18: 3.

Humphrey, G.J. 2018. The role of humans, climate and vegetation in the complex fire regimes of north-east Namibia. PhD Thesis. University of Cape Town. South Africa.

Kull, C.A. 2002. Empowering pyromaniacs in Madagascar: Ideology and legitimacy in community-based resource management. Development and Change. 33: 57–78.

Kangumu, B. 2008. Contestations over Caprivi identities: from pre-colonial times to the present. Ph. D. Thesis. University of Cape Town.

Laris, P. 2002. Burning the seasonal mosaic: Preventative burning strategies in the wooded savanna of southern Mali. Human Ecology. 30: 155–186.

Laris, P. 2011. Humanizing savanna biogeography: Linking human practices with ecological patterns in a frequently burned Savanna of southern Mali. Annals of the Association of American Geographers. 101: 1067–1088.

Laris, P., and D.A. Wardell. 2006. Good, bad or 'necessary evil'? Reinterpreting the colonial burning experiments in the savanna landscapes of West Africa. The Geographical Journal. 172: 271–290.

Laris, P., M. Koné, S. Dadashi, and F. Dembele. 2016. The early/late fire dichotomy. Progress in Physical Geography: Earth and Environment 41: 68–94.

Lee, R.B., and I. DeVore. 1976. Kalahari hunter-gatherers: Studies of the! Kung San and their neighbours. Cambridge, MA: Harvard University Press.

Lenggenhager, L. 2015. Nature, war and development: South Africa's Caprivi strip, 1960–1980. Journal of Southern African Studies. 41: 467–483.

Martínez-Torres, H.L., D.R. Pérez-Salicrup, A. Castillo, and M.I. Ramírez. 2018. Fire management in a natural protected area: What do key local actors say? Human ecology 46: 515–528.

Mbongo, W., R. Beatty, and P. Ries. 2011. Caprivi region: Draft integrated fire management strategy. 2007–2011. Integrated Rural Development & Nature Conservation & Directorate of Forestry Report. Windhoek, Namibia.

Mbow, C., T.T. Nielsen, and K. Rasmussen. 2000. Savanna fires in East-Central Senegal: Distribution patterns. Resource management and perceptions. Human Ecology 28: 561–583.

Mendelsohn, J., and R. Roberts. 1997. Environmental profile of the caprivi strip. Windhoek, Namibia: RAISON.

Mendelsohn, J., A. Jarvis, C. Roberts, and T. Robertson. 2009. Atlas of Namibia, 3rd ed. South Africa: Sunbird Publishers.

Ministry of Environment and Tourism [MET]. 2013. Management Plan for Bwabwata National Park 2013/2014 to 2017/2018. Windhoek: Government of the Republic of Namibia.

Ministry of Agriculture, Water and Forestry (MWAF). 2001. Forest Act No. 12. Windhoek, Namibia.

Ministry of Agriculture, Water and Forestry (MWAF). 2015. Forest Regulations. 2015. Republic of the Government of Namibia. Windhoek.

Ministry of Environment and Tourism. 2016. Fire management strategy for Namibia's protected areas. Namibia: Government of the Republic of Namibia, Directorate of Wildlife and National Parks Windhoek.

Mistry, J., A.V. Berardi, T. Andrade, P. Kraho, and O. Leonardos. 2005. Indigenous fire management in the cerrado of Brazil: The case of the Kraho of Tocantins. Human Ecology. 33: 365–386.

Mistry, J., L.B. Schmidt, L. Eloy, and B. Bilbao. 2018. New perspectives in fire management in South American savannas: The importance of intercultural governance. Ambio. 48: 172–179.

Namey, E., G. Guest, L. Thairu, and L. Johnson. 2008. Data reduction techniques for large qualitative data sets. Handbook for team-based qualitative research.

Nyamadzawo, G., W. Gwenzi, A. Kanda, A. Kundhlande, and C. Masona. 2013. Understanding the causes, socio-economic and environmental impacts, and management of veld fires in tropical Zimbabwe. Fire Science Reviews. 2: 1–13.

Parr, C.L., and B.H. Brockett. 1999. Patch mosaic burning: A new paradigm for savanna fire management in protected areas? Koedoe Research Journal. 42: 117–130.

Parr, C.L., and A.N. Andersen. 2006. Patch mosaic burning for biodiversity conservation: a critique of the pyrodiversity paradigm. Conservation Biology 20: 1610–1619.

Pausas, J.G., and J. Keeley. 2009. A burning story: The role of fire in the history of life. BioScience. 59: 593–601.

Powell, N. 1988. Co-management in non-equilibrium systems. PhD thesis. Swedish University of Agricultural Sciences, Uppsala.

Prober, S., M. O'Connor, and F. Walsh. 2011. Australian Aboriginal peoples' seasonal knowledge: a potential basis for shared understanding in environmental management. Ecology and Society. https://doi.org/10.5751/ES-04023-160212.

Pyne, S. 1995. World Fire. The culture of fire on Earth. Washington: University of Washington Press.

Ray, L., C. Kolden, and F. Chapin. 2012. A case for developing place-based fire management strategies from traditional ecological knowledge. Ecology and Society. 17: 37.

Russell-Smith, J., P.G. Ryan, and R. Durieu. 1997. A LANDSAT MSS-derived fire history of Kakudu National Park, monsoonal northern Australia, 1980-94: Seasonal extent, frequency and patchiness. Journal of Applied Ecology. 34: 748–766.

Russell-Smith, J., G.D. Cook, P.M. Cooke, A.C. Edwards, M. Lendrum, C.P. Meyer, and P.J. Whitehead. 2013. Managing fire regimes in north Australian savannas: Applying aboriginal approaches to contemporary global problems. Frontiers in Ecology and the Environment. 11: 55–63.

Schapera, I. 1930. The Khoisan peoples of southern Africa. London: Routledge and Keagan Paul.

Scholes, R.J., S. Archibald, and G. von Maltitz. 2011. Emissions from fire in Sub-Saharan Africa: The magnitude of sources, their variability and uncertainty. Global Environmental Research. 15: 53–63.

Scott, A.C., D.J.M.S. Bowman, W.J. Bond, S.J. Pyne, and M. Alexander. 2014. Fire on Earth: An introduction. Chichester, U.K.: Wiley.

Shaffer, L.J. 2010. Indigenous fire use to manage savanna landscapes in southern Mozambique. Fire Ecology 6: 43–57.

Stewart, O.C. 1956. Fire as the first great force employed by man. In Man's role in changing the face of the Earth, ed. W.L.J. Thomas, 115–133. Chicago: University of Chicago Press.

Suzman, J. 2001. An assessment of the status of the San in Namibia. Report Series, Report No. 4 of 5. Legal Assistance Centre (LAC), Windhoek.

Taylor, J. 2012. Naming the Land: San Identity and community conservation in Namibia's West Kavango. PhD Thesis. Oxford University.

Tinley, K.L. 1966. Western caprivi conservation area, South West Africa: A proposal of natural resource land use. Windhoek, Namibia: Department of Nature Conservation.

Trollope, W.S.W., and L.A. Trollope. 1999. Technical review of the integrated forest fire management component of the Namibia-Finland Forestry Programme. Alice: Department of Livestock and Pasture Science, Faculty of Agriculture, University of Fort Hare, Republic of South Africa.

Trollope, W.S. 2011. Personal perspectives on commercial versus communal African fire paradigms when using fire to manage rangelands for domestic livestock and wildlife in southern and East African ecosystems. Fire Ecology. 7: 57–73.

Walters, G. 2010. The Land Chief's Embers: Ethnobotany of Bateke fire Regimes, Savanna Vegetation and Resource Use in Gabon. Ph.D. Thesis. University College of London.

Whitehead, P.J., D.M. Bowman, N. Preece, F. Fraser, and P. Cooke. 2003. Customary use of fire by indigenous peoples in northern Australia: Its contemporary role in savanna management. International Journal of Wildland Fire. 12: 415–425.
Acknowledgements
We are extremely grateful to the Khwe and Mbukushu communities, and all the stakeholders in Namibia for willingly sharing their knowledge of fire with us and for taking part in this research. We thank the Ministry of Environment and Tourism (MET) in Namibia for the granting of the research permits, and the Integrated Rural Development and Nature Conservation (IRDNC) organisation in the Zambezi region that made this work possible. This study forms part of PhD research at the University of Cape Town in the Plant Conservation Unit within the Department of Biological Sciences, and was funded by the GreenMatter Fellowship, National Research Foundation (NRF) Scarce Skills Scholarship, the Alliance for Collaboration on Climate and Earth Systems Science (ACCESS), and the African Climate and Development Institute (ACDI) for which the authors are grateful. We also extend our appreciation to Louis Liebenberg for providing advice during the research phase, and to Dr Adele Julier for reviewing and providing insightful comments that greatly improved the paper. Special thanks to Lise Haansen for always providing valuable advice, resources and information concerning the greater Zambezi region.
Additional information
Publisher's Note
Springer Nature remains neutral with regard to jurisdictional claims in published maps and institutional affiliations.
Electronic supplementary material
Below is the link to the electronic supplementary material.
About this article
Cite this article
Humphrey, G.J., Gillson, L. & Ziervogel, G. How changing fire management policies affect fire seasonality and livelihoods. Ambio (2020). https://doi.org/10.1007/s13280-020-01351-7
Received:

Revised:

Accepted:

Published:
Keywords
Early burning

Fire management

Political history

Pyrogeography

Stakeholder engagement

Traditional fire knowledge