Abstract
We used the Agriculture and Land Use National Greenhouse Gas Inventory Software to estimate the total greenhouse gas (GHG) emissions from the Nigerian agriculture sector in 2010. We went ahead to project future GHG emissions up to 2050. Two alternative GHG mitigation scenarios such as moderate (MS) and aggressive (AS) scenarios were developed and examined. Our results showed that total GHG emissions from Nigerian agriculture in 2010 were around 34.9 million tonnes of carbon dioxide equivalent. GHG emissions from livestock accounted for about 69.2 % of the total emissions, making it the largest source of GHG emissions in the sector. Nigeria's agriculture GHG emissions are expected to increase by 94 % in 2050 relative to 2010 levels. Mitigation strategies in the Nigerian agriculture sector that do not compromise food security are limited. However, with the implementation of different GHG mitigation strategies in the alternative scenarios, emissions are expected to fall by around 13.2 % and 26.7 % by 2050 in the MS and AS, respectively, compared to the baseline scenario. While the mitigation potentials are significant, we argue that robust and dedicated policies are required to accelerate climate-smart agriculture in Nigeria.
Access options
Buy single article
Instant access to the full article PDF.
US$ 39.95
Tax calculation will be finalised during checkout.
Subscribe to journal
Immediate online access to all issues from 2019. Subscription will auto renew annually.
US$ 79
Tax calculation will be finalised during checkout.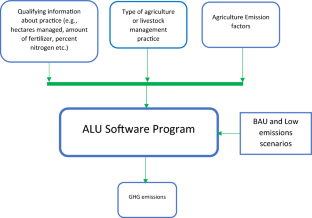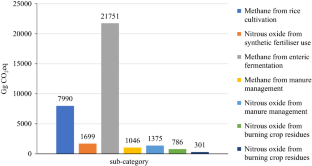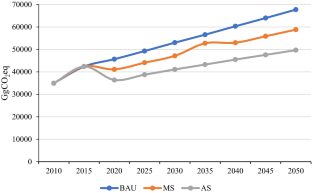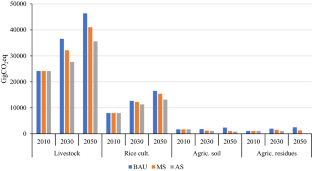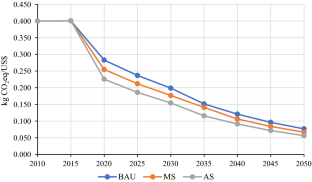 References
Ajala, A.S., and A. Gana. 2015. Analysis of challenges facing rice processing in Nigeria. Journal of Food Processing 2015: 1–6. https://doi.org/10.1155/2015/893673.

Ali, M.A., M.A. Hoque, and P.J. Kim. 2013. Mitigating global warming potentials of methane and nitrous oxide gases from rice paddies under different irrigation regimes. Ambio 42: 357–368. https://doi.org/10.1007/s13280-012-0349-3.

Arai, H., Y. Hosen, V.N. Pham Hong, N.T. Thi, C.N. Huu, and K. Inubushi. 2015. Greenhouse gas emissions from rice straw burning and straw-mushroom cultivation in a triple rice cropping system in the Mekong Delta. Soil Science and Plant Nutrition 61: 719–735. https://doi.org/10.1080/00380768.2015.1041862.

Aruya, E.I., R.O. Yusuf, and Y.O. Yusuf. 2016. An assessment of crop residue characteristics and factors militating against efficient management in the Ikara local government area of Kaduna state, Nigeria. WIT Transactions on Ecology and the Environment. https://doi.org/10.2495/WM160301.

Atteh, J.P. 1990. Rural poultry production in western middle belt region of Nigeria. In Rural poultry in Africa. Proceedings of an International Workshop held at the Obafemi Awolowo University, Ile-Ife. 13–16 November, 1989, ed. E.B. Sonaiya. Ile-Ife: Thelia Publishers.

Beauchemin, K.A., and S.M. McGinn. 2005. Methane emissions from feedlot cattle fed barley or corn diets1. Journal of Animal Science 83: 653–661. https://doi.org/10.2527/2005.833653x.

Beauchemin, K.A., M. Kreuzer, F. O'mara, and T.A. McAllister. 2008. Nutritional management for enteric methane abatement: A review. Australian Journal of Experimental Agriculture 48: 21–27. https://doi.org/10.1071/EA07199.

Bertora, C., F. Alluvione, L. Zavattaro, J.W. van Groenigen, G. Velthof, and C. Grignani. 2008. Pig slurry treatment modifies slurry composition, N2O, and CO2 emissions after soil incorporation. Soil Biology & Biochemistry 40: 1999–2006. https://doi.org/10.1016/J.SOILBIO.2008.03.021.

Bhatia, A., P.K. Aggarwal, N. Jain, and H. Pathak. 2012. Greenhouse gas emission from rice- and wheat-growing areas in India: spatial analysis and upscaling. Greenhouse Gases: Science and Technology 2: 115–125. https://doi.org/10.1002/ghg.1272.

Biswas, B., and P.M. Gresshoff. 2014. The role of symbiotic nitrogen fixation in sustainable production of biofuels. International Journal of Molecular Sciences 15: 7380–7397. https://doi.org/10.3390/ijms15057380.

Bustamante, M.M.C., C.A. Nobre, R. Smeraldi, A.P.D. Aguiar, L.G. Barioni, L.G. Ferreira, K. Longo, P. May, et al. 2012. Estimating greenhouse gas emissions from cattle raising in Brazil. Climatic Change 115: 559–577. https://doi.org/10.1007/s10584-012-0443-3.

Cassman, K.G., A.R. Dobermann, and D.T. Walters. 2002. Agroecosystems, nitrogen-use efficiency, and nitrogen management. Ambio 31: 132–141.

Castesana, P.S., L.E. Dawidowski, L. Finster, D.R. Gómez, and M.A. Taboada. 2018. Ammonia emissions from the agriculture sector in Argentina; 2000–2012. Atmospheric Environment 178: 293–304. https://doi.org/10.1016/J.ATMOSENV.2018.02.003.

CBN. 2017. Central Bank of Nigeria Annual Reports. Central Bank of Nigeria (CBN), Abuja https://www.cbn.gov.ng/documents/annualreports.asp.

Cervigni, R., J. A. Rogers, and I. Dvorak. 2013. Assessing low-carbon development in Nigeria: An analysis of four Sectors. In ed. R. Cervigni, I. Dvorak, and J.A. Rogers. Washington, DC: The World Bank. https://doi.org/10.1596/978-0-8213-9973-6.

Chantigny, M.H., D.A. Angers, P. Rochette, G. Bélanger, D. Massé, and D. Côté. 2007. Gaseous nitrogen emissions and forage nitrogen uptake on soils fertilized with raw and treated swine manure. Journal of Environment Quality 36: 1864. https://doi.org/10.2134/jeq2007.0083.

Chiles, R.M., E.E. Fabian, D. Tobin, S.J. Colby, and S.M. DePue. 2018. Greenhouse gas emissions from agriculture: Reconciling the epistemological, ethical, political, and practical challenges. Journal of Agricultural and Environmental Ethics 31: 341–348. https://doi.org/10.1007/s10806-018-9728-5.

Chiodi, A., T. Donnellan, J. Breen, P. Deane, K. Hanrahan, M. Gargiulo, and B.P.Ó. Gallachóir. 2016. Integrating agriculture and energy to assess GHG emissions reduction: A methodological approach. Climate Policy 16: 215–236. https://doi.org/10.1080/14693062.2014.993579.

Clay, N., T. Garnett, and J. Lorimer. 2019. Dairy intensification: Drivers, impacts and alternatives. Ambio. https://doi.org/10.1007/s13280-019-01177-y.

Colomb, V., O. Touchemoulin, L. Bockel, J.-L. Chotte, S. Martin, M. Tinlot, and M. Bernoux. 2013. Selection of appropriate calculators for landscape-scale greenhouse gas assessment for agriculture and forestry. Environmental Research Letters 8: 015029. https://doi.org/10.1088/1748-9326/8/1/015029.

de Urzedo, D.I., M.P. Franco, L.M. Pitombo, and J.B. do Carmo. 2013. Effects of organic and inorganic fertilizers on greenhouse gas (GHG) emissions in tropical forestry. Forest Ecology and Management 310: 37–44. https://doi.org/10.1016/J.FORECO.2013.08.018.

Denef, K., K. Paustian, S. Archibeque, S. Biggar, and D. Pape. 2012. Report of Greenhouse Gas Accounting Tools for Agriculture and Forestry Sectors (Interim Report to USDA under Contract No. GS23F8182H 140).

FAO. 2015. Estimating Greenhouse Gas Emissions in Agriculture: A Manual to Address Data Requirements for Developing Countries. http://www.fao.org/3/a-i4260e.pdf.

FAO. 2018. FAOSTAT. http://www.fao.org/faostat/en/#home.

FGN. 2014. Nigeria's Second National Communication under the United Nations Framework Convention on Climate Change.

Forabosco, F., Z. Chitchyan, and R. Mantovani. 2017. Methane, nitrous oxide emissions and mitigation strategies for livestock in developing countries: A review. South African Journal of Animal Science 47: 268. https://doi.org/10.4314/sajas.v47i3.3.

Garg, M.R., B.T. Phondba, P.L. Sherasia, and H.P.S. Makkar. 2016. Carbon footprint of milk production under smallholder dairying in Anand district of Western India: A cradle-to-farm gate life cycle assessment. Animal Production Science 56: 423. https://doi.org/10.1071/AN15464.

Habib, G., and A.A. Khan. 2018. Assessment and mitigation of methane emissions from livestock sector in Pakistan. Earth Systems and Environment 2: 601–608. https://doi.org/10.1007/s41748-018-0076-4.

Henry, B., and R. Eckard. 2009. Greenhouse gas emissions in livestock production systems. Tropical Grasslands 43: 232–238.

IEA. 2016. CO2emissions from fuel combustion. OECD/IEA. Paris: OECD Publishing. https://doi.org/10.1787/co2_fuel-2016-en.

IEA. 2017. World Energy Outlook 2017. Special report: Energy access outlook. Paris: International Energy Agency (IEA) and the Organisation of Economic Co-Operation and Development (OECD).

IPCC. 1997. Greenhouse gas inventory reporting instructions. Revised 1996 IPCC guidelines for National Greenhouse Gas Inventories. Bracknell: UNEP, WMO, OECD and IEA.

IPCC. 2000. Good practice guidance and uncertainty management in national greenhouse gas inventories. In ed. J. Penman et al. IPCC National Greenhouse Gas Inventories Programme, Technical Support Unit. Hayama, Japan.

IPCC. 2006. 2006 IPCC Guidelines for National Greenhouse Gas Inventories. Prepared by the National Greenhouse Gas Inventories Programme, IGES. ed. K. Tanabe H.S. Eggleston, L. Buendia, K. Miwa, T. Ngara. Japan.

IPCC. 2014. Annex II: Glossary [Mach, K.J., S. Planton and C. von Stechow (eds.)]. In: Climate Change 2014: Synthesis Report. Contribution of Working Groups I, II and III to the Fifth Assessment Report of the Intergovernmental Panel on Climate Change [Core Writing Te. In, 117–130. IPCC, Geneva, Switzerland: IPCC.

Islam, S.F., J.W. van Groenigen, L.S. Jensen, B.O. Sander, and A. de Neergaard. 2018. The effective mitigation of greenhouse gas emissions from rice paddies without compromising yield by early-season drainage. Science of the Total Environment 612: 1329–1339. https://doi.org/10.1016/J.SCITOTENV.2017.09.022.

Jain, N., A. Bhatia, and H. Pathak. 2014. Emission of air pollutants from crop residue burning in India. Aerosol and Air Quality Research 14: 422–430. https://doi.org/10.4209/aaqr.2013.01.0031.

Jekayinfa, S.O., and O.S. Omisakin. 2005. The energy potentials of some agricultural wastes as local fuel materials in Nigeria. Agricultural Engineering International: the CIGR Ejournal 7: 1–10.

Kalu, E. 2015. Poultry litter/manure management practices in intensively managed poultry farms in portharcourt. IOSR Journal of Agriculture and Veterinary Science Ver II 8: 53–58. https://doi.org/10.9790/2380-08325358.

Koneswaran, G., and D. Nierenberg. 2008. Global farm animal production and global warming: Impacting and mitigating climate change. Environmental Health Perspectives 116: 578–582. https://doi.org/10.1289/ehp.11034.

Kumari, S., R.P. Dahiya, N. Kumari, and I. Sharawat. 2014. Estimation of methane emission from livestock through enteric fermentation using system dynamic model in India. International Journal of Environmental Research and Development 4: 2249–3131.

Kundermann, B. 2014. Potentials for greenhouse gas mitigation in agriculture: Review of research findings, options for mitigation and recommendations for development cooperation. Bonn: GIZ.

Kusin, F.M., N.I.M. Akhir, F. Mohamat-Yusuff, and M. Awang. 2015. The impact of nitrogen fertilizer use on greenhouse gas emissions in an oil palm plantation associated with land use change. Atmósfera 28: 243–250. https://doi.org/10.20937/atm.2015.28.04.03.

Lampayan, R.M., R.M. Rejesus, G.R. Singleton, and B.A.M. Bouman. 2015. Adoption and economics of alternate wetting and drying water management for irrigated lowland rice. Field Crops Research 170: 95–108. https://doi.org/10.1016/j.fcr.2014.10.013.

Liu, H., J. Li, X. Li, Y. Zheng, S. Feng, and G. Jiang. 2015. Mitigating greenhouse gas emissions through replacement of chemical fertilizer with organic manure in a temperate farmland. Science Bulletin 60: 598–606. https://doi.org/10.1007/s11434-014-0679-6.

Mamman, M., and J.O. Folorunsho. 2016. Assessment of open burning of agricultural waste in biu local government area of Borno State, Nigeria. Advances in Social Sciences Research Journal. https://doi.org/10.14738/assrj.36.1801.

Millar, N., J. E. Doll, and G. P. Robertson. 2014. Management of Nitrogen Fertiliser to Reduce N2O Emissions from Field Crops. Climate Change and Agriculture Fact Sheet Series—MSU Extension Bulletin E3152 November 2014.

Murali, S., R. Shrivastava, and M. Saxena. 2010. Green house gas emissions from open field burning of agricultural residues in India. Journal of Environmental Science & Engineering 52: 277–284.

NBS. 2016. Post GDP Rebasing Revision 1981–2010. National Bureau of Statistics (NBS), Abuja.

NBS. 2017. Annual Abstract of Statistics 2016. Vol. 1. National Bureau of Statistics (NBS), Abuja.

NPC. 2017. Censuses. Nigeria Population Commission (NPC), Abuja.

Nunes, F.A., M. Seferin, V.G. Maciel, S.H. Flôres, and M.A.Z. Ayub. 2016. Life cycle greenhouse gas emissions from rice production systems in Brazil: A comparison between minimal tillage and organic farming. Journal of Cleaner Production 139: 799–809. https://doi.org/10.1016/J.JCLEPRO.2016.08.106.

Ogle, S. M., S. Spencer, M. Hartman, L. Buendia, L. Stevens, L. du Toit, J. Witi, S. Del Grosso, et al. 2016. Developing National Baseline GHG Emissions and Analyzing Mitigation Potentials for Agriculture and Forestry Using an Advanced National GHG Inventory Software System. In Synthesis and modeling of greenhouse gas emissions and carbon storage in agricultural and forest systems to guide mitigation and adaptation, advancesinagric: pp. 129–148. American Society of Agronomy, Inc., Crop Science Society of America, Inc., and Soil Science Society of America, Inc. https://doi.org/10.2134/advagricsystmodel6.2013.0009.

Ogundiran, M.B., E.F. Ademola, and S.A. Adejumo. 2015. Poultry litter management in Lagos and effects of its soil application on the growth of okra (Abelmoschus esculentus). African Journal of Plant Science 9: 427–438. https://doi.org/10.5897/AJPS2015.1325.

Olusoji, A.J., and O.C. Sunday. 2016. Livestock waste management practices in Oyo state, Nigeria. Journal of Environment and Waste Management 3: 139–141.

Onweremadu, E.U., C.C. Asiabaka, C.P. Anyanwu, G.A. Anyanwu, E.B. Etuk, and B.O. Esonu. 2007. Survey of animal manure production, management, use and effect on a degraded Kandiudult. International Journal of Agricultural Research 2: 929–936. https://doi.org/10.3923/ijar.2007.929.936.

Rejesus, R.M., F.G. Palis, D.G.P. Rodriguez, R.M. Lampayan, and B.A.M. Bouman. 2011. Impact of the alternate wetting and drying (AWD) water-saving irrigation technique: Evidence from rice producers in the Philippines. Food Policy 36: 280–288. https://doi.org/10.1016/j.foodpol.2010.11.026.

Sejian, V., R.S. Prasadh, A.M. Lees, J.C. Lees, Y.A.S. Al-Hosni, M.L. Sullivan, and J.B. Gaughan. 2018. Assessment of the carbon footprint of four commercial dairy production systems in Australia using an integrated farm system model. Carbon Management 9: 57–70. https://doi.org/10.1080/17583004.2017.1418595.

Senbayram, M., C. Wenthe, A. Lingner, J. Isselstein, H. Steinmann, C. Kaya, and S. Köbke. 2016. Legume-based mixed intercropping systems may lower agricultural born N2O emissions. Energy, Sustainability and Society 6: 1–9. https://doi.org/10.1186/s13705-015-0067-3.

Sertoğlu, K., S. Ugural, and F.V. Bekun. 2017. The contribution of agricultural sector on economic growth of Nigeria. International Journal of Economics and Financial Issues 7: 547–552.

Setyanto, P., A. Pramono, T.A. Adriany, H.L. Susilawati, T. Tokida, A.T. Padre, and K. Minamikawa. 2018. Alternate wetting and drying reduces methane emission from a rice paddy in Central Java, Indonesia without yield loss. Soil Science and Plant Nutrition 64: 23–30. https://doi.org/10.1080/00380768.2017.1409600.

Signor, D., C.E.P. Cerri, and R. Conant. 2013. N2O emissions due to nitrogen fertilizer applications in two regions of sugarcane cultivation in Brazil. Environmental Research Letters 8: 015013. https://doi.org/10.1088/1748-9326/8/1/015013.

Smith, P., M. Bustamante, H. Ahammad, H. Clark, H. Dong, E. A. Elsiddig, H. Haberl, R. Harper, et al. 2014. Chapter 11 - Agriculture, forestry and other land use (AFOLU). In Climate Change 2014: Mitigation of Climate Change. IPCC Working Group III Contribution to AR5. Cambridge University Press, Cambridge, United Kingdom and New York, NY, USA.

Tabbal, D.F., B.A.M. Bouman, S.I. Bhuiyan, E.B. Sibayan, and M.A. Sattar. 2002. On-farm strategies for reducing water input in irrigated rice; case studies in the Philippines. Agricultural Water Management 56: 93–112. https://doi.org/10.1016/S0378-3774(02)00007-0.

Tirado, R., S.R. Gopikrishna, R. Krishnan, and P. Smith. 2010. Greenhouse gas emissions and mitigation potential from fertilizer manufacture and application in India. International Journal of Agricultural Sustainability 8: 176–185. https://doi.org/10.3763/ijas.2009.0422.

Tongwane, M., M. Moeletsi, V. Mliswa, T. Mdlambuzi, M. Tsubo, and L. Grootboom. 2016. Greenhouse gas emissions from different crop production and management practices in South Africa. Environmental Development 19: 23–35. https://doi.org/10.1016/j.envdev.2016.06.004.

Vallejo, A., U.M. Skiba, L. García-Torres, A. Arce, S. López-Fernández, and L. Sánchez-Martín. 2006. Nitrogen oxides emission from soils bearing a potato crop as influenced by fertilization with treated pig slurries and composts. Soil Biology & Biochemistry 38: 2782–2793. https://doi.org/10.1016/J.SOILBIO.2006.04.040.

Zhang, B., H. Tian, W. Ren, B. Tao, C. Lu, J. Yang, K. Banger, and S. Pan. 2016. Methane emissions from global rice fields: Magnitude, spatiotemporal patterns, and environmental controls. Global Biogeochemical Cycles 30: 1246–1263. https://doi.org/10.1002/2016GB005381.

Zheng, H., H. Huang, L. Yao, J. Liu, H. He, and J. Tang. 2014. Impacts of rice varieties and management on yield-scaled greenhouse gas emissions from rice fields in China: A meta-analysis. Biogeosciences 11: 3685–3693. https://doi.org/10.5194/bg-11-3685-2014.
Acknowledgements
The authors gratefully acknowledge Dr. Stephen Ogle of Colorado State University, USA for granting the license to use the ALU software program.
Additional information
Publisher's Note
Springer Nature remains neutral with regard to jurisdictional claims in published maps and institutional affiliations.
Electronic supplementary material
Below is the link to the electronic supplementary material.
About this article
Cite this article
Dioha, M.O., Kumar, A. Exploring greenhouse gas mitigation strategies for agriculture in Africa: The case of Nigeria. Ambio 49, 1549–1566 (2020). https://doi.org/10.1007/s13280-019-01293-9
Received:

Revised:

Accepted:

Published:

Issue Date:
Keywords
ALU software program

Enteric fermentation

Greenhouse gas

IPCC

Livestock

Nigeria