Abstract
Climate change is likely to be one of the most important factors affecting our future food security. To mitigate negative impacts, we will require our crops to be more genetically diverse. Such diversity is available in crop wild relatives (CWRs), the wild taxa relatively closely related to crops and from which diverse traits can be transferred to the crop. Conservation of such genetic resources resides within the nation where they are found; therefore, national-level conservation recommendations are fundamental to global food security. We investigate the potential impact of climate change on CWR richness in Norway. The consequences of a 1.5 and 3.0 °C temperature rise were studied for the years 2030, 2050, 2070, 2080 and then compared to the present climate. The results indicate a pattern of shifting CWR richness from the south to the north, with increases in taxa turnover and in the numbers of threatened taxa. Recommendations for in situ and ex situ conservation actions over the short and long term for the priority CWRs in Norway are presented. The methods and recommendations developed here can be applied within other nations and at regional and global levels to improve the effectiveness of conservation actions and help ensure global food security.
Access options
Buy single article
Instant access to the full article PDF.
USD 39.95
Price includes VAT (USA)
Tax calculation will be finalised during checkout.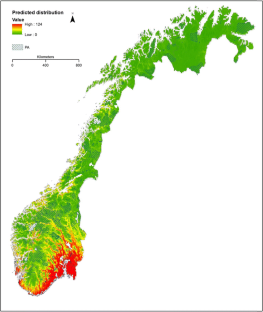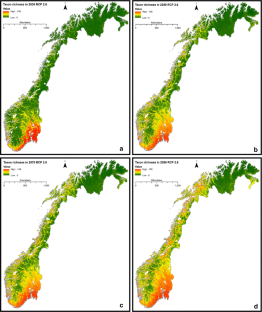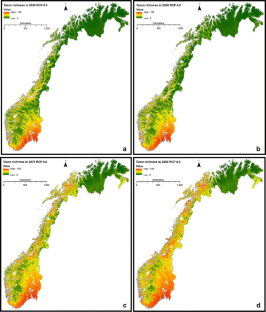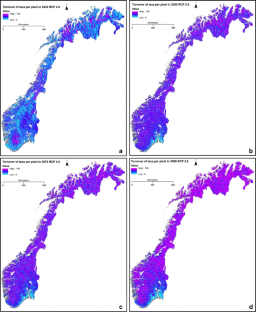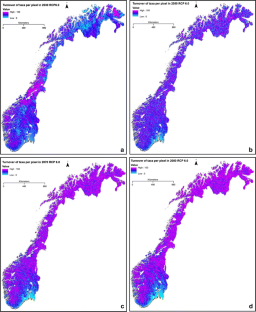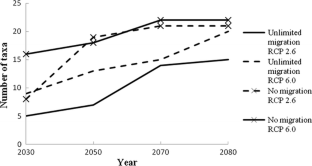 References
Anderson, R.P., M. Dudík, S. Ferrier, A. Guisan, R.J. Hijmans, F. Huettmann, J.R. Leathwick, A. Lehmann, et al. 2006. Novel methods improve prediction of species' distributions from occurrence data. Ecography 29: 129–151.

Araújo, M.B., M. Cabeza, W. Thuiller, L. Hannah, and P.H. Williams. 2004. Would climate change drive species out of reserves? An assessment of existing reserve-selection methods. Global Change Biology 10: 1618–1626.

Araujo, M.B., and A. Guisan. 2006. Five (or so) challenges for species distribution modelling. Journal of Biogeography 3: 1677–1688.

Arctic Climate Impact Assessment. 2004. Impacts of a warming Arctic. Cambridge, UK: Cambridge University Press.

Bentsen, M., I. Bethke, J. Debernard, T. Iversen, A. Kirkevåg, Ø. Seland, H. Drange, C. Roelandt, et al. 2013. The Norwegian earth system model, NorESM1-M—Part 1: Description and basic evaluation of the physical climate. Geoscientific Model Development 6: 687–720.

Buckler, E.S., J.M. Thornsberry, and S. Kresovich. 2001. Molecular diversity, structure and domestication of grasses. Genetics Research 3: 213–218.

Cummins, I.N., and H.S. Aldwinckle. 1979. Breeding tree crops. In Biology and breeding resistance to arthropods and pathogens in agricultural plants, ed. M.K. Harris, 528–545. College Station: Texas Agricultural Experiment Station, Texas A and M University.

Dormann, C.F., J. Elith, S. Bacher, C. Buchmann, G. Carl, G. Carré, J.R.G. Marquéz, B. Gruber, et al. 2013. Collinearity: A review of methods to deal with it and a simulation study evaluating their performance. Ecography 3: 27–46.

Elith, J., S.J. Phillips, T. Hastie, M. Dudik, Y.E. Chee, and C.J. Yates. 2011. A statistical explanation of MaxEnt for ecologists. Diversity and Distributions 17: 42–57.

ESRI. 2011. ArcGIS desktop release 10.2.

FAO. 2009. How to feed the world in 2050, Rome.

FAO. 2015. Coping with climate change-the roles of genetic resources for food and agriculture, Rome.

Foden, W.B., S.H. Butchart, S.N. Stuart, J. Vié, H.R. Akçakaya, A. Angulo, L.M. DeVantier, A. Gutsche, et al. 2013. Identifying the world's most climate change vulnerable species: a systematic trait-based assessment of all birds, amphibians and corals. PLoS ONE 8: e65427.

Foden, W.B., G.M. Mace, J. Vié, A. Angulo, S.H. Butchart, L. DeVantier, H.T. Dublin, A. Gutsche, et al. 2009. Species susceptibility to climate change impacts. Wildlife in a changing world—An analysis of the 2008 IUCN Red List of Threatened Species, 77.

Foden, W.B., and B.E. Young. 2016. IUCN SSC guidelines for assessing species' vulnerability to climate change.

Franklin, J.F., F.J. Swanson, M.E. Harmon, D.A. Perry, T.A. Spies, V.H. Dale, A. McKee, W.K. Ferrell, et al. 1992. Effects of global climatic change on forests in northwestern North America. In Global warming and biodiversity, ed. R.L. Peters, and T.E. Lovejoy, 244–257. New Haven: Yale University Press.

GBIF. 2013. Biodiversity occurrence data available through the GBIF Data Portal. (www.gbif.org).

Gent, P.R., G. Danabasoglu, L.J. Donner, M.M. Holland, E.C. Hunke, S.R. Jayne, D.M. Lawrence, R.B. Neale, et al. 2011. The community climate system model version 4. Journal of Climate 24: 4973–4991.

Halpin, P.N. 1997. Global climate change and natural-area protection: management responses and research directions. Ecological Applications 7: 828–843.

Hampe, A., and R.J. Petit. 2005. Conserving biodiversity under climate change: The rear edge matters. Ecology Letters 8: 461–467.

Hanssen-Bauer, I., H. Drange, E.J. Førland, L.A. Roald, K.Y. Børsheim, H. Hisdal, D. Lawrence, A. Nesje, S. Sandven, A. Sorteberg, S. Sundby, K. Vasskog, and B. Ådlandsvik. 2009. Klima i Norge 2100. Bakgrunnsmateriale til NOU Klimatilplassing., Norsk klimasenter, Oslo.

Heller, N.E., and E.S. Zavaleta. 2009. Biodiversity management in the face of climate change: a review of 22 years of recommendations. Biological Conservation 142: 14–32.

Henningsson, S.S., and T. Alerstam. 2005. Patterns and determinants of shorebird species richness in the circumpolar Arctic. Journal of Biogeography 32: 383–396.

Higgins, S.I., S. Lavorel, and E. Revilla. 2003. Estimating plant migration rates under habitat loss and fragmentation. Oikos 101: 354–366.

Hijmans, R.J., S.E. Cameron, J.L. Parra, P.G. Jones, and A. Jarvis. 2005. Very high resolution interpolated climate surfaces for global land areas. International Journal of Climatology 25: 1965–1978.

Hijmans, R., L. Guarino, and P. Mathur. 2004. DIVA-GIS. Version 7.5. A geographic information system for the analysis of species distribution data.

Hof, A.R., R. Jansson, and C. Nilsson. 2012. Future climate change will favour non-specialist mammals in the (sub) arctic. PLoS ONE 7: e52574.

Huntley, B., Y.C. Collingham, S.G. Willis, and R.E. Green. 2008. Potential impacts of climatic change on European breeding birds. PLoS ONE 3: e1439.

IBM Corp. 2013. IBM SPSS statistics for windows. 22.0.

Iriondo, J.M., N. Maxted, S.P. Kell, B.V. Ford-Lloyd, C. Lara-Romano, J. Labokas, and J. Magos Brehm. 2012. Quality standards for genetic reserve conservation of crop wild relatives. In Agrobiodiversity conservation: securing the diversity of crop wild relatives and landraces, ed. N. Maxted, M.E. Dulloo, B.V. Ford-Lloyd, L. Frese, J.M. Iriondo, and M.A.A. Pinheiro de Carvalho. Wallingford: CABI.

IUCN. 2001. IUCN Red List categories and criteria: Version 3.1.

Jarvis, S., H. Fielder, J. Hopkins, N. Maxted, and S. Smart. 2015. Distribution of crop wild relatives of conservation priority in the UK landscape. Biological Conservation 191: 444–451.

Jarvis, A., A. Lane, and R.J. Hijmans. 2008. The effect of climate change on crop wild relatives. Agriculture, Ecosystems & Environment 126: 13–23.

Jump, A.S., and J. Penuelas. 2005. Running to stand still: adaptation and the response of plants to rapid climate change. Ecology Letters 8: 1010–1020.

Kålås, J.A., A. Viken, and T. Bakken. 2006. Norwegian Red List.

Lakew, B., J. Eglinton, R.J. Henry, M. Baum, S. Grando, and S. Ceccarelli. 2011. The potential contribution of wild barley (Hordeum vulgare ssp. spontaneum) germplasm to drought tolerance of cultivated barley (H. vulgare ssp. vulgare). Field Crops Research 120: 161–168.

Lesica, P., and F.W. Allendorf. 1995. When are peripheral populations valuable for conservation? Conservation Biology 9: 753–760.

Loiselle, B.A., P.M. Jørgensen, T. Consiglio, I. Jiménez, J.G. Blake, L.G. Lohmann, and O.M. Montiel. 2008. Predicting species distributions from herbarium collections: Does climate bias in collection sampling influence model outcomes? Journal of Biogeography 35: 105–116.

Lovejoy, T.E. 2005. Conservation with a changing climate. In Climate change and biodiversity, ed. T.E. Lovejoy, and L. Hannah, 325–328. New Haven: Yale University Press.

Maldonado, C., C.I. Molina, A. Zizka, C. Persson, C.M. Taylor, J. Albán, E. Chilquillo, N. Rønsted, et al. 2015. Estimating species diversity and distribution in the era of big data: To what extent can we trust public databases? Global Ecology and Biogeography 24: 973–984.

Maxted, N., and S.P. Kell. 2009. Establishment of a global network for the in situ conservation of crop wild relatives: Status and needs. Rome, Italy: Food and Agriculture Organisation.

McCarthy, J.J., O.F. Canziani, N.A. Leary, D.J. Dokken, and K.S. White. 2001. Climate change 2001: Impacts, adaptation, and vulnerability. Contribution of working group II to the intergovernmental panel on climate change third assessment report. Cambridge, UK: Cambridge University Press.

Midgley, G., L. Hannah, D. Millar, W. Thuiller, and A. Booth. 2003. Developing regional and species-level assessments of climate change impacts on biodiversity in the Cape Floristic Region. Biological Conservation 112: 87–97.

Müller, C., and R.D. Robertson. 2014. Projecting future crop productivity for global economic modelling. Agricultural Economics 45: 37–50.

Nekola, J.C. 1999. Paleorefugia and neorefugia: The influence of colonization history on community pattern and process. Ecology 80: 2459–2473.

Nelson, D.R., W.N. Adger, and K. Brown. 2007. Adaptation to environmental change: Contributions of a resilience framework. Annual Review of Environment and Resources 32: 395.

Norwegian Ministry for Agriculture and Food. 2008. Country report on the state of plant genetic resources for food and agriculture in Norway, Oslo, Norway.

Olesen, J.E., and M. Bindi. 2002. Consequences of climate change for European agricultural productivity, land use and policy. European Journal of Agronomy 16: 239–262.

Parmesan, C., and G. Yohe. 2003. A globally coherent fingerprint of climate change impacts across natural systems. Nature 421: 37–42.

Parra-Quijano, M., F. López, J.M. Iriondo, E. Torres, and A. Molina. 2016. CAPFITOGEN tools user manual version 2.0.

Peters, R.L., and J. Myers. 1991. Preserving biodiversity in a changing climate. Issues in Science and Technology 8: 2.

Phillips, S.J., R.P. Anderson, and R.E. Schapire. 2006. Maximum entropy modelling of species geographic distributions. Ecological Modelling 190: 231–259.

Phillips, J., Å. Asdal, J. Magos Brehm, M. Rasmussen, and N. Maxted. 2016. In situ and ex situ diversity analysis of priority crop wild relatives in Norway. Diversity and Distributions 22: 1112–1126.

Phillips, S.J., M. Dudík, and R.E. Schapire. 2004. A maximum entropy approach to species distribution modelling. In Proceedings of the twenty-first international conference on Machine learning, 655–662, Banff, Canada.

Pittock, A.B., and R.N. Jones. 2000. Adaptation to what and why? Environmental Monitoring and Assessment 61: 9–35.

Prather, M., G. Flato, P. Friedlingstein, C. Jones, J.-F. Lamarque, H. Liao, and P. Rasch. 2013. IPCC 2013: Annex II: Climate system scenario tables. In Climate change 2013: The physical science basis. Contribution of working group I to the fifth assessment report of the intergovernmental panel on climate change, ed. T.F. Stocker, D. Quin, G.-K. Plattner, M. Tignor, S.K. Allen, J. Boschung, A. Nauels, Y. Xia, et al., Cambridge: Cambridge University Press and New York, NY.

Ramirez-Villegas, J., C. Khoury, A. Jarvis, D.G. Debouck, and L. Guarino. 2010. A gap analysis methodology for collecting crop genepools: A case study with phaseolus beans. PLoS ONE 5: e13497.

Rocchini, D., J. Hortal, S. Lengyel, J.M. Lobo, A. Jimenez-Valverde, C. Ricotta, G. Bacaro, and A. Chiarucci. 2011. Accounting for uncertainty when mapping species distributions: the need for maps of ignorance. Progress in Physical Geography 35: 211–226.

Rogelj, J., M. Meinshausen, and R. Knutti. 2012. Global warming under old and new scenarios using IPCC climate sensitivity range estimates. Nature Climate Change 2: 248–253.

Rosenzweig, C., J. Elliott, D. Deryng, A.C. Ruane, C. Muller, A. Arneth, K.J. Boote, C. Folberth, et al. 2014. Assessing agricultural risks of climate change in the 21st century in a global gridded crop model intercomparison. Proceedings of the National Academy of Sciences of the United States of America 111: 3268–3273.

Ruete, A. 2015. Displaying bias in sampling effort of data accessed from biodiversity databases using ignorance maps. Biodiversity Data Journal 3: e5361.

Sætersdal, M., H. Birks, and S. Peglar. 1998. Predicting changes in Fennoscandian vascular-plant species richness as a result of future climatic change. Journal of Biogeography 25: 111–112.

Solomon, S. 2007. Climate change 2007-the physical science basis: Working group I contribution to the fourth assessment report of the IPCC. Cambridge, UK: Cambridge University Press.

Stafford Smith, M., L. Horrocks, A. Harvey, and C. Hamilton. 2011. Rethinking adaptation for a 4 degrees C world. Philosophical Transactions. Series A, Mathematical, Physical, and Engineering Sciences 369: 196–216.

Tanksley, S.D., and S.R. McCouch. 1997. Seed banks and molecular maps: Unlocking genetic potential from the wild. Science 277: 1063–1066.

Thomas, C.D., P.K. Gillingham, R.B. Bradbury, D.B. Roy, B.J. Anderson, J.M. Baxter, N.A. Bourn, H.Q. Crick, et al. 2012. Protected areas facilitate species' range expansions. Proceedings of the National Academy of Sciences of the United States of America 109: 14063–14068.

Thuiller, W., C. Alberta, M.B. Araujo, P.M. Berry, M. Cabez, A. Guisane, T. Hicklerf, G.F. Midgley, et al. 2008. Predicting global change impacts on plant species' distributions: Future challenges. Perspectives in Plant Ecology, Evolution and Systematics 9: 137–152.

Thuiller, W., S. Lavorel, M.B. Araújo, M.T. Sykes, and I.C. Prentice. 2005. Climate change threats to plant diversity in Europe. Proceedings of the National Academy of Sciences of the United States of America 102: 8245–8250.

Tømmervik, H., B. Johansen, I. Tombre, D. Thannheiser, K. Høgda, E. Gaare, and F. Wielgolaski. 2004. Vegetation changes in the Nordic mountain birch forest: the influence of grazing and climate change. Arctic, Antarctic, and Alpine Research 36: 323–332.

Uleberg, E., I. Hanssen-Bauer, B. van Oort, and S. Dalmannsdottir. 2014. Impact of climate change on agriculture in Northern Norway and potential strategies for adaptation. Climatic Change 122: 27–39.

UNFCCC. 2015. Synthesis report on the aggregate effect of the intended nationally determined contributions. Paris: United Nations.

UNFCCC. 2016. Report of the conference of the parties on its twenty-first session, held in Paris from 30 November to 13 December 2015. Paris: United Nations.

Vincent, H., J. Wiersema, S. Dobbie, S.P. Kell, H. Fielder, N.P. Castañeda Alvarez, L. Guarino, R. Eastwood, et al. 2013. A prioritised crop wild relative inventory as a first step to help underpin global food security. Biological Conservation 167: 265–275.

Walker, B., C.S. Holling, S.R. Carpenter, and A. Kinzig. 2004. Resilience, adaptability and transformability in social–ecological systems. Ecology and Society 9: 5.

Warren, R., J. VanDerWal, J. Price, J. Welbergen, I. Atkinson, J. Ramirez-Villegas, T. Osborn, A. Jarvis, et al. 2013. Quantifying the benefit of early climate change mitigation in avoiding biodiversity loss. Nature Climate Change 3: 678–682.
Acknowledgements
The authors would like to thank Shelagh Kell, Caroline Pollock and Jamie Carr for their advice and guidance on using the IUCN criteria for climate change assessments. We would also like to thank Hannah Fielder for advice on the interpretation of some aspects of the data. Funding was provided by Landbruks- og matdepartementet.
Electronic supplementary material
Below is the link to the electronic supplementary material.
About this article
Cite this article
Phillips, J., Magos Brehm, J., van Oort, B. et al. Climate change and national crop wild relative conservation planning. Ambio 46, 630–643 (2017). https://doi.org/10.1007/s13280-017-0905-y
Received:

Revised:

Accepted:

Published:

Issue Date:
Keywords
Agriculture

Ex situ conservation

Food security

Genetic diversity

In situ conservation

Plant genetic resources