Abstract
Even when environmental data quantify the risks and benefits of delayed responses to rapid anthropogenic change, institutions rarely respond promptly. We propose that narratives complementing environmental datasets can motivate responsive environmental policy. To explore this idea, we relate a case study in which a narrative of economic loss due to regionally rapid ocean acidification—an anthropogenic change—helped connect knowledge with action. We pose three hypotheses to explain why narratives might be particularly effective in linking science to environmental policy, drawing from the literature of economics, environmental policy, and cognitive psychology. It seems that yet-untold narratives may hold similar potential for strengthening the feedback between environmental data and policy and motivating regional responses to other environmental problems.
Access options
Buy single article
Instant access to the full article PDF.
US$ 39.95
Tax calculation will be finalised during checkout.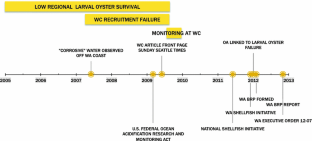 References
Barton, A., B. Hales, G.G. Waldbusser, C. Langdon, and R.A. Feely. 2012. The Pacific oyster, Crassostrea gigas, shows negative correlation to naturally elevated carbon dioxide levels: Implications for near-term ocean acidification effects. Limnology and Oceanography 57: 698–710.

Bonfils, D. 2010. Ocean acidification hits northwest oyster farms. Good Morning America, ABC News, New York, April 22.

Branch, T.A., B.M. DeJoseph, L.J. Ray, and C.A. Wagner. 2013. Impacts of ocean acidification on marine seafood. Trends in Ecology & Evolution 28: 178–186.

Clark, W.C., T.P. Tomich, M. van Noordwijk, D. Guston, D. Catacutan, N.M. Dickson, and E. McNie. 2011. Boundary work for sustainable development: Natural resource management at the Consultative Group on International Agricultural Research (CGIAR). Proceedings of the National Academy of Sciences. doi:10.1073/pnas.0900231108.

Clark, M.C., and M. Rossiter. 2008. Narrative learning in adulthood. New directions for adult and continuing education 119: 61–70.

Clark, W.C., R.B. Mitchell, and D.W. Cash. 2006. Evaluating the influence of global environmental assessments. In Global environmental assessments: Information and influence, ed. R.B. Mitchell, W.C. Clark, D.W. Cash, and N.M. Dickson. Cambridge: MIT Press.

Dahlstrom, M.F., and S.S. Ho. 2012. Ethical considerations of using narrative to communicate science. Science Communication 34: 592–617.

Dal Cin, S., M.P. Zanna, and G.T. Fong. 2004. Narrative persuasion and overcoming resistance. In Resistance and persuasion, ed. E.S. Knowles, and J.A. Linn, 175–191. Mahwah: Lawrence Erlbaum Associates.

Dewey, B., and B. Warren, 2011. A report from the front lines: The oyster seed crisis. Conference Paper, Seafood Summit, Vancouver.

Doney, S.C. 2010. The growing human footprint on coastal and open-ocean biogeochemistry. Science 328: 1512–1516.

Fabry, V.J., J.B. McClintock, J.T. Mathis, and J.M. Grebmeier. 2009. Ocean acidification at high latitudes: The bellweather. Oceanography 22: 160.

Fairhall, A. 1973. Accumulation of fossil CO2 in the atmosphere and the sea. Nature 245: 273–274.

Fairhall, A.W., and J.L. Erickson. 1975. Future impact of fossil CO2 on the sea. Nature 254: 273–274.

Feely, R.A., C.L. Sabine, J.M. Hernandez-Ayon, D. Ianson, and B. Hales. 2008. Evidence for upwelling of corrosive "acidified" water onto the continental shelf. Science 320: 1490–1492.

Flato, I. 2013. With climate change, no happy clams. Talk of the Nation, NPR, Washington, DC, June 14.

Frederick, S., G. Loewenstein, and T. O'Donoghue. 2002. Time discounting and time preference: A critical review. Journal of Economic Literature 40: 351–401.

Gattuso, J.-P., and L. Hansson. 2011. Ocean acidification. Oxford: Oxford University Press.

Graesser, A.C., B. Olde, B. Klettke, M. Green, J. Strange, and T. Brock. 2002. How does the mind construct and represent stories? In Narrative impact: Social and cognitive foundations, ed. M. Green, J. Strange, and T. Brock, 229–262. Hoboken: Taylor & Francis.

Green, M.C., and T.C. Brock. 2002. In the mind's eye: Transportation-imagery model of narrative persuasion. In Narrative impact: Social and cognitive foundations, ed. M.C. Green, J.J. Strange, and T.C. Brock. Hoboken: Taylor & Francis.

Green, M.A., G.G. Waldbusser, S.L. Reilly, and K. Emerson. 2009. Death by dissolution: Sediment saturation state as a mortality factor for juvenile bivalves. Limnology and Oceanography 54: 1037–1047.

Grossman, E. 2011. Northwest oyster die-offs show ocean acidification has arrived. Yale Environment 360. Retrieved November 21, 2010, from http://e360.yale.edu/feature/northwest_oyster_die-offs_show_ocean_acidification_has_arrived/2466/.

Hoben, A. 1995. Paradigms and politics: The cultural construction of environmental policy in Ethiopia. World Development 23: 1007–1021.

Hönisch, B., A. Ridgwell, D.N. Schmidt, E. Thomas, S.J. Gibbs, A. Sluijs, R. Zeebe, L. Kump, et al. 2012. The geological record of ocean acidification. Science 335: 1058–1063.

Johnson, L.T., and C. Hope. 2012. The social cost of carbon in US regulatory impact analyses: An introduction and critique. Journal of Environmental Studies and Sciences 2: 1–17.

Kaufman, L. 2012. Study links raised carbon dioxide levels to oyster die-offs. Green: A blog about energy and the environment, April 12. http://green.blogs.nytimes.com/2012/04/12/study-links-raised-carbon-dioxide-levels-to-oyster-die-offs/.

Kelly, R.P., M.M. Foley, W.S. Fisher, R.A. Feely, B.S. Halpern, G.G. Waldbusser, and M.R. Caldwell. 2011. Mitigating local causes of ocean acidification with existing laws. Science 332: 1036–1037.

Khatiwala, S., T. Tanhua, S. Mikaloff Fletcher, M. Gerber, S. Doney, H. Graven, N. Gruber, G. McKinley, et al. 2012. Global ocean storage of anthropogenic carbon. Biogeosciences Discussions 9: 8931–8988.

Kroeker, K.J., R.L. Kordas, R.N. Crim, and G.G. Singh. 2010. Meta-analysis reveals negative yet variable effects of ocean acidification on marine organisms. Ecology Letters 13: 1419–1434.

Kroeker, K.J., R.L. Kordas, R. Crim, I.E. Hendriks, L. Ramajo, G.S. Singh, C.M. Duarte, and J.-P. Gattuso. 2013. Impacts of ocean acidification on marine organisms: Quantifying sensitivities and interaction with warming. Global Change Biology 19: 1884–1896.

Laurans, Y., N. Pascal, T. Binet, L. Brander, E. Clua, G. David, D. Rojat, and A. Seidl. 2013. Economic valuation of ecosystem services from coral reefs in the South Pacific: Taking stock of recent experience. Journal of Environmental Management 116: 135–144.

Leonard, G. 2012. Ocean acidification: It's time to act. National Geographic Newswatch, November 28. http://newswatch.nationalgeographic.com/2012/11/28/ocean-acidification-its-time-to-act/.

Liu, J., T. Dietz, S.R. Carpenter, M. Alberti, C. Folke, E. Moran, A.N. Pell, P. Deadman, et al. 2007. Complexity of coupled human and natural systems. Science 317: 1513–1516.

Lorenzoni, I., S. Nicholson-Cole, and L. Whitmarsh. 2007. Barriers perceived to engaging with climate change among the UK public and their policy implications. Global Environmental Change 17: 445–459.

Mandler, J.M. 1984. Stories, scripts, and scenes: Aspects of schema theory. Hillsdale: Erlbaum.

Maynes, M.J., J.L. Pierce, and B. Laslett. 2008. Telling stories: The use of personal narratives in the social sciences and history. Ithaca: Cornell University Press.

McNie, E.C. 2007. Reconciling the supply of scientific information with user demands: An analysis of the problem and review of the literature. Environmental Science & Policy 10: 17–38.

Millennium Ecosystem Assessment. 2005. Ecosystems and human well-being: Synthesis. Washington, DC: Island Press.

Mitchell, R.B., W.C. Clark, D.W. Cash, and N.M. Dickson. 2006. Global environmental assessments: Information and influence. Cambridge: MIT Press.

Oatley, K., M. Green, J. Strange, and T. Brock. 2002. Emotions and the story worlds of fiction. In Narrative impact: Social and cognitive foundations, ed. M. Green, J. Strange, and T. Brock, 39–69. Hoboken: Taylor & Francis.

Pennington, N., and R. Hastie. 1993. The story model for juror decision making. Cambridge: Cambridge University Press.

Perrings, C. 1991. Reserved rationality and the precautionary principle: Technological change, time and uncertainty in environmental decision making. In Ecological economics: The science and management of sustainability, ed. R. Costanza, 153–166. New York: Columbia University Press.

Pindyck, R.S. 2007. Uncertainty in environmental economics. Review of Environmental Economics and Policy 1: 45–65.

Poortinga, W., L. Steg, and C. Vlek. 2004. Values, environmental concern, and environmental behavior: A study into household energy use. Environment and Behavior 36: 70–93.

Sabine, C.L., R.A. Feely, N. Gruber, R.M. Key, K. Lee, J.L. Bullister, R. Wanninkhof, C. Wong, et al. 2004. The oceanic sink for anthropogenic CO2. Science 305: 367–371.

Salisbury, J., M. Green, C. Hunt, and J. Campbell. 2008. Coastal acidification by rivers: A threat to shellfish? Eos Transactions, American Geophysical Union 89: 513.

Satran, J. 2012. Ocean acidification hurts oyster larvae development at Ore. Hatchery, study confirms. Huffington Post, April 13.

Schank, R.C., and T.R. Berman. 2002. The pervasive role of stories in knowledge and action. In Narrative impact: Social, cognitive foundations, ed. M. Green, J. Strange, and T. Brock, 287–313. Hoboken: Taylor & Francis.

Schleifstein, M. 2013. Ocean Week conference addresses various issues. New Orleans Times-Picayune, June 9.

Spence, A., W. Poortinga, C. Butler, and N.F. Pidgeon. 2011. Perceptions of climate change and willingness to save energy related to flood experience. Nature Climate Change 1: 46–49.

Spence, A., W. Poortinga, and N. Pidgeon. 2012. The psychological distance of climate change. Risk Analysis 32: 957–972.

Stern, P.C. 2002. New environmental theories: Toward a coherent theory of environmentally significant behavior. Journal of Social Issues 56: 407–424.

Tobias, L. 2012. Oregon State research traces oyster larvae die-off to increasing ocean acidity. The Oregonian, April 12.

Vitousek, P.M., H.A. Mooney, J. Lubchenco, and J.M. Melillo. 1997. Human domination of Earth's ecosystems. Science 277: 494–499.

Waldbusser, G.G., E.P. Voigt, H. Bergschneider, M.A. Green, and R.I. Newell. 2011. Biocalcification in the eastern oyster (Crassostrea virginica) in relation to long-term trends in Chesapeake Bay pH. Estuaries and Coasts 34: 221–231.

Washington State Blue Ribbon Panel on Ocean Acidification. 2012. Ocean acidification: From knowledge to action, Washington State's Strategic Response, Washington State Department of Ecology Report, Olympia, Washington, Publication No. 12-01-015.

Welch, C. 2009. Oysters in deep trouble: Is Pacific Ocean's chemistry killing sea life? Seattle Times, June 14.

Zimen, K.E., and F.K. Altenhein. 1973. The future burden of industrial CO2 on the atmosphere and the oceans. Naturwissenschaften 60: 198–199.
Acknowledgments
The authors would like to thank COMPASS for the opportunity to participate in the ocean acidification communications training in September 2012, from which the idea for this manuscript derived. Two anonymous reviewers substantially improved the product, and the authors are especially grateful for the thoughtful reviews that pointed out additional timely and relevant literature that provided further context for the piece.
About this article
Cite this article
Kelly, R.P., Cooley, S.R. & Klinger, T. Narratives Can Motivate Environmental Action: The Whiskey Creek Ocean Acidification Story. AMBIO 43, 592–599 (2014). https://doi.org/10.1007/s13280-013-0442-2
Received:

Revised:

Accepted:

Published:

Issue Date:
Keywords
Environmental decision-making

Social–ecological systems

Human dimensions

Narratives

Marine policy