Access options
Buy single article
Instant access to the full article PDF.
US$ 39.95
Tax calculation will be finalised during checkout.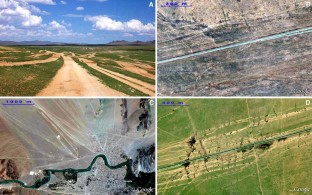 Notes
1.

Locally also known as the Millennium Road and internationally also as Asian Highway 32.
References
Batanouny, K.H. 1985. Environmental effects of off-road vehicles. Impacts and management in arid regions. Plant Ecology 60: 66–66.

Batjargal, Z., J. Dulam, and Y. Chung. 2006. Dust storms are an indication of an unhealthy environment in East Asia. Environmental Monitoring and Assessment 114: 447–460.

Belnap, J. 2002. Impacts of off-road vehicles on nitrogen cycles in biological soil crusts: Resistance in different U.S. deserts. Journal of Arid Environments 52: 155–165.

Brown, G., and N. Schoknecht. 2001. Off-road vehicles and vegetation patterning in a degraded desert ecosystem in Kuwait. Journal of Arid Environments 49: 413–427.

Clevenger, A.P., B. Chruszcz, and K.E. Gunson. 2003. Spatial patterns and factors influencing small vertebrate fauna road-kill aggregations. Biological Conservation 109: 15–26.

Damdinsuren, B., J.E. Herrick, D.A. Pyke, B.T. Bestelmeyer, and K.M. Havstad. 2008. Is rangeland health relevant to Mongolia? Rangelands 30: 25–29.

Forman, R.T.T. 2003. Road ecology: Science and solutions, 480 pp. Washington, DC: Island Press.

Google. 2011a. Near: Ulaan Baatar, Mongolia. http://goo.gl/Y6NGg. Accessed 20 April 2011.

Google. 2011b. Near: Bayan Olgii, Mongolia. http://goo.gl/cd0h3. Accessed 20 April 2011.

Google. 2011c. Near: Lun, Mongolia. http://goo.gl/p2tHE. Accessed 20 April 2011.

Google. 2011d. Aman-Semiz in Uzbekistan. http://goo.gl/QI1vG. Accessed 20 April 2011.

Google. 2011e. Akadyr, Kazakhstan. http://goo.gl/PsBM9. Accessed 20 April 2011.

Google. 2011f. Near: Eduardo Avaroa National Fauna Reserve in Bolivia. http://goo.gl/Dm4La. Accessed 20 April 2011.

Google. 2011g. Laguna Colorado in Bolivia. http://goo.gl/Rvp3I. Accessed 20 April 2011.

Laurance, W.F., M.A. Cochrane, S. Bergen, P.M. Fearnside, P. Delamônica, C. Barber, S. D'angelo, and T. Fernandes. 2001. The future of the Brazilian Amazon. Science 291: 438–439.

Li, S.-G., M. Tsujimura, A. Sugimoto, G. Davaa, and M. Sugita. 2006. Natural recovery of steppe vegetation on vehicle tracks in central Mongolia. Journal of Biosciences 31: 85–93.

Misak, R.F., J.M. Al-Awadhi, S.A. Omar, and S.A. Shahid. 2002. Soil degradation in Kabd area, southwestern Kuwait City. Land Degradation & Development 13: 403–415.

N.R.C. Committee on Ecological Impacts of Road Density. 2005. Assessing and managing the ecological impacts of paved roads, 294 pp. Washington, DC: National Academies Press.

National Statistical Office of Mongolia. 2008. Mongolian statistical yearbook 2007, 434 pp. Ulaanbaatar: National Statistical Office of Mongolia.

Onon, R. 2010. Current status of road destinations connected to Asian highway network. In: 8th meeting of the Central Asia Regional Economic Cooperation (CAREC) transport sector coordinating committee, Ulaanbaatar, Mongolia. 24–25 June 2009. Asian Development Bank. http://www.adb.org/Documents/Events/2009/8th-meeting-CAREC-TSCC/Session1-Progress-Report-MON-Roads.pdf.

Pérez, F.L. 1991. Particle sorting due to off-road vehicle traffic in a high andean paramo. CATENA 18: 239–254.

Rickard, C.A., A. Mclachlan, and G.I.H. Kerley. 1994. The effects of vehicular and pedestrian traffic on dune vegetation in South Africa. Ocean and Coastal Management 23: 225–247.

Roedenbeck, I.A., L. Fahrig, C.S. Findlay, J.E. Houlahan, J.A.G. Jaeger, N. Klar, S. Kramer-Schadt, and E.A. van der Grift. 2007. The Rauischholzhausen agenda for road ecology. Ecology and Society 12: 11.

Sanderson, E.W., M. Jaiteh, M.A. Levy, K.H. Redford, A.V. Wannebo, and G. Woolmer. 2002. The human footprint and the last of the wild. BioScience 52: 891–904.

Trivedi, B.P. 2003. Mongolia highway will threaten gazelles, Critics Say. http://news.nationalgeographic.com/news/2003/03/0320_030320_tvgazelles.html. Accessed 20 April 2011.

Van Gils, H.A.M.J., and A.V.L.A. Ugon. 2006. What drives conversion of tropical forest in Carrasco Province, Bolivia? AMBIO 35: 81–85.
Acknowledgments
We gratefully acknowledge the valuable contributions of Ben Wielstra, Eric Smaling, Roel Slootweg, Tony Whitten, Claudia Heinze, Andre Kooiman, and D. Narantuya for reviewing and commenting on this paper.
Additional information
This synopsis was not peer reviewed.
About this article
Cite this article
Keshkamat, S.S., Tsendbazar, NE., Zuidgeest, M.H.P. et al. The Environmental Impact of not Having Paved Roads in Arid Regions: An Example from Mongolia. AMBIO 41, 202–205 (2012). https://doi.org/10.1007/s13280-011-0155-3
Received:

Revised:

Accepted:

Published:

Issue Date:
Keywords
Land Degradation

Environmental Impact Assessment

Satellite Imagery

Pave Road

Strategic Environmental Assessment