Abstract
Background
Cisplatin (CIS) is widely applied as an anticancer drug for various cancer types, including liver, breast, colorectal, and pancreatic cancers; however, its usage is limited due to side effects.
Objective
We investigated whether combined therapy of Graviola (Annona muricata) leaves extract (GLE) and CIS could reduce CIS doses without decreasing its anticancer potential.
Methods
The MCF7, HepG2, CaCo2, or PANC1 cells were divided into four groups for each cell line as follows: group1 (G1): untreated cells, G2: cells treated with GLE, G3: cells treated with CIS, and G4: cells treated with GLE, after 2 h treated with CIS. All combinations were prepared as non-constant ratio from GLE. The cytotoxicity, gene expression, cell cycle arrest were determined by MTT assay, real-time PCR, and cell flow cytometry, respectively.
Results
Treatment with GLE and/or CIS-induced cytotoxic effect on HepG2, MCF7, CaCo2, and PANC1 cancer cells with the best effect of combined therapy. All twelve non-constant ratio combinations (GLE + CIS) for each cell line resulted in a significant higher cytotoxic effect than single drug treatment. The combination index (CI) values for all combinations were less than one, indicating the presence of synergistic cytotoxic effect between CIS and GLE against the four cancer cell lines. This anticancer effect was triggered through mitochondrial-dependent apoptosis with the downregulation of caspase3, Bax, and p53 and upregulation of Bcl2. GLE also shifted G0/G1 phase of cell cycle arrest induced by CIS to S and G2/M phases. Interestingly, this combined therapy did not affect oxidative stress (indicated by higher malondialdehyde level and lower activities of SOD, CAT, and GPX) induced by CIS; however, it downregulated the expression of MAPK1 and multidrug resistance gene MDR1.
Conclusion
These results demonstrate that Graviola leaves extract optimizes the antitumor potential of cisplatin and could be utilized as a natural adjuvant to decrease cisplatin side effects.
This is a preview of subscription content, log in to check access.
Access options
Buy single article
Instant access to the full article PDF.
US$ 39.95
Price includes VAT for USA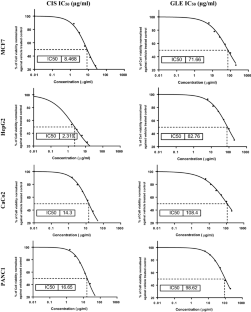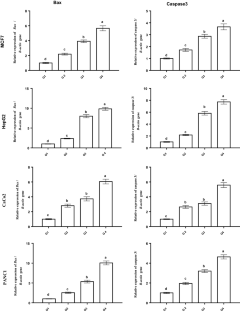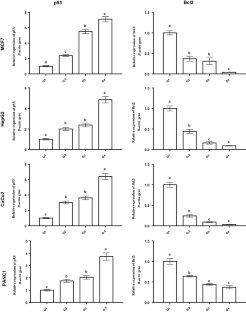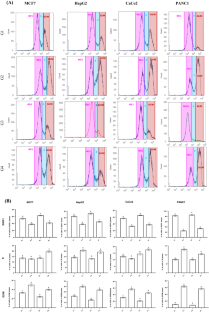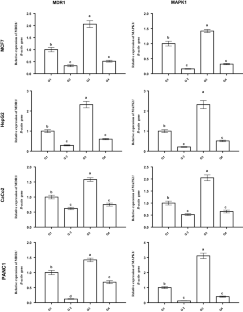 References
Abdelwahab MA, El-Barbary AA, El-Said KS, Betiha M, Elkholy HM, Chiellini E, El-Magd MA (2019) Functionalization of poly(3-hydroxybutyrate) with different thiol compounds inhibits MDM2–p53 interactions in MCF7 cells. J Appl Polym Sci 136:46924

Abdullah M, Syam AF, Meilany S, Laksono B, Prabu OG, Bekti HS, Indrawati L, Makmun D (2017) The value of caspase-3 after the application of Annona muricata leaf extract in COLO-205 colorectal cancer cell line. Gastroenterol Res Pract 2017:4357165

Agu KC, Okolie NP, Falodun A, Engel-Lutz N (2018) In vitro anticancer assessments of Annona muricata fractions and in vitro antioxidant profile of fractions and isolated acetogenin (15-acetyl guanacone). J Cancer Res Pract 5:53–66

Alzahrani FA, El-Magd MA, Abdelfattah-Hassan A, Saleh AA, Saadeldin IM, El-Shetry ES, Badawy AA, Alkarim S (2018) Potential effect of exosomes derived from cancer stem cells and MSCs on progression of DEN-induced HCC in rats. Stem Cells International 2018:17. https://doi.org/10.1155/2018/8058979

Badawy A, Hassanean H, Ibrahim AK, Habib ES, El- Magd MA, Ahmed SA (2019) Isolates from thymelaea hirsuta inhibit progression of hepatocellular carcinoma in vitro and in vivo. Nat Prod Res. https://doi.org/10.1080/14786419.2019.1643859

Banerjee A, Maji BK, Mukherjee S, Pal S (2017) Possible cytotoxic activity of Annona muricata leaves in Huh-7 human liver cancer cells. Hepatol Pancreat Sci 1:104–108

Carbajal D, Casaco A, Arruzazabala L, Gonzalez R, Fuentes V (1991) Pharmacological screening of plant decoctions commonly used in Cuban folk medicine. J Ethnopharmacol 33:21–24

Chang FR, Wu YC (2001) Novel cytotoxic annonaceous acetogenins from Annona muricata. J Nat Prod 64:925–931

Chang FR, Liaw CC, Lin CY, Chou CJ, Chiu HF, Wu YC (2003) New adjacent bis-tetrahydrofuran Annonaceous acetogenins from Annona muricata. Planta Med 69:241–246

Cheng Q, Liao M, Hu H, Li H, Wu L (2018) Asiatic acid (AA) sensitizes multidrug-resistant human lung adenocarcinoma A549/DDP cells to cisplatin (DDP) via downregulation of P-glycoprotein (MDR1) and its targets. Cell Physiol Biochem 47:279–292

Chou T-C (2010) Drug combination studies and their synergy quantification using the Chou-Talalay method. Can Res 70:440–446

Dai Y, Hogan S, Schmelz EM, Ju YH, Canning C, Zhou K (2011) Selective growth inhibition of human breast cancer cells by graviola fruit extract in vitro and in vivo involving downregulation of EGFR expression. Nutr Cancer 63:795–801

Deep G, Kumar R, Jain AK, Dhar D, Panigrahi GK, Hussain A, Agarwal C, El-Elimat T, Sica VP, Oberlies NH, Agarwal R (2016) Graviola inhibits hypoxia-induced NADPH oxidase activity in prostate cancer cells reducing their proliferation and clonogenicity. Sci Rep 6:23135

Elgazar AA, Selim NM, Abdel-Hamid NM, El-Magd MA, El Hefnawy HM (2018) Isolates from Alpinia officinarum Hance attenuate LPS induced inflammation in HepG2: evidence from in silico and in vitro studies. Phytother Res 32:1273–1288

Elkeiy M, Khamis A, El-Gamal M, Abo Gazia M, Zalat Z, El-Magd M (2018) Chitosan nanoparticles from Artemia salina inhibit progression of hepatocellular carcinoma in vitro and in vivo. Environ Sci Pollut Res Int 7:19016–19028. https://doi.org/10.1007/s11356-018-3339-6

El-Khashab I, Aniss N (2019) Anti-tumor effect of graviola and/or cranberry as a natural anti-proliferative agent on colorectal cell lines (CaCo2). EJBPS 6:86–98

El-Magd MA, Kahilo KA, Nasr NE, Kamal T, Shukry M, Saleh AA (2016) A potential mechanism associated with lead-induced testicular toxicity in rats. Andrologia 49:e12750

El-Magd MA, Abdo WS, El-Maddaway M, Nasr NM, Gaber RA, El-Shetry ES, Saleh AA, Alzahrani FAA, Abdelhady DH (2017a) High doses of S-methylcysteine cause hypoxia-induced cardiomyocyte apoptosis accompanied by engulfment of mitochondaria by nucleus. Biomed Pharmacother 94:589–597

El-Magd MA, Khamis A, Nasr Eldeen SK, Ibrahim WM, Salama AF (2017b) Trehalose enhances the antitumor potential of methotrexate against mice bearing Ehrlich ascites carcinoma. Biomed Pharmacother 92:870–878

El-Magd MA, Khalifa SF, Alzahrani FAA, Badawy AA, El-Shetry ES, Dawood LM, Alruwaili MM, Alrawaili HA, Risha EF, El-Taweel FM, Marei HE (2018) Incensole acetate prevents beta-amyloid-induced neurotoxicity in human olfactory bulb neural stem cells. Biomed Pharmacother 105:813–823

Ezirim A, Okachi V, James A, Adebeshi O, Ogunnowo S, Odeghe O (2013) Induction of apoptosis in myelogenous leukemic K562 cells by ethanolic leaf extract of annona muricata. Indian J Drugs Dis 2:142–151

Fuertes MA, Castilla J, Alonso C, Perez JM (2003) Cisplatin biochemical mechanism of action: from cytotoxicity to induction of cell death through interconnections between apoptotic and necrotic pathways. Curr Med Chem 10:257–266

Galluzzi L, Senovilla L, Vitale I, Michels J, Martins I, Kepp O, Castedo M, Kroemer G (2012) Molecular mechanisms of cisplatin resistance. Oncogene 31:1869–1883

Guo X, Ma N, Wang J, Song J, Bu X, Cheng Y, Sun K, Xiong H, Jiang G, Zhang B, Wu M, Wei L (2008) Increased p38-MAPK is responsible for chemotherapy resistance in human gastric cancer cells. BMC Cancer 8:375

Hoffmann C, Mao X, Brown-Clay J, Moreau F, Al Absi A, Wurzer H, Sousa B, Schmitt F, Berchem G, Janji B, Thomas C (2018) Hypoxia promotes breast cancer cell invasion through HIF-1α-mediated up-regulation of the invadopodial actin bundling protein CSRP2. Sci Rep 8:10191

Itoh T, Terazawa R, Kojima K, Nakane K, Deguchi T, Ando M, Tsukamasa Y, Ito M, Nozawa Y (2011) Cisplatin induces production of reactive oxygen species via NADPH oxidase activation in human prostate cancer cells. Free Radical Res 45:1033–1039

Khamis AAA, Ali EMM, El-Moneim MAA, Abd-Alhaseeb MM, El-Magd MA, Salim EI (2018) Hesperidin, piperine and bee venom synergistically potentiate the anticancer effect of tamoxifen against breast cancer cells. Biomed Pharmacother 105:1335–1343

Lannuzel A, Michel PP, Caparros-Lefebvre D, Abaul J, Hocquemiller R, Ruberg M (2002) Toxicity of Annonaceae for dopaminergic neurons: potential role in atypical parkinsonism in Guadeloupe. Mov Disord 17:84–90

Magdy A, Sadaka E, Hanafy N, El-Magd MA, Allahloubi N, El Kemary M (2020) Green tea ameliorates the side effects of the silver nanoparticles treatment of Ehrlich ascites tumor in mice. Mol Cell Toxicol 16:271–282. https://doi.org/10.1007/s13273-020-00078-6

Masalu N, Marwa K, Mwita S, Matinde R, Katabalo DM (2018) Awareness of chemotherapy side effects and attitude towards chemotherapy use among cancer patients attending oncology clinic at Bugando Medical Centre, in Mwanza, Northern Tanzania. J Drug Deliv Ther 8:448–454

Mishra S, Ahmad S, Kumar N, Sharma B (2013) Annona muricata (the cancer killer): a review. Glob J Pharma Res 2:1613–1618

Moghadamtousi SZ, Kadir HA, Paydar M, Rouhollahi E, Karimian H (2014) Annona muricata leaves induced apoptosis in A549 cells through mitochondrial-mediated pathway and involvement of NF-kappaB. BMC Complement Altern Med 14:299

Oberlies NH, Jones JL, Corbett TH, Fotopoulos SS, McLaughlin JL (1995) Tumor cell growth inhibition by several Annonaceous acetogenins in an in vitro disk diffusion assay. Cancer Lett 96:55–62

Oberlies NH, Chang CJ, McLaughlin JL (1997) Structure-activity relationships of diverse Annonaceous acetogenins against multidrug resistant human mammary adenocarcinoma (MCF-7/Adr) cells. J Med Chem 40:2102–2106

Qian JQ, Sun P, Pan ZY, Fang ZZ (2015) Annonaceous acetogenins reverses drug resistance of human hepatocellular carcinoma BEL-7402/5-FU and HepG2/ADM cell lines. Int J Clin Exp Pathol 8:11934–11944

Rady I, Bloch MB, Chamcheu RN, Banang Mbeumi S, Anwar MR, Mohamed H, Babatunde AS, Kuiate JR, Noubissi FK, El Sayed KA, Whitfield GK, Chamcheu JC (2018) Anticancer properties of Graviola (Annona muricata): a comprehensive mechanistic review. Oxid Med Cell Longev 2018:1826170

Selim NM, Elgazar AA, Abdel-Hamid NM, El-Magd MRA, Yasri A, Hefnawy HME, Sobeh M (2019) Chrysophanol, Physcion, Hesperidin and Curcumin Modulate the Gene Expression of Pro-Inflammatory Mediators Induced by LPS in Hep G2. Silico Mol Stud Antioxid 8:371

Siddik ZH (2003) Cisplatin: mode of cytotoxic action and molecular basis of resistance. Oncogene 22:7265–7279

Syed Najmuddin SU, Romli MF, Hamid M, Alitheen NB, Nik Abd Rahman NM (2016) Anti-cancer effect of Annona Muricata Linn Leaves Crude Extract (AMCE) on breast cancer cell line. BMC Complemen Altern Med 16:311

Torres MP, Rachagani S, Purohit V, Pandey P, Joshi S, Moore ED, Johansson SL, Singh PK, Ganti AK, Batra SK (2012) Graviola: a novel promising natural-derived drug that inhibits tumorigenicity and metastasis of pancreatic cancer cells in vitro and in vivo through altering cell metabolism. Cancer Lett 323:29–40

Wu FE, Zhao GX, Zeng L, Zhang Y, Schwedler JT, McLaughlin JL, Sastrodihardjo S (1995) Additional bioactive acetogenins, annomutacin and (2,4-trans and cis)-10R-annonacin-A-ones, from the leaves of Annona muricata. J Nat Prod 58:1430–1437

Yuan F, Bai G, Miao Y, Chen Y, Li X, Chen J (2016) Annosquacin B induces mitochondrial apoptosis in multidrug resistant human breast cancer cell line MCF-7/ADR through selectively modulating MAPKs pathways. Pharm Biol 54:3040–3045

Zeweil MM, Sadek KM, Taha NM, El-Sayed Y, Menshawy S (2019) Graviola attenuates DMBA-induced breast cancer possibly through augmenting apoptosis and antioxidant pathway and downregulating estrogen receptors. Environ Sci Pollut Res 26:15209–15217
Funding
This study was funded by authors and no other fund was received.
Ethics declarations
Conflicts of interest
The authors declare that there is no conflict of interest regarding the publication of this paper.
Additional information
Publisher's Note
Springer Nature remains neutral with regard to jurisdictional claims in published maps and institutional affiliations
About this article
Cite this article
Awad, M.G., Ali, R.A., Abd El-Monem, D.D. et al. Graviola leaves extract enhances the anticancer effect of cisplatin on various cancer cell lines. Mol. Cell. Toxicol. (2020). https://doi.org/10.1007/s13273-020-00092-8
Received:

Accepted:

Published:
Keywords
Graviola leaf

Cisplatin

Synergism

Apoptosis

MDR

ROS