Abstract
Background
Mitochondrial DNA (mtDNA) copy number and deletion ratio may be asymmetrically determined using physiologic or pathologic conditions. Mitochondrial dysfunction is associated with an increased risk of developing metabolic syndrome (MetS).
Objective
Here, we investigated the association between mtDNA copy number and/or deletion ratio and the risk of developing MetS in a general population exposed to the pesticide. We examined 215 randomly sampled adults who were exposed to pesticide but did not present with MetS in a prospective cohort study. Both mtDNA copy number and deletion ratio were determined using quantitative real-time polymerase chain reaction.
Results
During the average 2.8-year follow-up period, 76 (35.3%) participants developed new-onset MetS. The numbers of mtDNA copies were significantly lower in participants with new-onset MetS than in those without MetS (112.15 ± 26.15 vs. 133.13 ± 44.44, p < 0.001), whereas the mtDNA deletion ratios were higher in participants with MetS than in those without MetS (10.59 ± 11.96 vs. 4.52 ± 6.74, p < 0.001). In the multivariate-adjusted models, the participants with a higher tertile of mtDNA copy number were 0.355 times more likely to develop MetS than those with the lowest tertile [odds ratio (OR) 0.355, 95% confidence interval (CI) 0.150–0.841, p = 0.004]. A higher mtDNA deletion ratio was significantly associated with the risk of developing MetS in populations exposed to pesticide (OR 5.062, 95% CI 1.164–22.004, p = 0.004).
Conclusion
A lower mtDNA copy number and higher deletion ratio were independent predictors for new-onset MetS in a general population exposed to the pesticide.
This is a preview of subscription content, log in to check access.
Access options
Buy single article
Instant access to the full article PDF.
US$ 39.95
Price includes VAT for USA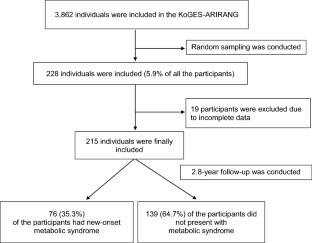 Abbreviations
mtDNA:

Mitochondrial DNA

MetS:

Metabolic syndrome

OR:

Odds ratio

CI:

Confidence interval

T2DM:

Type 2 diabetes mellitus

KoGES-ARIRANG:

Korean Genome and Epidemiology Study on the Atherosclerosis Risk of Rural Areas in the Korean General Population

WC:

Waist circumference

SBP:

Systolic blood pressure

DBP:

Diastolic blood pressure

LDL:

Low-density lipoprotein

HDL:

High-density lipoprotein

TG:

Triglyceride

HOMA-IR:

Homeostasis model assessment of insulin resistance

qPCR:

Quantitative polymerase chain reaction

mtMinArc:

Mitochondrial minor arc

mtMajArc:

Mitochondrial major arc

ND4:

NADH dehydrogenase subunit 4

BMI:

Body mass index
References
Alavanja MC, Ross MK, Bonner MR (2013) Increased cancer burden among pesticide applicators and others due to pesticide exposure. CA Cancer J Clin 63:120–142. https://doi.org/10.3322/caac.21170

Alberti KG et al (2009) Harmonizing the metabolic syndrome: a joint interim statement of the International Diabetes Federation Task Force on Epidemiology and Prevention; National Heart, Lung, and Blood Institute; American Heart Association; World Heart Federation; International Atherosclerosis Society; and International Association for the Study of Obesity. Circulation 120:1640–1645. https://doi.org/10.1161/circulationaha.109.192644

Ashar FN et al (2017) Association of mitochondrial DNA copy number with cardiovascular disease. JAMA Cardiol 2:1247–1255. https://doi.org/10.1001/jamacardio.2017.3683

Cho YM, Park KS, Lee HK (2007) Genetic factors related to mitochondrial function and risk of diabetes mellitus. Diabetes Res Clin Pract 77(Suppl 1):S172–177. https://doi.org/10.1016/j.diabres.2007.01.052

Huang CH et al (2011) Depleted leukocyte mitochondrial DNA copy number in metabolic syndrome. J Atheroscler Thromb 18:867–873

Jha SK et al (2017) Linking mitochondrial dysfunction, metabolic syndrome and stress signaling in neurodegeneration. Biochim Biophys Acta 1863:1132–1146. https://doi.org/10.1016/j.bbadis.2016.06.015

Jung DH et al (2016) Effects of ginseng on peripheral blood mitochondrial DNA copy number and hormones in men with metabolic syndrome: a randomized clinical and pilot study. Complement Ther Med 24:40–46. https://doi.org/10.1016/j.ctim.2015.12.001

Kahn BB, Flier JS (2000) Obesity and insulin resistance. J Clin Invest 106:473–481. https://doi.org/10.1172/jci10842

Kim JH, Im JA, Lee DC (2012) The relationship between leukocyte mitochondrial DNA contents and metabolic syndrome in postmenopausal women. Menopause 19:582–587. https://doi.org/10.1097/gme.0b013e31823a3e46

Kim JY et al (2017) A prospective study of leucocyte mitochondrial DNA content and deletion in association with the metabolic syndrome. Diabetes Metab 43:280–283. https://doi.org/10.1016/j.diabet.2016.09.007

Lee HC et al (2000) Increase of mitochondria and mitochondrial DNA in response to oxidative stress in human cells. Biochem J 348:425–432. https://doi.org/10.1042/bj3480425

Lee SY et al (2007) Appropriate waist circumference cutoff points for central obesity in Korean adults. Diabetes Res Clin Pract 75:72–80. https://doi.org/10.1016/j.diabres.2006.04.013

Lee JE et al (2009) Higher mitochondrial DNA copy number is associated with lower prevalence of microalbuminuria. Exp Mol Med 41:253–258. https://doi.org/10.3858/emm.2009.41.4.028

Lee HK et al (2010) Mitochondrial dysfunction and metabolic syndrome-looking for environmental factors. Biochim Biophys Acta 1800:282–289. https://doi.org/10.1016/j.bbagen.2009.11.010

Liu CS et al (2003) Oxidative stress-related alteration of the copy number of mitochondrial DNA in human leukocytes. Free Radic Res 37:1307–1317

Lozano-Paniagua D et al (2018) Biomarkers of oxidative stress in blood of workers exposed to non-cholinesterase inhibiting pesticides. Ecotoxicol Environ Saf 162:121–128. https://doi.org/10.1016/j.ecoenv.2018.06.074

Malik AN, Czajka A (2013) Is mitochondrial DNA content a potential biomarker of mitochondrial dysfunction? Mitochondrion 13:481–492. https://doi.org/10.1016/j.mito.2012.10.011

McCauley LA et al (2006) Studying health outcomes in farmworker populations exposed to pesticides. Environ Health Perspect 114:953–960

Meissner C et al (2008) The 4977 bp deletion of mitochondrial DNA in human skeletal muscle, heart and different areas of the brain: a useful biomarker or more? Exp Gerontol 43:645–652. https://doi.org/10.1016/j.exger.2008.03.004

Mozhei OI et al (2014) Evaluating the mitochondrial dna copy number in leukocytes and adipocytes from metabolic syndrome patients: pilot study. Mol Biol (Mosk) 48:677–681

O'Neill S, O'Driscoll L (2015) Metabolic syndrome: a closer look at the growing epidemic and its associated pathologies. Obes Rev 16:1–12. https://doi.org/10.1111/obr.12229

Phillips NR, Sprouse ML, Roby RK (2014) Simultaneous quantification of mitochondrial DNA copy number and deletion ratio: a multiplex real-time PCR assay. Sci Rep 4:3887. https://doi.org/10.1038/srep03887

Semren TZ, Zunec S, Pizent A (2018) Oxidative stress in triazine pesticide toxicity: a review of the main biomarker findings. Arh Hig Rada Toksikol 69:109–125. https://doi.org/10.2478/aiht-2018-69-3118

Sperling LS et al (2015) The cardiometabolic health alliance: Working toward a new care model for the metabolic syndrome. J Am Coll Cardiol 66:1050–1067. https://doi.org/10.1016/j.jacc.2015.06.1328

Vecoli C et al (2018) Prognostic value of mitochondrial DNA(4977) deletion and mitochondrial DNA copy number in patients with stable coronary artery disease. Atherosclerosis 276:91–97. https://doi.org/10.1016/j.atherosclerosis.2018.07.015
Funding
This research was supported by the Basic Science Research Program through the National Research Foundation of Korea (NRF), funded by the Ministry of Education (2017R1D1A3B03034119). Moreover, this research was supported by the Medical Research Center Program 2017R1A5A2015369. This work was carried out with the support of the Cooperative Research Program for Agriculture Science & Technology Development (project no.: PJ01250901) Rural Development Administration, Republic of Korea. This work was supported (in part) by the Yonsei University Research Fund of 2017.
Ethics declarations
Ethical approval
This study was included human participants and human data, a statement on ethics approval and consent, and the name of the ethics committee that approved the study. This study was approved by the Institutional Review Board of the Wonju Christian Hospital, according to the Helsinki Declaration. All the participants provided informed written consent.
Additional information
Publisher's Note
Springer Nature remains neutral with regard to jurisdictional claims in published maps and institutional affiliations.
About this article
Cite this article
Choi, J.R., Park, S., Kim, S. et al. Mitochondrial DNA content and deletion ratio are associated with metabolic syndrome in a general population exposed to pesticide. Mol. Cell. Toxicol. 16, 347–354 (2020). https://doi.org/10.1007/s13273-020-00079-5
Accepted:

Published:

Issue Date:
Keywords
mtDNA copy number

Deletion ratio

Metabolic syndrome

Pesticide exposure