Abstract
Background
Transglutaminase 2 (TG2) mediates protein modifications by crosslinking or by incorporating polyamine in response to oxidative or DNA-damaging stress, thereby regulating apoptosis, extracellular matrix formation, and inflammation. The regulation of transcriptional activity by TG2-mediated histone serotonylation or by Sp1 crosslinking may also contribute to cellular stress responses.
Objective
In this study, we attempted to identify TG2-interacting proteins to better understand the role of TG2 in transcriptional regulation.
Methods
Using a yeast two-hybrid assay to screen a HeLa cell cDNA library, we found that TG2 bound BAF250a, a core subunit of the cBAF chromatin remodeling complex, through an interaction between the TG2 barrel 1 and BAF250a C-terminal domains.
Results
TG2 was pulled down with a GST-BAF250a C-term fusion protein. Moreover, TG2 and BAF250a were co-fractionated using P11 chromatography, and co-immunoprecipitated. A transamidation reaction showed that TG2 mediated incorporation of polyamine into BAF250a. In glucocorticoid response-element reporter-expressing cells, TG2 overexpression increased the luciferase reporter activity in a transamidation-dependent manner. In addition, a comparison of genome-wide gene expression between wild-type and TG2-deficient primary hepatocytes in response to dexamethasone treatment showed that TG2 further enhanced or suppressed the expression of dexamethasone-regulated genes that were identified by a gene ontology enrichment analysis.
Conclusion
Thus, our results indicate that TG2 regulates transcriptional activity through BAF250a polyamination.
Access options
Buy single article
Instant access to the full article PDF.
US$ 39.95
Tax calculation will be finalised during checkout.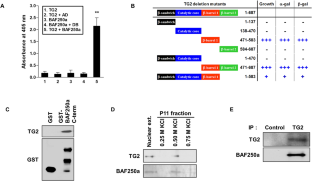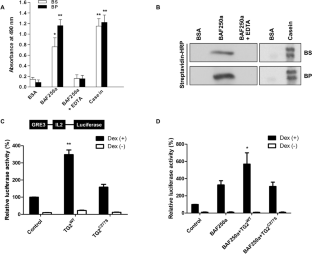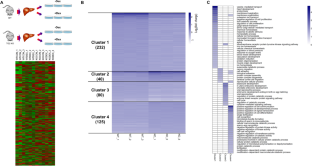 Acknowledgements
This work was supported by a National Research Foundation of Korea (NRF) grant funded by the Korea government (MSIP) (grant No. 2012R1A1A2005188 and 2017R1C1B2002183); and the Bio & Medical Technology Development Program of the NRF funded by the Ministry of Science & ICT (grant No. 2018M3A9F3056902).
Ethics declarations
Conflict of interest
The authors declare that they have no conflicts of interest.
Additional information
Publisher's Note
Springer Nature remains neutral with regard to jurisdictional claims in published maps and institutional affiliations.
About this article
Cite this article
Kim, HJ., Lee, JH., Cho, SY. et al. Transglutaminase 2 mediates transcriptional regulation through BAF250a polyamination. Genes Genom (2021). https://doi.org/10.1007/s13258-021-01055-6
Received:

Accepted:

Published:
Keywords
Transglutaminase 2 (TG2)

BAF250a

Transamidation

Dexamethasone

Transcriptional activity