Abstract
Background
Primordial dwarfism (PD) is a group of genetically heterogeneous disorders related to developmental disabilities occurring in the uterus and prolongs during all stages of life, resulting in short stature, facial deformities and abnormal brain.
Objective
To determine the exact cause of the disease in two Vietnamese patients priory diagnosed with PD by severe pre-and postnatal growth retardation with marked microcephaly and some bone abnormalities.
Methods
Whole-exome sequencing was performed for the two patients and mutations in genes related to PD were screened. Sanger sequencing was applied to examine the mutations in the patients of their families.
Results
Three novel mutations in the PCNT gene which have not been reported previously were identified in the two patients. Of which, two frameshift mutations (p.Thr479Profs*6 and p.Glu2742Alafs*8) were detected in patient I and one stop-gained mutation (p.Gln1907*) was detected in the patient II. These mutations may result in a truncated PCNT protein, leading to an inactivated PACT domain corresponding to residue His3138–Trp3216 of PCNT protein. Therefore, the three mutations may cause a deficiency of protein functional activity and result in the phenotypes of primordial dwarfism in the two patients.
Conclusions
Clinical presentations in combination with genetic analyses supported an accurate diagnosis of the two patients with microcephalic osteodysplastic primordial dwarfism type II (MOPD II). In addition, these results have important implications for prenatal genetic screening and genetic counseling for the families.
Access options
Buy single article
Instant access to the full article PDF.
US$ 39.95
Tax calculation will be finalised during checkout.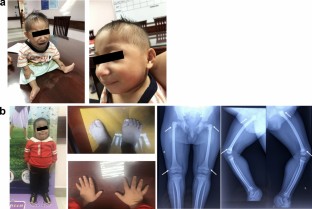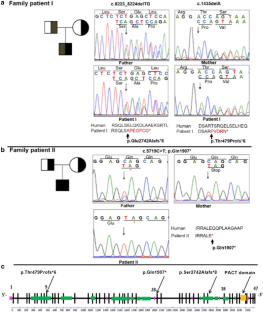 Acknowledgements
We thank all the patients and their families for their time and support.
Funding
This work was supported by a grant from the Vietnam Academy of Science and Technology (KHCBSS.02/18-20).
Ethics declarations
Conflict of interest
Thu Hien Nguyen, Ngoc-Lan Nguyen, Chi Dung Vu, Can Thi Bich Ngoc, Ngoc Khanh Nguyen, Huy Hoang Nguyen declare that they have no conflict of interest.
Ethics approval
This study was conducted in accordance with the Declaration of Helsinki and the protocol was approved by the Ethics Committee of the Institute of Genome Research (Institute of Genome Research Institutional Review Board, Hanoi, Vietnam, Reference no: 18/QD-NCHG on 22 March 2018).
Consent to participate
Written informed consent were obtained from the parents.
Consent for publication
The parents provided informed consent for publication of the images in Figs. 1 and 2a and b.
Additional information
Publisher's note
Springer Nature remains neutral with regard to jurisdictional claims in published maps and institutional affiliations.
Supplementary Information
Below is the link to the electronic supplementary material.
About this article
Cite this article
Nguyen, T.H., Nguyen, NL., Vu, C.D. et al. Identification of three novel mutations in PCNT in vietnamese patients with microcephalic osteodysplastic primordial dwarfism type II. Genes Genom 43, 115–121 (2021). https://doi.org/10.1007/s13258-020-01032-5
Received:

Accepted:

Published:

Issue Date:
Keywords
Microcephaly

MOPD II

PCNT gene

Primordial dwarfism