Abstract
This study is motivated by the estimation of many crop yield densities, each with a small number of observations. These densities tend to resemble one another if they are spatially proximate. To gain flexibility and improve efficiency, we propose kernel-based estimators refined by empirical likelihood probability weights derived under spatially smoothed moment conditions. We construct spatially smoothed moments based on spline functions, which are robust to outliers and readily customizable. We use these methods to estimate the corn yield distributions of Iowa counties and to predict the premiums of crop insurance programs. Monte Carlo simulations and an empirical application demonstrate the good performance and usefulness of the proposed methods.
Access options
Buy single article
Instant access to the full article PDF.
US$ 39.95
Tax calculation will be finalised during checkout.
Subscribe to journal
Immediate online access to all issues from 2019. Subscription will auto renew annually.
US$ 79
Tax calculation will be finalised during checkout.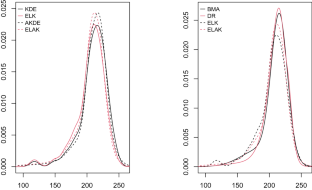 References
Abramson IS (1982) On bandwidth variation in kernel estimates—a square root law. Ann Stat 10:1217–1223

Baltagi BH, Li J (2014) Further evidence on the spatio-temporal model of house prices in the United States. J Appl Econom 29:515–522

Baltagi BH, Bresson G, Etienne J-M (2015) Hedonic housing prices in Paris: an unbalanced spatial lag pseudo-panel model with nested random effects. J Appl Econom 30:509–528

Banerjee S, Gelfand AE, Knight JR, Sirmans CF (2004) Spatial modeling of house prices using normalized distance-weighted sums of stationary processes. J Bus Econ Stat 22:206–213

Bickel PJ, Fan J (1996) Some problems on the estimation of unimodal densities. Stat Sin 6:23–45

Brady RR (2011) Measuring the diffusion of housing prices across space and over time. J Appl Econom 26:213–231

Cai Z (2001) Weighted Nadaraya–Watson regression estimation. Stat Prob Lett 51:307–318

Carbon M, Tran LT, Wu B (1997) Kernel density estimation for random fields. Stat Prob Lett 36:115–125

Chen SX (1997) Empirical likelihood-based kernel density estimation. Austral J Stat 39:47–56

Cheng M-Y, Gasser T, Hall P (1999) Nonparametric density estimation under unimodality and monotonicity constraints. J Comput Graph Stat 8:1–21

Claassen R, Just RE (2011) Heterogeneity and distributional form of farm-level yields. Am J Agric Econ 93:144–160

Conley TG, Topa G (2002) Socio-economic distance and spatial patterns in unemployment. J Appl Econom 17:303–327

Crespo Cuaresma J, Feldkircher M (2013) Spatial filtering, model uncertainty and the speed of income convergence in Europe. J Appl Econom 28:720–741

Eloyan A, Ghosh SK (2011) Smooth density estimation with moment constraints using mixture distributions. J Nonparam Stat 23:513–531

Gao J, Lu Z, Tjøstheim D (2006) Estimation in semiparametric spatial regression. Ann Stat 34:1395–1435

Goodwin BK, Ker AP (1998) Nonparametric estimation of crop yield distributions: implications for rating group-risk crop insurance contracts. Am J Agric Econ 80:139–153

Hall P (1990) On the bias of variable bandwidth curve estimators. Biometrika 77:529–535

Hall P, Huang L-S (2002) Unimodal density estimation using kernel methods. Stat Sin 12:965–990

Hall P, Kang K-H (2005) Unimodal kernel density estimation by data sharpening. Stat Sini 15:73–98

Hall P, Marron J (1988) Variable window width kernel estimates of probability densities. Probab Theory Relat Fields 80:37–49

Hall P, Presnell B (1999) Density estimation under constraints. J Comput Graph Stat 8:259–277

Hall P, Hu TC, Marron JS (1995) Improved variable window kernel estimates of probability densities. Ann Stat 23:1–10

Hallin M, Lu Z, Tran LT (2004a) Kernel density estimation for spatial processes: the L1 theory. J Multivar Anal 88:61–75

Hallin M, Lu Z, Tran LT (2001) Density estimation for spatial linear processes. Bernoulli, pp 657–668

Hallin M, Lu Z, Tran LT (2004b) Local linear spatial regression. Ann Stat 32:2469–2500

Harri A, Coble KH, Ker AP, Goodwin BJ (2011) Relaxing heteroscedasticity assumptions in area-yield crop insurance rating. Am J Agric Econ 93:707–717

Iversen ES Jr (2001) Spatially disaggregated real estate indices. J Bus Econ Stat 19:341–357

Jones M (1990) Variable kernel density estimates and variable kernel density estimates. Austral J Stat 32:361–371

Jones MC, Signorini DF (1997) A comparison of higher-order bias kernel density estimators. J Am Stat Assoc 92:1063–1073

Ker AP, Tolhurst TN, Liu Y (2016) Bayesian estimation of possibly similar yield densities: implications for rating crop insurance contracts. Am J Agric Econ 98:360–382

Lee Y, Choi H, Park B, Yu K (2004) Local likelihood density estimation on random fields. Stat Probab Lett 68:347–357

Li Q, Racine JS (2007) Nonparametric econometrics: theory and practice. Princeton University Press, Princeton

Lin Z, Li D, Gao J (2009) Local linear M-estimation in non-parametric spatial regression. J Time Ser Anal 30:286–314

Lu Z, Chen X (2004) Spatial Kernel Regression Estimation: Weak Consistency. Statistics & probability letters 68:125–136

Majumdar A, Munneke HJ, Gelfand AE, Banerjee S, Sirmans CF (2006) Gradients in spatial response surfaces with application to urban land values. J Bus Econ Stat 24:77–90

Müller UU, Schick A, Wefelmeyer W (2005) Weighted Residual-Based Density Estimators for Nonlinear Autoregressive Models, Statist. Sinica 15:177–195

Owen AB (1988) Empirical likelihood ratio confidence intervals for a single functional. Biometrika 75:237–249

Owen AB (1990) Empirical likelihood ratio confidence regions. Ann Stat 18:90–120

Owen AB (2001) Empirical likelihood. Chapman and Hall, London

Ozaki VA, Silva RS (2009) Bayesian ratemaking procedure of crop insurance contracts with skewed distribution. J Appl Statist 36:443–452

Ozaki VA, Goodwin BK, Shirota R (2008) Parametric and nonparametric statistical modelling of crop yield: implications for pricing crop insurance contracts. Appl Econ 40:1151–1164

Park E, Brorsen BW, Harri A (2019) Using Bayesian Kriging for spatial smoothing in crop insurance rating. Am J Agric Econ 101:330–351

Phillips PCB (2001) Descriptive econometrics for non-stationary time series with empirical illustrations. J Appl Econom 16:389–413

Qin G, Tsao M (2005) Empirical likelihood based inference for the derivative of the nonparametric regression function. Bernoulli 11:715–735

Racine J, Ker A (2006) Rating crop insurance policies with efficient nonparametric estimators that admit mixed data types. J Agric Resour Econ 31:27–39

Robinson PM (2011) Asymptotic theory for nonparametric regression with spatial data. J Econom 165:5–19

Schick A, Wefelmeyer W (2009) Improved density estimators for invertible linear processes. Commun Stat Theory Methods 38:3123–3147

Silverman BW (1986) Density estimation for statistics and data analysis. Chapman and Hall, London

Tack JB, Holt MT (2015) The influence of weather extremes on the spatial correlation of corn yields. Clim Change, pp 1–11

Terrell GR, Scott DW (1992) Variable kernel density estimation. Ann Stat 20:1236–1265

Tran LT (1990) Kernel density estimation on random fields. J Multivar Anal 34:37–53

Wand M, Jones M (1995) Kernel smoothing. Chapman and Hall, London

Woodard J (2016) Determining optimal data aggregation: an application of out-of-sample mixture models. In: Agricultural and applied economics association annual meeting in Boston. MA, July, Boston

Zhang B (1997) Quantile Processes in the Presence of Auxiliary Information. Ann Inst Stat Math 49:35–55

Zhang B (1998) A note on kernel density estimation with auxiliary information. Commun Stat-Theory Methods 27:1–11

Zhang YY (2017) A density-ratio model of crop yield distributions. Am J Agric Econ 99:1327–1343

Zhang J, Liu A (2003) Local polynomial fitting based on empirical likelihood. Bernoulli 9:579–605
Acknowledgements
Kuangyu Wen's research is supported by the Fundamental Research Funds for the Central Universities, HUST: 2019WKYXQN058.
Additional information
Publisher's Note
Springer Nature remains neutral with regard to jurisdictional claims in published maps and institutional affiliations.
About this article
Cite this article
Wen, K., Wu, X. & Leatham, D.J. Spatially Smoothed Kernel Densities with Application to Crop Yield Distributions. JABES (2021). https://doi.org/10.1007/s13253-021-00442-6
Received:

Revised:

Accepted:

Published:
Keywords
Crop yield distributions

Empirical likelihood

Insurance

Kernel density estimation

Spatial smoothing