Abstract
Hot desert regions are undoubtedly challenging to fungal survival on the Arabian Peninsula. Fungi are, however, recognized as the most stress-resistant organisms among all eukaryotes, which could be a result of the rapid evolution of distinct species. Our current understanding of these microorganisms is derived from studies examining only a fraction of the overall fungal diversity. Therefore, further studies are needed to understand the diversity of fungi in desert regions. This paper highlights the taxonomy of several unusual fungal genera collected in a range of aquatic and terrestrial environments in Oman. These taxa were identified based on phylogenetic analyses of nuclear ribosomal DNA (rDNA) (LSU, SSU and ITS) and protein-coding genes (TEF, RPB2 and TUB), plus morphological comparisons. Phylogenetic analyses, including the presently recognized genera in Patellariales resulted in splitting the order into four clades in Dothideomycetes. The new family Holmiellaceae and new order Holmiellales are introduced to include Holmiella. Species of Homortomycetaceae form a well-supported and distinct clade and raise it to Homortomycetales ordo novus. Omania (Halojulellaceae), Desertiserpentica (Lophiostomataceae) and Montanitestudina (Testudinaceae) are described as novel genera in Dothideomycetes. A synnematous hyphomycete with basidiomycetous affinity (Corticiales) was also identified and described as Basidiodesertica. Additionally, an asexual morph was observed for Holmiella junipericola; Patellaria quercus is synonymized under P. atrata, and seven new species are described.
Access options
Buy single article
Instant access to the full article PDF.
US$ 39.95
Tax calculation will be finalised during checkout.
Subscribe to journal
Immediate online access to all issues from 2019. Subscription will auto renew annually.
US$ 79
Tax calculation will be finalised during checkout.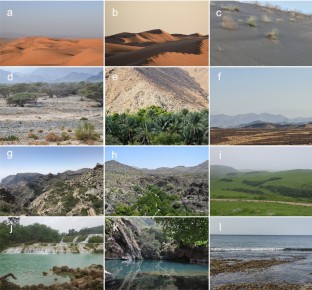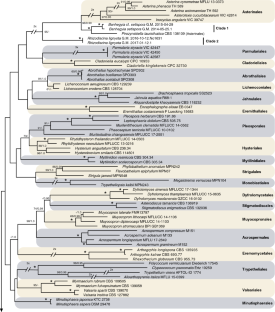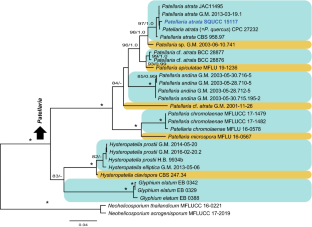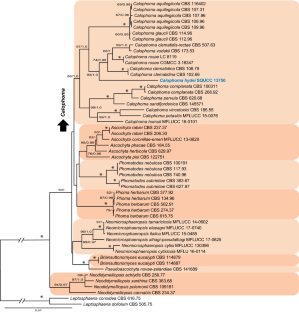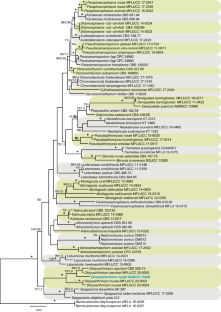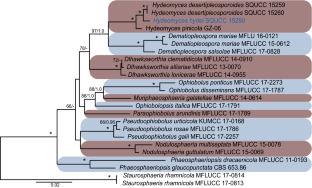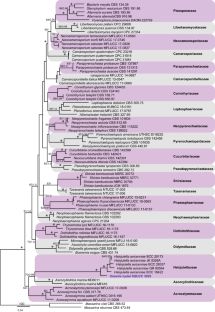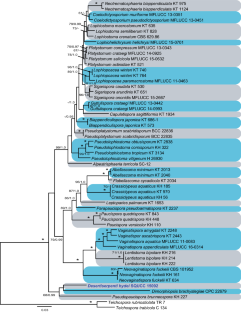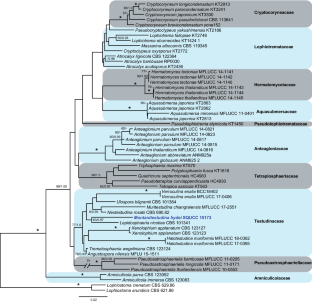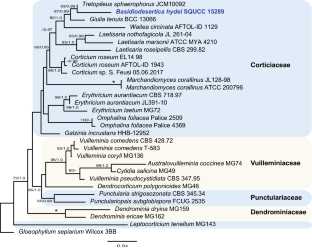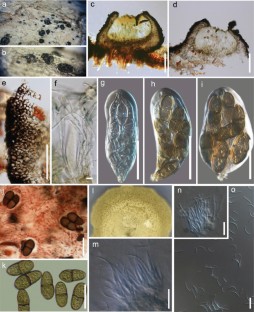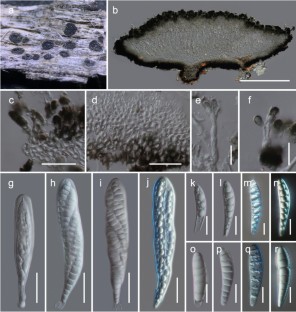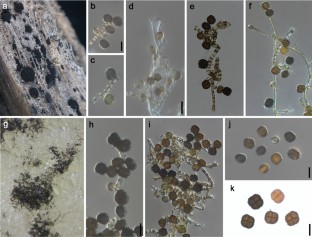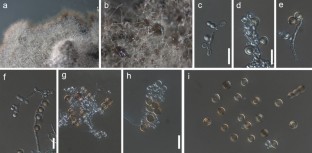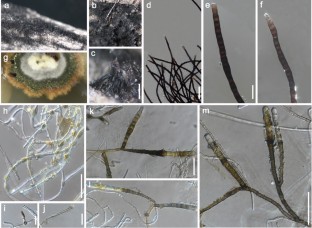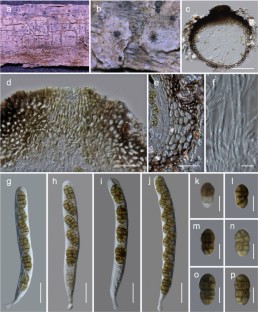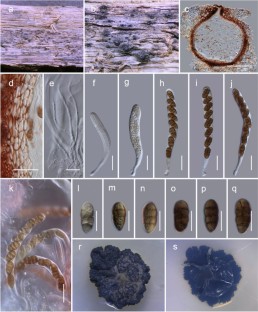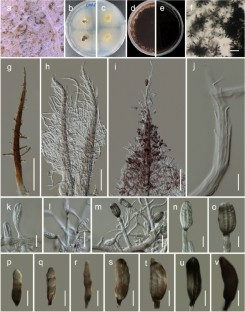 References
Abdelrahman HA, Lepiece A, Macalinga V (1993) Some physical and chemical characteristics of the batinah soils. Commun Soil Sci Plant Anal 24:2293–2305

Ahmed M, Choudri BS (2012) Climate change in Oman: current knowledge and way forward. Educ Bus Soc Contemp Middle East Issues 5:228–236

Ahmed SA, Hofmueller W, Seibold M, de Hoog GS, Harak H, Tammer I, Diepeningen AD, Behrens-Baumann W (2017) Tintelnotia, a new genus in Phaeosphaeriaceae harbouring agents of cornea and nail infections in humans. Mycoses 60:244–253

Al Sulaimani Z bin K, Helmi T, Nash H (2007) The social importance and continuity of falaj use in northern Oman. Proceedings of the International History Seminar on Irrigation and Drainage, Tehran, Iran, 2–5 May 2007

Al-Charaabi Y, Al-Yahyai S (2013) Projection of future changes in rainfall and temperature patterns in Oman. J Earth Sci Clim Change 4:1–8

Al-Daghari NR, Maharachchikumbura SSN, Al-Moqbali D, Al-Saady N, Al-Sadi AM (2020) Fungal diversity in leaves and stems of Neem (Azadirachta indica). Int J Sci Technol Res 9:793–798

Al-Jaradi AJ, Maharachchikumbura SSN, Al-Sadi AM (2020) Phaeosphaeriopsis omaniana (Phaeosphaeriaceae, Pleosporales), a novel fungus from Oman. Phytotaxa 436:187–192

Al-Sadi AM, Al-Ghaithi AG, Al-Balushi ZM, Al-Jabri AH (2012) Analysis of diversity in Pythium aphanidermatum populations from a single greenhouse reveals phenotypic and genotypic changes over 2006 to 2011. Plant Dis 96:852–858

Al-Sadi AM, Al-Khatri B, Nasehi A, Al-Shihi M, Al-Mahmooli IH, Maharachchikumbura SSN (2017) High fungal diversity and dominance by Ascomycota in dam reservoir soils of arid climates. Int J Agric Biol 19:682–688

Almazroui M, Islam MN, Jones PD, Athar H, Rahman MA (2012) Recent climate change in the Arabian Peninsula: seasonal rainfall and temperature climatology of Saudi Arabia for 1979–2009. Atmos Res 111:29–45

Alsharhan AS, Rizk ZA, Nairn AEM, Bakhit DW, Alhajari SA (2001) Hydrogeology of an arid region: the Arabian Gulf and adjoining areas. Elsevier, Amsterdam

Ariyawansa HA, Hyde KD, Jayasiri SC, Buyck B, Chethana KWT, Dai DQ, Dai YC, Daranagama DA, Jayawardena RS et al (2015) Fungal diversity notes 111–252—taxonomic and phylogenetic contributions to fungal taxa. Fungal Divers 75:27–274

Ariyawansa HA, Jones EBG, Suetrong S, Alias SA, Kang JC, Hyde KD (2013) Halojulellaceae a new family of the order Pleosporales. Phytotaxa 130:14–24

Badhan AK, Chadha BS, Kaur J, Saini HS, Bhat MK (2007) Production of multiple xylanolytic and cellulolytic enzymes by thermophilic fungus Myceliophthora sp. IMI 387099. Bioresour Technol 98:504–510

Bao DF, Su HY, Maharachchikumbura SSN, Liu JK, Nalumpang S, Luo ZL, Hyde KD (2019) Lignicolous freshwater fungi from China and Thailand: Multi-gene phylogeny reveals new species and new records in Lophiostomataceae. Mycosphere 10:1080–1099

Barr ME (1979) A classification of Loculoascomycetes. Mycologia 71:935–957

Berka RM, Grigoriev IV, Otillar R, Salamov A, Grimwood J, Reid I, Ishmael N, John T, Darmond C, Moisan M-C, Henrissat B, Coutinho PM, Lombard V, Natvig DO, Lindquist E, Schmutz J, Lucas S, Harris P, Powlowski J, Bellemare A, Taylor D, Butler G, de Vries RP, Allijn IE, van den Brink J, Ushinsky S, Storms R, Powell AJ, Paulsen IT, Elbourne LDH, Baker SE, Magnuson J, Laboissiere S, Clutterbuck AJ, Martinez D, Wogulis M, De Leon AL, Rey MW, Tsang A (2011) Comparative genomic analysis of the thermophilic biomass-degrading fungi Myceliophthora thermophila and Thielavia terrestris. Nat Biotechnol 29:922–927

Berkeley MJ (1868) On a collection of Fungi from Cuba. Part. II., including those belonging to the families Gasteromycetes, Coniomycetes, Hyphomycetes, Physomycetes, and Ascomycetes. Bot J Linn Soc 10:341–392

Boehm EWA, Mugambi GK, Miller AN, Huhndorf SM, Marincowitz S, Spatafora JW, Schoch CL (2009) A molecular phylogenetic reappraisal of the Hysteriaceae, Mytilinidiaceae and Gloniaceae (Pleosporomycetidae, Dothideomycetes) with keys to world species. Stud Mycol 64:49–83

Borse BD (1987) Marine fungi from India-V. Curr Sci 56:1109–1111

Boudier É (1907) Histoire et classification des Discomycètes d'Europe. Paul Klincksieck

Butler ET (1940) Studies in the Patellariaceae. Mycologia 32:791–823

Carranza S, Xipell M, Tarroso P, Gardner A, Arnold EN, Robinson MD, Simó-Riudalbas M, Vasconcelos R, de Pous P, Amat F, Šmíd J, Sindaco R, Metallinou M, Els J, Pleguezuelos JM, Machado L, Donaire D, Martínez G, Garcia-Porta J, Mazuch T, Wilms T, Gebhart J, Aznar J, Gallego J, Zwanzig BM, Fernández-Guiberteau D, Papenfuss T, Al Saadi S, Alghafri A, Khalifa S, Al Farqani H, Bilal SB, Alzari IS, Al Adhoobi AS, Al Omairi ZS, Al Shariani M, Al Kiyumi A, Al Sariri T, Al Shukaili AS, Al Akhzami SN (2018) Diversity, distribution and conservation of the terrestrial reptiles of Oman (Sauropsida, Squamata). PLoS ONE 13:e0190389

Cash EK (1945) Some new species of fungi on Libocedrus. Mycologia 37:311–317

Chen Q, Hou LW, Duan WJ, Crous PW, Cai L (2017) Didymellaceae revisited. Stud Mycol 87:105–159

Chen Q, Jiang JR, Zhang GZ, Cai L, Crous PW (2015) Resolving the Phoma enigma. Stud Mycol 82:137–217

Chomnunti P, Hongsanan S, Aguirre-Hudson B, Tian Q, Persoh D, Dhami MK, Alias AS, Xu J, Liu X, Stadler M, Hyde KD (2014) The sooty moulds. Fungal Divers 66:1–36

Clements FF, Shear CL (1931) The Genera of Fungi, 2nd edn. H.W. Wilson, New York

Corda AKJ (1838) Observations sur les Euastrées et les Cosmariées. Almanach de Carlsbad 9:213–246

Cremaschi M, Degli Esposti M, Fleitmann D, Perego A, Sibilia E, Zerboni A (2018) Late Holocene onset of intensive cultivation and introduction of the falaj irrigation system in the Salut oasis (Sultanate of Oman). Quat Sci Rev 200:123–140

Crous PW, Groenewald JZ, Lombard L, Wingfield MJ (2012) Homortomyces gen. nov., a new dothidealean pycnidial fungus from the Cradle of Humankind. IMA Fungus 3:109–115

Crous PW, Hawksworth DL, Wingfield MJ (2015) Identifying and naming plant-pathogenic fungi: past, present, and future. Annu Rev Phytopathol 53:247–267

Crous PW, Wingfield MJ, Guarro J, Cheewangkoon R, van der Bank M, SwartWJ SAM, Cano-Lira JF, Roux J, Madrid H, Damm U, Wood AR, Shuttleworth LA, Hodges CS, Munster M, Yáñez-Morales MJ, Zúñiga-Estrada L, Cruywagen EM, de Hoog GS, Silvera C, Najafzadeh J, Davison EM, Davison PJN, Barrett MD, Barrett RL, Manamgoda DS, Minnis AM, Kleczewski NM, Flory SL, Castlebury LA, Clay K, Hyde KD, Maússe-Sitoe SND, Chen S, Lechat C, Hairaud M, Lesage-Meessen L, Pawłowska J, Wilk M, Śliwińska-Wyrzychowska A, Mętrak M, Wrzosek M, Pavlic-Zupanc D, Maleme HM, Slippers B, Mac Cormack WP, Archuby DI, Grünwald NJ, Tellería MT, Dueñas M, Martín MP, Marincowitz S, de Beer ZW, Perez CA, Gené J, Marin-FelixY GJZ (2013) Fungal planet description sheets: 154–213. Persoonia 31:188–296

Cunfer BM (2000) Stagonospora and Septoria diseases of barley, oat, and rye. Can J Plant Pathol 22:332–348

Damon SC (1953) Notes on the hyphomycetous genera, Spegazzinia Sacc. and Isthmospora Stevens. Bull Torrey Bot Club 80:155–165

Dayarathne MC, Jones EBG, Maharachchikumbura SSN, Devadatha B, Sarma VV, Khongphinitbunjong K, Chomnunti P, Hyde KD (2020) Morpho-molecular characterization of microfungi associated with marine based habitats. Mycosphere 11:1–188

de la Cerda KA, Douhan GW, Wong FP (2007) Discovery and characterization of Waiteacircinata var. circinata affecting annual bluegrass from the western United States. Plant Dis 91:791–797

De Notaris G (1867) Nuove reclute per la pirenomicetologia italica. Comment Soc Crittogamol Ital 2:477–492

Deighton FC (1960) African fungi I. Mycol Pap 78:1–43

Diederich P, Zimmermann E, Sikaroodi M, Ghobad-Nejhad M, Lawrey JD (2018) A first lichenicolous Corticium species (Corticiaceae, Corticiales), described from Thamnolia in Switzerland. Bull Soc Nat Luxemb 120:49–56

Drummond AJ, Suchard MA, Xie D, Rambaut A (2012) Bayesian phylogenetics with BEAUti and the BEAST 1.7. Mol Biol Evol 29:1969–1973

Edgell HS (2006) Arabian deserts: nature, origin and evolution. Springer, Dordrecht

El-Sheikh MA (2013) Population structure of woody plants in the arid cloud forests of Dhofar, southern Oman. Acta Bot Croat 72:97–111

Ekanayaka AH, Ariyawansa HA, Hyde KD, Jones EB, Daranagama DA, Phillips AJL, Hongsanan S, Jayasiri SC, Qi Z (2017) Discomycetes: the apothecial representatives of the phylum Ascomycota. Fungal Divers 87:237–298

Eriksson O (1981) The families of bitunicate ascomycetes. Nord J Bot 1:800

Eriksson OE (2014) Checklist of the non-lichenized ascomycetes of Sweden. Acta Universitatis Upsaliensis 2:499

Eriksson OE, Hawksworth DL (1993) Notes on ascomycete systematics-Nos 1418–1529. Syst Ascomycetum 11:163–194

Fouda MM, Hermosa Jr GV, Al-Harthi SM (1997) Status of fish biodiversity in the Sultanate of Oman. Convention on Biological Diversity, First National Report. Dir Nat Reserv Sultanate Oman

Fries EM (1822) Systema mycologicum 2(1):1–274

Gebauer J, Luedeling E, Hammer K, Buerkert A (2009) Agro-horticultural biodiversity in mountain oases of northern Oman. I Int Symp Hortic Eur 817:325–332

Glass NL, Donaldson GC (1995) Development of primer sets designed for use with the PCR to amplify conserved genes from filamentous ascomycetes. Appl Environ Microbiol 61:1323–1330

Hafellner J (1979) Karschia. Revision einer Sammelgattung an der Grenze von lichenisierten und nichtlichenisierten Ascomyceten. Beih Nova Hedwigia 62:1–248

Halo BA, Maharachchikumbura SSN, Al-Yahyai RA, Al-Sadi AM (2019) Cladosporium omanense, a new endophytic species from Zygophyllum coccineum in Oman. Phytotaxa 388:145–154

Hasan S, Ansari MI, Ahmad A, Mishra M (2015) Major bioactive metabolites from marine fungi: a review. Bioinformation 11:176–181

Hashimoto A, Hirayama K, Takahashi H, Matsumura M, Okada G, Chen CY, Huang JW, Kakishima M, Ono T, Tanaka K (2018) Resolving the Lophiostoma bipolare complex: Generic delimitations within Lophiostomataceae. Stud Mycol 90:161–189

Hawksworth D (1991) The fungal dimension of biodiversity: magnitude, significance and conservation. Mycol Res 95:641–655

Hawksworth DL (1986) The names of accepted orders of ascomycetes. Syst Ascomycetum 5:175–184

Hawksworth DL (2001) The magnitude of fungal diversity: the 1.5 million species estimate revisited. Mycol Res 105:1422–1432

Hawksworth DL, Kirk PM, Sutton BC, Pegler DN (1995) Ainsworth & Bisby's dictionary of the fungi, 8th edn. CABI, Wallingford, p 616

Hawksworth DL, Lücking R (2017) Fungal diversity revisited: 2.2 to 3.8 million species. Microbiol Spec 5:1–17

He MQ, Zhao RL, Hyde KD, Begerow D, Kemler M, Yurkov A, McKenzie EHC, Raspé O, Kakishima M, Sánchez-Ramıírez S, Vellinga EC, Halling R, Papp V, Zmitrovich IV, Buyck B, Ertz D, Wijayawardene NN, Cui BK, Schoutteten N, Liu XZ, Li TH, Yao YJ, Zhu XY, Liu AQ, Li GJ, Zhang MZ, Ling ZL, Cao B, Antonín V, Boekhout T, da Silva BDB, De Crop E, Decock C, Dima B, Dutta AK, Fell JW, Geml J, Ghobad-Nejhad M, Giachini AJ, Gibertoni TB, Gorjón SP, Haelewaters D, He SH, Hodkinson BP, Horak E, Hoshino T, Justo A, Lim YW, Menolli N Jr, Mešić A, Moncalvo JM, Mueller GM, Nagy LG, Nilsson RH, Noordeloos M, Nuytinck J, Orihara T, Ratchadawan C, Rajchenberg M, Silva-Filho AGS, Sulzbacher MA, Tkalčec Z, Valenzuela R, Verbeken A, Vizzini A, Wartchow F, Wei TZ, Weiß M, Zhao CL, Kirk PM (2019) Notes, outline and divergence times of Basidiomycota. Fungal Divers 99:105–367

Hedwig J (1787–1789) Descriptio et adumbratio microscopico-analytica muscorum frondosorum, 4 Bande, Leipzig

Henderson JC (2015) The development of tourist destinations in the Gulf: Oman and Qatar compared. Tour Plan Dev 12:350–361

Hernandez-Restrepo M, Schumacher RK, Wingfield MJ, Ishtiaq A, Cai L, Duong TA, Edwards J, Gene J, Groenewald JZ, Sana J, Khalid AN (2016) Fungal systematics and evolution: FUSE 2. Sydowia 68:193–230

Hibbett DS, Binder M, Bischoff JF, Blackwell M, Cannon PF, Eriksson OE, Huhndorf S, James T, Kirk PM, Lücking R, Lumbsch T, Lutzoni F, Matheny PB, Mclaughlin DJ, Powell MJ, Redhead S, Schoch CL, Spatafora JW, Stalpers JA, Vilgalys R, Aime MC, Aptroot A, Bauer R, Begerow D, Benny GL, Castlebury LA, Crous PW, Dai YC, Gams W, Geiser DM, Griffith GW, Gueidan C, Hawksworth DL, Hestmark G, Hosaka K, Humber RA, Hyde KD, Ironside JE, Kõljalg U, Kurtzman CP, Larsson KH, Lichtwardt R, Longcore J, Miadlikowska J, Miller A, Moncalvo JM, Mozley-Standridge S, Oberwinkler F, Parmasto E, Reeb V, Rogers JD, Roux C, Ryvarden L, Sampaio JP, Schüßler A, Sugiyama J, Thorn RG, Tibell L, Untereiner WA, Walker C, Wang Z, Weir A, Weiß M, White MM, Winka K, Yao YJ, Zhang N (2007) A higher-level phylogenetic classification of the fungi. Mycol Res 111:509–547

Hibbett DS, Bauer R, Binder M, Giachini AJ, Hosaka K, Justo A, Larsson E, Larsson KH, Lawrey JD, Miettinen O, Nagy LG, Nilsson RH, Weiss M, Thorn RG (2014) 14 Agaricomycetes. In: McLaughlin D, Spatafora J (eds) Systematics and evolution The Mycota (A comprehensive treatise on fungi as experimental systems for basic and applied research), vol 7A. Springer, Berlin, pp 373–429

Hibbett DS, Thorn RG (2001) Basidiomycota: homobasidiomycetes. Systematics and evolution. Springer, Berlin, pp 121–168

Holm K, Holm L (1977) Nordic junipericolous ascomycetes. Symb Bot Upsal 21:1–70

Hongsanan S, Hyde KD, Phookamsak R, Wanasinghe DN, McKenzie EHC, Sarma VV, Boonmee S, Lücking R, Bhat DJ, Liu NG, Tennakoon DS, Pem D, Karunarathna A, Jiang SH, Jones EBG, Phillips AJL, Manawasinghe IS, Tibpromma S, Jayasiri SC, Sandamali DS, Jayawardena RS, Wijayawardene NN, Ekanayaka AH, Jeewon R, Lu YZ, Dissanayake AJ, Zeng XY, Luo ZL, Tian Q, Phukhamsakda C, Thambugala KM, Dai DQ, Chethana KWT, Samarakoon MC, Ertz D, Bao DF, Doilom M, Liu JK, Pérez-Ortega S, Suija A, Senwanna C, Wijesinghe SN, Konta S, Niranjan M, Zhang SN, Ariyawansa HA, Jiang HB, Zhang JF, Norphanphoun C, de Silva NI, Thiyagaraja V, Zhang H, Bezerra JDP, Miranda-González R, Aptroot A, Kashiwadani H, Harishchandra D, Sérusiaux E, Aluthmuhandiram JVS, Abeywickrama PD, Devadatha B, Wu HX, Moon KH, Gueidan C, Schumm F, Bundhun D, Mapook A, Monkai J, Chomnunti P, Suetrong S, Chaiwan N, Dayarathne MC, Yang J, Rathnayaka AR, Bhunjun CS, Xu JC, Zheng JS, Liu G, Feng Y, Xie N (2020a) Refined families of Dothideomycetes: Dothideomycetidae and Pleosporomycetidae. Mycosphere 11:1553–2107

Hongsanan S, Hyde KD, Phookamsak R, Wanasinghe DN et al. (2020b) Refined families of Dothideomycetes: orders and families incertae sedis in Dothideomycetes. Fungal Divers. https://doi.org/10.1007/s13225-020-00462-6

Hou L, Hernández-Restrepo M, Groenewald JZ, Cai L, Crous PW (2020) Citizen science project reveals high diversity in Didymellaceae (Pleosporales, Dothideomycetes). MycoKeys 65:49–99

Hou LW, Groenewald JZ, Pfenning LH, Yarden O, Crous PW, Cai L (2020) The phoma-like dilemma. Stud Mycol 96:309–396

Hughes SJ (1952) Fungi from the Gold Coast. I Mycol Pap 48:1–91

Hunter-Cevera JC (1998) The value of microbial diversity. Curr Opin Microbiol 1:278–285

Hyde KD (1992) Julella avicenniae (Borse) comb. nov. (Thelenellaceae) from intertidal mangrove wood and miscellaneous fungi from the NE coast of Queensland. Mycol Res 96:939–942

Hyde KD, Chethana KW, Jayawardena RS, Luangharn T, Calabon MS, Jones EB, Hongsanan S, Lumyong S (2020) The rise of mycology in Asia. ScienceAsia 46:1–11

Hyde KD, Jeewon R, Chen YJ, Bhunjun CS, Calabon MS, Jiang HB, Lin CG, Norphanphoun C, Sysouphanthong P, Pem D, Tibpromma S, Zhang Q, Doilom M, Jayawardena RS, Liu JK, Maharachchikumbura SSN, Phukhamsakda C, Phookamsak R, Al-Sadi AM, Thongklang N, Wang Y, Gafforov Y, Jones EBG, Lumyong S (2020) The numbers of fungi: is the descriptive curve flattening? Fungal Divers 103:219–271

Hyde KD, Jones EBG, Liu JK, Ariyawansa H, Boehm E, Boonmee S, Braun U, Chomnunti P, Crous PW, Dai DQ, Diederich P, Dissanayake A, Doilom M, Doveri F, Hongsanan S, Jayawardena R, Lawrey JD, Li YM, Liu YX, Lücking R, Monka J, Muggia L, Nelsen MP, Pang KL, Phookamsak R, Senanayake IC, Shearer CA, Suetrong S, Tanaka K, Thambugala KM, Wijayawardene NN, Wikee S, Wu HX, Zhang Y, Begoña AH, Alias SA, Aptroot A, Bahkali AH, Bezerra JL, Bhat DJ, Camporesi E, Chukea E, Gueidan C, Hawksworth DL, Hirayama K, Hoog SD, Kang JK, Knudsen K, Li WJ, Li XH, Liu ZY, Mapook A, Mckenzie EHC, Miller AN, Mortimer PE, Phillips AJL, Raja HA, Scheuer C, Schumm F, Taylor JE, Tian Q, Tibpromma S, Wanasinghe DN, Wang Y, Xu JC, Yacharoen S, Yan JY, Zang M (2013) Families of Dothideomycetes. Fungal Divers 63:1–313

Hyde KD, Norphanphoun C, Chen J, Dissanayake AJ, Doilom M, Hongsanan S, Jayawardena RS, Jeewon R, Perera RH, Thongba B, Wanasinghe DN, Wisitrassameewong K, Tibpromma S, Stadler M (2018) Thailand's amazing diversity: up to 96% of fungi in northern Thailand may be novel. Fungal Divers 93:215–239

Jayasuriya HPW, Al-Ismaili AM, Al-Shukaili T (2017) Farming systems in Oman and mechanization potentials. Agric Mech Asia Africa Lat Am 48:66–74

Jayawardena RS, Hyde KD, Jeewon R, Ghobad-Nejhad M, Wanasinghe DN, Liu N, Phillips AJL, Oliveira-Filho JRC, da Silva GA, Gibertoni TB, Abeywikrama P, Carris LM, Chethana KWT, Dissanayake AJ, Hongsanan S, Jayasiri SC, McTaggart AR, Perera RH, Phutthacharoen K, Savchenko KG, Shivas RG, Thongklang N, Dong W, Wei DP, Wijayawardena NN, Kang JC (2019) One stop shop II: taxonomic update with molecular phylogeny for important phytopathogenic genera: 26–50 (2019). Fungal Divers 94:41–129

Johnston PR, Seifert KA, Stone JK, Rossman AY, Marvanova L (2014) Recommendations on generic names competing for use in Leotiomycetes (Ascomycota). IMA Fungus 5:91–120

Jones EBG (2000) Marine fungi: some factors influencing biodiversity. Fungal Divers 4:53–73

Jones EBG, Pang KL (2012) Introduction marine fungi. Marine fungi and fungal-like organisms. Walter de Gruyter, Berlin

Jones EBG, Pang KL, Abdel-Wahab MA, Scholz B, Hyde KD, Boekhout T, Ebel R, Rateb ME, Henderson L, Sakayaroj J, Suetrong S, Dayarathne MC, Kumar V, Raghukumar S, Sridhar KR, Bahkali AHA, Gleason FH, Norphanphoun C (2019) An online resource for marine fungi. Fungal Divers 96:347–433

Jones EBG, Suetrong S, Sakayaroj J, Bahkali AH, Abdel-Wahab MA, Boekhout T, Pang KL (2015) Classification of marine Ascomycota, Basidiomycota, Blastocladiomycota and Chytridiomycota. Fungal Divers 73:1–72

Karunarathna A, Papizadeh M, Senanayake IC, Jeewon R, Phookamsak R, Goonasekara ID, Wanasinghe DN, Wijayawardene NN, Amoozegar MA, Shahzadeh Fazeli SA, Camporessi E (2017) Novel fungal species of Phaeosphaeriaceae with an asexual/sexual morph connection. Mycosphere 8:1818–1834

Kazerooni EA, Maharachchikumbura SSN, Rethinasamy V, Al-Mahrouqi H, Al-Sadi AM (2017) Fungal diversity in tomato rhizosphere soil under conventional and desert farming systems. Front Microbiol 8:1462

Kirk P, Cannon PF, Minter DW, Stalpers JA (2008) Ainsworth & Bisby's Dictionary of the Fungi, 10th edn. CABI, Wallingford

Kumar S, Stecher G, Tamura K (2016) MEGA7: molecular evolutionary genetics analysis version 7.0 for bigger datasets. Mol Biol Evol 33:1870–1874

Kutorga E, Hawksworth D (1997) A reassessment of the genera referred to the family Patellariaceae (Ascomycota). Syst Ascomycetum 15:1–110

Lawrey JD, Diederich P, Sikaroodi M, Gillevet PM (2008) Remarkable nutritional diversity of basidiomycetes in the Corticiales, including a new foliicolous species of Marchandiomyces (anamorphic Basidiomycota, Corticiaceae) from Australia. Am J Bot 95:816–823

Leão-Ferreira SM, Gusmão LFP (2010) Conidial fungi from the semi-arid Caatinga biome of Brazil. New species of Endophragmiella and Spegazzinia with new records for Brazil, South America, and Neotropica. Mycotaxon 111:1–10

Li GJ, Hyde KD, Zhao RL, Hongsanan S, Abdel-Aziz FA, Abdel-Wahab MA, Alvarado P, Alves-Silva G, Ammirati JF, Ariyawansa HA, Baghela A, Bahkali AH, Beug M, Bhat DJ, Bojantchev D, Boonpratuang T, Bulgakov TS, Camporesi E, Boro MC, Ceska O, Chakraborty D, Chen JJ, Chethana KWT, Chomnunti P, Consiglio G, Cui BK, Dai DQ, Dai YC, Daranagama DA, Das K, Dayarathne MC, De Crop E, De Oliveira RJV, de Souza CAF, de Souza JI, Dentinger BTM, Dissanayake AJ, Doilom M, Drechsler-Santos ER, Ghobad-Nejhad M, Gilmore SP, Góes-Neto A, Gorczak M, Haitjema CH, Hapuarachchi KK, Hashimoto A, He MQ, Henske JK, Hirayama K, Iribarren MJ, Jayasiri SC, Jayawardena RS, Jeon SJ, Jerônimo GH, Jesus AL, Jones EBG, Kang JC, Karunarathna SC, Kirk PM, Konta S, Kuhnert E, Lagner E, Lee HS, Lee HB, Li WJ, Li XH, Liimatainen K, Lima DX, Lin CG, Liu JK, Liu XZ, Liu ZY, Luangsa-ard JJ, Lücking R, Lumbsch HT, Lumyong S, Leaño EM, Marano AV, Matsumura M, McKenzie EHC, Mongkolsamrit S, Mortimer PE, Nguyen TTT, Niskanen T, Norphanphoun C, O'Malley MA, Parnmen S, Pawlowska J, Perera RH, Phookamsak R, Phukhamsakda C, Pires-Zottarelli CLA, Raspé O, Reck MA, Rocha SCO, de Santiago ALCMA, Senanayake IC, Setti L, Shang QJ, Singh SK, Sir EB, Solomon KV, Song J, Sriktikulchai P, Stadler M, Suetrong S, Takahashi H, Takahashi T, Tanaka K, Tang LP, Thambugala KM, Thanakitpipattana D, Theodorou MK, Thongbai B, Thummarukcharoen T, Tian Q, Tibpromma S, Verbeken A, Vizzini A, Vlasák J, Voigt K, Wanasinghe DN, Wang Y, Weerakoon G, Wen HA, Wen TC, Wijayawardena NN, Wongkanoun S, Wrzosek M, Xiao YP, Xu JC, Yan JY, Yang J, Yang SD, Hu Y, Zhang JF, Zhao J, Zhou LW, Peršoh D, Phillips AJL, Maharachchikumbura SSN (2016) Fungal diversity notes 253–366: taxonomic and phylogenetic contributions to fungal taxa. Fungal Divers 78:1–237

Li W-J, McKenzie EHC, Liu J-KJ, Bhat DJ, Dai DQ, Camporesi E, Tian Q, Maharachchikumbura SSN, Luo ZL, Shang QJ, Zhang JF, Tangthirasunun N, Karunarathna SC, Xu JC, Hyde KD (2020) Taxonomy and phylogeny of hyaline-spored coelomycetes. Fungal Divers 100:279–801

LiBerra K, Lindequist U (1995) Marine fungi: a prolific resource of biologically active natural products? Pharmazie 50:583–588

Lindau G (1897) In Engler & Prantl. Nat Pfl 11:221

Liu JK, Hyde KD, Jeewon R, Phillips AJL, Maharachchikumbura SSN, Ryberg M, Liu ZY, Zhao Q (2017) Ranking higher taxa using divergence times: a case study in Dothideomycetes. Fungal Divers 84:75–99

Liu YJ, Whelen S, Hall BD (1999) Phylogenetic relationships among ascomycetes: evidence from an RNA polymerse II subunit. Mol Biol Evol 16:1799–1808

Lumbsch HT, Huhndorf SM (2007) Outline of Ascomycota-2007. Myconet 13:1–58

Lumbsch HT, Huhndorf SM (2010) Myconet volume 14 part one. Outline of ascomycota-2009. Fieldiana Life Earth Sci 1:1–922

Luttrell ES (1951) Taxonomy of pyrenomycetes. Univ Mo Stud 24:1–120

Luttrell ES (1973) Loculoascomycetes. In: Ainsworth GC, Sparrow FK, Sussman AS (eds) The fungi. An advanced treatise, a taxonomic review with keys: ascomycetes and fungi imperfecti. Academic Press, New York, pp 135–219

Magan N (2007) Fungi in extreme environments. Mycota 4:85–103

Maharachchikumbura SSN, Al-Sadi AM, Al-Kharousi M, Al-Saady N, Hyde KD (2016) A checklist of fungi in Oman. Phytotaxa 273:219–261

Maharachchikumbura SSN, Ariyawansa HA, Wanasinghe DN, Dayarathne M, Al-Saady N, Al-Sadi AM (2019) Phylogenetic classification and generic delineation of Hydeomyces desertipleosporoides gen. et sp. nov., (Phaeosphaeriaceae) from Jebel Akhdar Mountain in Oman. Phytotaxa 391:28–38

Mapook A, Hyde KD, McKenzie EHC, Gareth Jones EB, Jayarama Bhat D, Jeewon R, Stadler M, Samarakoon MC, Malaithong M, Tanunchai B, Buscot F, Wubet T, Purahong W (2020) Taxonomic and phylogenetic contributions to fungi associated with the invasive weed Chromolaena odorata (Siam weed). Fungal Divers 101:1–175

Marin-Felix Y, Hernández-Restrepo M, Iturrieta-González I, García D, Carnegie AJ, Cheewangkoon R, Gramaje D, Groenewald JZ, Guarnaccia V, Halleen F, Lombard L (2019) Genera of phytopathogenic fungi: GOPHY 3. Stud Mycol 94:1–124

Méndez-Mayboca F, Checa J, Esqueda M, Chacón S (2010) New records of Loculoascomycetes from natural protected areas in Sonora, Mexico. Mycotaxon 111:19–30

Miller MA, Pfeiffer W, Schwartz T (2012) The CIPRES science gateway: enabling high-impact science for phylogenetics researchers with limited resources. In: Proceedings of the 1st conference of the extreme science and engineering discovery environment: bridging from the extreme to the campus and beyond. pp 1–8

Nannfeldt JA (1932) Studien uber die Morphologie und Systematik der nicht-lichenisierten inoperculaten Discomyceten. Nov Acta Regiae Soc Sci Upsal Ser IV 8:1–368

Nitschke TRJ (1869) Grundlage eines systems der Pyrenomyceten. Verh Naturhistorisch Vereins Preuss Rheinl Westfal Regier Osnabr 26:70–77

Nizamuddin M, Campbell AC (1995) Glossophorella, a new genus of the family Dictyotaceae (Dictyotales-Phaeophyta) and its ecology from the coast of the Sultanate of Oman. Pak J Bot 27:257–262

Nylander JAA (2004) MrModeltest ver. 2. Evol Biol Centre. Uppsala University, Sweden

O'Donnell K, Cigelnik E (1997) Two divergent intragenomic rDNA ITS2 types within a monophyletic lineage of the FungusFusariumAre nonorthologous. Mol Phylogenet Evol 7:103–116

Oberwinkler F, Kirschner R, Arenal F, Villarreal M, Rubio V, Begerow D, Bauer R (2006) Two new pycnidial members of the Atractiellales: Basidio pycnishyalina and Proceropycnis pinicola. Mycologia 98:637–649

Okada G (1998) Morphology and molecular phylogeny of Tretopileus sphaerophorus, a synnematous hyphomycete with basidiomycetous affinities. Mycoscience 39:21–30

Pacelli C, Selbmann L, Zucconi L, Coleine C, de Vera J-P, Rabbow E, Böttger U, Dadachova E, Onofri S (2019) Responses of the Black Fungus Cryomyces antarcticus to simulated mars and space conditions on rock analogs. Astrobiology 19:209–220

Patzelt A, Harrison T, Knees SG, Al Harthy L (2014) Studies in the flora of Arabia: xxxi. new records from the Sultanate of Oman. Edinburgh J Bot 71:161–180

Pem D, Gafforov Y, Jeewon R, Hongsanan S, Promputtha I, Doilom M, Hyde KD (2018) Multigene phylogeny coupled with morphological characterization reveal two new species of Holmiella and taxonomic insights within Patellariaceae. Cryptogam Mycol 39:193–209

Petrini O, Samuels GL, Müller E (1979) Holmiella sabina (de Not.) comb. nov. (syn. Eutryblidiella sabina) and its Cornicularia–like anamorph, an endophyte on Juniperus species. BerSchweiz Bot. Ges 89:80–90

Phillips AJL, Slippers B, Groenewald JZ, Crous PW (2013) Plant pathogenic and endophytic Botryosphaeriales known from culture. CBS-KNAW Fungal Biodiversity Centre

Phookamsak R, Liu JK, McKenzie EHC, Manamgoda DS, Ariyawansa H, Thambugala KM, Dai DQ, Camporesi E, Chukeatirote E, Wijayawardene NN, Bahkali AH, Mortimer PE, Xu JC, Hyde KD (2015) Revision of Phaeosphaeriaceae. Fungal Divers 68:159–223

Phookamsak R, Wanasinghe DN, Hongsanan S, Phukhamsakda C, Huang SK, Tennakoon DS, Norphanphoun C, Camporesi E, Bulgakov TS, Promputa I, Mortimer PE, Xu JC (2017) Towards a natural classification of Ophiobolus and ophiobolus-like taxa; introducing three novel genera Ophiobolopsis, Paraophiobolus and Pseudoophiobolus in Phaeosphaeriaceae (Pleosporales). Fungal Divers 87:299–339

Photita W, Lumyong S, Lumyong P, McKenzie EHC, Hyde KD (2003) Saprobic fungi on dead wild banana. Mycotaxon 85:345–356

Pickering H, Patzelt A (2008) Field guide to the wild plants of Oman. Royal Botanic Gardens, Kew

Pirozynski KA, Shoemaker RA (1971) Some Coelomycetes with appendaged conidia. Can J Bot 49:529–541

Quaedvlieg W, Verkley GJM, Barretto S-D et al (2013) Sizing up Septoria. Stud Mycol 75:307–390

Ramsbottom J (1912) Some notes on the history of the classification of the Discomycetes. Trans Br Mycol Soc 4:382–404

Rehner SA (2001) Primers for elongation factor 1-α (EF1-α)

Reid J, Pirozynski KA (1966) Notes on some interesting North American fungi. Can J Bot 44:645–653

Reid WV, Miller K (1989) Keeping options alive: the scientific basis for conserving biodiversity. World Resources Institute, Washington, DC

Rungjindamai N, Sakayaroj J, Plaingam N, Somrithipol S, Jones EBG (2008) Putative basidiomycete teleomorphs and phylogenetic placement of the coelomycete genera: Chaetospermum, Giulia and Mycotribulus based on nu-rDNA sequences. Mycol Res 112:802–810

Saccardo PA (1884) Conspectus generum Discomycetum hucuscue cognitorum. Bot Cent 18:247–256

Saccardo PA (1899) Patavii. Sylloge fungorum 14:1–1316

Sale JB (1980) The ecology of the mountain region of Dhofar. J Oman Stud Spec Rep 2:25–54

Samarakoon BC, Wanasinghe DN, Samarakoon MC, Phookamsak R, McKenzie EHC, Chomnunti P, Hyde KD, Lumyong S, Karunarathna SC (2020b) Multi-gene phylogenetic evidence suggests Dictyoarthrinium belongs in Didymosphaeriaceae (Pleosporales, Dothideomycetes) and Dictyoarthriniummusae sp. nov. on Musa from Thailand. MycoKeys 71:101–118

Samarakoon MC, Thongbai B, Hyde KD, Brönstrup M, Beutling U, Lambert C, Miller AN, Liu J-KJ, Promputtha I, Stadler M (2020a) Elucidation of the cycle of the endophytic genus Muscodor and its transfer to Induratia in Induratiaceae fam. nov., based on a polyphasic taxonomic approach. Fungal Divers 101:177–210

Samuels GJ, Müller E (1979) Life-history studies of Brazilian ascomycetes. Sydowia 31:169–179

Sanderson NA, Hawksworth DL, Aptroot A (2009) Melaspilea Nyl. (1857) Lichens Gt Britain Irel. In: Smith CW, Aptroot A, Coppins BJ, Fletcher A, Gilbert OL, James PW, Wolseley PA (eds) pp 576–579

Saravanan T, Vittal BPR (2007) Some rare and interesting hyphomycetes from Eastern Ghats in Tamil Nadu, India. Kavaka 35:21–44

Schoch CL, Crous PW, Groenewald JZ, Boehm EWA, Burgess TI, De Gruyter J, De Hoog GS, Dixon LJ, Grube M, Gueidan C, Harada Y, Hatakeyama S, Hirayama K, Hosoya T, Huhndorf SM, Hyde KD, Jones EBG, Kohlmeyer J, Kruys A, Li YM, Lücking R, Lumbsch HT, Marvanova L, Mbatchou JS, McVay AH, Miller AN, Mugambi GK, Muggia L, Nelsen MP, Nelson P, Owensby CA, Phillips AJL, Phongpaichit S, Pointing SB, Pujade-Renaud V, Raja HA, Rivas Plata E, Robbertse B, Ruibal C, Sakayaroj J, Sano T, Selbmann L, Shearer CA, Shirouzu T, Slippers Bernard Suetrong S, Tanaka K, Volkmann-Kohlmeyer B, Wingfield Michael J, Wood AR, Woudenberg JHC, Yonezawa H, Zhang Y, Spatafora JW (2009) A class-wide phylogenetic assessment of Dothideomycetes. Stud Mycol 64:1–15

Scott DA (1995) A directory of wetlands in the Middle East. IUCN, Gland

Selbmann L, De Hoog GS, Mazzaglia A, Friedmann EI, Onofri S (2005) Fungi at the edge of life: cryptoendolithic black fungi from Antarctic desert. Stud Mycol 51:1–32

Shoemaker RA (1984) Canadian and some extralimital Nodulosphaeria and Entodesmium species. Can J Bot 62:2730–2753

Shoemaker RA, Babcock CE (1992) Applanodictyosporous Pleosporales: Clathrospora, Comoclathris, Graphyllium, Macrospora, and Platysporoides. Can J Bot 70:1617–1658

Spatafora JW, Sung G-H, Johnson D, Hesse C, O'Rourke B, Serdani M, Spotts R, Lutzoni F, Hofstetter V, Miadlikwoska J, Reeb V, Gueidan C, Fraker E, Lumbsch T, Lücking R, Schmitt I, Hosaka K, Aptroot A, Roux C, Miller AN, Geiser DM, Hafellner J, Hestmark G, Arnold AE, Büdel B, Rauhut A, Hewitt D, Untereiner WA, Cole MS, Scheidegger C, Schultz M, Sipman H, Schoch CL (2006) A five-gene phylogeny of Pezizomycotina. Mycologia 98:1018–1028

Stamatakis A (2014) RAxML version 8: a tool for phylogenetic analysis and post-analysis of large phylogenies. Bioinformatics 30:1312–1313

Sterflinger K, Lopandic K, Pandey RV, Blasi B, Kriegner A (2014) Nothing special in the specialist? Draft genome sequence of Cryomyces antarcticus, the most extremophilic fungus from antarctica. PLoS ONE 9:e109908

Subramanian CV (1952) Fungi imperfecti from madras-II. Springer, Berlin, pp 160–168

Suhara H, Kamei I, Maekawa N, Kondo R (2011) Biotransformation of polychlorinated dibenzo-p-dioxin by Coprinellus species. Mycoscience 52:48–52

Tangthirasunun N, Silar P, Bhat DJ, Chukeatirote E, Wikee S, Maharachchikumbura SSN, Hyde KD, Wang Y (2014) Morphology and phylogeny of Chaetospermum (asexual coelomycetous Basidiomycota). Phytotaxa 175:61–72

Tarda AS, Saparrat MCN, Gómez N (2019) Assemblage of dematiaceous and Ingoldian fungi associated with leaf litter of decomposing Typha latifolia L. (Typhaceae) in riverine wetlands of the Pampean plain (Argentina) exposed to different water quality. J Environ Manag 250:109409

Tassi F (1904) Origine e sviluppo delle Leptostromaceae e loro rapporti con le famiglie affine. Bull Lab Ortol Bot R Univ Siena 6:3–124

Taylor TN, Krings M, Taylor EL (2014) Fossil fungi. Academic Press, London

Tekpinar AD, Kalmer A (2019) Utility of various molecular markers in fungal identification and phylogeny. Nova Hedwigia 109:187–224

Tennakoon D (2019) Leaf litter saprobic Didymellaceae (Dothideomycetes): Leptosphaerulina longiflori sp., nov. and Didymella sinensis, a new record from Roystonea regia. Asian J Mycol 2:87–100

Thambugala KM, Daranagama DA, Phillips AJL, Bulgakov TS, Bhat DJ, Camporesi E, Bahkali AH, Eungwanichayapant PD, Liu ZY, Hyde KD (2017) Microfungi on Tamarix. Fungal Divers 82:239–306

Thambugala KM, Hyde KD, Tanaka K, Tian Q, Wanasinghe DN, Ariyawansa HA, Jayasiri SC, Boonmee S, Camporesi E, Hashimoto A, Hirayama K, Schumacher RK, Promputtha I, Liu ZY (2015) Towards a natural classification and backbone tree for Lophiostomataceae, Floricolaceae, and Amorosiaceae fam. nov. Fungal Divers 74:199–266

Unterseher M, Otto P, Morawetz W (2003) Studies of the diversity of lignicolous fungi in the canopy of a flood plain forest in Leipzig, Saxony. Boletus 26:117–126

Valenzuela-Lopez N, Cano-Lira JF, Guarro J, Sutton DA, Wiederhold N, Crous PW, Stchigel AM (2018) Coelomycetous Dothideomycetes with emphasis on the families Cucurbitariaceae and Didymellaceae. Stud Mycol 90:1–69

Vilgalys R, Hester M (1990) Rapid genetic identification and mapping of enzymatically amplified ribosomal DNA from several Cryptococcus species. J Bacteriol 172:4238–4246

von Arx JA (1971) Testudinaceae, a new family of Ascomycetes. Persoonia 6:365–369

von Arx JA, Muüller E (1975) A re-evaluation of the bitunicate ascomycetes with keys to families and genera. Stud Mycol 9:91–159

Vu D, Groenewald M, de Vries M, Gehrmann T, Stielow B, Eberhardt U, Al-Hatmi A, Groenewald JZ, Cardinali G, Houbraken J, Boekhout T, Crous PW, Robert V, Verkley GJM (2019) Large-scale generation and analysis of filamentous fungal DNA barcodes boosts coverage for kingdom fungi and reveals thresholds for fungal species and higher taxon delimitation. Stud Mycol 92:135–154

Wanasinghe DN, Jeewon R, Jones EBG, Tibpromma S (2017) Saprobic Dothideomycetes in Thailand: Muritestudina gen. et sp. nov. (Testudinaceae) a new terrestrial pleosporalean ascomycete, with hyaline and muriform ascospores. Stud Fungi 2:219–234

Wanasinghe DN, Jones EBG, Dissanayake AJ, Hyde KD (2016) Saprobic Dothideomycetes in Thailand: Vaginatispora appendiculata sp. nov. (Lophiostomataceae) introduced based on morphological and molecular data. Stud Fungi 1:56–68

Wanasinghe DN, Phukhamsakda C, Hyde KD, Jeewon R, Lee HB, Jones EBG, Tibpromma S, Tennakoon DS, Dissanayake AJ, Jayasiri SC, Gafforov Y, Camporesi E, Bulgakov TS, Ekanayake AH, Perera RH, Samarakoon MC, Goonasekara ID, Mapook A, Li WJ, Senanayake IC, Li JF, Norphanphoun C, Doilom M, Bahkali AH, Xu JC, Mortimer PE, Tibell L, Tibell S, Karunarathna SC (2018) Fungal diversity notes 709–839: taxonomic and phylogenetic contributions to fungal taxa with an emphasis on fungi on Rosaceae. Fungal Divers 89:1–236

Wanasinghe DN, Wijayawardene NN, Xu J, Cheewangkoon R, Mortimer PE (2020) Taxonomic novelties in Magnolia-associated pleosporalean fungi in the Kunming Botanical Gardens (Yunnan, China). PLoS ONE 15:e0235855

Weilbacher BF (1970) Contributions to the studies in the flora of Thailand. Nat Hist Bull 23:509

White TJ, Bruns S, Lee S, Taylor J (1990) Amplification and direct sequencing of fungal ribosomal RNA genes for phylogenetics. PCR Protoc Guid Methods Appl. https://doi.org/10.1016/b978-0-12-372180-8.50042-1

Wijayawardene NN, Hyde KD, Al-Ani LKT, Tedersoo L, Haelewaters D, Rajeshkumar KC, Zhao RL, Aptroot A, Leontyev DV, Saxena RK, Tokarev YS, Dai DQ, Letcher PM, Stephenson SL, Ertz D, Lumbsch HT, Kukwa M, Issi IV, Madrid H, Phillips AJL, Selbmann L, Pfliegler WP, Horváth E, Bensch K, Kirk PM, Kolaříková K, Raja HA, Radek R, Papp V, Dima B, Ma J, Malosso E, Takamatsu S, Rambold G, Gannibal PB, Triebel D, Gautam AK, Avasthi S, Suetrong S, Timdal E, Fryar SC, Delgado G, Réblová M, Doilom M, Dolatabadi S, Pawłowska JZ, Humber RA, Kodsueb R, Sánchez-Castro I, Goto BT, Silva DKA, de Souza FA, Oehl F, da Silva GA, Silva IR, Błaszkowski J, Jobim K, Maia LC, Barbosa FR, Fiuza PO, Divakar PK, Shenoy BD, Castañeda-Ruiz RF, Somrithipol S, Lateef AA, Karunarathna SC, Tibpromma S, Mortimer PE, Wanasinghe DN, Phookamsak R, Xu J, Wang Y, Tian F, Alvarado P, Li DW, Kušan I, Matočec N, Mešić A, Tkalčec Z, Maharachchikumbura SSN, Papizadeh M, Heredia G, Wartchow F, Bakhshi M, Boehm E, Youssef N, Hustad VP, Lawrey JD, Santiago ALCMA, Bezerra JDP, Souza-Motta CM, Firmino AL, Tian Q, Houbraken J, Hongsanan S, Tanaka K, Dissanayake AJ, Monteiro JS, Grossart HP, Suija A, Weerakoon G, Etayo J, Tsurykau A, Vázquez V, Mungai P, Damm U, Li QR, Zhang H, Boonmee S, Lu YZ, Becerra AG, Kendrick B, Brearley FQ, Motiejūnaitė J, Sharma B, Khare R, Gaikwad S, Wijesundara DSA, Tang LZ, He MQ, Flakus A, Rodriguez-Flakus P, Zhurbenko MP, McKenzie EHC, Stadler M, Bhat DJ, Liu JK, Raza M, Jeewon R, Nassonova ES, Prieto M, Jayalal RGU, Erdoğdu M, Yurkov A, Schnittler M, Shchepin ON, Novozhilov YK, Silva-Filho AGS, Gentekaki E, Liu P, Cavender JC, Kang Y, Mohammad S, Zhang LF, Xu RF, Li YM, Dayarathne MC, Ekanayaka AH, Wen TC, Deng CY, Pereira OL, Navathe S, Hawksworth DL, Fan XL, Dissanayake LS, Kuhnert E, Grossart HP, Thines M (2020) Outline of fungi and fungus-like taxa. Mycosphere 11:1060–1456

Wijayawardene NN, Hyde KD, Lumbsch HT, Liu JK, Maharachchikumbura SSN, Ekanayaka AH, Tian Q, Phookamsak R (2018) Outline of Ascomycota: 2017. Fungal Divers 88:167–263

Wijesinghe SN, Wanasinghe DN, Maharachchikumbura SSN, Wang Y, Al-Sadi AM, Hyde KD (2020) Bimuria omanensis sp. nov. (Didymosphaeriaceae, Pleosporales) from Oman. Phytotaxa 449:97–108

Woudenberg JH, Aveskamp MM, De Gruyter J, Spiers AG, Crous PW (2009) Multiple Didymella teleomorphs are linked to the Phoma clematidina morphotype. Persoonia 22:56–62

Wu B, Hussain M, Zhang W, Stadler M, Liu X, Xiang M (2019) Current insights into fungal species diversity and perspective on naming the environmental DNA sequences of fungi. Mycology 10:127–140

Yacharoen S, Tian Q, Chomnunti P, Boonmee S, Chukeatirote E, Bhat JD, Hyde KD (2015) Patellariaceae revisited. Mycosphere 6:290–326

Zhang JF, Liu JK, Jeewon R et al (2019) Fungi from Asian Karst formations III. Molecular and morphological characterization reveal new taxa in Phaeosphaeriaceae. Mycosphere 10:202–220

Zhang Y, Hyde KD (2009) Transfer of Pseudoparodia pseudopeziza to patellariaceae (patellariales). Nova Hedwigia 88:211–215
Acknowledgements
Thanks are due to Sultan Qaboos University (SQU), Oman Animal and Plant Genetic Resources Center (OAPGRC) and The Research Council (TRC) for providing financial support to the study. Prof. D. Jayarama Bhat, India and Milan Samarakoon are thanked for help in correcting the manuscript. Dhanushka Wanasinghe would like to thank the CAS President's International Fellowship Initiative (number 2019PC0008), the 64th batch of China Postdoctoral Science Foundation (grant no. 2018M643549), Postdoctoral Fund from Human Resources and Social Security Bureau of Yunnan Province and the National Science Foundation of China and the Chinese Academy of Sciences (Grant No.: 41761144055).
Additional information
This article is dedicated to Prof. Kevin David Hyde on the occasion of his 65th birthday.
Electronic supplementary material
Below is the link to the electronic supplementary material.
About this article
Cite this article
Maharachchikumbura, S.S.N., Wanasinghe, D.N., Cheewangkoon, R. et al. Uncovering the hidden taxonomic diversity of fungi in Oman. Fungal Diversity (2021). https://doi.org/10.1007/s13225-020-00467-1
Received:

Accepted:

Published:
Keywords
14 new taxa

Ascomycota

Basidiomycota

Desert

Dothideomycetes

Patellariales

Saprobes