Abstract
Background
Customized clinical and administrative interventions in the form of a care pathway tool can improve VBAC outcomes and reduce the alarming rise in caesarean sections globally.
Objective
To determine the effect of a locally tailored clinical pathway tool on VBAC outcomes in a private hospital in India.
Methods
A pre- and post-implementation study was conducted in a private hospital in India. All women with one previous caesarean section term pregnancy and cephalic presentation were included at baseline from January 2013 to December 2015 (Phase 1) and from January 2016 to December 2018 (Phase 2) after ongoing implementation of a clinical pathway tool by all providers. Background characteristics and clinical outcomes in both phases were reviewed retrospectively from case files.
Results
Overall 223 (13.42%) women among 1661 total births and 244 (11.62%) women among 2099 total births were included in Phase 1 and Phase 2, respectively. Total number of women who underwent trial of labour (TOLAC) increased from 36.77% to 64.34% (P < 0.001) and VBAC rate increased from 23.76% to 58.19% (P < 0.001) in Phase 2. There was no significant difference in perinatal morbidity and mortality in the two phases.
Conclusion
A locally customized clinical care pathway tool implemented to support both mothers and care givers for TOLAC seemed to improve VBAC outcomes in a private setting in India.
Access options
Buy single article
Instant access to the full article PDF.
US$ 39.95
Tax calculation will be finalised during checkout.
Subscribe to journal
Immediate online access to all issues from 2019. Subscription will auto renew annually.
US$ 79
Tax calculation will be finalised during checkout.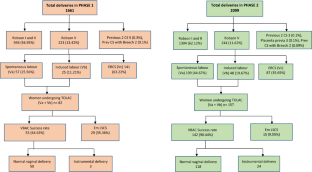 References
1.

Royal College of Obstetricians and Gynaecologists. Birth After Previous Caesarean Birth. Green-top Guideline No. 45. London, UK: RCOG; 2015

2.

SOGC clinical practice guidelines. Guidelines for vaginal birth after previous caesarean birth. Number 155 (Replaces guideline Number 147), February 2005

3.

Ryan GA, Nicholson SM, Morrison JJ. Vaginal birth after caesarean section: Current status and where to from here?.Eur J Obstet Gynecol Reprod Biol. 2018;224:52‐57

4.

Jain R. Safety of vaginal birth after single previous lower segment caesarean: a retrospective analysis of 200 cases. Int J Reprod Contracept Obstet Gynecol. 2018;7(7):2596–602.

5.

Dhillon BS, Chandhiok N, Bharti S, Bhatia P, Coyaji KJ, Das MC. Vaginal birth after cesarean section (VBAC) versus emergency repeat cesarean section at teaching hospitals in India: an ICMR task force study. Int J Reprod Contracept Obstet Gynecol. 2014;3:592–7.

6.

Chauhan SP, Martine JN, Henrichs CE, Morrison JC, Magann EF. Maternal and perinatal complication with uterine rupture in 142,075 patients who attempted vaginal birth after cesarean delivery: a review of the literature. Am J Obstet Gynecol. 2003;189:408–17.

7.

Royal College of Obstetricians and Gynaecologists. Umbilical Cord Prolapse: Green-top Guideline No. 50. London, UK: RCOG; 2014.

8.

Igwegbe AO, Eleje GU, Okpala BC. Management outcomes of abruptio placentae at Nnamdi Azikiwe University teaching hospital, Nnewi. Nigeria Niger J Med. 2013;22(3):234–8.

9.

Tita AT, Landon MB, Spong CY, et al. Timing of elective repeat cesarean delivery at term and neonatal outcomes. N Engl J Med. 2009;360(2):111–20.

10.

Silver RM, Landon MB, Rouse DJ, et al. Maternal morbidity associated with multiple repeat cesarean deliveries. Obstet Gynecol. 2006;107(6):1226–32.

11.

Clarke M, Savage G, Smith V, et al. Improving the organisation of maternal health service delivery and optimising childbirth by increasing vaginal birth after caesarean section through enhanced women-centred care (OptiBIRTH trial): study protocol for a randomised controlled trial (ISRCTN10612254). Trials. 2015;16:542.

12.

Tabish SA. The clinical pathways approach to patient care. JK Practitioner J Curr Clinic Medic Surg. 2001;8(1):59–62.

13.

Cannon CP. Critical pathways for acute myocardial infarction. Rev Cardiovasc Med. 2003;4(Suppl 3):S47–53.

14.

Clarke LK. Pathways for head and neck surgery: a patient-education tool. Clin J of Onc Nur. 2002;6:78–82.

15.

Nagpal J, Sachdeva A, Sengupta Dhar R, Bhargava VL, Bhartia A. Widespread non-adherence to evidence-based maternity care guidelines: a population-based cluster randomised household survey. BJOG. 2015;122(2):238–47.

16.

Gardner K, Henry A, Thou S, Davis G, Miller T. Improving VBAC rates: the combined impact of two management strategies. Aust N Z J Obstet Gynaecol. 2014;54(4):327–32.

17.

Shorten A, Shorten B, Keogh J, West S, Morris J. Making choices for childbirth: a randomized controlled trial of a decision-aid for informed birth after cesarean. Birth. 2005;32(4):252–61.

18.

Bangal VB, Giri PA, Shinde KK, Gavhane SP. Vaginal birth after cesarean section. N Am J Med Sci. 2013;5(2):140.

19.

Eskandar M, Aboud J, Alshahrani M, Hassanein M, Alyamani A. Optimization of clinical outcome of women with previous one lower segment cesarean section. Open J Obstet Gynecol. 2012;2(03):265.

20.

Guiliano M, Closset E, Therby D, LeGoueff F, Deruelle P, Subtil D. Signs, symptoms and complications of complete and partial uterine ruptures during pregnancy and delivery. Eur J Obstet Gynecol Reprod Biol. 2014;179:130–4.

21.

Fitzpatrick KE, Kurinczuk JJ, Alfirevic Z, Spark P, Brocklehurst P, Knight M. Uterine rupture by intended mode of delivery in the UK: a national case-control study. PLoS Med. 2012;9(3):e1001184.

22.

Dekker GA, Chan A, Luke CG, Priest K, Riley M, Halliday J, et al. Risk of uterine rupture in Australian women attempting vaginal birth after one prior caesarean section: a retrospective population-based cohort study. BJOG. 2010;117:1358–65.

23.

Singh A, Shrivastava C. Uterine Rupture: Still a Harsh Reality! J Obstet Gynaecol India. 2015;65(3):158–61.

24.

Salman L, Aharony S, Shmueli A, Wiznitzer A, Chen R, Gabbay-Benziv R. Urinary bladder injury during cesarean delivery: Maternal outcome from a contemporary large case series. Eur J Obstet Gynecol Reprod Biol. 2017;213:26–30.

25.

Royal College of Obstetricians and Gynaecologists. Postpartum Haemorrhage, Prevention and Management (Green-top Guideline No. 52). London: RCOG; 2016.
Acknowledgments
We are grateful to Mr. Abhishek Bhartia, CEO of the hospital, for continuous encouragement and administrative support. In particular, we would like to thank the senior providers Dr Swati Sinha, Dr Anita Sabherwal, Dr Priti Arora and Dr Payal Chaudhary for their clinical contribution. Furthermore, we would like to thank Pradya, quality officer, for data collection.
Ethics declarations
Conflicts of interest
Nikita Kumari, Neeru Jain and Rinku Sen Gupta Dhar declare that they have no conflict of interest.
Research Involving Human Participants and Informed Consent
Our study involved anonymous review of relevant clinical parameters from case records, before and after implementation of a clinical care pathway tool which was a bundle of evidence-based practices. No consent was taken as data were collected from case records retrospectively. Ethical approval was taken from institutional ethics committee.
Additional information
Publisher's Note
Springer Nature remains neutral with regard to jurisdictional claims in published maps and institutional affiliations.
Nikita Kumari is a DNB Obstetrics & Gynaecology, Attending Consultant, Department of Obstetrics & Gynaecology at Sitaram Bhartia Institute of Science & Research, B-16 Qutab Institutional Area, New Delhi, 110016, India ; Neeru Jain is DGO Obstetrics & Gynaecology, Attending Consultant, Department of Obstetrics & Gynaecology at Sitaram Bhartia Institute of Science & Research, B-16 Qutab Institutional Area, New Delhi, 110016, India; Rinku Sen Gupta Dhar is MD Obstetrics & Gynaecology, Senior Consultant, Department of Obstetrics & Gynaecology at Sitaram Bhartia Institute of Science & Research, B-16 Qutab Institutional Area, New Delhi, 110016, India
About this article
Cite this article
Kumari, N., Jain, N. & Dhar, R.S.G. Effect of a Locally Tailored Clinical Pathway Tool on VBAC Outcomes in a Private Hospital in India. J Obstet Gynecol India (2021). https://doi.org/10.1007/s13224-021-01446-5
Received:

Accepted:

Published:
Keywords
Vaginal birth after caesarean section (VBAC)

Trial of labour after caesarean (TOLAC)

Elective repeat caesarean section (ERCS)

VBAC attempt rate

VBAC rate

VBAC success rate

Clinical care pathway

Robson V