Abstract
Study Objective
Assessment of safety and feasibility of total laparoscopic hysterectomy in a high-volume tertiary care centre.
Design
Retrospective study design.
Setting
Tertiary care centre: Galaxy care Hospital, Pune, India.
Materials and Methods
This is a retrospective observational study conducted in a tertiary care resident training hospital in Pune which is a high-volume teaching hospital. 1200 total laparoscopic hysterectomy patients between July 2013 and June 2019 operated by a group of trained surgeons were analysed, and parameters, namely demography, indication of surgery, surgical time, intra-operative blood loss, post-operative complications, duration of hospital stay, discharge and follow-up, were studied.
Result(s)
A total of 1200 women who underwent total laparoscopic hysterectomy for various indications were included in the study. TLH was successfully performed in all women. Mean age of women was 45 years. 72.00% had a BMI between 18.5 and 24.9, 16.08% had a BMI between 25 and 29.9, 3.92% had a BMI of > 29.9 while 8% had a BMI < 18.5. Indications for surgery included uterine fibroid (33.08%), adenomyosis (22.25%), endometrial hyperplasia (14.33%), endometrial polyp (7%), endometriosis (3.33%), postmenopausal bleeding (9.25%), chronic PID (5.25%), prolapse (4.25%) and risk reduction surgery in 1.25%. 2.00% had intra-operative complications while 7.58% had post-operative complications which were identified and managed successfully.
Conclusion(s)
Advances and innovation in equipment, energy sources and surgical training have made TLH a well-tolerated and efficient surgery. Irrespective of the previous morbidity, pathology and uterine size, TLH is a duplicable and safe in a well-trained high-volume centre.
This is a preview of subscription content, log in to check access.
Access options
Buy single article
Instant access to the full article PDF.
US$ 39.95
Price includes VAT for USA
Subscribe to journal
Immediate online access to all issues from 2019. Subscription will auto renew annually.
US$ 99
This is the net price. Taxes to be calculated in checkout.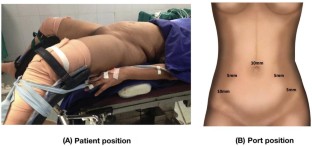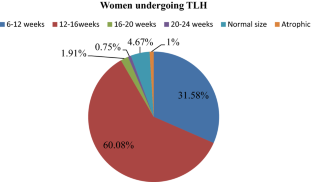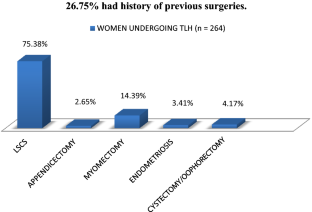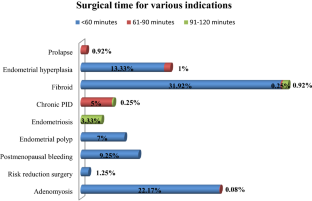 Abbreviations
TLH:

Total laparoscopic hysterectomy

BMI:

Body mass index

LSCS:

Lower segment caesarean section

LH:

Laparoscopic hysterectomy

LAVH:

Laparoscopic-assisted vaginal hysterectomy

CO2:

Carbon dioxide

POD:

Post-operative day

LSCH:

Laparoscopic-assisted supracervical hysterectomy

LH:

Laparoscopic hysterectomy

N:

Number

PID:

Pelvic inflammatory disease

Fig:

Figure
References
1.

Ajjammanavar V, et al. Outcome of total laparoscopic hysterectomy in relation to the size of the uterus. Int J Reprod Contracept Obstet Gynecol. 2009;8(1):74–8.

2.

Wallenstein M, Ananth CV, Kim J. Effect of surgical volume on outcomes for laparoscopic hysterectomy for benign indications. Obstet Gynecol. 2012;119:709–16.

3.

Kreuninger JA, Cohen SL, Meurs E, et al. Trends in readmission rate by route of hysterectomy—a single-center experience. Acta Obstet Gynecol Scand. 2018;97:285–93.

4.

Pattanaik T, Mishra SP, Das S. Total laparoscopic hysterectomy—a retrospective observational study in a teaching hospital. Ann Int Med Den Res. 2017;3(1):OG10–3.

5.

David-Montefiore E, Rouzier R, Chapron C. Surgical routes and complications of hysterectomy for benign disorders: a prospective observational study in French university hospitals. Hum Reprod. 2007;22(1):260–5.

6.

Puntambekar SP, Wagh GN, Puntambekar SS, et al. A novel technique of total laparoscopic hysterectomy for routine use: evaluation of 140 cases. Int J Biomed Sci. 2008;4(1):38–43.

7.

Sinha R, Sundaram M, Lakhotia S, et al. Total laparoscopic hysterectomy for large uterus. J Gynecol Endosc Surg. 2009;1(1):34–9.

8.

Shrirame DV, Malkar V, Modi R. Study of efficacy and safety of bipolar coagulation in total laparoscopic hysterectomy. Int J Med Res Rev. 2017;5(07):748–52.

9.

Terzi H, Hasdemir P, Biler A. Evaluation of the surgical outcome and complications of total laparoscopic hysterectomy in patients with enlarged uteruses. Int J Surg. 2016;36:90–5.

10.

Mikhail E, Scott L, Miladinovic B, et al. Association between fellowship training, surgical volume, and laparoscopic suturing techniques among members of the American Association of Gynecologic Laparoscopists. Minim Invasive Surg. 2016;2016:1–6.

11.

Vree F, Cohen S, Chavan N, et al. The impact of surgeon volume on perioperative outcomes in hysterectomy. JSLS. 2014;18:174–81.

12.

Nagar O, Sharma A, Shankar V. A comparative study of total laparoscopic hysterectomy and non-descent vaginal hysterectomy for treatment of benign diseases of uterus. Int J Clin Obstet Gynaecol. 2018;2(4):63–8.

13.

Llarena N, Shah A, Milad M. Bowel injury in gynecologic laparoscopy. Am Coll Obstet Gynecol. 2015;125(6):1407–17.

14.

Garry R, Fountain J, Mason S, et al. The eVALuate study: two parallel randomized trials, one comparing laparoscopic with abdominal hysterectomy, the other comparing laparoscopic with vaginal hysterectomy. BMJ. 2004;7(328):1–7.

15.

Bettaiah R, Reddy C, Anantha R. Laparoscopic hysterectomies: our 10 years' experience in a single laparoscopic center. J Obstet Gynecol India. 2016;66(4):274–81.

16.

Wattiez A, Soriano D, Cohen SB, et al. The learning curve of total laparoscopic hysterectomy: comparative analysis of 1647 cases. Am Assoc Gynecol Laparosc. 2002;9(3):339–45.

17.

Smith K, Caceres A. Vaginal cuff closure in minimally invasive hysterectomy: a review of training, techniques, and materials. Cureus. 2017;9(10):e1766. https://doi.org/10.7759/cureus.1766.
Ethics declarations
Conflict of interest
The authors declare that they have no conflicts of interest and nothing to disclose.
Ethical Approval
The study was approved by the Institutional Ethics Committee.
Informed Consent
Informed consent was taken from all human participants.
Additional information
Publisher's Note
Springer Nature remains neutral with regard to jurisdictional claims in published maps and institutional affiliations.
Shailesh Puntambekar, MD at Galaxy Care Multispeciality Hospital, Pune, Above Ayurved Rasashala, 25-A, Karve Road, Pune, Maharashtra, India. Theertha S Shetty, MS at Galaxy Care Multispeciality Hospital, Pune, Above Ayurved Rasashala, 25-A, Karve Road, Pune, Maharashtra, India. Arjun Goel, MS at Galaxy Care Multispeciality Hospital, Pune, Above Ayurved Rasashala, 25-A, Karve Road, Pune, Maharashtra, India. Shruti Chandak, MS at Galaxy Care Multispeciality Hospital, Pune, Above Ayurved Rasashala, 25-A, Karve Road, Pune, Maharashtra, India. Shakti Panchal, DGO at Galaxy Care Multispeciality Hospital, Pune, Above Ayurved Rasashala, 25-A, Karve Road, Pune, Maharashtra, India.
About this article
Cite this article
Puntambekar, S., Shetty, T.S., Goel, A. et al. Single-Centre Experience of Doing Safe Total Laparoscopic Hysterectomy: Retrospective Analysis of 1200 Cases. J Obstet Gynecol India (2020). https://doi.org/10.1007/s13224-020-01333-5
Received:

Accepted:

Published:
Keywords
Total laparoscopic hysterectomy

High-volume centre

Safety