Abstract
The aim of this study was to assess the potential of using the crude filtrate extract (CFE) produced by a newly isolated strain of Aspergillus oryzae and fermentation with a novel thermotolerant strain of Pichia kudriavzevii for the production of ethanol from kinnow peel waste (KP) via simultaneous saccharification and fermentation (SSF). High-performance liquid chromatography determination showed that pre-hydrolysis of KP with CFE at 3 cellulase filter paper units/g dry substrate (FPU/g-ds) at 50°C resulted in 24.87 ± 0.75 g l-1 glucose, 21.98 ± 0.53 g l-1 fructose, 10.86 ± 0.34 g l-1 sucrose and 6.56 ± 0.29 g l-1 galacturonic acid (GA) along with insignificant amounts of arabinose, galactose and xylose. Simultaneous saccharification and fermentation of hydrothermally pretreated KP at a substrate concentration of 15% (w v-1) was conducted in a 2.5-l laboratory fermentor with P. kudriavzevii at 40°C after a 3-h pre-hydrolysis. Oligosaccharides were not produced during the SSF process. Ethanol production leveled off after 12 h, resulting in an ethanol concentration and productivity of 33.87 g l-1 and 2.82 g l-1 h-1, respectively. These results demonstrate the potentiality of SSF using crude enzymes and P. kudriavzevii for the scale-up production of ethanol from KP.
Access options
Buy single article
Instant access to the full article PDF.
US$ 39.95
Tax calculation will be finalised during checkout.
Subscribe to journal
Immediate online access to all issues from 2019. Subscription will auto renew annually.
US$ 79
Tax calculation will be finalised during checkout.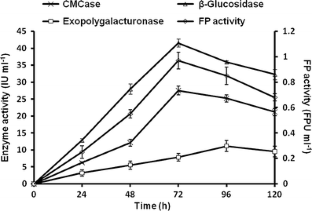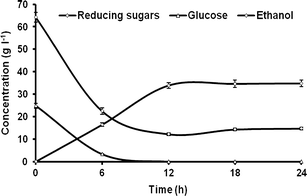 References
Abdel-Banat BMA, Hoshida H, Ano A, Nonklang S, Akada R (2009) High-temperature fermentation: how can processes for ethanol production at high temperatures become superior to the traditional process using mesophilic yeast. Appl Microbiol Biotechnol 85:861–867

AOAC (2000) Official methods of analysis, vol. 2, 17th edn. Association of Official Analytical Chemists, Gaithersburg

Bailey MJ, Biely P, Poutanen K (1992) Interlaboratory testing of methods for assay of xylanase activity. J Biotechnol 23:257–270

Banat IM, Nigam P, Singh D, Marchant R, McHale AP (1998) Review: ethanol production at elevated temperatures and alcohol concentrations: Part I—yeasts in general. World J Microbiol Biotechnol 14:809–821

Brijwani K, Oberoi HS, Vadlani PV (2010) Production of a cellulolytic enzyme system in mixed-culture solid state fermentation of soybean hulls supplemented with wheat bran. Process Biochem 45:120–128

Carpita NC, Gibeaut DM (1993) Structural models of primary cell walls in flowering plants: consistency of molecular structure with the physical properties of the walls during growth. Plant J 3:1–30

Dhaliwal SS, Oberoi HS, Sandhu SK, Nanda D, Kumar D, Uppal SK (2011) Enhanced ethanol production from sugarcane juice by galactose adaptation of a newly isolated thermotolerant strain of Pichia kudriavzevii. Bioresour Technol 102:5968–5975

Dhillon SS, Gill RK, Gill SS, Singh M (2004) Studies on utilization of citrus peel for pectinase production using fungus Aspergillus niger. Int J Environ Stud 61:199–210

Faga BA, Wilkins MR, Banat IM (2010) Ethanol production through simultaneous saccharification and fermentation of switchgrass using Saccharomyces cerevisiae D5A and thermotolerant Kluyveromyces marxianus IMB strains. Bioresour Technol 101:2273–2279

Farrell AE, Pelvin RJ, Turner BT, Jones AD, O'Hare M, Kammen DM (2006) Ethanol can contribute to energy and environmental goals. Science 311:506–508

Gancedo JM (1998) Yeast carbon catabolite repression. Microbiol Mol Biol Rev 62:334–361

Ghose TK (1987) Measurement of cellulose activities. Pure Appl Chem 59:257–268

Goering HK, Vansoest PJ (1970) Forage fibre analysis. Agricultural Research Services, United States Department of Agriculture, Agricultural Handbook, No 379. ARS, USDA, Washington D.C.

Grohmann K, Elizabeth AB, Busling BS (1994) Production of ethanol from enzymatically hydrolyzed orange peel by the yeast Saccharomyes cerevisiae. Appl Biochem Biotechnol 45/46:315–327

Grohmann K, Cameron RG, Buslig BS (1995) Fractionation and pretreatment of orange peel by dilute acid hydrolysis. Bioresour Technol 54:129–141

Grohmann K, Manthey JA, Cameron RG, Buslig BS (1999) Purification of citrus peel juice and molasses. J Agric Food Chem 47:4859–4867

Hall TA (1999) BioEdit: a user-friendly biological sequence alignment editor and analysis program for Windows 95/98/NT. Nucleic Acids Symp Ser 41:95–98

Hill J, Nelson E, Tilman D, Polasky S, Tiffany D (2006) Environmental, economic, and energetic costs and benefits of biodiesel and ethanol biofuels. Proc Natl Acad Sci USA 103:11206–11210

Kadam KL (1996) Cellulase production. In: Wyman CE (ed) Handbook on bioethanol: production and utilization. Taylor and Francis, Washington D.C., pp 213–252, Chapter 11

Kalra KL, Grewal HS, Kahlon SS (1989) Bioconversion of kinnow-mandarin waste into single-cell protein. World J Microbiol Biotech 5:321–326

Kurtzman CP, Smiley MJ, Johnson CJ (1980) Emendation of the genus Issatchenkia kudriavzev and comparison of species by deoxyribonucleic acid reassociation, mating reaction, and ascospore ultrastructure. Int J Sys Bacteriol 30:503–513

Kurtzman CP, Robnett CJ, Basehoar-Powers E (2008) Phylogenetic relationships among species of Pichia, Issatchenkia and Williopsis determined from multigene sequence analysis, and the proposal of Barnettozyma gen.nov., Lindnera gen.nov. and Wickerhamomyces gen.nov. FEMS Yeast Res 8:939–954

Limtong S, Sringiew C, Yonganitchai W (2007) Production of fuel ethanol at high temperature from sugarcane juice by new isolated Kluyeromyces marxianus. Bioresour Technol 98:3367–3374

Miller GL (1959) Dinitro salicylic acid reagent for determination of reducing sugars. Anal Chem 31:426–428

Oberoi HS, Babbar N, Dhaliwal SS, Kaur S, Vadlani PV, Bhargav VK, Patil RT (2010a) Enhanced oil recovery by pre-treatment of mustard seeds using crude enzyme extract obtained from mixed-culture solid-state fermentation of Kinnow (Citrus reticulata) waste and wheat bran. Food and Bioprocess Technol. doi:10.1007/s11947-010-03830-y

Oberoi HS, Vadlani PV, Brijwani K, Bhargav VK, Patil RT (2010b) Enhanced ethanol production via fermentation of rice straw with hydrolysate-adapted Candida tropicalis ATCC 13803. Process Biochem 45:1299–1306

Oberoi HS, Vadlani PV, Madl RL, Saida L, Abeykoon JP (2010c) Ethanol production from orange peels: Two stage hydrolysis and fermentation studies using optimized parameters through experimental design. J Agric Food Chem 58:3422–3429

Oberoi HS, Vadlani PV, Nanjundaswamy A, Bansal S, Singh S, Kaur S, Babbar N (2011) Enhanced ethanol production from Kinnow mandarin (Citrus reticulata) waste via a statistically optimized simultaneous saccharification and fermentation process. Bioresour Technol 102:1593–1601

Pereira AN, Mobedshahi M, Ladisch MR (1998) Preparation of cellodextrins. Methods Enzymol 160:26–43

Sa-Correia I, van Uden N (1982) Temperature profiles of ethanol tolerance: effects of ethanol on the minimum and the maximum for growth of the yeasts Saccharomyces cerevisiae and Kluyveromyces fralilis. Biotechnol Bioeng 25:1665–1667

Sharma N, Kalra KL, Oberoi HS, Bansal S (2007) Optimization of fermentation parameters for production of ethanol from kinnow waste and banana peels by simultaneous saccharification and fermentation. Indian J Microbiol 47:310–316

Shen Y, Zhang Y, Bao X, Du F, Zhuang G, Qu Y (2008) Simultaneous saccharification and fermentation of acid-pretreated corncobs with a recombinant Saccharomyces cerevisiae expressing β-glucosidase. Bioresour Technol 99:5099–5103

Urbanszki K, Szakacs G, Tengerdy RP (2000) Standardization of filter paper activity assay for solid substrate fermentation. Biotechnol Lett 22:65–69

Wang G, Michailides TJ, Bostock RM (1997) Improved detection of polygalacturonase activity due to Mucor piriformis with a modified dinitrosalicylic acid reagent. Phytopathology 87:161–163

White TJ, Bruns T, Lee S, Taylor J (1990) Amplification and direct sequencing of fungal ribosomal RNA genes for phylogenetics. In: Innis MA, Gelfand DH Sninsky JJ, White TJ (eds) PCR protocols: a guide to methods and applications. Academic Press, San Diego, pp 315–322

Wilkins MR, Suryawati L, Maness NO, Churz D (2007a) Ethanol production by Saccharomyces cerevisiae and Kluyveromyces marxianus in the presence of orange-peel oil. World J Microbiol Biotech 23(8):1161–1168

Wilkins MR, Widmer W, Grohmann K (2007b) Simultaneous saccharification and fermentation of citrus peel waste by Saccharomyces cerevisiae to produce ethanol. Process Biochem 42(12):1614–1619

Wood TM, Bhat KM (1988) Methods for measuring cellulase activities. Methods Enzymol Biomass Part A Cellulose Hemicellulose 160:87–112

Zhou W, Widmer W, Grohmann K (2008) Developments in ethanol production from citrus peel waste. Proc Fla State Hortic Soc 121:307–310
Acknowledgments
The authors gratefully acknowledge the financial assistance received under AMAAS project of Indian Council of Agricultural Research (ICAR), Government of India for conducting this study.
About this article
Cite this article
Kaur Sandhu, S., Singh Oberoi, H., Singh Dhaliwal, S. et al. Ethanol production from Kinnow mandarin (Citrus reticulata) peels via simultaneous saccharification and fermentation using crude enzyme produced by Aspergillus oryzae and the thermotolerant Pichia kudriavzevii strain. Ann Microbiol 62, 655–666 (2012). https://doi.org/10.1007/s13213-011-0302-x
Received:

Accepted:

Published:

Issue Date:
Keywords
Aspergillus oryzae

Ethanol

Pichia kudriavzevii

Kinnow peels

Simultaneous saccharification and fermentation