Abstract
Industrial wastewater discharges pose an environmental risk. Here, the effectiveness of an up-flow vertical hybrid system, operating with synthetic and industrial wastewater was investigated, as a new approach to perform nitrification/denitrification and desulfurization within a single reactor. The hybrid reactor is divided in two reaction zones, the oxic and anoxic. The removal of chemical oxygen demand (COD), ammonium, and sulfide was investigated, highlighting changes in microbial diversity. The reactor was evaluated at hydraulic residence time (HRT) of 1.6 days, and its performance throughout 180 days is presented in four stages. In stages I–II, high COD and ammonium removal was obtained with synthetic wastewater. In stage-III, sulfide-rich synthetic wastewater did not alter the system, attaining COD, ammonium, and sulfide removal efficiencies of 81, 99.5, and 99.7%, respectively. In the last stage, a mixture of effluents was fed into the reactor at loading rates of 277 mg COD/L-d, 46.5 mg NH4+-N /L-d, and 15 mg HS−-S /L-d. Sulfide and ammonium removals were 100% and 99.9%, respectively. However, low COD removal was observed, being of 51%, and the system removed 97% in terms of BOD5. The structure and microbial diversity also changed. Sulfide feeding, induced the proliferation of sulfur oxidizers like Thiomiscropira and Thiobacillus. Industrial wastewater enhanced the abundance of Pseudomonas (15.53%) and favored the proliferation of new bacteria of the genus Truepera (2.98%) and Alicyclipilus (7.56%). This is the first study reporting simultaneous nitrification/denitrification and desulfurization to remove ammonium, COD and sulfide from complex industrial wastewater using an up-flow vertical hybrid reactor.
Access options
Buy single article
Instant access to the full article PDF.
US$ 39.95
Tax calculation will be finalised during checkout.
Subscribe to journal
Immediate online access to all issues from 2019. Subscription will auto renew annually.
US$ 119
Tax calculation will be finalised during checkout.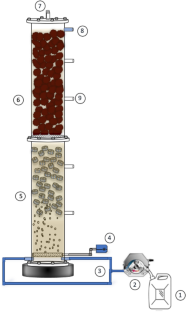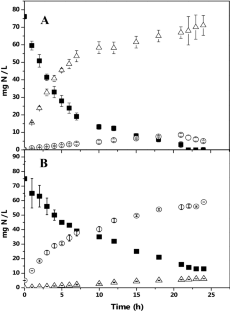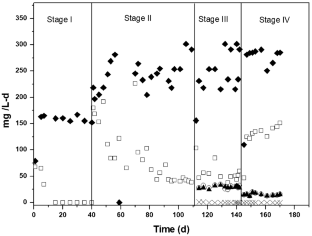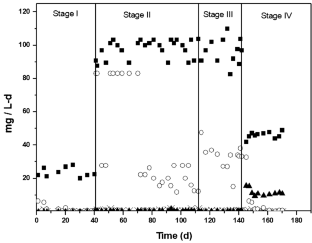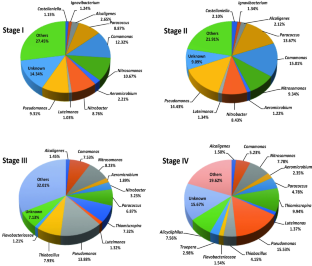 References
Abdalla KZ, Hammam G (2014) Correlation between biochemical oxygen demand and chemical oxygen demand for various wastewater treatment plants in Egypt to obtain the biodegradability indices. Int J Sci: Basic Appl Res 13:42–48

Aguirre-Garrido JF, Ramírez-Saad HC, Toro N, Martínez-Abarca F (2016) Bacterial diversity in the soda saline Crater Lake from Isabel Island, Mexico. Microb Ecol 71:68–77. https://doi.org/10.1007/s00248-015-0676-6

Al-Momani F, Touraud E, Degorce Dumas JR, Roussy J, Thomas O (2002) Biodegradability enhancement of textile dyes and textile wastewater by UV photolysis. J Photoch Photobio A 153:191–197. https://doi.org/10.1016/S1010-6030(02)00298-8

APHA Awwa WEF (2005) Standard methods for the examination of water and wastewater. American Public Health Association, Alexandria

Bayoumi MN, Al-Wasify RS, Hamed SR (2014) Bioremediation of textile wastewater dyes using local bacterial isolates. Int J Curr Microbiol App Sci 3:962–970

Beristain-Cardoso R, Texier AC, Razo-Flores E, Méndez-Pampín R, Gómez J (2009) Biotransformation of aromatic compounds from wastewaters containing N and/or S, by nitrification/denitrification: a review. Rev Environ Sci Bio/Technol 8:325–342. https://doi.org/10.1007/s11157-009-9172-0

Beristain-Cardoso R, Pérez-González DN, González-Blanco G, Gómez J (2011) Simultaneous oxidation of ammonium, p-cresol and sulfide using a nitrifying sludge in a multipurpose bioreactor: a novel alternative. Bioresour Technol 102:3623–3625. https://doi.org/10.1016/j.biortech.2010.10.127

Bhuvanesh S, Maneesh N, Sreekrishnan TR (2013) Start-up and performance of a hybrid anoxic reactor for biological denitrification. Bioresour Technol 129:78–84. https://doi.org/10.1016/j.biortech.2012.10.009

Celis-García LB, González-Blanco G, Meraz M (2008) Removal of sulfur inorganic compounds by a biofilm of sulfate reducing and sulfide oxidizing bacteria in a down-flow fluidized bed reactor. J Chem Technol Biotechnol 83:260–268. https://doi.org/10.1002/jctb.1802

Cytryn E, van Rijn J, Schramm A, Gieseke A, de Beer D, Minz D (2005) Identification of bacteria potentially responsible for oxic and anoxic sulfide oxidation in biofilters of a recirculating mariculture system. App Environ Microbiol 71:6134–6141. https://doi.org/10.1128/AEM.71.10.6134-6141.2005

Etchebehere C, Errazquin MI, Dabert P, Moletta R, Muxí L (2001) Comamonas nitrativorans sp. nov., a novel denitrifier isolated from a denitrifying reactor treating landfill leachate. Int J Syst Evol Microbiol 51:977–983. https://doi.org/10.1099/00207713-51-3-977

González-Sánchez A, Revah S (2007) The effect of chemical oxidation on the biological sulfide oxidation by an alkaliphilic sulfoxidizing bacterial consortium. Enzyme Microbiol Technol 40:292–298. https://doi.org/10.1016/j.enzmictec.2006.04.017

He Y, Bishop PL (1994) Effect of acid orange 7 on nitrification process. J Environ Eng 120:108–121. https://doi.org/10.1061/(ASCE)0733-9372(1994)120:1(108)

Hibiya K, Terada A, Tsuneda S, Hirata A (2003) Simultaneous nitrification and denitrification by controlling vertical and horizontal microenvironment in a membrane-aerated biofilm reactor. J Biotechnol 100:23–32. https://doi.org/10.1016/S0168-1656(02)00227-4

Hockenbury MR, Leslie Grady CP (1977) Inhibition of nitrification-effects of selected organic compounds. J Water Pollut Control Fed 768–777. www.jstor.org/stable/25039349

Hou N, Xia Y, Wang X, Liu H, Liu H, Xun L (2018) H2S biotreatment with sulfide-oxidizing heterotrophic bacteria. Biodegradation 29:511–524. https://doi.org/10.1007/s10532-018-9849-6

Jiang Q, Ngo HH, Nghiem LD, Hai FI, Price WE, Zhang J, Liang S, Deng L, Guo W (2018) Effect of hydraulic retention time on the performance of a hybrid moving bed biofilm reactor-membrane bioreactor system for micropollutants removal from municipal wastewater. Bioresour Technol 247:1228–1232. https://doi.org/10.1016/j.biortech.2017.09.114

Jianlong W, Yongzhen P, Shuying W, Yongqing GAO (2008) Nitrogen removal by simultaneous nitrification and denitrification via nitrite in a sequence hybrid biological reactor. Chin J Chem Engin 16:778–784. https://doi.org/10.1016/S1004-9541(08)60155-X

Khanichaidecha W, Nakaruk A, Ratananikom K, Eamrat R, Kazama F (2019) Heterotrophic nitrification and aerobic denitrification using pure-culture bacteria for wastewater treatment. J Water Reuse Desalin 9:10–17. https://doi.org/10.2166/wrd.2018.064

Kouba V, Proksova E, Wiesinger H, Vejmelkova D, Bartacek J (2017) Good servant, bad master: sulfide influence on partial nitritation of sewage. Water Sci Technol 76:3258–3268. https://doi.org/10.2166/wst.2017.490

Kozich JJ, Westcott SL, Baxter NT, Highlander SK, Schloss PD (2013) Development of a dual-index sequencing strategy and curation pipeline for analyzing amplicon sequence data on the MiSeq illumina sequencing platform. Appl Environ Microbiol 79:5112–5120. https://doi.org/10.1128/AEM.01043-13

Li J, Bishop PL (2002) In situ identification of azo dye inhibition effects on nitrifying biofilms using microelectrodes. Water Sci Technol 46:207–214. https://doi.org/10.2166/wst.2002.0479

Long Y, Hu LF, Shen DS (2009) Nitrogen transformation in the hybrid bioreactor landfill. Bioresour Technol 100:2527–2533. https://doi.org/10.1016/j.biortech.2008.11.036

Ma J, Wang Z, Zhu C, Liu S, Wang Q, Wu Z (2013) Analysis of nitrification efficiency and microbial community in a membrane bioreactor fed with low COD/N-ratio wastewater. PLoS ONE 8:e63059. https://doi.org/10.1371/journal.pone.0063059

Metcalf and Eddy (1985) Wastewater engineering: treatment, disposal and reuse, 3rd edn. McGraw-Hill Inc., New York

Mirghorayshi M, Zinatizadeh AA, Van Loosdrecht M (2013) Evaluating the process performance and potential of a high-rate single airlift bioreactor for simultaneous carbon and nitrogen removal through coupling different pathways from a nitrogen-rich wastewater. Bioresour Technol 260:44–52. https://doi.org/10.1016/j.biortech.2018.03.048

Morohoshi T, Okutsu N, Xie X, Ikeda T (2016) Identification of quorum-sensing signal molecules and a biosynthetic Gene in Alicycliphilus sp. isolated from activated sludge. Sensors 16:1218. https://doi.org/10.3390/s16081218

Oller I, Malato S, Sánchez-Pérez J (2011) Combination of advanced oxidation processes and biological treatments for wastewater decontamination—a review. Sci Total Environ 409:4141–4166. https://doi.org/10.1016/j.scitotenv.2010.08.061

Pokorna D, Zabranska J (2015) Sulfur-oxidizing bacteria in environmental technology. Biotechnol Adv 33:1246–1259. https://doi.org/10.1016/j.biotechadv.2015.02.007

Rodríguez-Caballero A, Ribera A, Balcázar JL, Pijuan M (2013) Nitritation versus full nitrification of ammonium-rich wastewater: comparison in terms of nitrous and nitric oxides emissions. Bioresour Technol 139:195–202. https://doi.org/10.1016/j.biortech.2013.04.021

Rognes T, Flouri T, Nichols B, Quince C, Mahé F (2016) VSEARCH: a versatile open source tool for metagenomics. PeerJ. https://doi.org/10.7717/peerj.2584

Sánchez O, Garrido L, Forn I, Massana R, Maldonado MI, Mas J (2011) Molecular characterization of activated sludge from a seawater-processing wastewater treatment plant. Microb Biotechnol 4:628–642. https://doi.org/10.1111/j.1751-7915.2011.00256.x

Schloss PD, Westcott SL, Ryabin T et al (2009) Introducing mothur: Open-source, platform-independent, community-supported software for describing and comparing microbial communities. Appl Enviro Microbiol 75:7537–7541. https://doi.org/10.1128/AEM.01541-09

Sekine M, Akizuki S, Kishi M, Kurosawa N, Toda T (2020) Simultaneous biological nitrification and desulfurization treatment of ammonium and sulfide-rich wastewater: effectiveness of a sequential batch operation. Chemosphere 244:125381. https://doi.org/10.1016/j.chemosphere.2019.125381

Shchegolkova NM, Krasnov GS, Belova AA, Dmitriev AA, Kharitonov SL, Klimina KM, Melnikovs NV, Kudryavtseva AV (2016) Microbial community structure of activated sludge in treatment plants with different wastewater compositions. Front Microbiol 7:90. https://doi.org/10.3389/fmicb.2016.00090

Silva CD, Gómez J, Beristain-Cardoso R (2011) Simultaneous removal of 2-chlorophenol, phenol, p-cresol and p-hydroxybenzaldehyde under nitrifying conditions: kinetic study. Bioresour Technol 102:6464–6468. https://doi.org/10.1016/j.biortech.2011.03.105

Solís-González CJ, Loza-Tavera H (2019) Alicycliphilus: current knowledge and potential for bioremediation of xenobiotics. J Appl Microbiol 126:1643–1656. https://doi.org/10.1111/jam.14207

Tam NFY, Wong YS, Leung G (1992) Effect of exogenous carbon sources on removal of inorganic nutrients by the nitrification denitrification process. Water Res 26:1229–1236. https://doi.org/10.1016/0043-1354(92)90183-5

Uemoto H, Saiki H (1996) Nitrogen removal by tubular gel containing Nitrosomonas europaea and Paracoccus denitrificans. Appl Environ Microbiol 62:4224–4228. https://www.ncbi.nlm.nih.gov/pubmed/8900015

Veeresh GS, Kumar P, Mehrotra I (2005) Treatment of phenol and cresols in upflow anaerobic sludge blanket (UASB) process: a review. Water Res 39:154–170. https://doi.org/10.1016/j.watres.2004.07.028

Vela JD, Dick GJ, Love NG (2018) Sulfide inhibition of nitrite oxidation in activated sludge depends on microbial community composition. Water Res 138:241–249. https://doi.org/10.1016/j.watres.2018.03.047

Velasco-Garduño O, Mendoza-Reséndiz A, Fajardo-Ortiz C, Beristain-Cardoso R (2018) Simultaneous ammonia and organic matter removal from industrial wastewater in a continuous novel hybrid carrousel bioreactor. Int J Environ Sci Technol 16:3429–3436. https://doi.org/10.1007/s13762-018-2017-z

Wang Q, Garrity GM, Tiedje JM, Cole JR (2007) Naïve Bayesian classifier for rapid assignment of rRNA sequences into the new bacterial taxonomy. Appl Environ Microbiol 73:5261–5267. https://doi.org/10.1128/AEM.00062-07

Zhu G, Peng Y, Li B, Guo J, Yang Q, Wang S (2008) Biological removal of nitrogen from wastewater. In: Reviews of Environmental contamination and toxicology. Springer, New York, pp 159–195. https://doi.org/10.1007/978-0-387-71724-1_5
Acknowledgements
The second author acknowledges the support of CONACyT-Mexico through a scholarship to attend the doctorate of Oscar Velasco. Part of the project was supported by PRODEP-SEP-UAM-L-CA-3.
Ethics declarations
Conflict of interest
On behalf of all authors, the corresponding author states that there is no conflict of interest.
About this article
Cite this article
González-Blanco, G., Casas-Reyes, A., Velasco-Garduño, O. et al. Simultaneous nitrification/denitrification and desulfurization of wastewater polluted with ammonium, COD and sulfide: effectiveness of a new up-flow vertical hybrid reactor. 3 Biotech 11, 123 (2021). https://doi.org/10.1007/s13205-021-02671-5
Received:

Accepted:

Published:
Keywords
Oxic-anoxic

Wastewater

Hybrid

Desulfurization

Community