Abstract
Iron is a critical micronutrient for growth and development of plants and its deficiency limiting the crop productivity. MicroRNAs (miRNAs) play vital roles in adaptation of plants to various nutrient deficiencies. However, the role of miRNAs and their target genes related to Fe-deficiency is limited. In this study, we identified Fe-deficiency-responsive miRNAs from citrus. In Fe-deficiency conditions, about 50 and 31 miRNAs were up-regulated and down-regulated, respectively. The differently expressed miRNAs might play critical roles in contributing the Fe-deficiency tolerance in citrus plants. The miRNAs-mediated Fe-deficiency tolerance in citrus plants might related to the enhanced stress tolerance by decreased expression of miR172; regulation of S homeostasis by decreased expression of miR395; inhibition of plant growth by increased expression of miR319 and miR477; regulation of Cu homeostasis as well as activation of Cu/Zn superoxide dismutase activity due to decreased expression of miR398 and miR408 and regulation of lignin accumulation by decreased expression of miR397 and miR408. The identified miRNAs in present study laid a foundation to understand the Fe-deficiency adaptive mechanisms in citrus plants.
Access options
Buy single article
Instant access to the full article PDF.
US$ 39.95
Tax calculation will be finalised during checkout.
Subscribe to journal
Immediate online access to all issues from 2019. Subscription will auto renew annually.
US$ 119
Tax calculation will be finalised during checkout.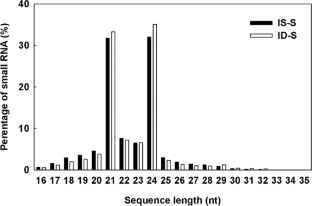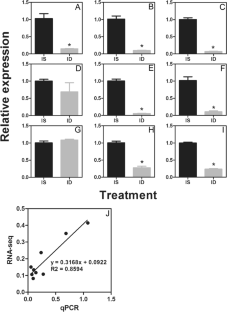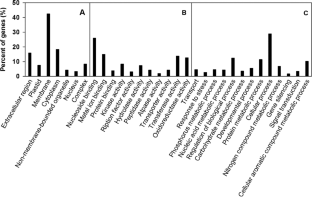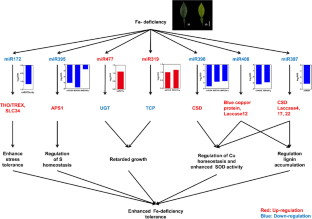 Acknowledgment
This work was supported by the earmarked fund for China Agriculture Research System (CARS-27).
Ethics declarations
Conflict of interest
The authors declare that they have no conflict of interest.
Supplementary Information
Below is the link to the electronic supplementary material.
About this article
Cite this article
Jin, LF., Yarra, R., Yin, XX. et al. Identification and function prediction of iron-deficiency-responsive microRNAs in citrus leaves. 3 Biotech 11, 121 (2021). https://doi.org/10.1007/s13205-021-02669-z
Received:

Accepted:

Published:
Keywords
Citrus

Fe-deficiency

Illumina sequencing

miRNA