Abstract
Gluten protein composition determines the rheological characteristics of wheat dough and is influenced by variable alleles with distinct effects on processing properties. Using matrix-assisted laser desorption/ionization time-of-flight mass spectrometry (MALDI-TOF–MS), we determined the high-molecular weight glutenin subunit (HMW-GS) composition of 665 wheat genotypes employed in breeding programs in South Korea. We identified 22 HMW-GS alleles, including 3 corresponding to the Glu-A1 locus, 14 to Glu-B1, and 5 to Glu-D1. The Glu-1 quality score, which is an important criterion for high-quality wheat development, was found to be 10 for 105/665 (15.79%) of the studied genotypes, and included the following combinations of HMW-GS: 2*, 7 + 8, 5 + 10; 2*, 17 + 18, 5 + 10; 1, 7 + 8, 5 + 10; and 1, 17 + 18, 5 + 10. To select wheat lines with the 1Bx7 overexpression (1Bx7OE) subunit, which is known to have a positive effect on wheat quality, we used a combination of MALDI-TOF–MS and published genotyping markers and identified 6 lines carrying 1Bx7OE out of the 217 showing a molecular weight of 83,400 Da, consistent with 1Bx7G2 and 1Bx7OE. This study demonstrates that the MALDI-TOF–MS method is fast, accurate, reliable, and effective in analyzing large numbers of wheat germplasms or breeding lines in a high-throughput manner.
Access options
Buy single article
Instant access to the full article PDF.
US$ 39.95
Tax calculation will be finalised during checkout.
Subscribe to journal
Immediate online access to all issues from 2019. Subscription will auto renew annually.
US$ 119
Tax calculation will be finalised during checkout.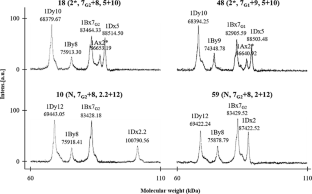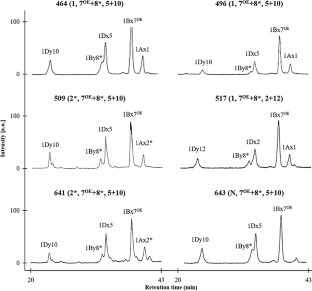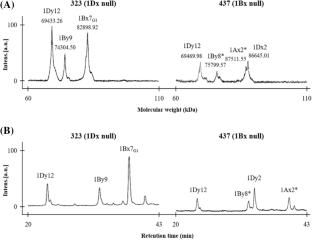 References
Abdel-Mawgood AL (2008) Molecular markers for predicting end-products quality of wheat (Triticum aestivum L.). Afr J Biotechnol 7:2324–2327

Bushuk W (1993) Molecular structure of bread wheat glutenin. Gluten Proteins 5–13

Butow BJ, Ma W, Gale KR, Cornish GB, Rampling L, Larroque O, Morell MK, Bekes F (2003) Molecular discrimination of Bx7 alleles demonstrates that a highly expressed high molecular weight glutenin allele has a major impact on wheat flour dough strength. Theor Appl Genet 107:1524–1532

Cho SW, Roy SK, Chun JB, Cho K, Park CS (2017) Overexpression of the Bx7 high molecular weight glutenin subunit on the Glu-B1 locus in a Korean wheat landrace. Plant Biotechnol Rep 11:97–105

Cornish G, Békés F, Eagles H, Payne P (2006) Prediction of dough properties for bread wheats. AACC 243–280

D'Ovidio R, Masci S (2004) The low-molecular-weight glutenin subunits of wheat gluten. J Cereal Sci 39:321–339

D'Ovidio R, Masci S, Porceddu E, Kasarda D (1997) Duplication of the high molecular weight glutenin subunit gene in bread wheat (Triticum aestivum L.) cultivar 'Red River 68.' Plant Breeding 116:525–531

De Bustos A (2000) Molecular characterization of the inactive allele of the gene Glu-A1 and the development of a set of AS-PCR markers for HMW glutenins of wheat. Theor Appl Genet 100:189–194

Dhaka V, Khatkar BS (2015) Effects of gliadin/glutenin and HMW-GS/LMW-GS ratio on dough rheological properties and bread-making potential of wheat varieties. J Food Quality 38:71–82

Dobraszczyk BJ, Morgenstern MP (2003) Rheology and the breadmaking process. J Cereal Sci 38:229–245

Elfatih SE, Peng Y, Ma J, Peng J, Sun D, Ma W (2013) High frequency of unusual high molecular weight glutenin alleles in 232 tetraploid durum wheat accessions (Triticum turgidum L. ssp. durum Desf). Cereal Res Commun 41:583–592

Forde J, Malpica JM, Halford NG, Shewry PR, Anderson OD, Greene FC, Miflin BJ (1985) The nucleotide sequence of a HMW glutenin subunit gene located on chromosome 1A of wheat. (Triticum aestivum L.). Nucleic Acids Res 13:6817–6832

Gianibelli MC, Larroque OR, MacRitchie F, Wrigley CW (2001) Biochemical, genetic, and molecular characterization of wheat glutenin and its component subunits. Cereal Chem 78:635–646

Gu YQ, Salse J, Coleman-Derr D, Dupin A, Crossman C, Lazo GR, Huo N, Belcram H, Ravel C, Charmet G, Charles M, Anderson OD, Chalhoub B (2006) Types and rates of sequence evolution at the high-molecular-weight glutenin locus in hexaploid wheat and its ancestral genomes. Genetics 174:1493–1504

Gupta RB, MacRitchie F (1994) Allelic variation at glutenin subunit and gliadin loci, Glu-1 and Glu-3 and Gli-1, of common wheats. II. Biochemical basis of the allelic effects on dough properties. J Cereal Sci 19:19–29

Halford NG, Forde J, Shewry PR, Kreis M (1989) Functional analysis of the upstream regions of a silent and an expressed member of a family of wheat seed protein genes in transgenic tobacco. Plant Sci 62:207–216

Harberd NP, Bartels D, Thompson RD (1986) DNA restriction fragment variation in the gene family encoding high molecular weight (HMW) glutenin subunits of wheat. Biochem Genet 24:579–596

Harberd NP, Flavell RB, Thompson RD (1987) Identification of a transposon-like insertion in a Glu-1 allele of wheat. Mol Gene Genet 209:326–332

Jang YR, Beom HR, Altenbach SB, Lee MK, Lim SH, Lee JY (2017) Improved method for reliable HMW-GS identification by RP-HPLC and SDS-PAGE in common wheat cultivars. Molecules 22:1055

Jang YR, Cho K, Kim SW, Altenbach SB, Lim SH, Sim JR, Lee JY (2020) Development of an optimized MALDI-TOF-MS method for high-throughput identification of High-Molecular-Weight Glutenin Subunits in wheat. Molecules 25:4347

Jiang QT, Wei YM, Wang F, Wang JR, Yan ZH, Zheng YL (2009) Characterization and comparative analysis of HMW glutenin 1Ay alleles with differential expressions. BMC Plant Biol 9:1–16

Kocourková Z, Bradová J, Kohutová Z, Slámová L, Vejl P, Horčička P (2008) Wheat breeding for the improved breadmaking quality using pcr based markers of glutenins. Czech J Genet Plant 44:105–113

Lew EJL, Kuzmicky DD, Kasarda DD (1992) Characterization of low molecular weight glutenin subunits by reversed-phase high-performance liquid chromatography, sodium dodecyl sulfate–polyacrylamide gel electrophoresis, and N-terminal amino acid sequencing. Cereal Chem 69:508–515

Liu Z, Yan Z, Wan Y, Liu K, Zheng Y, Wang D (2003) Analysis of HMW glutenin subunits and their coding sequences in two diploid Aegilops species. Theor Appl Genet 106:1368–1378

Liu L, Wang AL, Appels R, Ma JH, Xia XC, Lan P, He ZH, Bekes F, Yan YM, Ma WJ (2009) A MALDI-TOF based analysis of high molecular weight glutenin subunits for wheat breeding. J Cereal Sci 50:295–301

MacRitchie F (1992) Physicochemical properties of wheat proteins in relation to functionality. Adv Food Nutr Res 36:1–87

Moonen JHE, Scheepstra A, Graveland A (1982) Use of the SDS-sedimentation test and SDS–polyacrylamide gel electrophoresis for screening breeder's samples of wheat for bread-making quality. Euphytica 31:677–690

Nucia A, Okoń S, Tomczyńska-Mleko M (2019) Characterization of HMW glutenin subunits in European spring common wheat (Triticum aestivum L.). Genet Resour Crop Evol 66:579–588

Orth RA, Bushuk W (1973) Studies of glutenin I. Comparison of preparative methods. Cereal Chem 50:106–113

Payne PI (1987) Genetics of wheat storage proteins and the effect of allelic variation on bread-making quality. Ann Rev Plant Physio 38:141–153

Payne PI, Lawrence GJ (1983) Catalogue or alleles for the complex gene loci, Glu-A1, Glu-B1 and Glu-D1 which code for the high-molecular weight subunit of glutenin in hexaploid wheat. Cereal Res Commun 11:29–35

Payne PI, Lawand CN, Mudd EE (1980) Control by homologus group 1 chromosomes of the high molecular weight glutenin subunits, a major protein of wheat endosperm. Theor Appl Genet 58:113–120

Payne PI, Holt LM, Law CN (1981) Structural and genetical studies on the High-molecular-weight subunits of wheat glutenin. Theor Appl Genet 60:229–236

Peng YC, Yu K, Zhang YJ, Islam S, Sun DF, Ma WJ (2015) Two novel y-type high molecular weight glutenin genes in Chinese wheat landraces of the Yangtze-River region. PLoS ONE 10:e0142348

Ragupathy R, Naeem HA, Reimer E, Lukow OM, Sapirstein HD, Cloutier S (2008) Evolutionary origin of the segmental duplication encompassing the wheat Glu-B1 locus encoding the overexpressed Bx7(Bx7OE) high molecular weight glutenin subunit. Theor Appl Genet 116:283–296

Rasheed A, Mahmood T, Kazi AG, Ghafoor A, Mujeeb-Kazi A (2012) Allelic variation and composition of HMW-GS in advanced lines derived from D-genome synthetic hexaploid/bread wheat (Triticum aestivum L.). J Crop Sci Biotech 15:1–7

Shewry PR, Gilbert SM, Savage AW, Tatham AS, Wan YF, Belton PS, Wellner N, D'Ovidio R, Bekes F, Halford NG (2003a) Sequence and properties of HMW subunit 1Bx20 from pasta wheat (Triticum durum) which is associated with poor end use properties. Theor Appl Genet 106:744–750

Shewry PR, Halford NG, Lafiandra D (2003b) Genetics of wheat gluten proteins. Adv Genet 49:111–184

Singh NK, Sheperd KW, Cornish GB (1991) A simplified SDS-PAGE procedure for separating LMW subunits of glutenin. J Cereal Sci 14:203–208

Wan Y, Wang D, Shewry PR, Halford NG (2002) Isolation and characterization of five novel high molecular weight subunit of glutenin genes from Triticum timopheevi and Aegilops cylindrica. Theor Appl Genet 104:828–839

Wieser H (2007) Chemistry of gluten proteins. Food Microbiol 24:115–119

Wrigley CW (1992) Identification of cereal varieties by gel electrophoresis of the grain proteins. In: Seed analysis. Modern methods of plant analysis, vol 17. Springer, Berlin, Heidelberg, pp 17–41

Xiang W, Liu B, Zhang H (2010) Cloning and characterization of a y-type inactive HMW glutenin subunit gene from Triticum durum cultivar youmangbingmai. Afr J Biotechnol 9:967–971

Xu Q, Xu J, Liu CL, Chang C, Wang CP, You MS, Li BY, Liu GT (2008) PCR-based markers for identification of HMW-GS at Glu-B1x loci in common wheat. J Cereal Sci 47:394–398

Yang ZJ, Li GR, Liu C, Feng J, Zhou JP, Ren ZL (2006) Molecular characterization of a HMW glutenin subunit allele providing evidence for silencing of x-type gene on Glu-B1. Acta Genet Sinica 33:929–936

Yuan ZW, Chen QJ, Zhang LQ, Yan ZH, Zheng YL, Liu DC (2009) Molecular Characterization of Two Silenced y-type Genes for Glu-B1 in Triticum aestivum ssp. yunnanese and ssp. tibetanum. J Integr Plant Biol 51:93–99

Zhang Q, Dong YM, An XL, Wang A, Zhang YZ, Li XH, Gao LY, Xia XC, He ZH, Yan YM (2008) Characterization of HMW glutenin subunits in common wheat and related species by matrix-assisted laser desorption/ionization time-of-flight mass spectrometry (MALDI-TOF-MS). J Cereal 47:252–261

Zheng W, Peng Y, Ma J, Appels R, Sun D, Ma W (2011) High frequency of abnormal high molecular weight glutenin alleles in Chinese wheat landraces of the Yangtze-River region. J Cereal Sci 54:401–408
Funding
This work was supported by a grant from the New breeding technologies development Program (Project No. PJ01476902), Rural Development Administration, Republic of Korea.
Ethics declarations
Conflict of interest
The authors declare no conflict of interest.
Supplementary Information
Below is the link to the electronic supplementary material.
About this article
Cite this article
Jang, YR., Kim, S., Sim, JR. et al. High-throughput analysis of high-molecular weight glutenin subunits in 665 wheat genotypes using an optimized MALDI-TOF–MS method. 3 Biotech 11, 92 (2021). https://doi.org/10.1007/s13205-020-02637-z
Received:

Accepted:

Published:
Keywords
High-throughput analysis

HMW-GS

MALDI-TOF–MS

Wheat