Abstract
We developed and optimized a loop-mediated isothermal amplification (LAMP)-based method to detect porcine parvovirus 7 (PPV7). After using three pairs of specific primers to amplify PPV7 isothermally at 62 °C for 40 min, the amplified product was mixed with SYBR Green I, after which the sample turned green. The method detected PPV7 at concentrations as low as 40 copies/μL, and the sensitivity was consistent with that of nested polymerase chain reaction (PCR) analysis, which was tenfold higher than that of conventional PCR. No cross-reactivity occurred with porcine parvovirus 1, porcine circovirus type 3, porcine circovirus type 2, porcine pseudorabies virus, porcine epidemic diarrhea virus, or porcine reproductive and respiratory syndrome virus. Simultaneous analysis of 76 clinical samples was performed using LAMP, conventional PCR, and nested PCR. The results showed that our method is simple, rapid, sensitive, and specific for the rapid diagnosis of PPV7 in pig farms.
Access options
Buy single article
Instant access to the full article PDF.
US$ 39.95
Tax calculation will be finalised during checkout.
Subscribe to journal
Immediate online access to all issues from 2019. Subscription will auto renew annually.
US$ 119
Tax calculation will be finalised during checkout.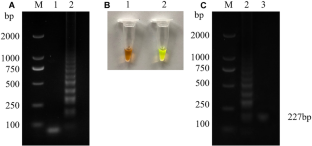 Acknowledgements
We would like to thank Editage (www.editage.cn) for English language editing.
Funding
This work was supported financially by Anhui Provincial Primary Research & Developement Plan ( 202004f06020008, 201904f06020030) and Ningbo Health Branding Subject Fund (No. ppxk2018-10).
Ethics declarations
Conflict of interest
The authors declare that they have no known competing financial interests or personal relationships that could have appeared to influence the work reported in this paper.
Ethical approval
All experiments were compliant with the ethical standards of Anhui Agricultural University.
Electronic supplementary material
Below is the link to the electronic supplementary material.
About this article
Cite this article
Wang, Y., Zhang, D., Bai, C. et al. Using loop-mediated isothermal amplification for visual detection of porcine parvovirus 7. 3 Biotech 11, 111 (2021). https://doi.org/10.1007/s13205-020-02623-5
Received:

Accepted:

Published:
Keywords
Porcine parvovirus 7

Loop-mediated isothermal amplification

Visualization

Rapid detection